30+ Celebrity Headstones That Remind Us What Made Them So Special
While life is fleeting, the remarkable achievements of the world's most extraordinary individuals will stand the test of time. These powerful epitaphs capture the essence of icons from literature, culture, and history, encapsulating their greatness in a few poignant words.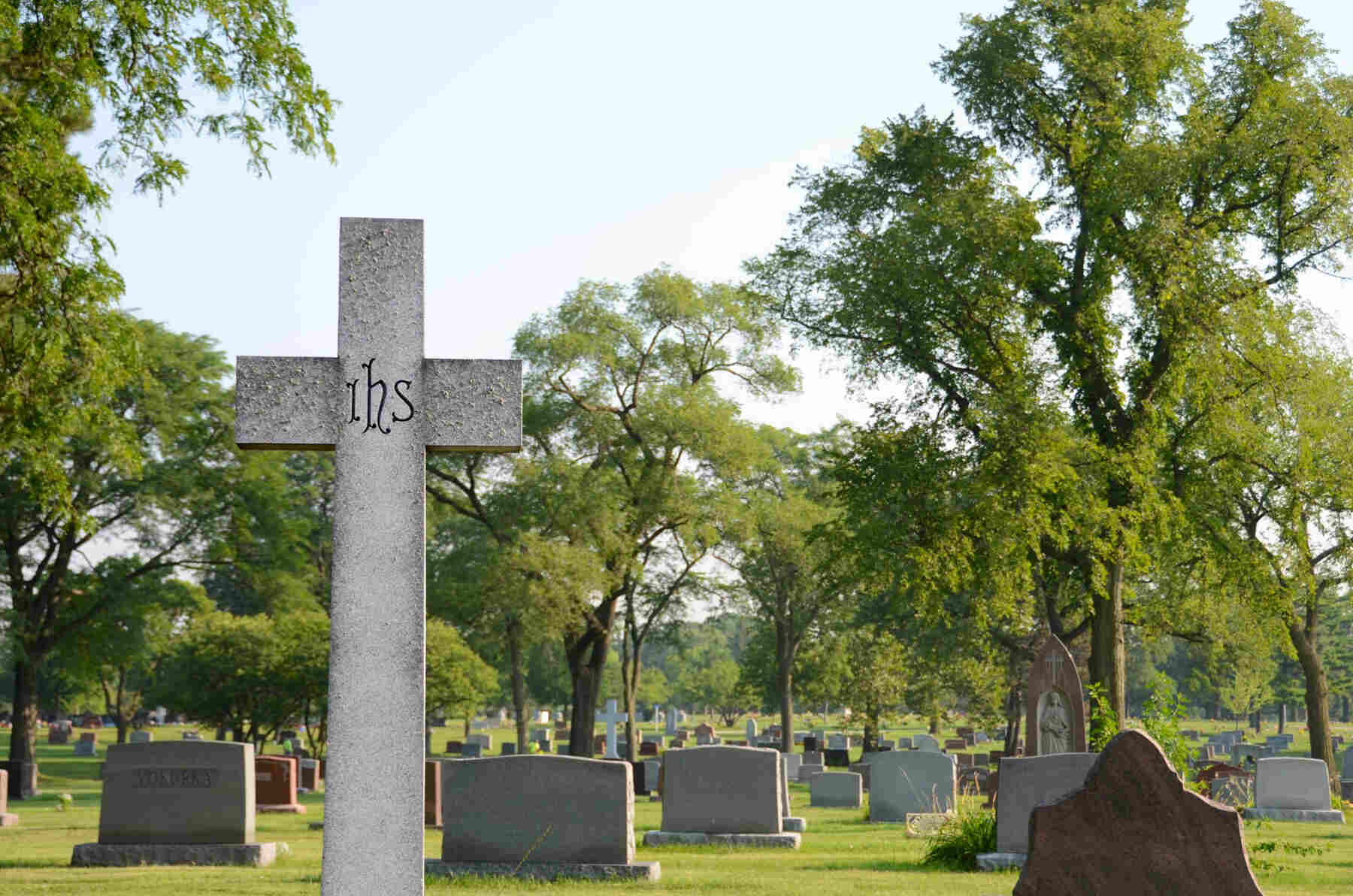 Join us as we explore these touching memorials, paying tribute to the enduring legacies that inspire generations beyond their departure.
James Ambrose Johnson Jr (Rick James)
The legendary Rick James, an artist who always exuded an electrifying presence, commands attention even in the afterlife. His headstone features the Super Freak singer's striking pose with his bass guitar.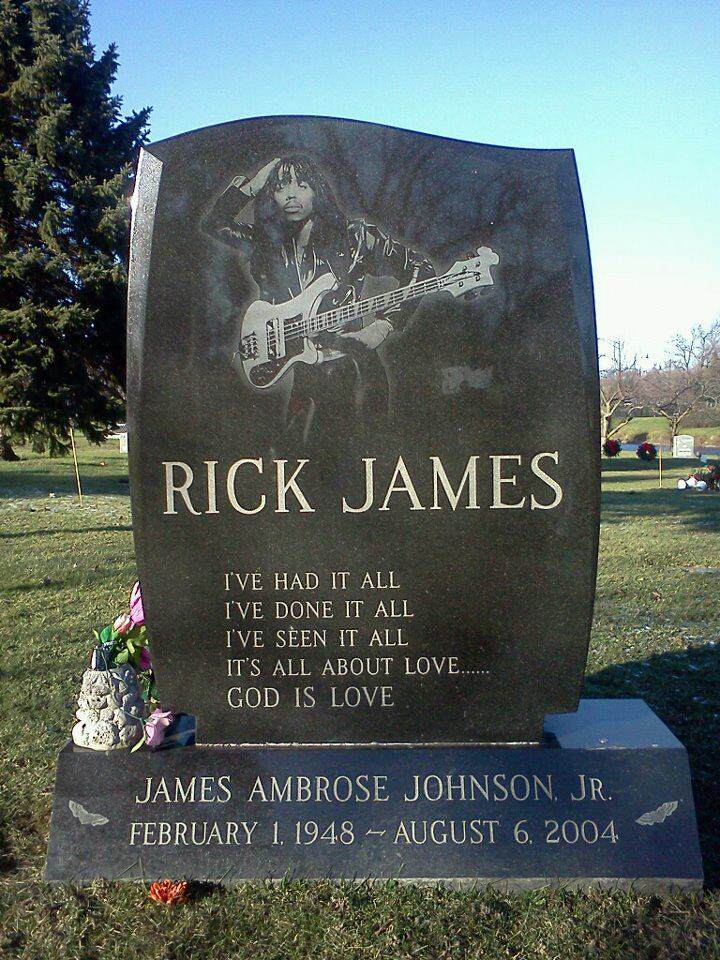 The epitaph, which encapsulates his life experiences and beliefs, conveys that he lived life to the fullest. He did this by embracing love and recognizing its divine nature. This final tribute ensures that his legacy echoes beyond the grave.
Elvis Aaron Presley (Elvis Presley)
The uncontested King of Rock' n' Roll rests in peace in Graceland, his iconic Memphis estate, since his tragic passing in 1977. His epitaph pays homage to his monumental impact on culture, suggesting divine intervention granted him much-needed repose.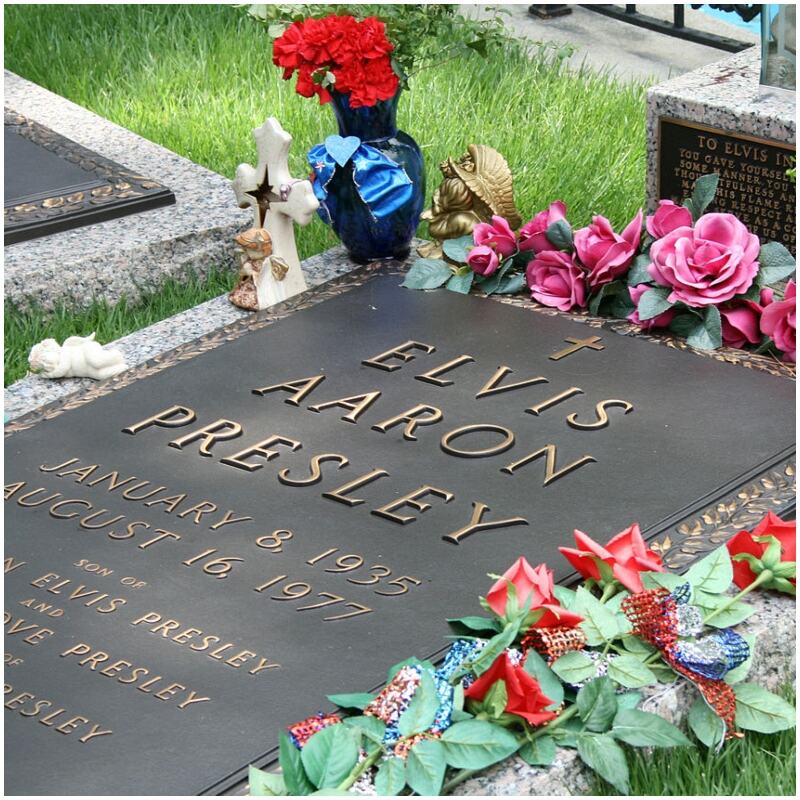 As we remember Elvis, we can't help but envision him in a celestial realm adorned with glittering, rhinestone-studded suits and an endless supply of peanut butter and bacon sandwiches.
Ruth Elizabeth (Bette Davis)
A testament to her indomitable spirit, Bette Davis was a beloved actress known for the TV miniseries Feud. Located in Los Angeles, her sarcophagus bears an inscription that perfectly captures her essence: "She did it the hard way."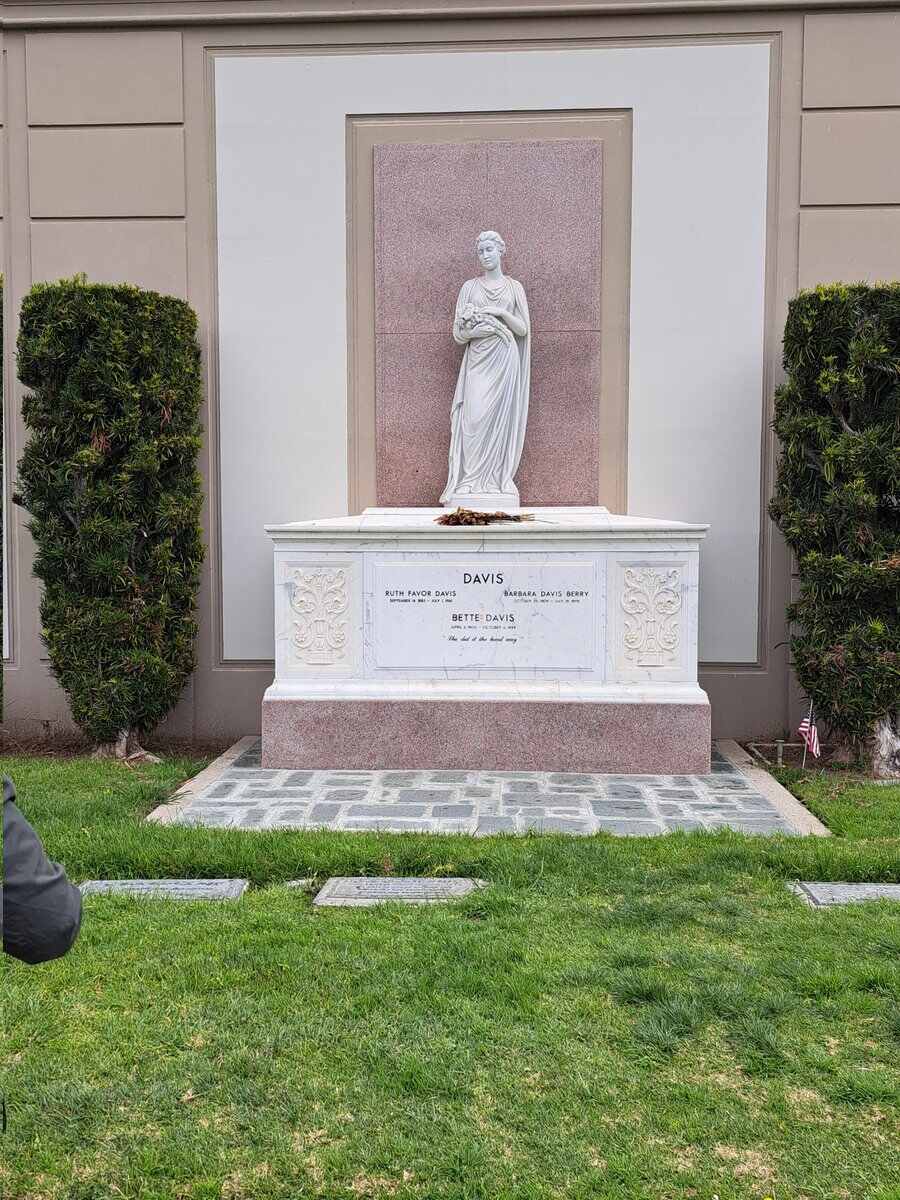 This poignant statement pays homage to a woman who relentlessly pursued her dreams, leaving a legacy of unwavering determination. Bette Davis taught us to push ourselves to our limits and overcome obstacles, but in the end, it is the journey that truly defines us.
Francis Albert Sinatra (Frank Sinatra)
The magic of Frank Sinatra's music was its power to uplift, even when delving into heavy themes of loneliness and heartache. His eternal optimism shines through in the song "The Best is Yet to Come," which fittingly adorns his modest Palm Springs headstone as an epitaph.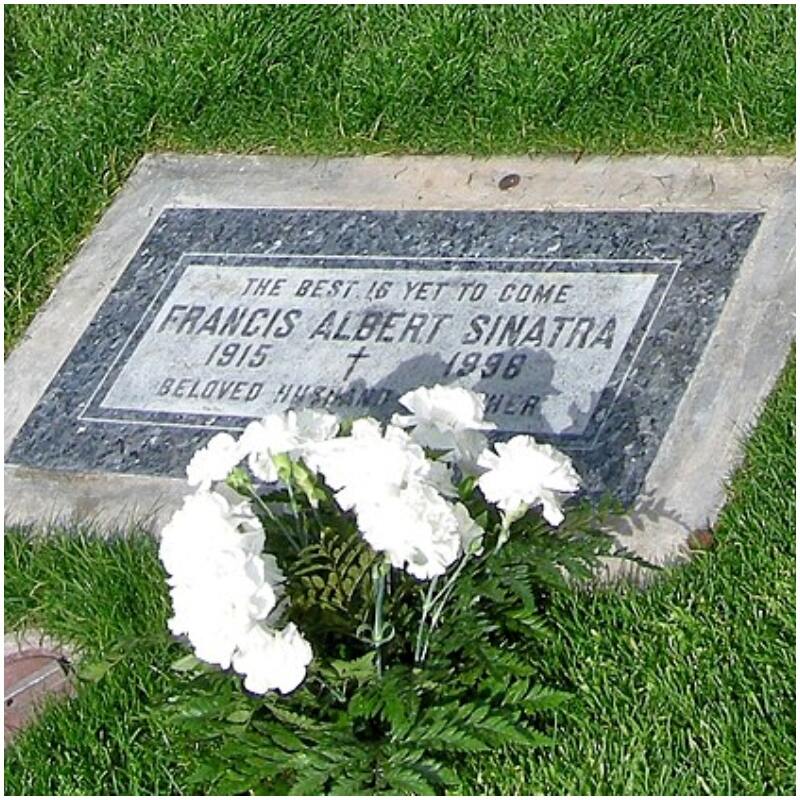 As we remember Ol' Blue Eyes, his timeless message of hope resonates, reminding us that the best really is yet to come.
Sylvia Plath
One of the most celebrated poets of the 20th century, Sylvia Plath's life has always been intriguing. When the news of her tragic demise circulated, it shook her fans, and many struggled to recover from the loss. Sylvia's work made her known to the world, and her tombstone bore a quote from poetry written by another artist.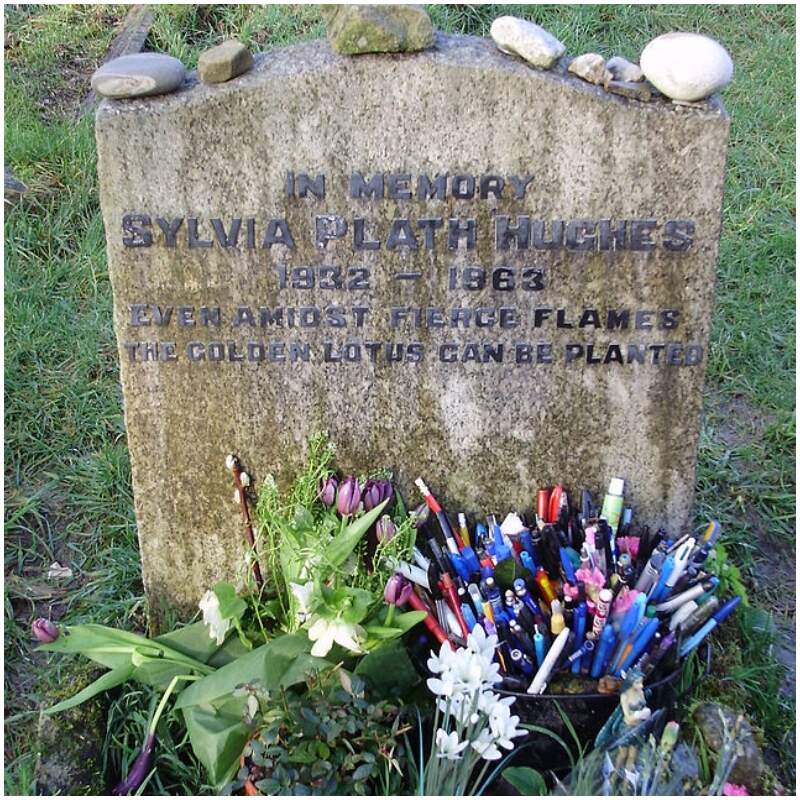 The words were a tribute to Sylvia's work over the years, and her burial place attracts many tourists.
Bernard Jeffrey McCullough (Bernie Mac)
It would be quite difficult to describe comedian Bernie Mac in a few words, as he was single-handedly responsible for bringing laughter to millions, thanks to his sharp wit. He left for his heavenly abode in 2008, leaving a void in Hollywood.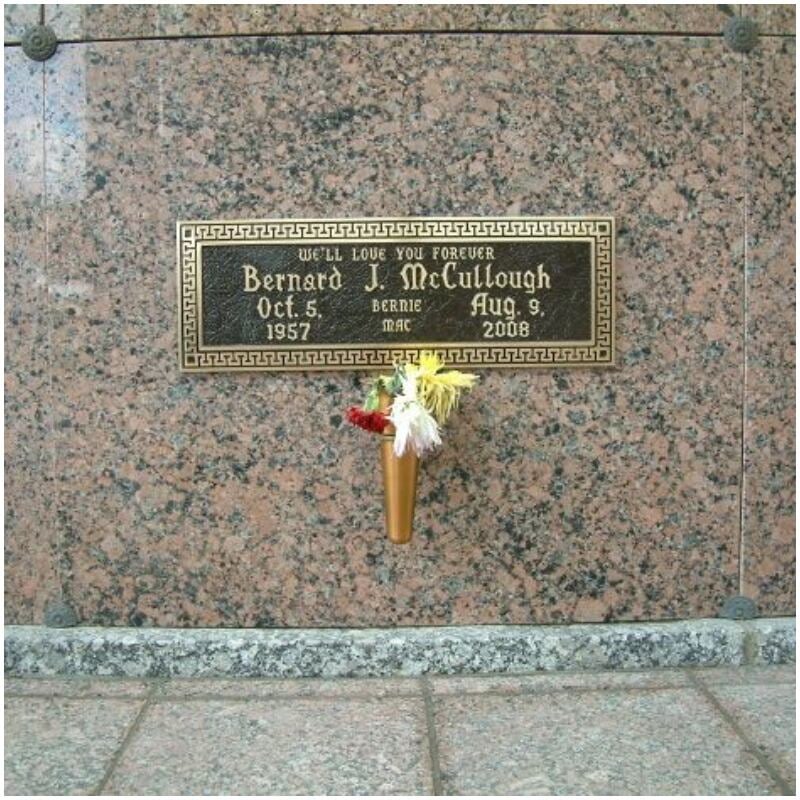 One may think Bernie's tombstone would be as extravagant as his life, but no, it's simple and poignant and bears the words "We'll Love You Forever."
John Adam Belushi (John Belushi)
John Belushi took his humor to his grave; if you don't believe us, his tombstone proves it. At the top of his headstone is an engraving of a skull and bones, no pun intended.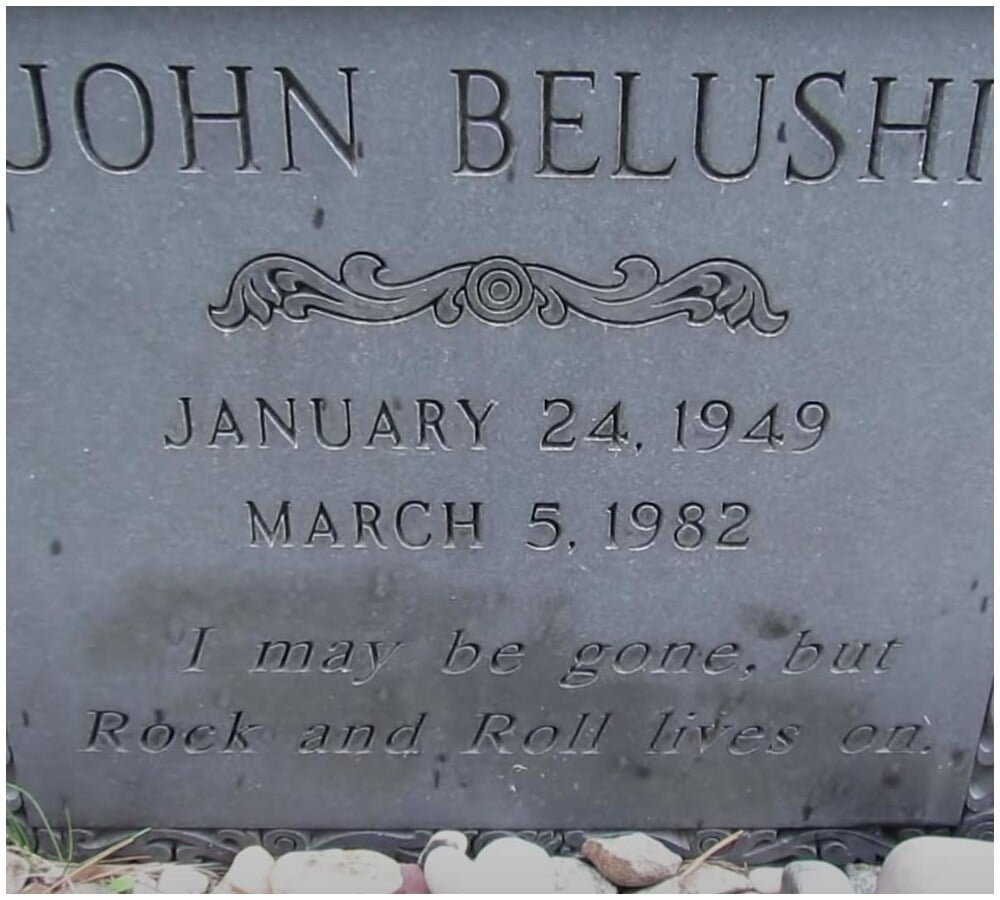 On reading further, the words "I may be gone, but rock and roll lives on" on John's gravestone automatically bring laughter. Isn't it a reminder of his larger-than-life personality?
Rodney Dangerfield
Rodney Dangerfield was a natural on stage, and no one has matched his comedic style yet. He never shied away from cracking the meanest of jokes about himself, and his audacity had no bounds. The comedian believed he couldn't get respect, but the showbiz industry had never seen such an iconic comedian.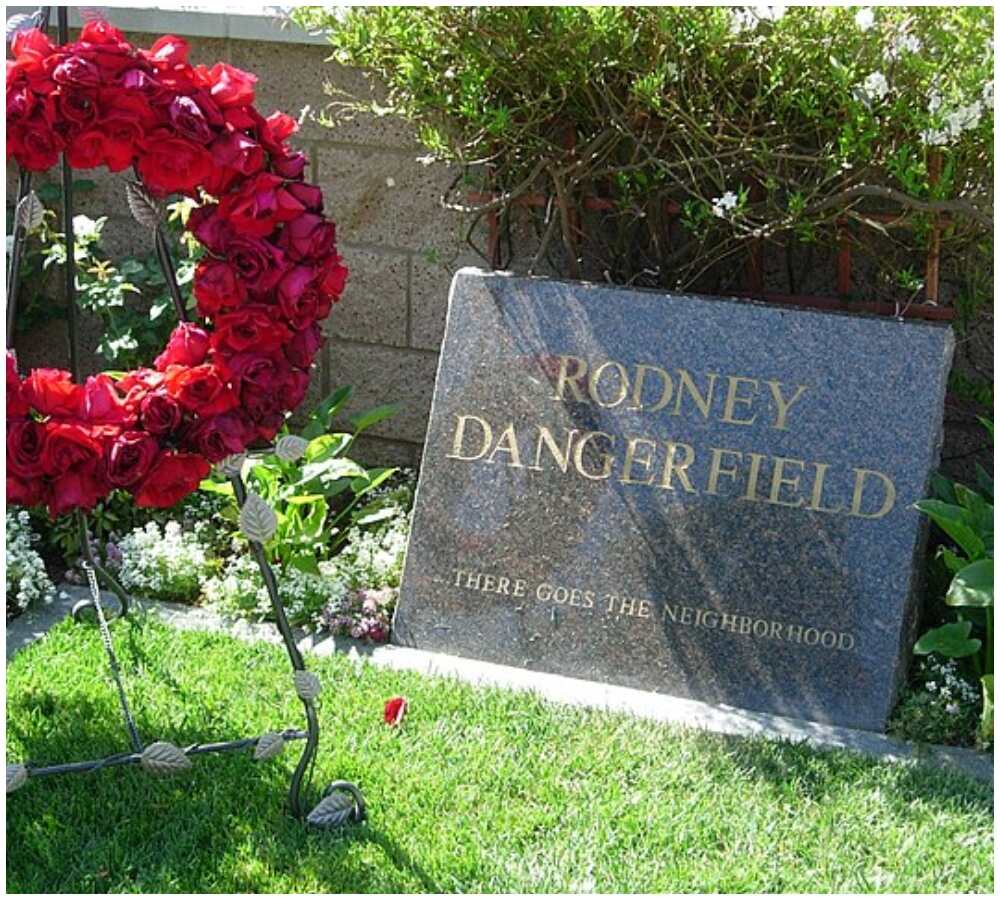 Rodney's demise did not come in his way of making people laugh, and his tombstone is proof of it which bears the words "There goes the neighborhood."
Emily Elizabeth Dickinson (Emily Dickinson)
Emily Dickinson achieved fame and popularity posthumously, becoming an important literary figure in American society. Her poetry has impacted generations of readers over the years. The poet's tombstone lies at the West Cemetery in Amherst, Massachusetts, bearing the words "Called Back."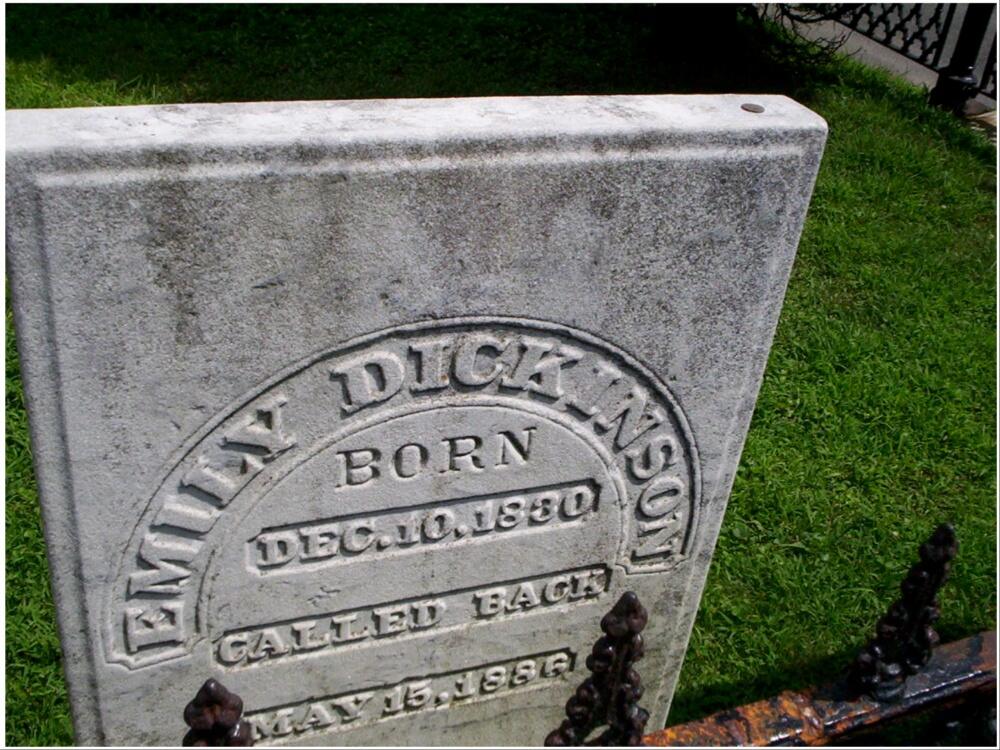 We can only interpret it as Emily having to return to heaven as the higher powers missed her poetry.
John Herbert Gleason (Jackie Gleason)
Jackie Gleason's tombstone has the inscription "And away we go," the title of one of his best-selling albums. While this salutes his musical endeavors, Gleason had many other talents.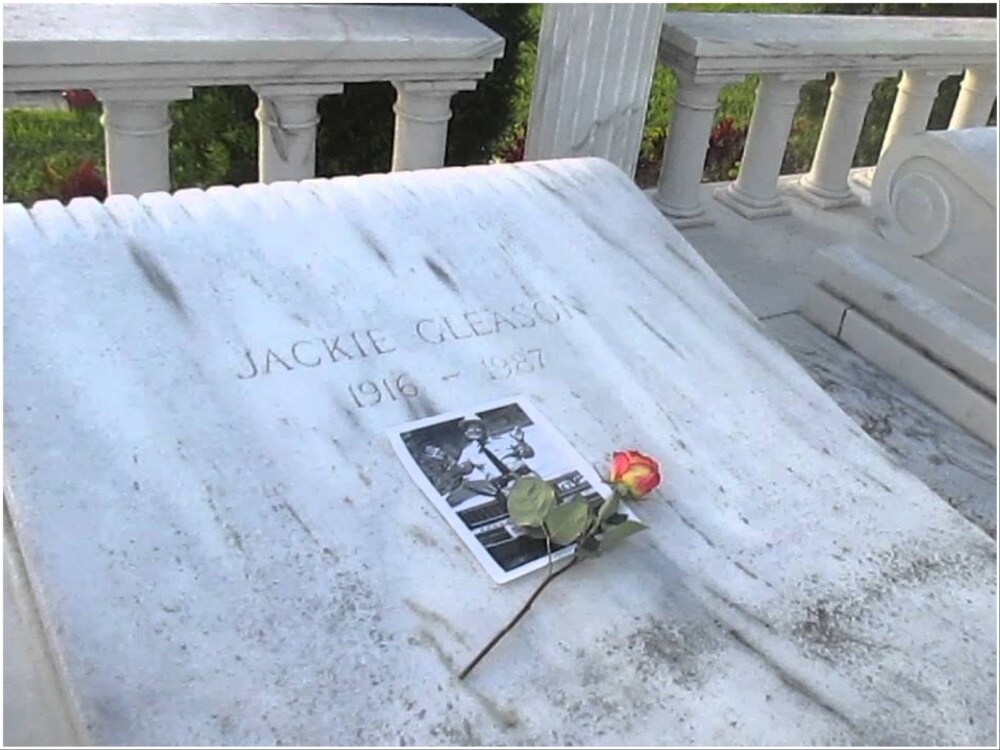 The late star was a composer, writer, and comedian dubbed "The Great One" by fans. His epitaph honors his music career and the comical side many have missed since his demise in 1987.
Walter Elias Disney (Walt Disney)
Even though this name needs no introduction, his modest gravesite might. For privacy, the site was tucked away on a hill in Forest Lawn Cemetery, Glendale. Still, it has continued to attract visitors over the past five decades since the icon passed away in 1966.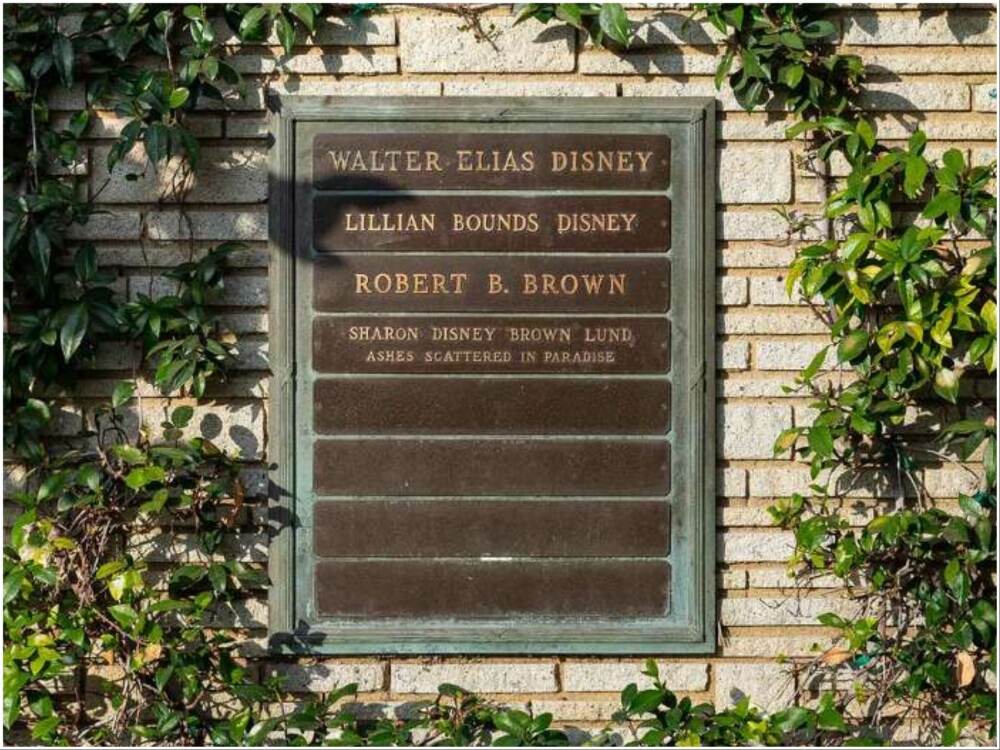 Walt Disney was an American cultural legend and the creator of the world's most treasured animations. So, it made sense to lay him next to a statue of one of his most beloved characters: The Little Mermaid.
John R. Cash (Johnny Cash)
Famed for his country music career, Johnny Cash remains one of the bestselling musicians, with over 90 million records sold. His passion for music echoes in his songs, including "I Walk the Line," which doubles as the inscription on his headstone.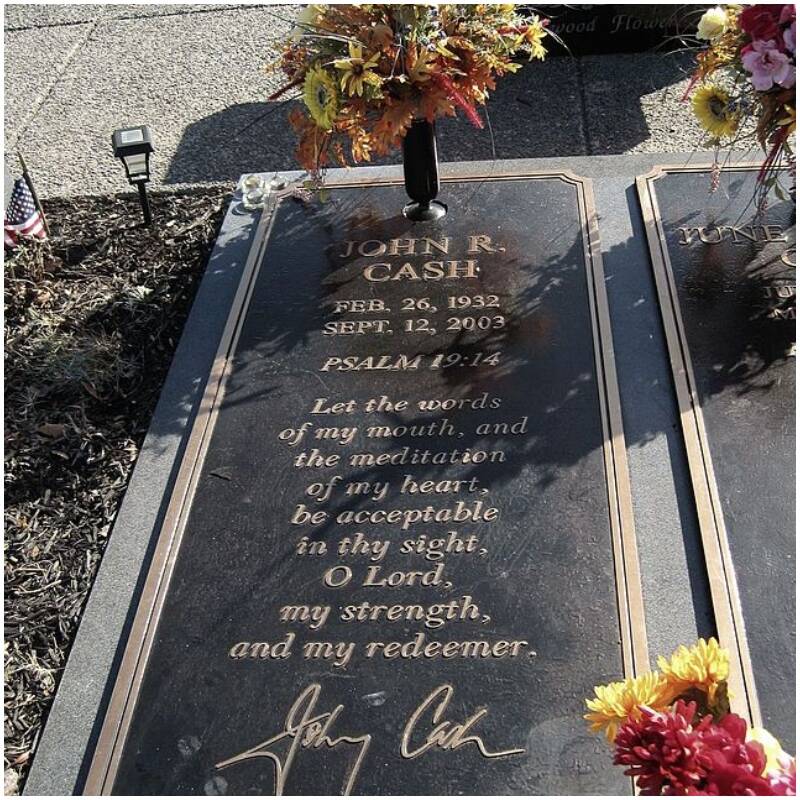 Even in his final months, Cash continued to compose songs, recording over 60 singles in the last four months of his life. His burial place, Hendersonville Memory Gardens, is a must-visit for loyal fans who still adore his music.
Andy Warhol
Following his highly experimental career as an American visual artist, illustrator, and filmmaker, Andy Warhol deserved more than a typical tombstone. In fact, it was left plain, featuring just his name at his request.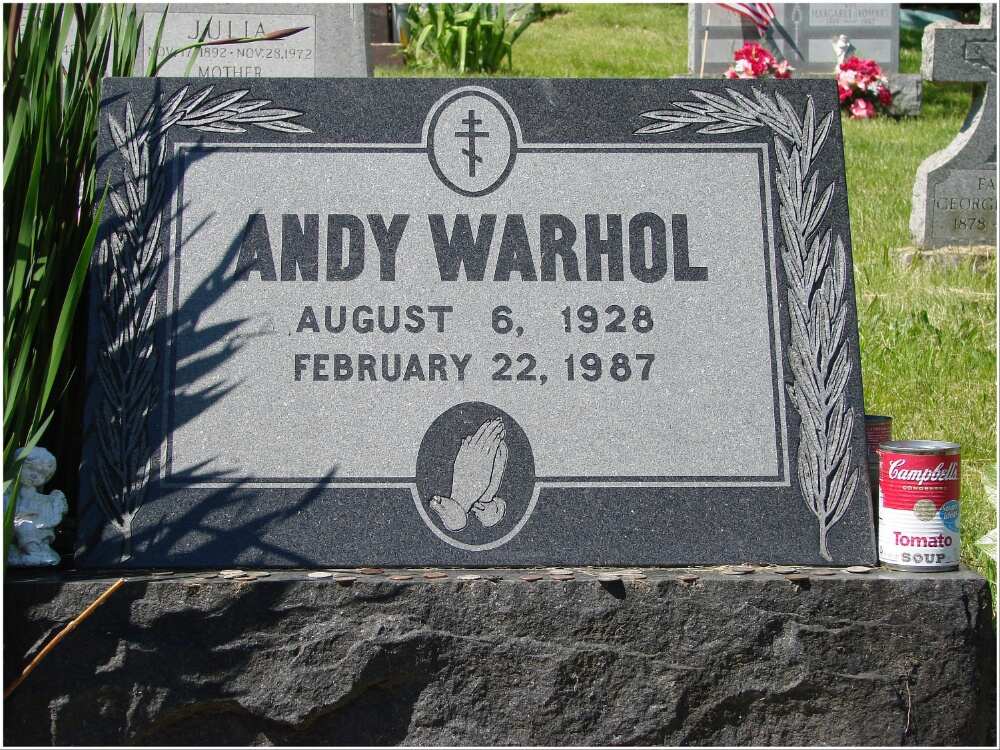 The site's 24/7 live stream compensates for this, anchored by the Warhol Museum and Earthcam. This allows fans to honor the beloved artist remotely. Considering Warhol's character, we bet he would have loved that idea.
Cindy Walker
Cindy Walker is not the most famous name in the music industry. She preferred composing songs for stars like Bob Wills and Gene Autry behind the scenes. Nonetheless, she was duly celebrated for her work with multiple awards, including an induction into the Country Music Hall of Fame in 1997.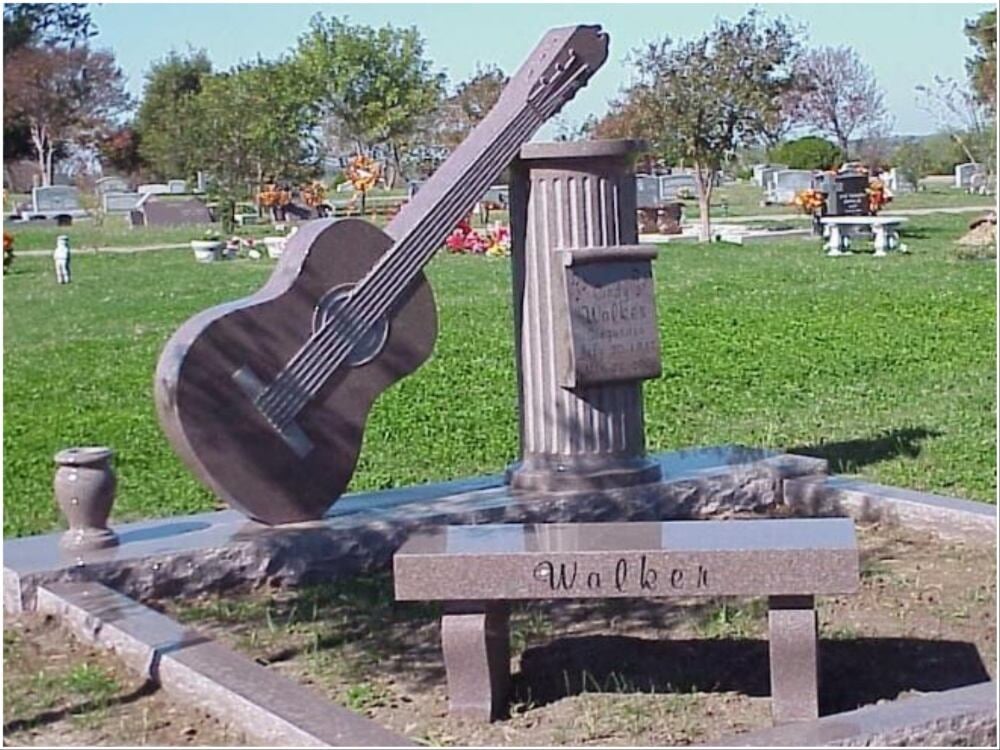 As a result of such accolades, she gained recognition in the business. Our favorite is the pink guitar sculpture erected next to her headstone in Mexia Cemetery.
Louis Daniel Armstrong (Louis Armstrong)
Louis Armstrong, the celebrated jazz musician, carried the endearing name 'Satchmo' throughout his life. Even at his death, the affectionate nickname remained with him, engraved above his given name on his tombstone in Flushing, New York.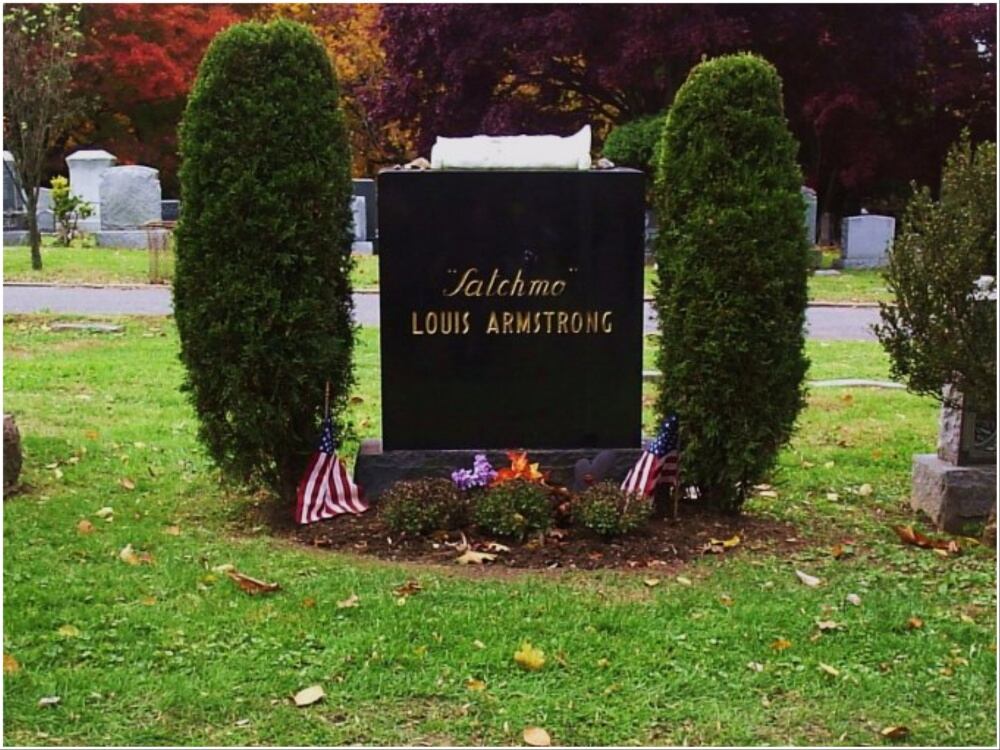 This enduring tribute testifies to Armstrong's adoration among his fans. 'Satchmo' is a fitting reminder of the affection and respect he earned on Earth. It is also a reminder of the lasting legacy he left behind.
Leslie William Nielsen (Leslie Nielsen)
Leslie Nielsen began his career as a serious performer, yet, his name has become synonymous with humor. His comedic gifts were so impressive that the Airplane! actor decided to engrave a humorous epitaph on his grave.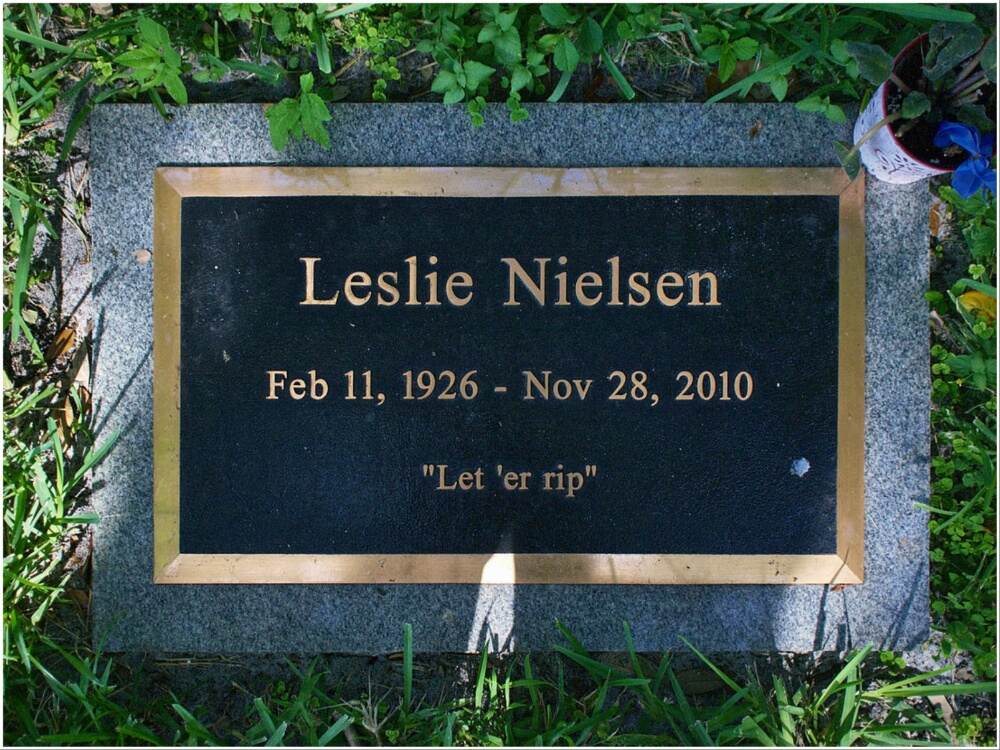 The plaque reads, 'Let 'er rip,' which nods to Nielsen's penchant for fart jokes. This amusing message ensures that the legendary actor's unique sense of humor and memorable performances will continue to be celebrated long after his death.
William Shakespeare
Known as the greatest playwright of all time, William Shakespeare possessed an unparalleled gift for verse and prose. So it is unsurprising that he composed his final tribute before dying in 1616.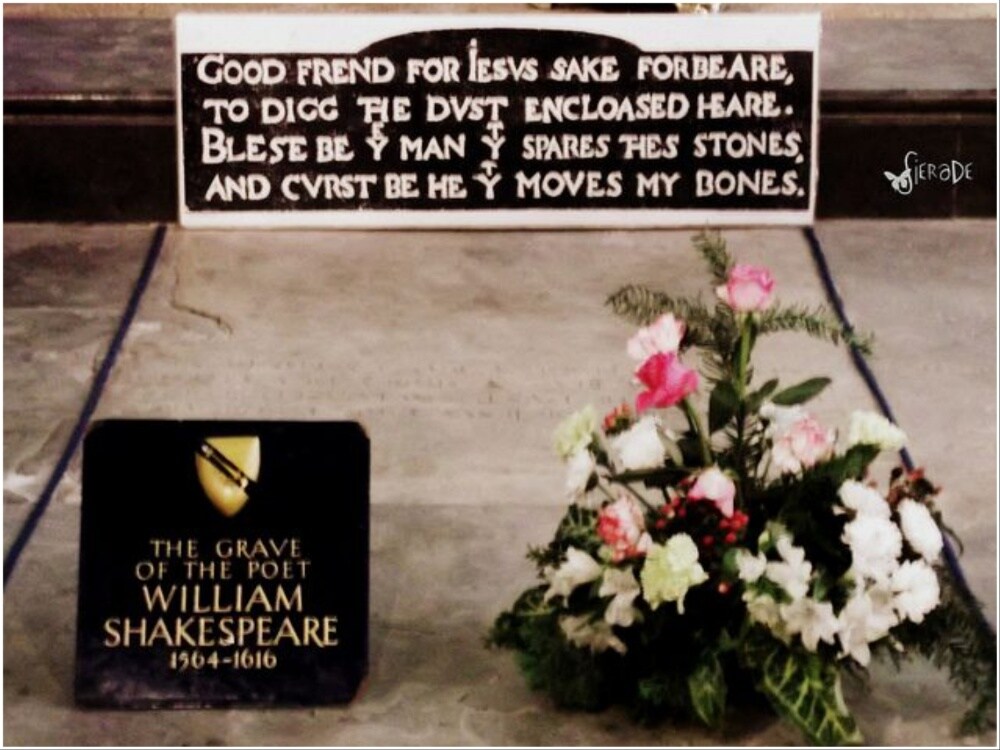 Yet, unlike the exquisite wording of the Bard's writings, the inscription on his grave at Stratford-upon-Avon reads, 'Cursed be he that moves my bones,' a stern warning to would-be grave robbers.
Jayne Mansfield
Jayne Mansfield, a Hollywood legend famous for her age-defying antics, unexpectedly achieved eternal youth.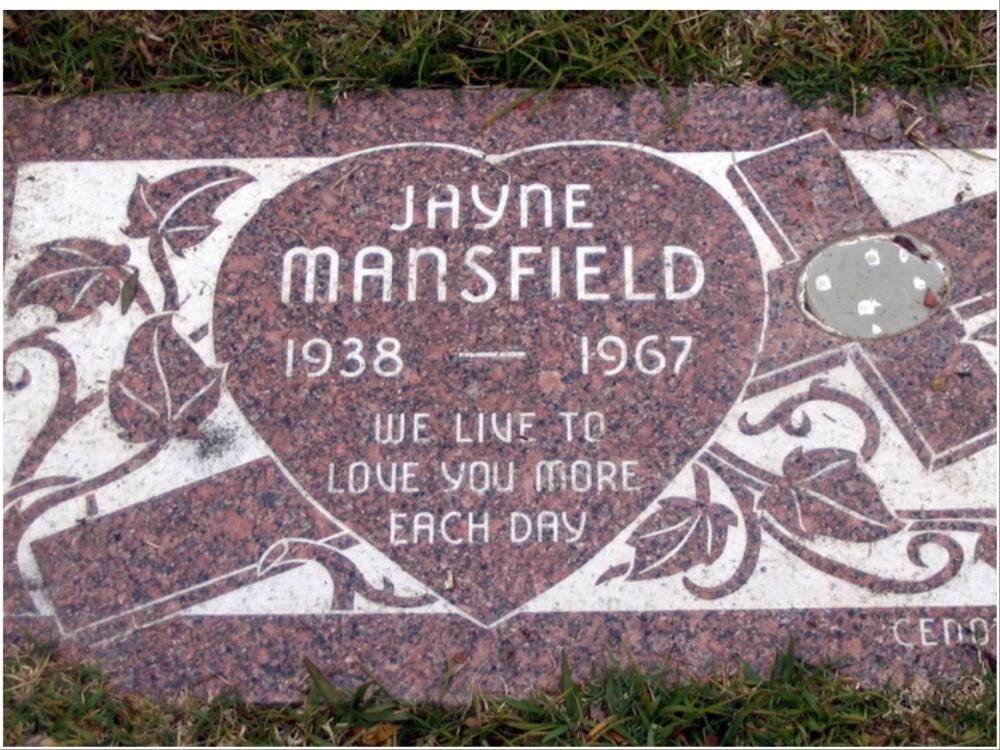 Despite passing away in a tragic car accident at age 34 in 1967, her Hollywood memorial in California immortalized her at age 29. This was a deliberate alteration of her actual birth date. Mansfield's yearning for perpetual youth may have been fulfilled at the cost of a deceptive legacy.
Oscar Fingal O'Fflahertie Wills Wilde (Oscar Wilde)
In honor of Oscar Wilde's legacy, admirers have discovered a creative way to honor him. Since the celebrated playwright's life was marred by imprisonment, devotees consider a kiss sufficient.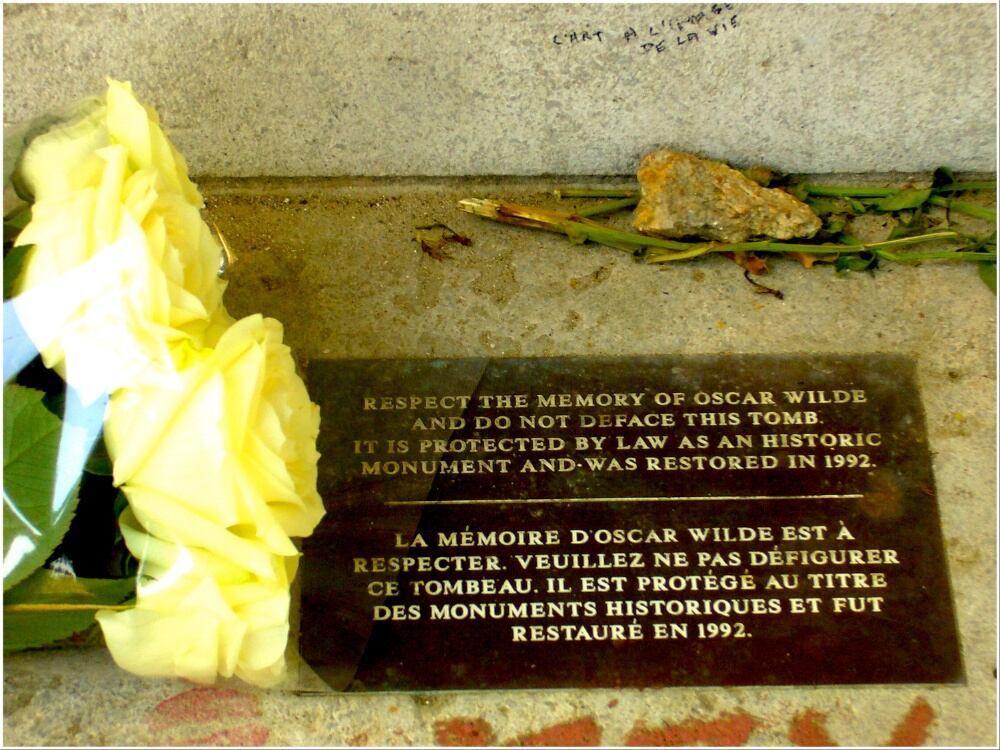 These displays of affection have caused a cosmetic conundrum for officials maintaining Wilde's Parisian resting place. The constant accumulation of lipstick marks on the limestone monument has forced it to be enclosed in a protective glass cover. 
Marion Robert Morrison (John Wayne)
There was a time when John Wayne was a synonymous name with the very essence of Hollywood's golden age. As he was affectionately known, the Duke rode across the silver screen with a quiet strength that belied his vulnerability.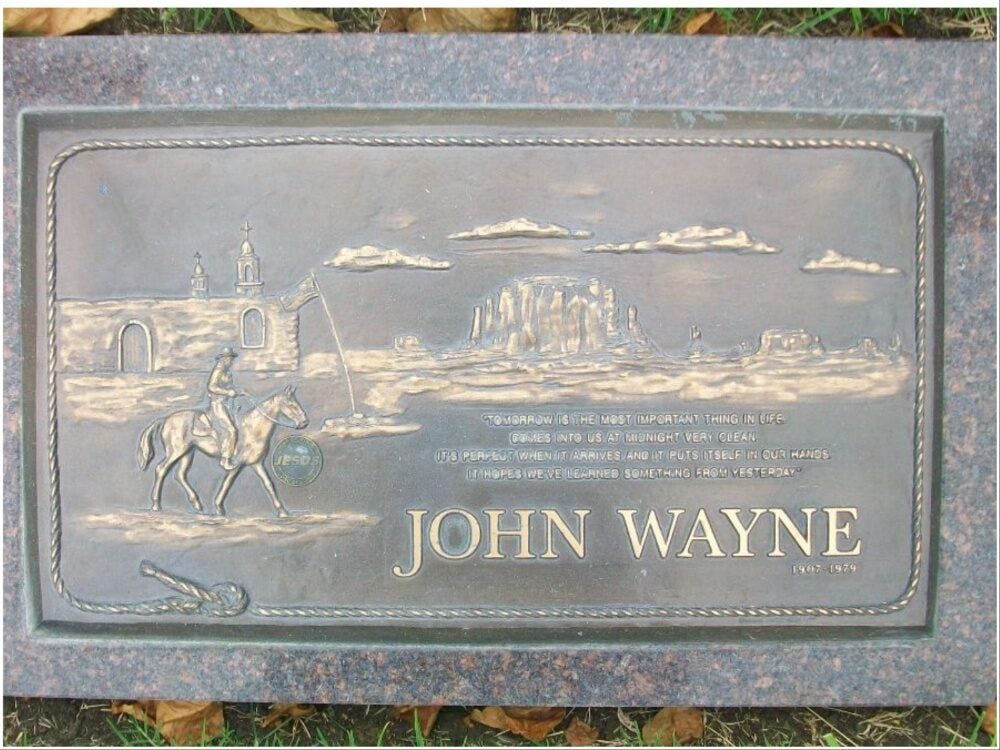 In his epitaph, a quote from a 1971 interview reminds us that the past, though rich with memories, must not hold us captive. "Tomorrow is the most important thing in life," the inscription reads. 
Jules Gabriel Verne (Jules Verne)
Jules Verne's visionary science fiction tales helped countless readers break free from the mundane. A fitting tribute to this literary icon stands tall in Amiens, France.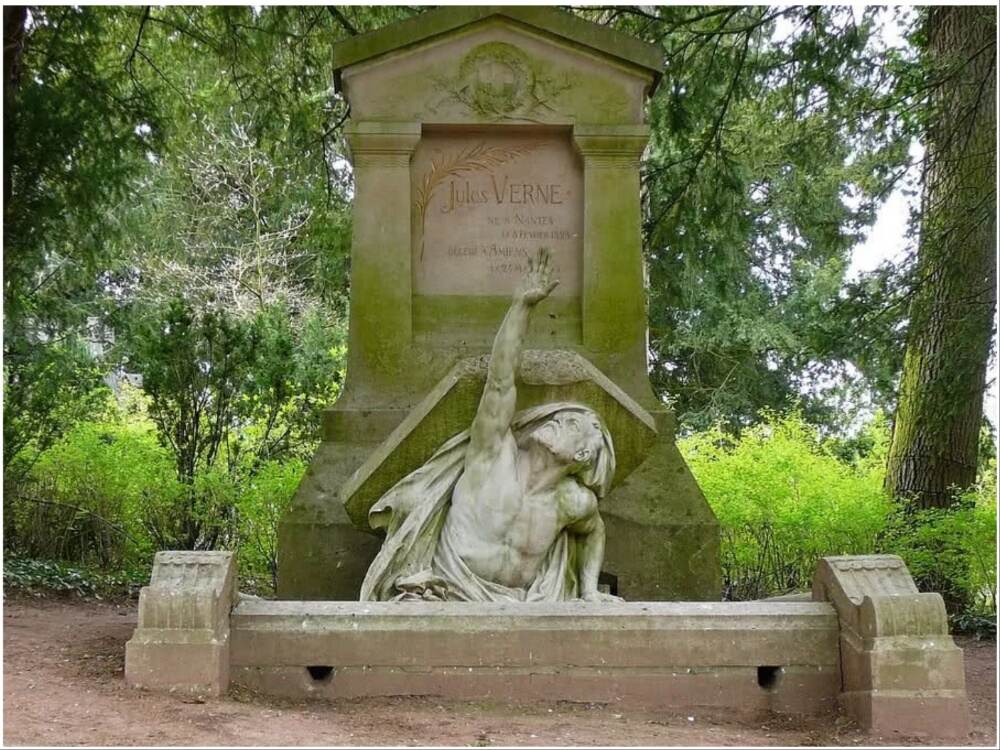 The bronze sculpture depicts Verne bursting forth from the ground and reaching for the stars. This awe-inspiring monument testifies to the joy of living outside the box. It was constructed two years after his passing in 1905. 
Mervyn Edward Griffin Jr. (Merv Griffin)
Merv Griffin, the legendary host of "The Merv Griffin Show," knew how to make viewers laugh. For 24 years, he captivated the world with his wit and infectious personality.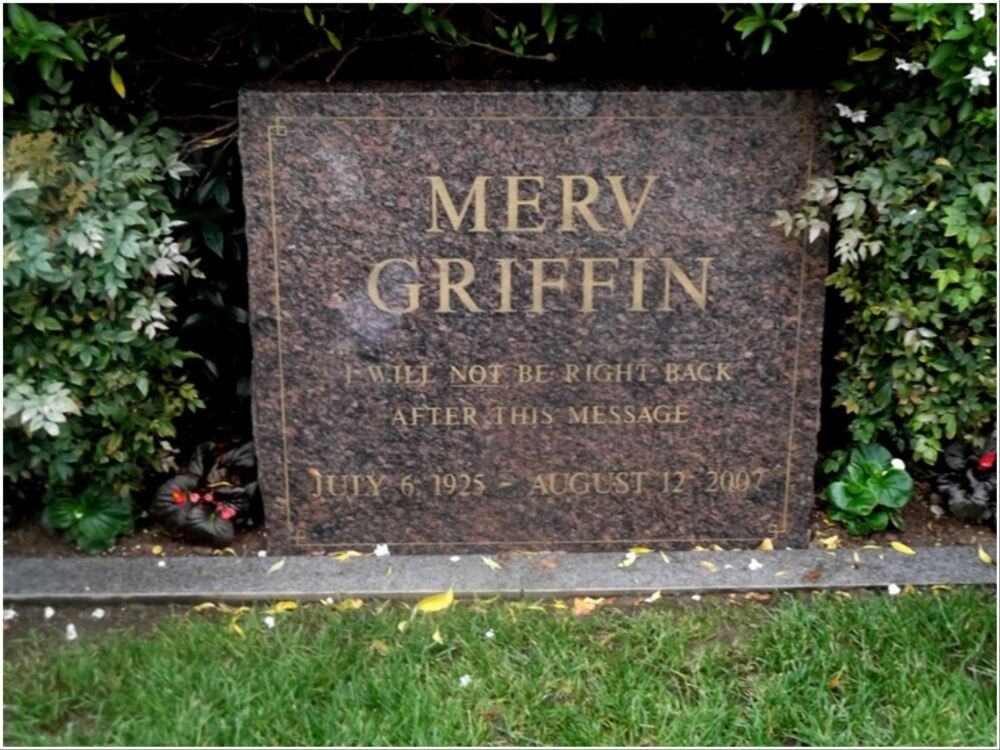 Even after departing, the passionate host couldn't resist one final joke. His epitaph refers to his television roots and his enduring love for his audience and states: "I will not be right back after this message." 
Edgar Allan Poe
Edgar Allan Poe was the godfather of Gothic and delightful dreary. Of course, he left his indelible mark on countless anthologies and a rather unassuming slab of stone in Baltimore.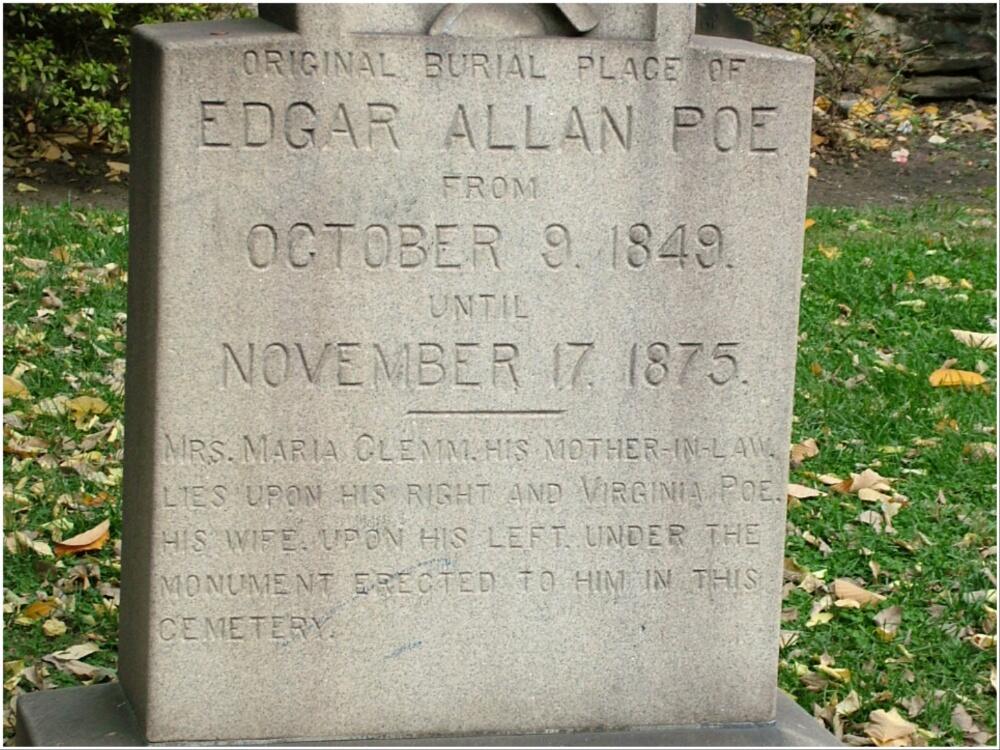 Poe's final resting place pays homage to his most famous poem, "The Raven," and its immortal refrain, "Nevermore." Visitors to this literary landmark can't help but feel a shiver of excitement as they imagine the actual raven keeping a watchful eye on its creator. 
Dean Martin
Dean Martin was the smoothest voice in the business. Although he's no longer with us, his music remains timeless and effortless. So it's only fitting that his final resting place in Los Angeles bears the simple yet powerful message, "Everybody Loves Somebody."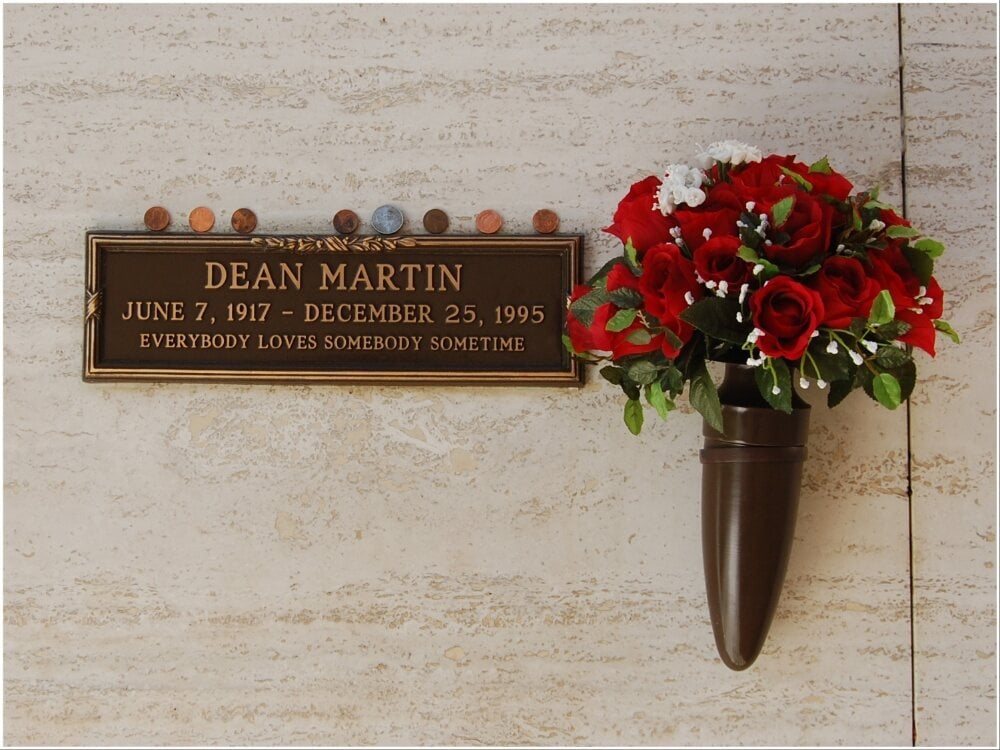 Those three words encapsulate everything we love about Martin—his charm, charisma, and ability to make us feel like we're the only ones in the room. 
Billy Wilder
Billy Wilder's film noir gems like "Sunset Boulevard" forever altered Hollywood, but many believe his true forte was comedy. This preference is evident in the epitaph of his Los Angeles grave. This alludes to his beloved film "Some Like It Hot" and its humorous ending.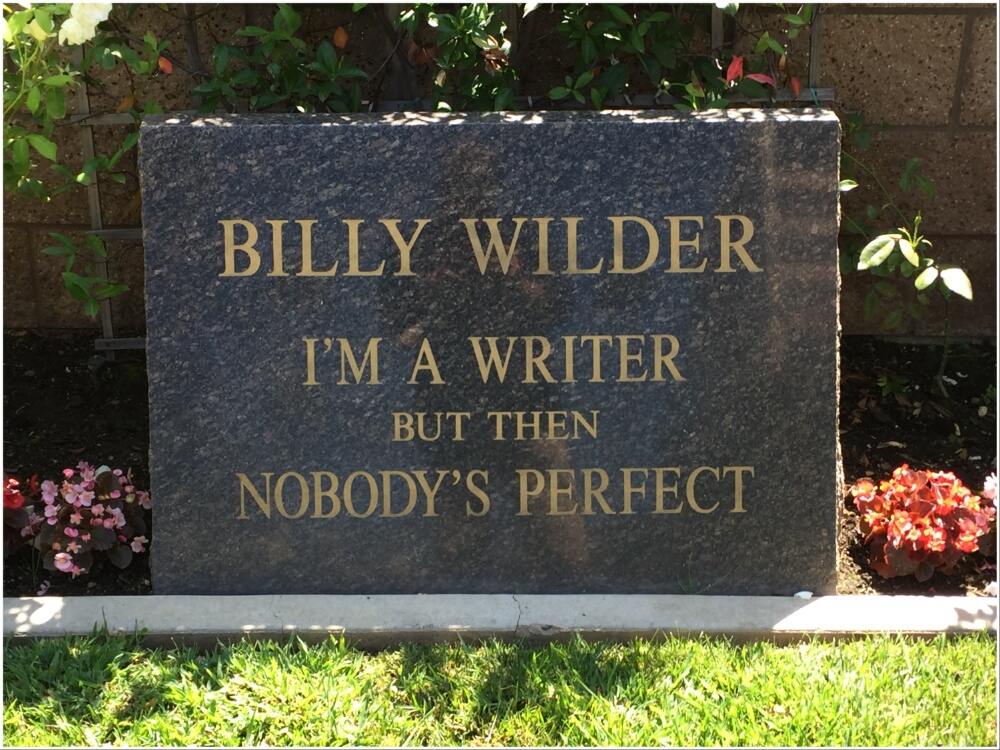 The inscription playfully acknowledges his role as a writer while embracing life's imperfections—a fitting tribute to a legendary filmmaker who knew laughter was an essential part of life.
John Uhler Lemmon III (Jack Lemmon)
A frequent collaborator in Billy Wilder's films, Jack Lemmon's Los Angeles memorial echoes his humorous nature. The actor's headstone playfully teases his fame and passing, reflecting the ceaseless wit that endeared him to fans.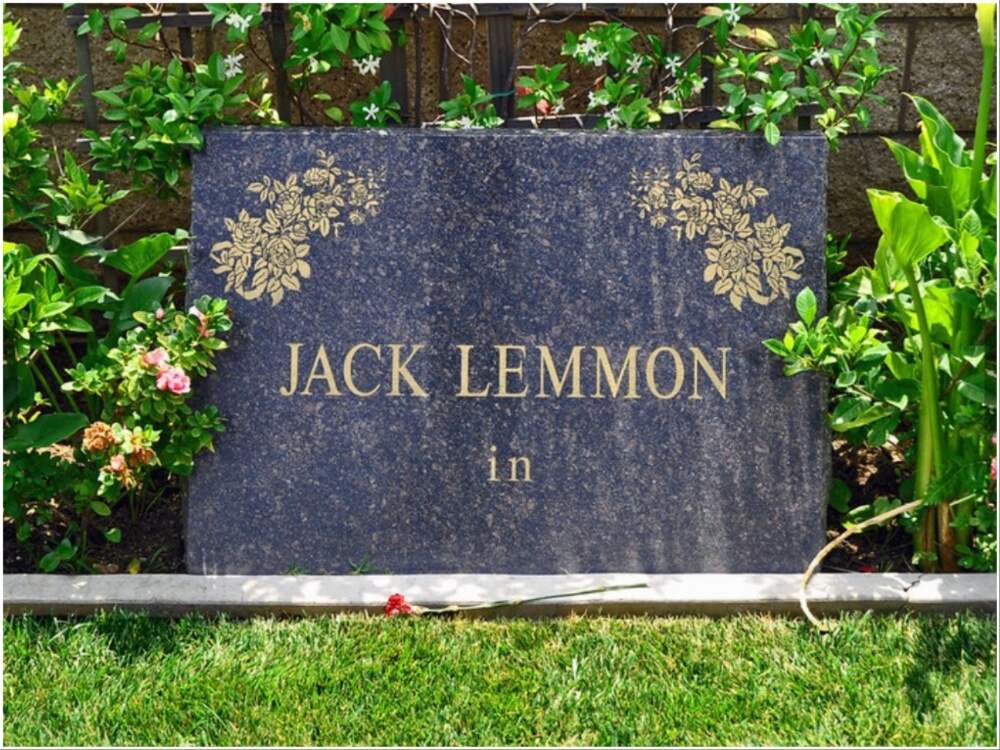 As we remember Jack Lemmon, his final resting place is a testament to his ability to make us laugh, even in his eternal role beyond the curtain.
Jesse Woodson James (Jesse James)
The year 1882 marked the end of legendary outlaw Jesse James when he was betrayed by his associate, Robert Ford, for a tempting bounty. However, James' Kearney, Missouri grave offered a bold, unyielding retort to his disloyal protégé.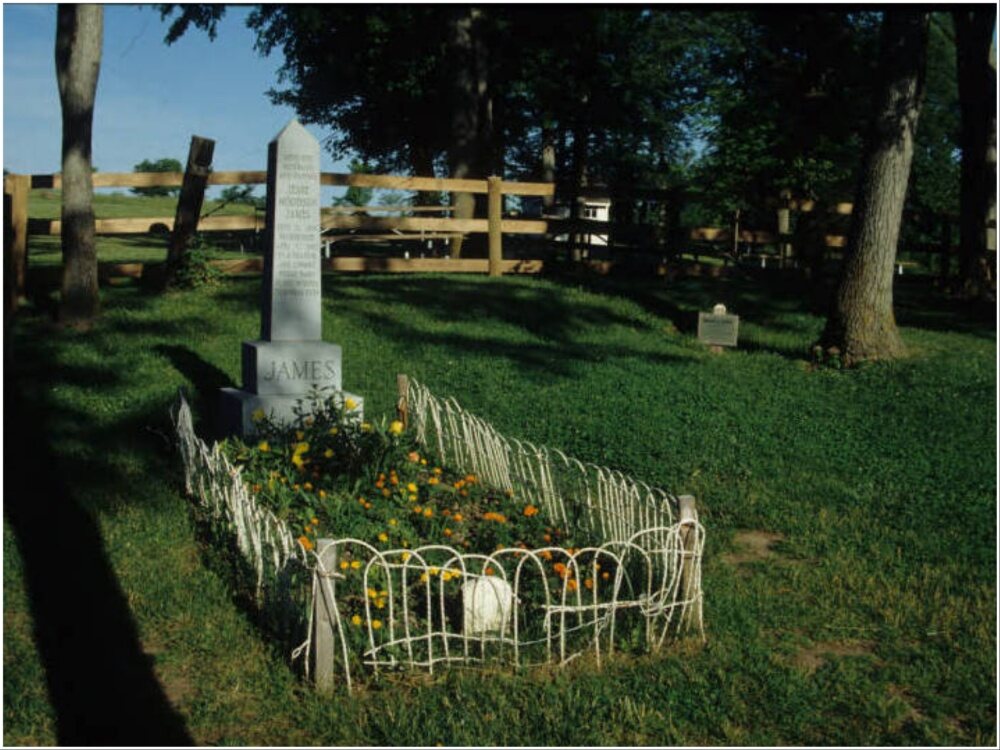 The original headstone, later replaced by surviving family members, denounced Ford as a duplicitous coward unworthy of being mentioned in the same breath as Jesse James. This immortalized James' indomitable spirit.
Sir Isaac Newton
Isaac Newton's groundbreaking contributions to physics elevated him to divine status during his era. His tomb at Westminster is a fitting expression of this admiration.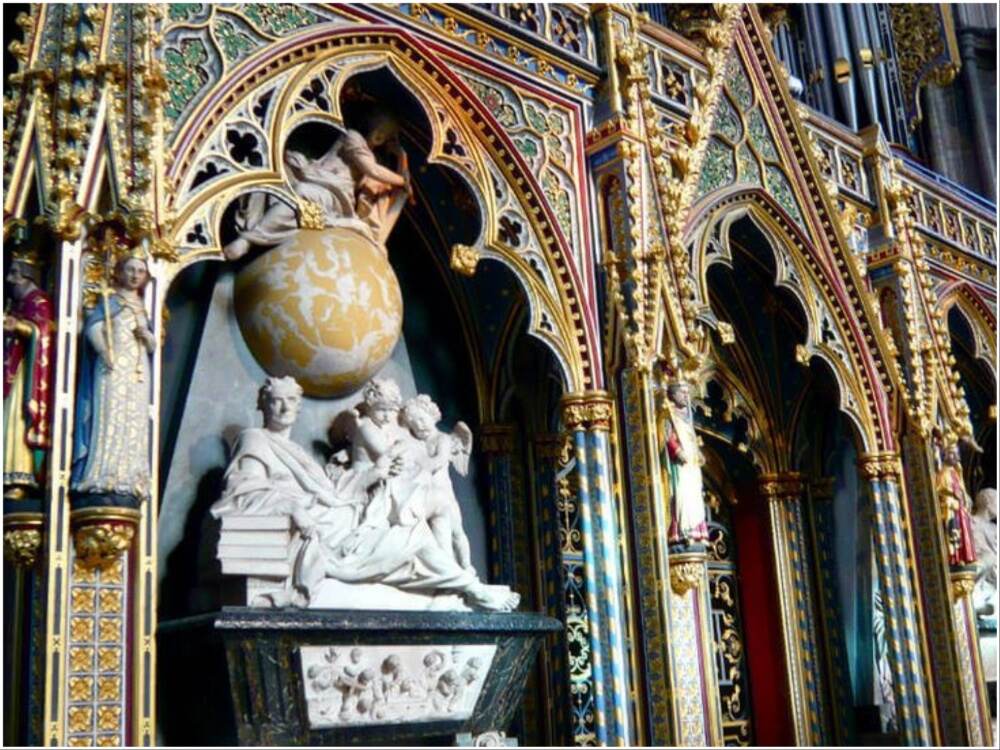 With an inscription translated from Latin, the epitaph humorously yet modestly declares Newton's significance, inviting mortals to celebrate such an extraordinary figure. This tribute honors a man whose achievements have become the emblem of human achievement.
Melvin Jerome Blanc (Mel Blanc)
Though Mel Blanc's face may not be familiar to many, his vocal talents are etched in our memories. Forever remembered for his groundbreaking voice work in Looney Tunes, Blanc's Los Angeles gravestone is a fitting tribute to his legendary career.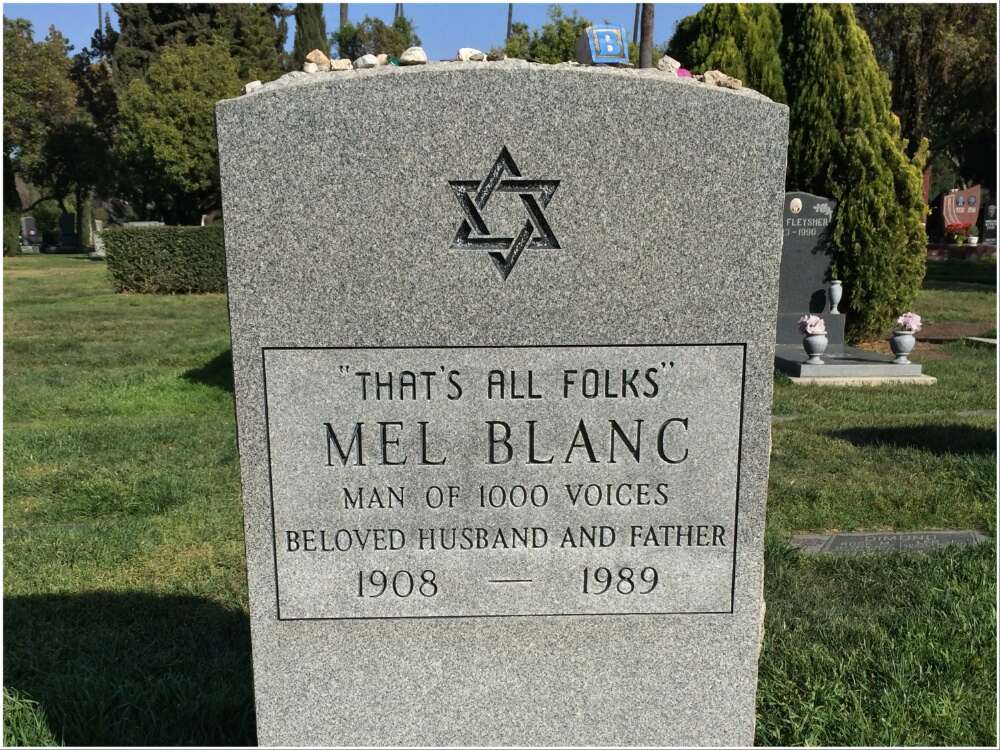 Inspired by Porky Pig's famous sign-off, the epitaph confirms Blanc's legacy as the master of voice acting and the heart of the cartoon world.