40 Amazing DIY Projects Using Cinder Blocks
Originally Published on
tipopedia.com
and repurposed with permissions
If you love all things DIY, you can come up with the most creative ideas using mundane items. Even a simple cinder block can end up as something amazing if you're open to seeing the possibilities.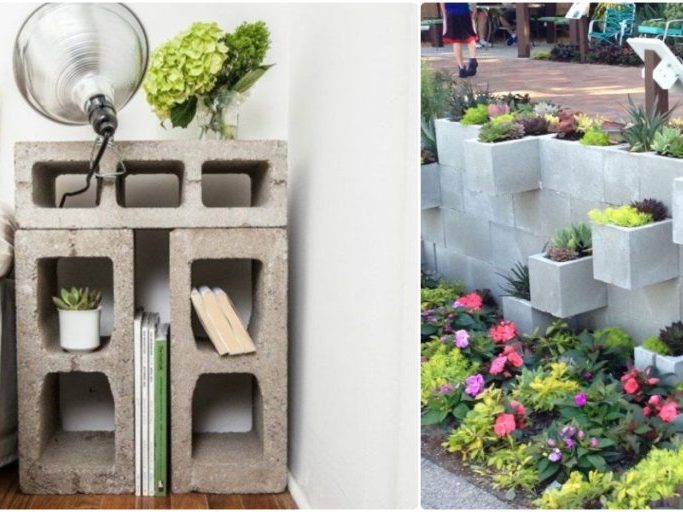 So if you have a few extra materials lying around and are keen on working on a new project, these 40 DIY ideas using cinder blocks could be the best place for you to start.
An Entertainment Hub with a Perfect Fit
Entertainment hubs are great because they save you the trouble of wondering where to place your TV and other electronics. But it's hard to find the right size for all of your equipment. The unit is so big that you need to find other knick-knacks to fill up the space, or too small so that your TV looks odd.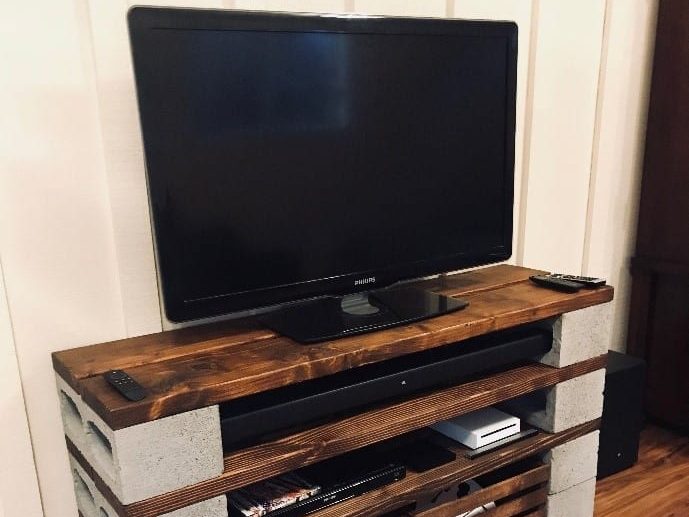 That's the great thing about making your own DIY entertainment hub. You can use the cinder blocks as the support beams and find wooden planks for the shelves. Beautiful, unique, and with the perfect fit!
Beautifully Unique Garden Beds in the Yard
One of the toughest things about maintaining a yard is figuring out what to do with the extra space. Well, here's a blooming idea. Why not use cinder blocks to create your own garden beds?
Just lay out the cinder blocks however you like and fill them with soil. There's no need to dig, and you can even form any shape you want. Then, start planting your favorite blooms, and your yard will have a pop of color in no time!
A Stylish Outdoor Bench
If you created those beautiful garden beds in your yard, this would be the perfect addition to your outdoor space for maximum relaxation. Using cinder blocks and some wood, you can create a cozy outdoor bench and customize the design to make it truly yours.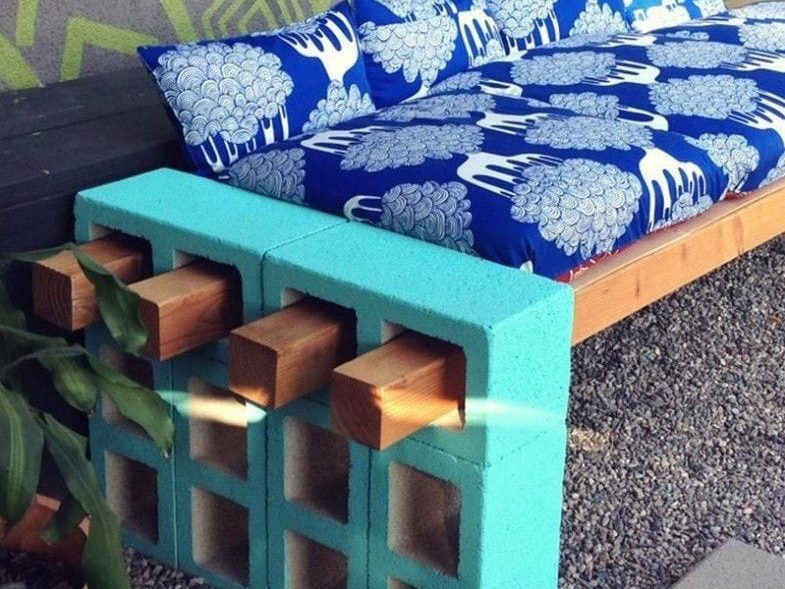 Just remember to space the blocks evenly and make sure the wood you use is sturdy enough to bear the weight of whoever's going to sit on it most often. Then, paint the cinder blocks and the wood and add some throw pillows.
A Cool Outdoor Fireplace
If you've been working on cool outdoor creations, you might as well go all out. You've got your garden, you have a stylish bench, so why not make a cool outdoor fireplace next? This means you can hang around with family and friends outdoors, even on those chilly nights.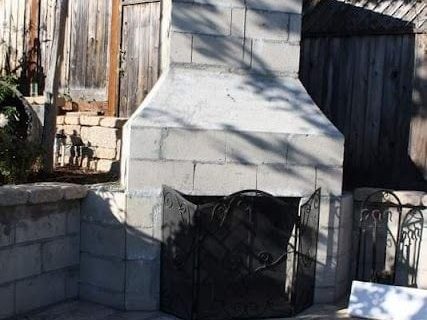 The great thing about a DIY fireplace is that you have complete control over how big or small it's going to be, depending on your available space. Just make sure the chimney over the fireplace is well-constructed to prevent the smoke from bothering your neighbors.
A Sturdy and Stylish Way to Organize Firewood 
Speaking of outdoor fireplaces, you probably need a place to store your firewood as well. But honestly, stored firewood usually ends up being an eyesore. That's the great thing about DIY. You can make the usually not-so-pretty things a lot easier on the eyes.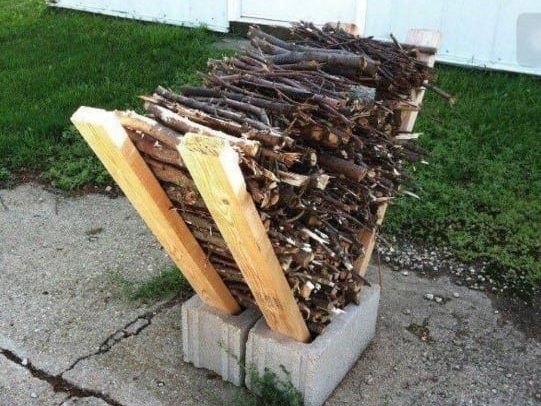 By sticking wooden planks at a certain angle on the holes of two cinder blocks placed side by side, you can use the V-shaped space in between to stack your firewood. Just make sure you place this organizer in an area where you can keep the firewood dry.
A Space-Saving Seat and Storage in One
One can never have enough storage at home. So if you have a few cinder blocks lying around, why not make a multi-purpose seat and storage? Not only does this add an extra corner where people can sit, it also gives you more storage options without taking up too much space.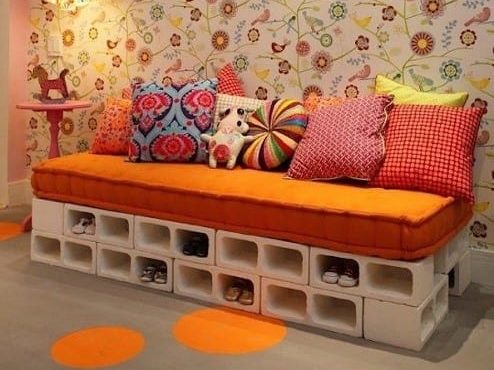 Make sure you choose cinder blocks that have big enough holes that could be used to store the items you want to keep. Perhaps a pair of shoes or some toys? It's all up to you. 
A Personalized Pool
Almost everyone wants a pool in their backyard. Who wouldn't, especially during those hot summer days when the best way to cool off is a dip at the pool? But it's costly to have a pool built. So why not DIY it to cut back on the costs?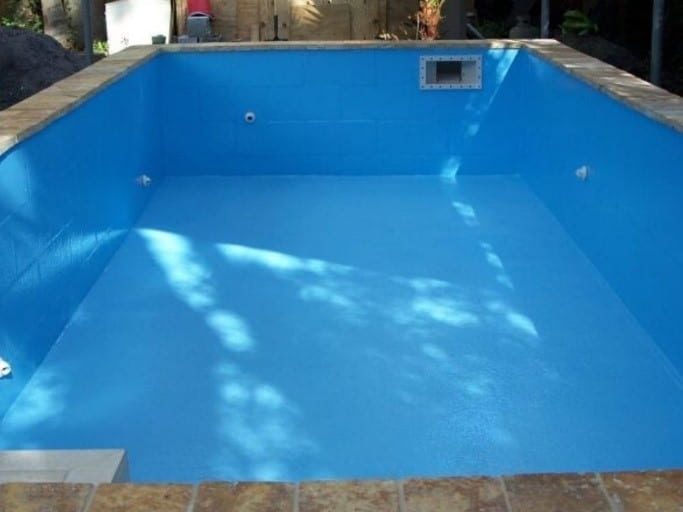 All you need are cinder blocks, cement, and other materials that could help you personalize your pool and make it unique. Just check out proper ways to ensure there are no leaks, as well as guidelines on how to make sure the foundation and walls are sturdy.
A Solid Compost Pit
Compost pits are a great way to help the environment. The problem is, digging an entire pit takes so much time and effort. But if you have cinder blocks lying around, you can build your own compost maker and give your soil some natural nutrients that will make anything in your yard bloom.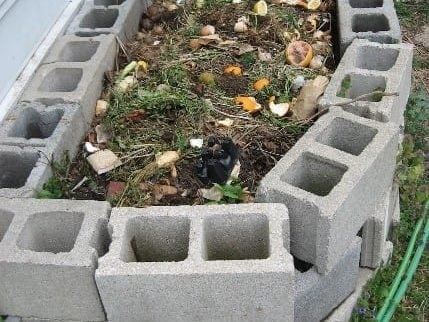 Just use the cinder blocks to section off an area of the lawn, then start throwing old vegetables, fruit peels, and other natural materials that could help your compost heap as nourishing as possible.
A One-of-a-Kind Desk
We spend a lot of time at our desks, yet finding a desk that is right for you isn't so easy. Some are too large, others offer no work space. The solution is to make your own desk using cinder blocks. Not only do you get the chance to fully customize it, you also get to save a few bucks, knowing how expensive furniture can be.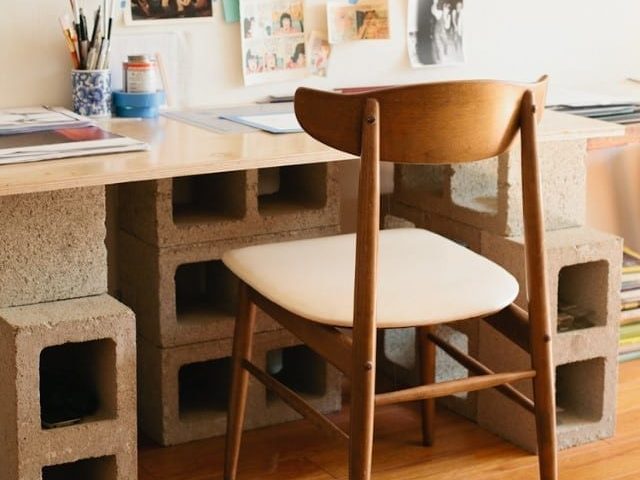 Just measure how many cinder blocks will give you the table height you want. Once they're stacked together, find a nice piece of wood to place on top, then decide how you want to personalize the whole thing.
A Nail-Free Custom Shelving Solution
Shelves are always an important part of any home. Not only do they allow you to have a nice place to put books, photos, and other knick-knacks you want to display, they also allow you to have some semblance of organization in your own home.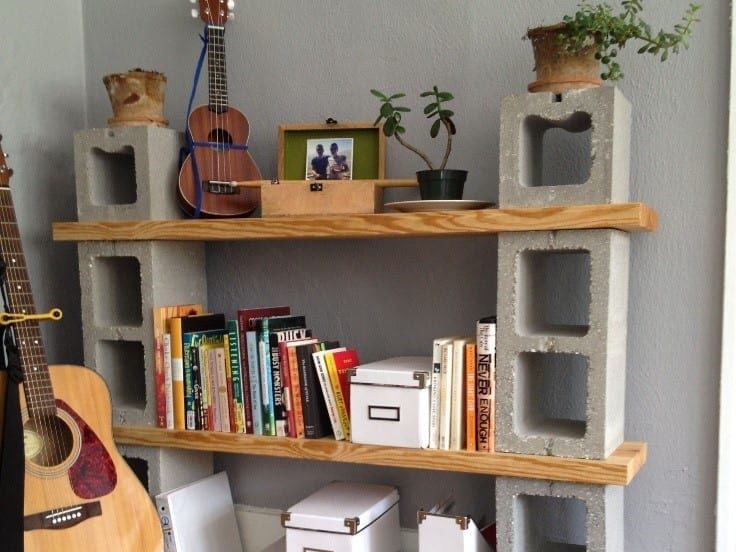 The big problem with shelves is often the need to attach them to walls. But with cinder block shelving, there's no need to do that! Simply stack cinder blocks and put some wooden planks in between, and voila! Sturdy custom shelves that you can personalize any way you want.
A Beautiful Customized Bed
A bed is another piece of furniture that's essential in any home, but is usually so expensive that you end up having a mattress on the floor instead. Through the use of cinder blocks and some strong wood, you can make your own bed that your mattress will fit on.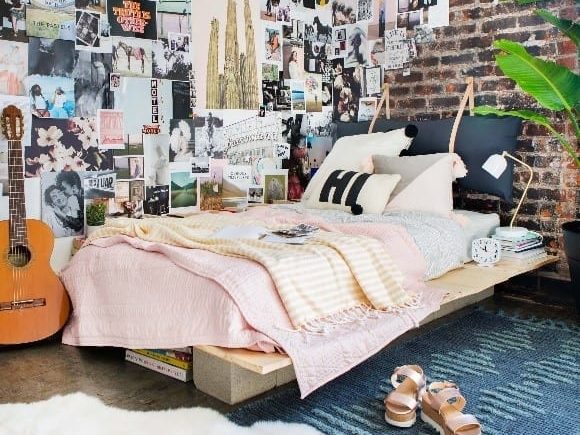 The great thing about this is that you can be flexible on the bed's size in case you eventually want either a smaller or a bigger mattress. Just adjust the way the cinder blocks are laid out and you can have a bed that is exactly the size you want.
A Slip-Free Set of Cinder Block Stairs 
A sloping yard can add a dramatic view, especially if you know how to landscape and lay out the foliage the right way. But slopes in your yard can also be hazardous, especially if you deal with rainy seasons that make these slopes muddy and slippery.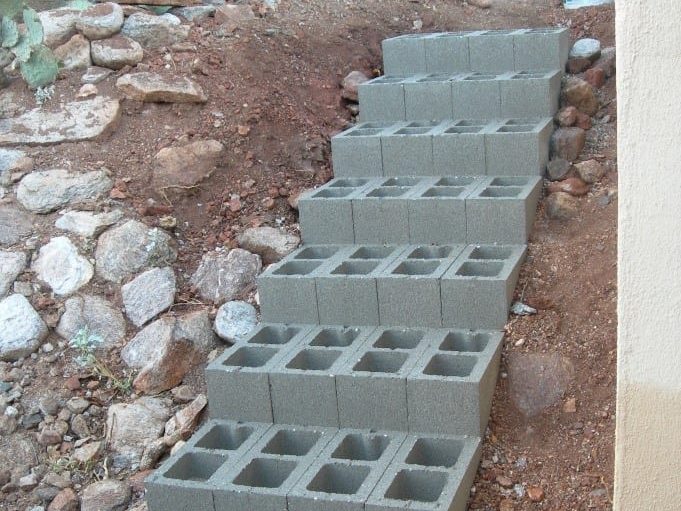 By setting a few cinder blocks on these slopes, you can actually make your own stairs that could make the area less hazardous. Just tightly lay out four cinder blocks next to each other and fill up the holes and spaces with gravel. Then, work on the next step by doing the same thing at a higher elevation than the last row.
A Cozy Fire Pit with Custom Seating
If the DIY idea for an outdoor fireplace earlier seems overwhelming, then maybe this could be a better and less daunting task. Building a nice fire pit surrounded by some DIY benches is a great way to create a cozy space in your backyard.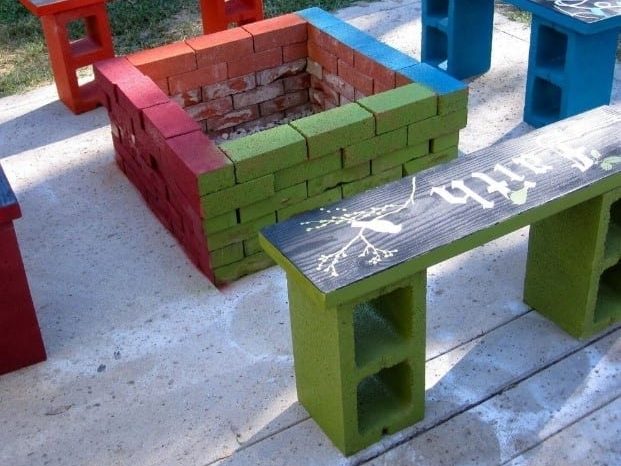 You can even be more creative and make a differently-shaped pit if you want. There are basically no rules and no need to stick to a square pit if you want something unique. You can also paint over the pit and the benches and add some color to it.
A Unique Garden Wall with Custom Planters
Adding small partitions around your yard could add an interesting twist and liven up the place. Use cinder blocks to add makeshift walls, with some of the cinder blocks popping out so that you can use the holes as planters.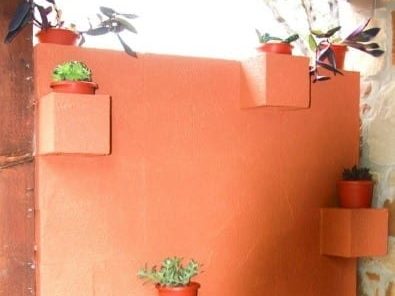 As a final touch, paint these walls a unique color so that they can become nice centerpieces in your yard. If you're feeling extra creative, you can even paint a mural over the new walls to truly make them your own.
An Attention-Grabbing Planter Table
Speaking of makeshift planters, you don't need to add walls to your yard just to make space for more planters. In fact, if you have a relatively smaller space, you can opt to make your own planter table and have that set up in a nice corner as a focus piece.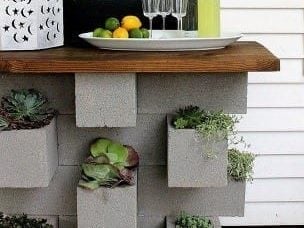 Just cement some cinder blocks together, with each block facing a different angle so that you have their holes popping out randomly. Use those holes for small potted plants. Put a wooden plank on top where you can either put bigger potted plants, or place some display pieces.
A Practical Cinder Block Grill
Why haul your huge grill out when the weather's nice if you can use a single cinder block to grill a few things? Especially if you only plan on grilling just a small amount of food, you might as well stick to a single cinder block for your needs.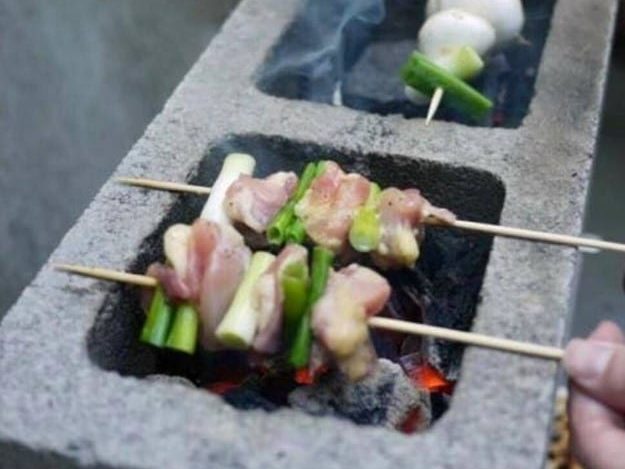 Just fill the holes with charcoal and you're good to go – it's that simple! The best thing about this is that you can cook two different kinds of food simultaneously without worrying that their flavors will mix. Just use the two holes for different food.
A Fun Corner for Friends
If you love entertaining family and friends at home, a cozy corner would be just the thing that could help make those simple gatherings extra special. By creating a fun corner with enough seating space made of cinder blocks and wood, you can have a simple nook that will be talk of the town.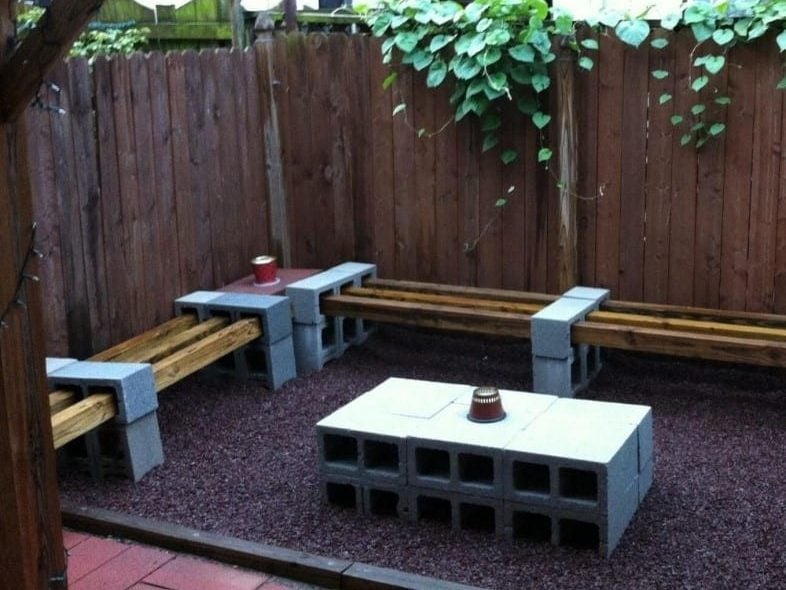 And why stop at creating a seating space? You might as well use those cinder blocks to make a coffee table where you can place your snacks and drinks. Use the two-holed cinder blocks for the tables, then go for three-holed ones on the benches for better stability.
A Rustic Outdoor Dining Table
Sometimes, there are beautiful days that make you sad that you don't have an outdoor dining area. Well, this is your chance to finally make that dream come true. With a few cinder blocks and a solid piece of wood, you can finally dine outside when the weather is great.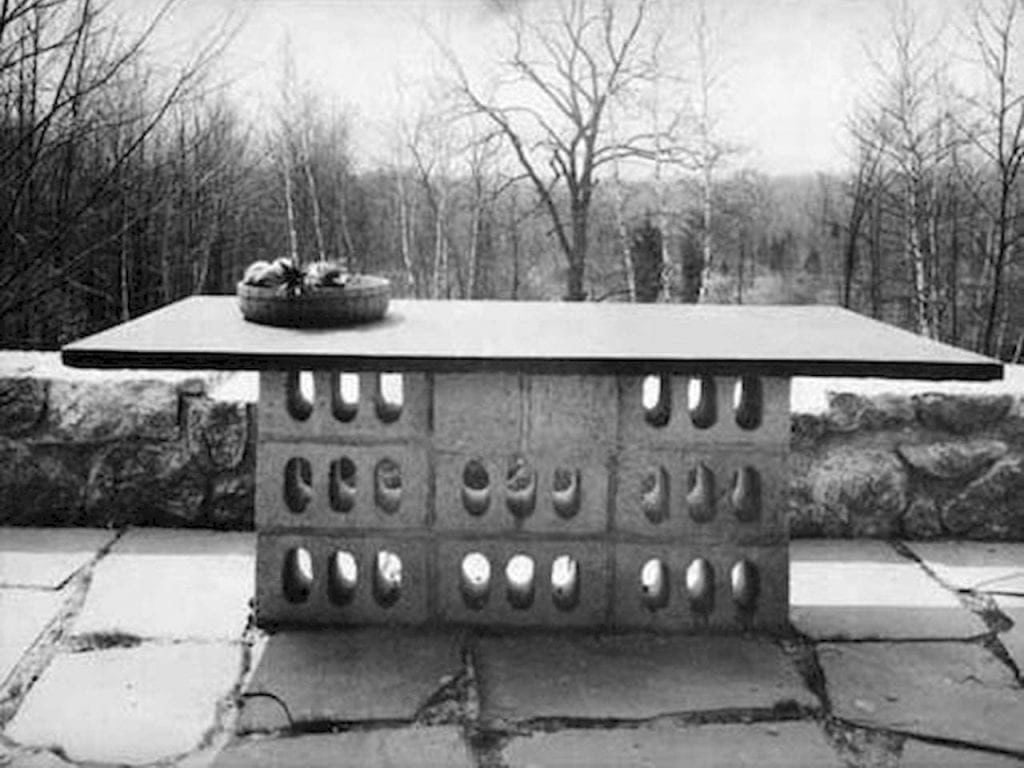 By stacking three layers of three-holed blocks, you can get the perfect height you need for a dining table. Just make sure you place those stacks strategically, making sure it will support the weight of the wooden plank on top as well as the weight of the food and plates that will be set on it. And be careful when people lean on the table!
A Cute Cinder Block Bookshelf
Going back to our shelving issues, books are another thing around the house that need a place to live. But we've repeatedly proven that cinder blocks can make great storage and shelving solutions. So why not do the same thing for your books?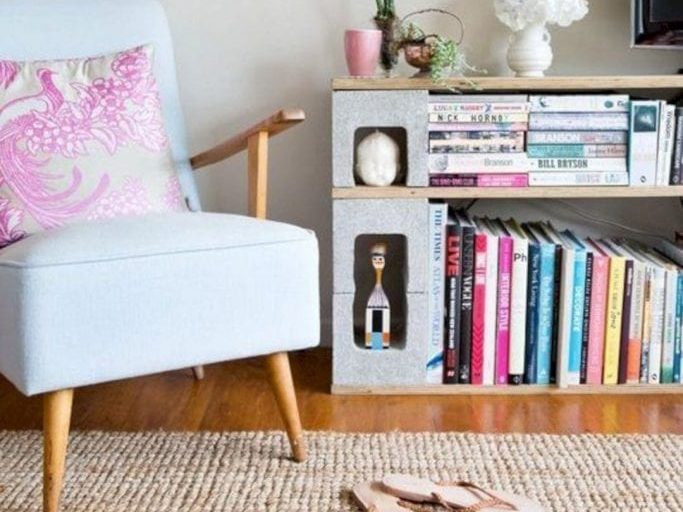 Use cinder blocks and wood planks the same way we did all the other shelving and storage solutions on this list. You can even customize the bookshelf based on the design and size you want! The possibilities are endless, especially if you have a ton of books to store.
A Safe Space for Seedlings
If you've got a green thumb, and keep busy cultivating flower beds around your yard, you'll know that baby plants have better chances of survival when they have their own safe space. But this also means preparing a whole bunch of pots to use, at least until the seedlings are big enough to plant directly onto the flower beds.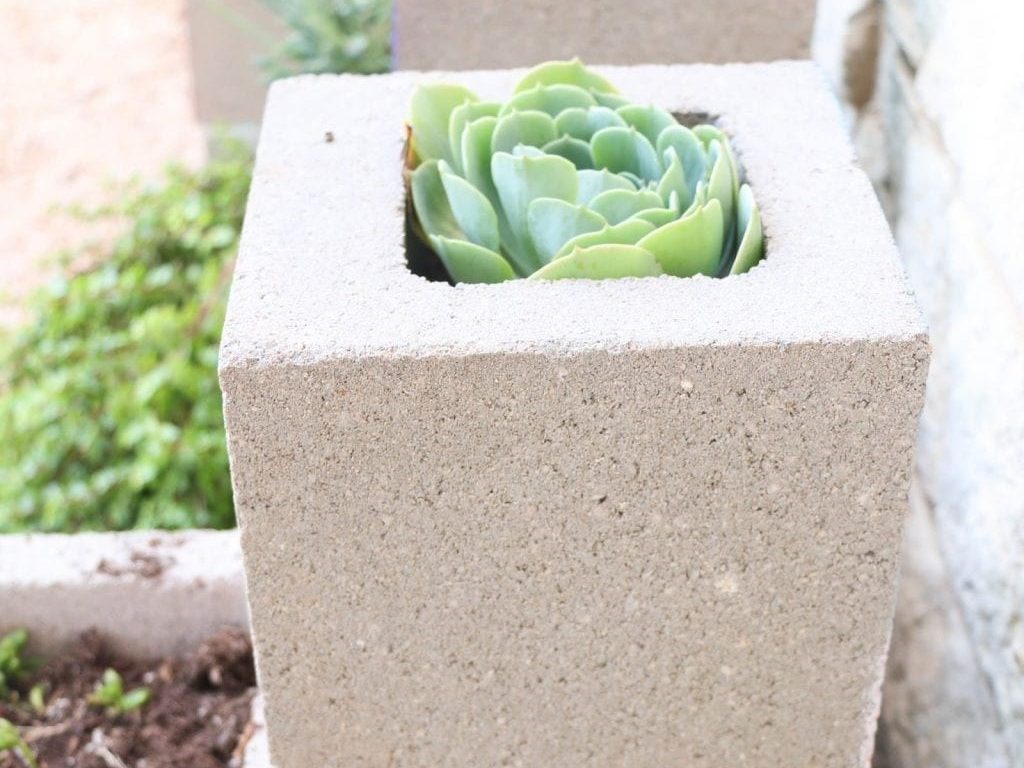 The holes on those cinder blocks are perfect for this purpose. Just fill up those holes with soil, then lovingly plant the seed in there. Give those babies a chance to grow a bit; then you can start moving them directly to the ground.
A Decorative Bedside Table
We've worked on a few surfaces using cinder blocks, so why not make a cool bedside table? You don't need to use more than just cinder blocks stacked on top of each other. You can even use the holes on the blocks to place a few knick-knacks.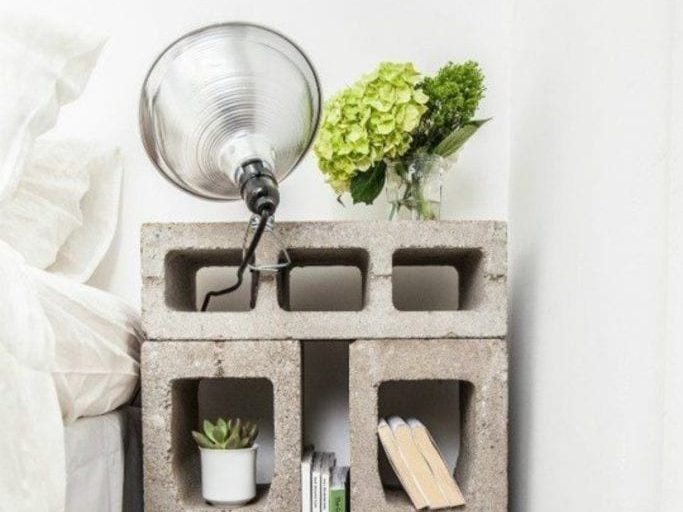 For best results, use two-holed blocks as the table's legs, then put a three-holed block across the top as the table's surface. You can even add a bit of space between the two legs to make room for magazines or books.
A Set of Decorative Posts for Fences
If you have a spacious yard, there are so many possibilities for you to create new spaces. You can have a small garden in one corner, for example, and have a nook for entertaining guests in the opposite end. All you need are a few cinder blocks to use as decorative posts and attach wooden planks between them to fence off specific areas.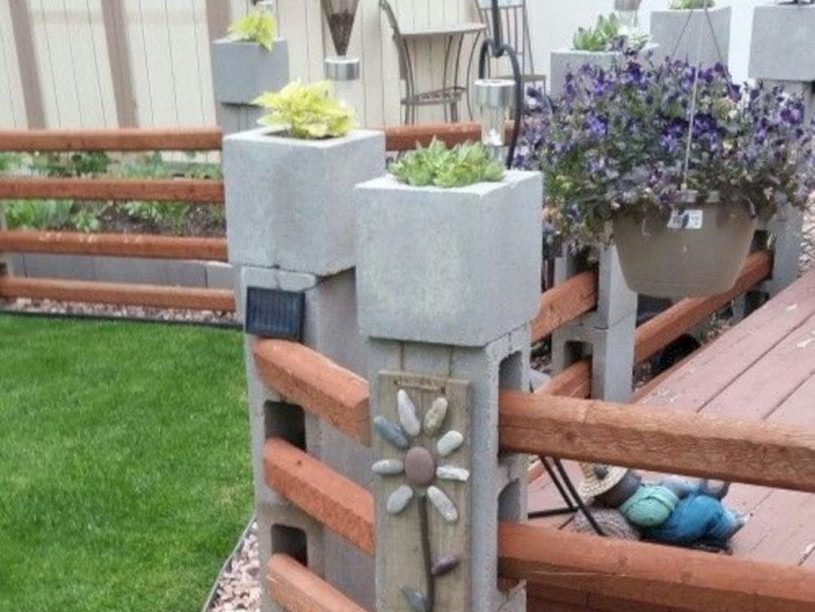 Make each post look interesting by adding decorative touches. You can paint on them, attach wooden decor, or put plants on the posts. You can even change the decor on them depending on the season!
A Personalized Bar for Fun Parties
Garden parties are even more fun if you have a bar where you can mix your favorite drinks. Whether you're throwing a birthday party or just want to lounge with your favorite drink, it's the perfect addition to your home.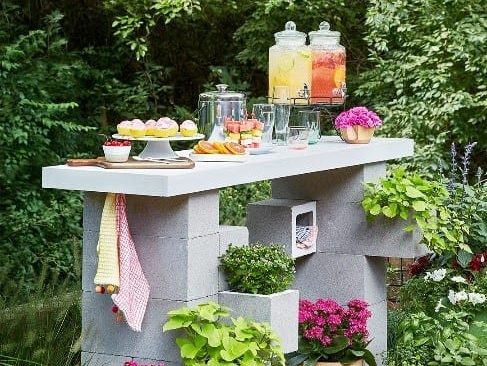 Choose any sturdy material that you want to use as the countertop, then place it on top of two stacks of cinder blocks. Personalize it by painting it your favorite color or adding colorful flowers around it.
An Inviting Bird House
Birds are always looking for a place to rest, especially if they've been flying around for hours. This might be the perfect time for you to give these birds a break, especially if you love wildlife.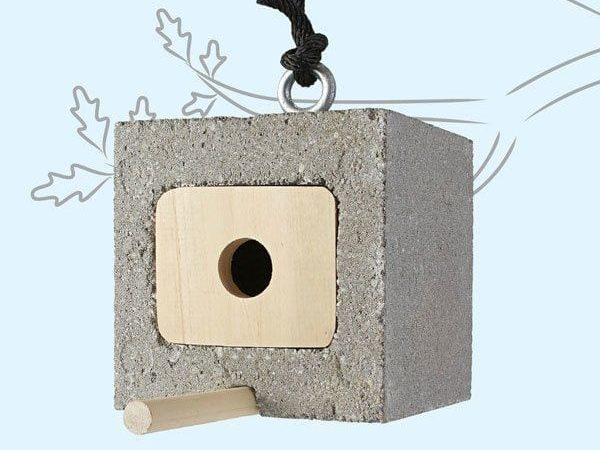 By hanging a cinder block in any area around your property, you can provide the kind of shelter that birds need. Just attach a wooden rod where birds can perch, and you can invite as many of them as you like. You can have a number of these scattered all over in case there's a healthy number of birds flying around your area all the time.
A Thriving Succulent Pyramid
Succulents might seem unassuming, but with the right presentation, they can transform any corner into a magical spectacle. You can set up as many cinder blocks as you want, in any arrangement, and fill each with a colorful succulent.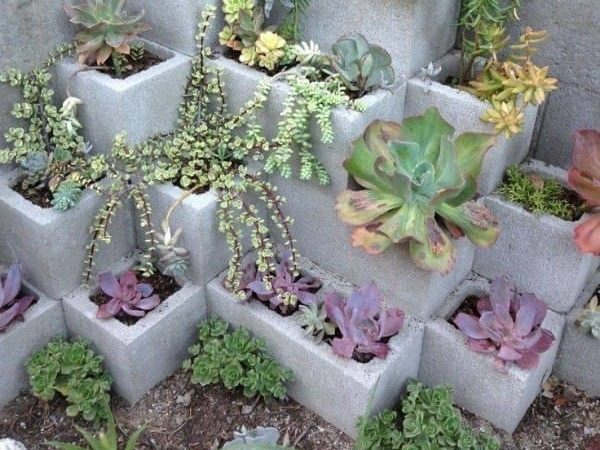 Don't worry. We're not building pyramids as large as the ones you imagined. Just stack cinder blocks and have them form the shape of a pyramid, with the blocks placed at different angles. Then, place the succulents in the holes and around the base of the pyramid and watch the entire thing take shape as the plants get bigger.
A Fun Outdoor Buffet Area
It's great to gather people around food, and sometimes a regular dining table isn't enough. When you have food- and fun-loving friends, a buffet table is just the thing that would keep everyone's spirits up. Set that up outdoors and you have the best means to keep everyone entertained.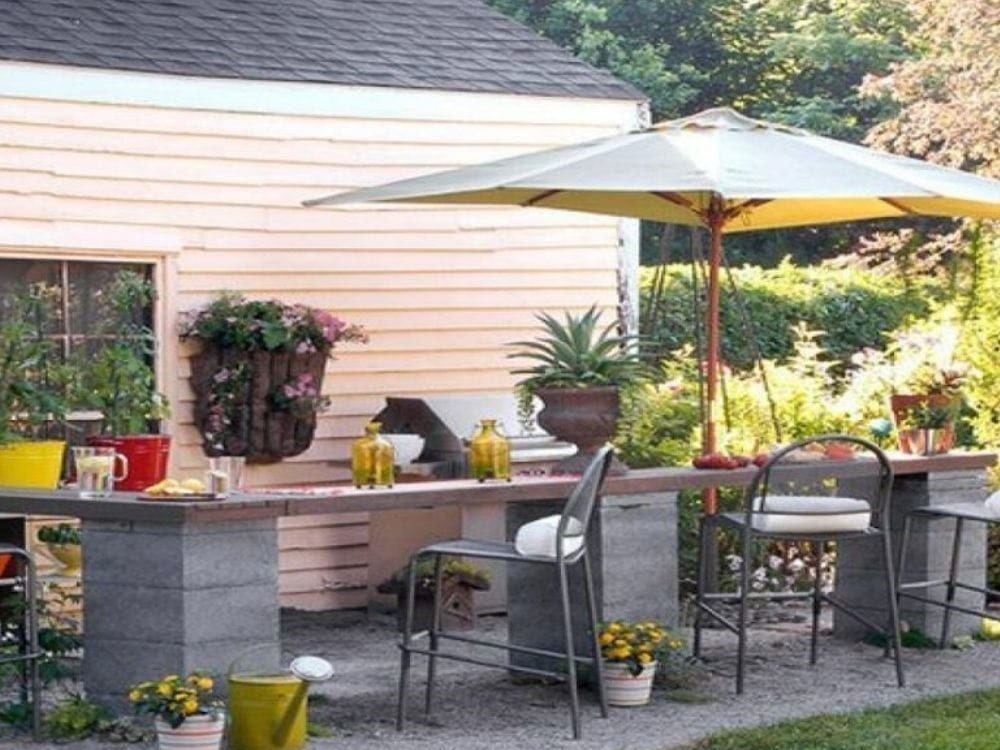 You're going to need a longer wooden plank for this, knowing that buffets are more fun the longer they are. Depending on how long the table will be, just stack your cinder blocks three steps high and place them strategically to make sure that they can support the weight of the table.
A Unique Set of Planters
People who enjoy their green thumb will never run out of reasons to make more space for more planters. With the use of cinder blocks, you can make as many planters as you want in any arrangement you want.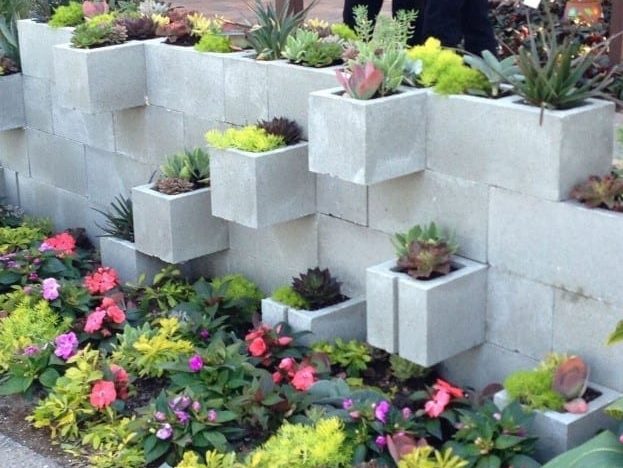 The great thing about this type of DIY planter is that all you need to do is lay down layer upon layer of cinder blocks, with some cinder blocks placed at different angles to expose at least one hole. These holes will serve as a home for your newest plants.
A Single Cinder Block Flower Planter
What if all you really need are single planters and not whole blocks of them? No worries! By stacking two or three cinder blocks on top of each other, you can use the holes on the top block as planters for your favorite blooms.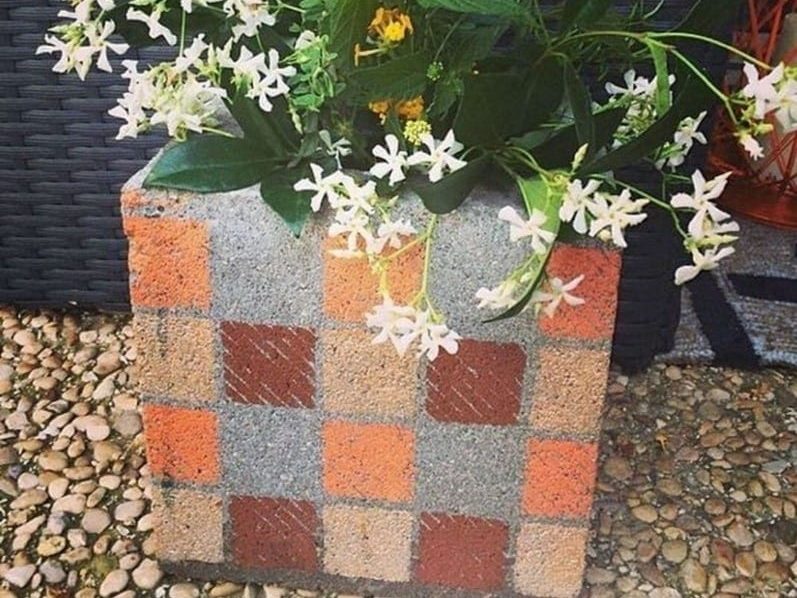 As with any DIY project, you have to make these planters your own, too! So paint them and decorate using any materials you have handy to show everyone your unique character.
A Relaxing Outdoor Daybed
An outdoor daybed is such a relaxing addition to your home, especially if you have the space for it. Find a wall that has nothing around it and start there.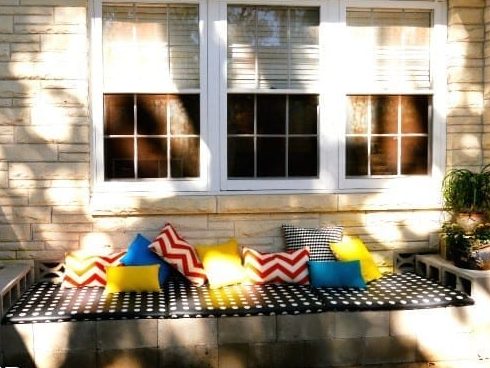 You just need to stack cinder blocks on top of each other until the stack is wide enough and high enough to serve as a day bed. Make the opposite ends higher so that they can serve as armrests. Then, play with some padding and fabric and make that courtyard bench as colorful as you want.
A Sparkling Wall of Lights
Lighting is always a great way to soften the mood in any space, especially if it's outdoors. You can actually add a bit of drama into your garden or yard by creating a wall of lights.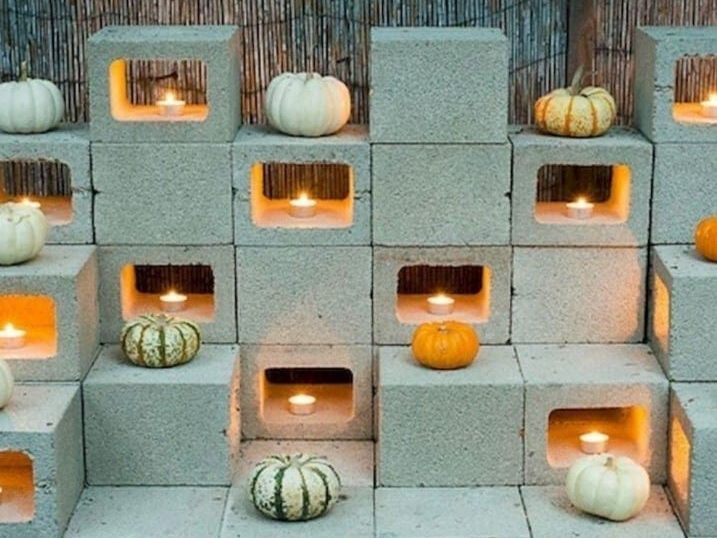 It's simple – just stack cinder blocks together in a way that best suits your purpose. You can have some of the blocks facing outward, and some facing inward. Then, on the exposed holes, place small scented candles that you can light up during romantic evenings and quiet gatherings.
A Grand Barbecue Grill
Everybody loves a good barbecue, but it's hard to find enough space in your yard. That's especially true if you dream of a jumbo-size grill that can handle lots of food. But if you have a lot of cinder blocks lying around, you just might get the chance to grill all your specialties the next time you're expecting a crowd.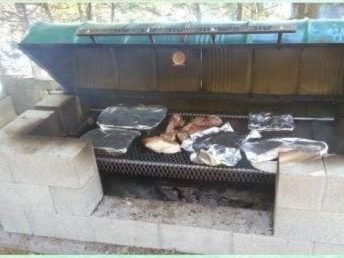 If you remember the fire pit DIY that we laid out earlier, just use the same process, but place the blocks in a rectangular shape. Just make sure you can fit a tasting barrel into the space and fill it up with charcoal. From there, you can fire it up and start grilling right away.
Trash to Treasure
The great thing about DIY is that you can use just about any old material to create something beautiful. So take your cinder blocks and start collecting things that people would usually throw into the waste bin – like broken pots, empty bottles, old tin cans, and other similar items.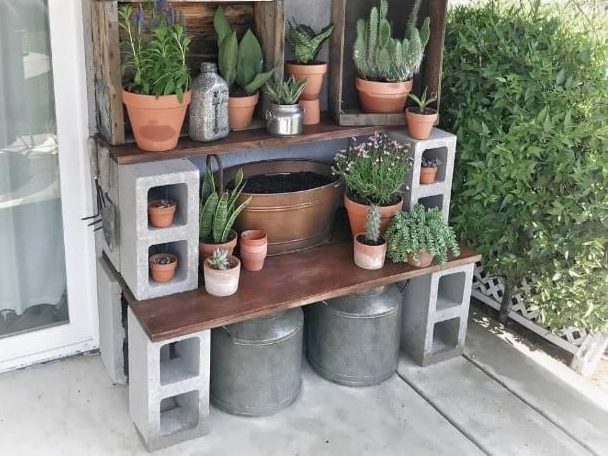 Then, start putting all of those things together. Create a stack of shelves using the cinder blocks and some wood, and scatter all the other items around. For pieces that could serve as containers, you can place plants, dried flowers, and any other decorative items to make this corner pop out.
A Rustic Outdoor Kitchen
This isn't really something you can put together in an hour or two, and would require a lot more planning than the other projects on this list. But once it's done, it will be even more fulfilling, especially if you love to cook.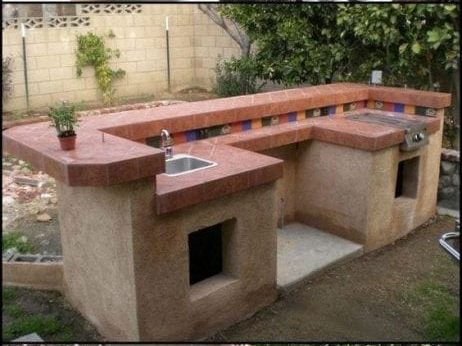 By making an outdoor kitchen using cinder blocks, you can not only entertain people outside, but you can also prepare every single dish you'll be serving while enjoying the weather outside, too!
An Outdoor Reading Nook
On those clear days when the outdoors is just too tempting to resist, it's best to grab a good book, a cool drink, and find a cozy spot to sit in. If you don't have such a space yet outside your home, you can make your own using cinder blocks.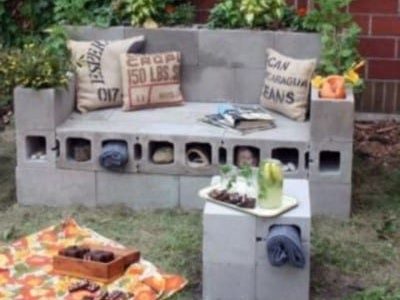 Just stack a few cinder blocks together and make sure you form an armrest at either end. Then, you can throw in a few pillows and even add some padding to the seat. Once that's done, you can curl up on that seat and immerse yourself in whatever adventure awaits you in the pages of your favorite book.
A Cinder Block Fire Pit for Outdoor Parties
What if a small fire pit isn't enough, especially if you love throwing parties even on those chilly nights? A larger fire pit is definitely the answer, especially if you have quite a large space outdoors.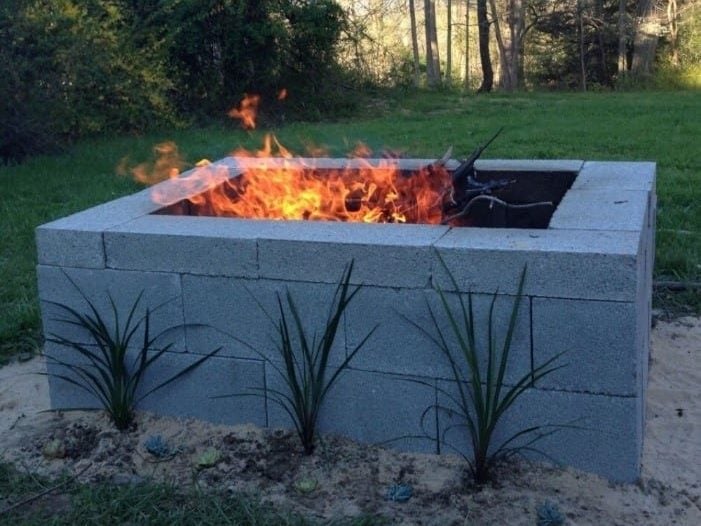 Just make sure that you have fireproof materials right at the base of the fire pit to avoid any untoward incidents. Then, start stacking cinder blocks around the area you marked. Once you have a big enough pit, you can start lighting it up and have your family and friends gather around it.
A Whole Lot of Furniture
To be honest, you can make just about any kind of furniture using cinder blocks. All you need are the required materials and a whole lot of creativity.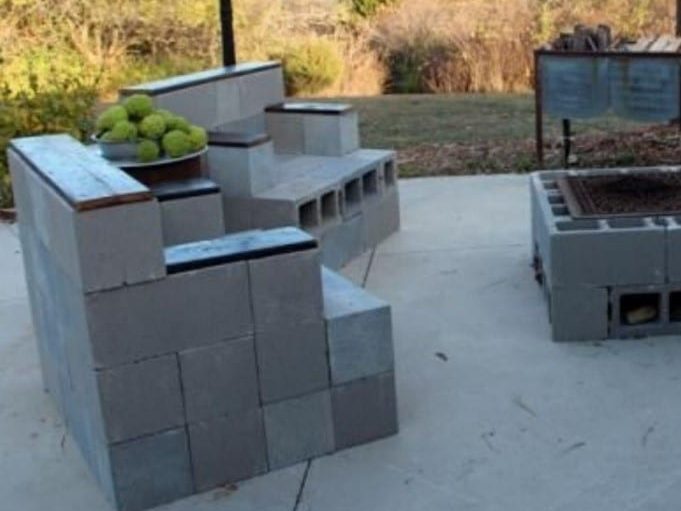 You can make seats and tables, for example. You can even add some wooden details to make it look rustic. If you think those seats are too hard for comfort, that's okay! Find any kind of foam or padding that you can use to soften those seats up, and you're good to go.
A Stylish Table Centerpiece
When you're always hosting parties and get-togethers, you always find ways to make the table more interesting each time. It's a good thing cinder blocks are so versatile, you can also use them to DIY some table centerpieces and make the party even livelier than usual.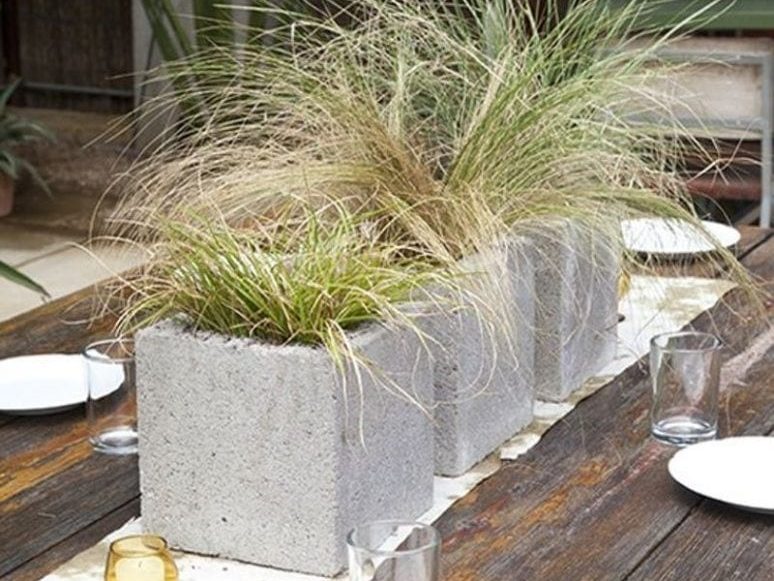 Single-hole cinder blocks would be great if you have some air plants or succulents that you can place into each hole. But you can also use bigger cinder blocks, especially if you want a more lavish setup.
A Decorative Garden Post
If you find your garden or yard to be boring, maybe it's time to spruce things up by adding a decorative piece. Something with height will always catch anybody's attention, so a decorative post might be just the thing.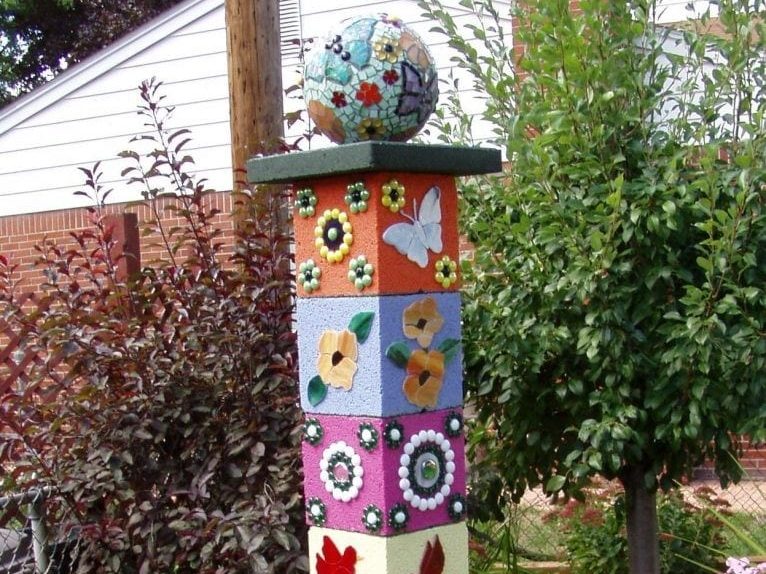 Although the example in this picture might be too much for some, remember that you can always personalize this piece however you want. This means that you can do the same thing and add every splash of color in there, or you could go for more subdued hues. It's all up to you!
A Beautiful Thriving Garden
We've already covered quite a few ways to make planters on this list, so just imagine what kind of beauty you can come up with if you put all of them together! You'll end up with a beautiful fairy tale garden.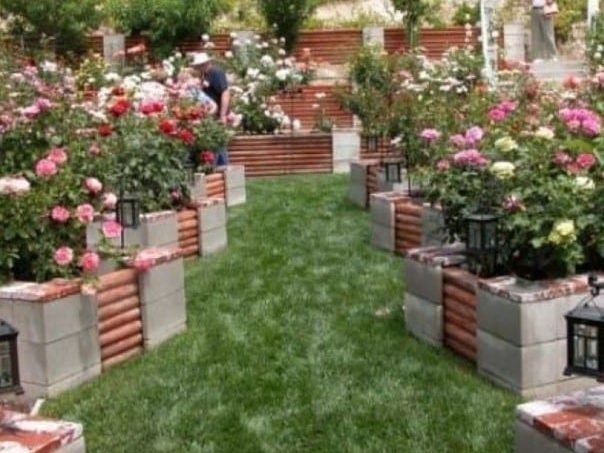 Just build planters all over the space and fill them up with plants that bloom colorful flowers. Experiment with other materials and add as much character into it as you can. Once all of those flowers are in full bloom, just add a bit of lighting and you've got a garden worthy of magical moments.
A Quick-Heating Rocket Stove
We end this list with yet another awesome way to cook using cinder blocks. If you haven't heard of rocket stoves yet, they're named as such because of the quick way they heat up and cook things.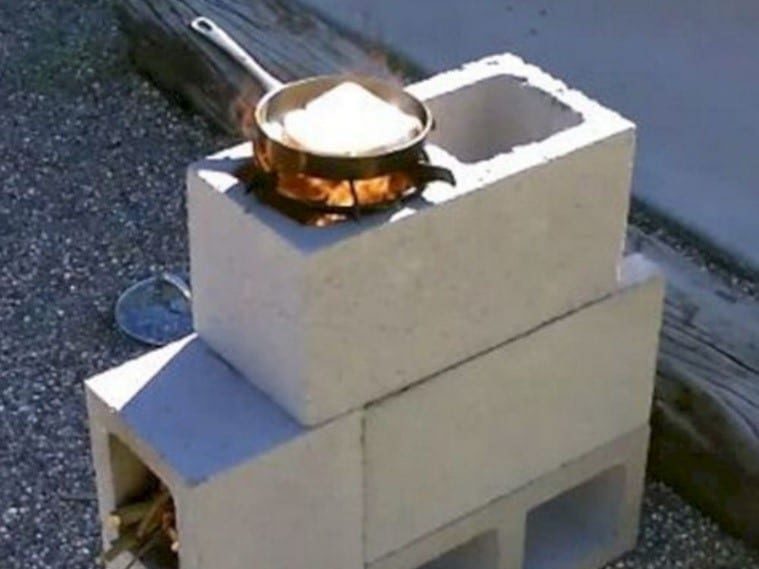 As long as you have enough air flowing and all holes are pointing upwards, you'll build up heat quickly and will be able to make smores in your yard in no time. Party time!