Christmas Trees, Disrupted!
Buying and decorating the Christmas tree in the traditional way is part of the fun of families worldwide. In addition, it is always a high point in classic holiday movies.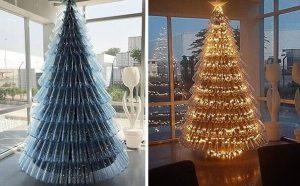 However, some families decide to break the mold and disrupt the traditions. They create unique trees that can shock, surprise, and delight you. And some that might be a little disturbing.
It Floats!
We could call this "decorations only."  What a beautiful and clever idea to attach the decorations with invisible wire and have the tree float above the floor.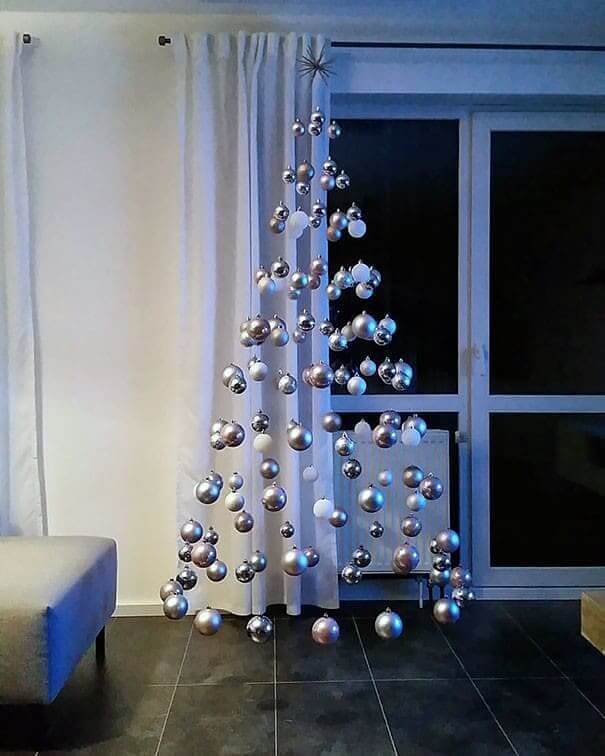 Using clear fishing lines to connect the baubles is brilliant, but the technical assembly can be tricky – one must ensure that the triangular shape is maintained. As for placement – perhaps you should avoid hanging this near pets or open windows – both might ruin all that hard work.    
We Love Our Lab
Are you working in a laboratory? Want to decorate the office for the holidays? Just use what you have on hand. Get some beakers, test tubes, and flasks, and fill them with liquid and food coloring. Easy right?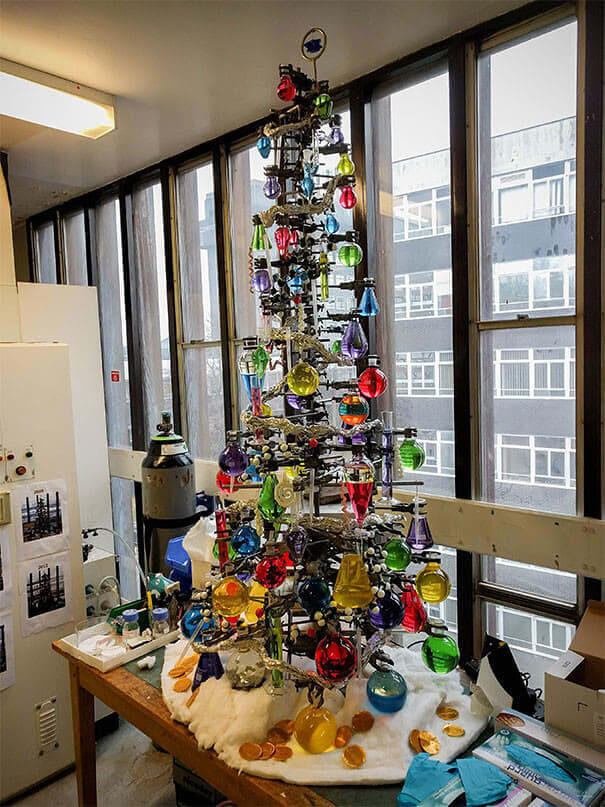 Not all that easy. You need a firm base to hold heavy "decorations" and create a Christmas tree-shaped stand. But since you're a scientist, you can surely figure it out. And it's quite beautiful when it catches the light.  
Just one thing – please ensure that none of the liquids are explosive.
Tree on a Base
When you're serving your country in Iraq, you're bound to be homesick around the holidays. So a group of American soldiers decided to scrounge their base for everything they'd need to create a one-of-a-kind Christmas tree.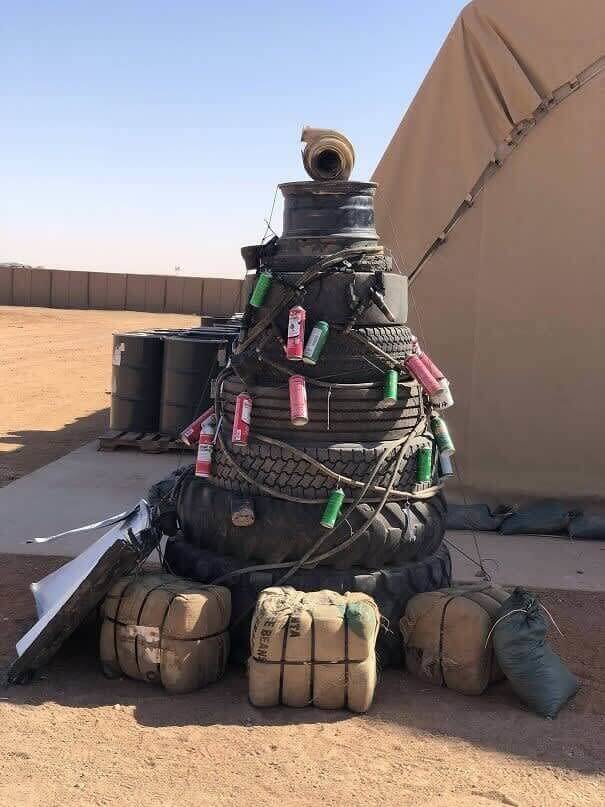 They didn't have to look too hard. A few tires, some sand blocks, some red and green cans, and voila, we have a tree. And the crowning glory? A turbo engine is a star. Let's hope it gave them comfort, laughs, and a brief respite from the daily stress. 
Find all the Green Books!
When the head librarian asked her staff to find all the green books, do you think they knew what was planned? This fantastic concept took a lot of creativity and probably a lot of searching through the shelves, but what a great idea.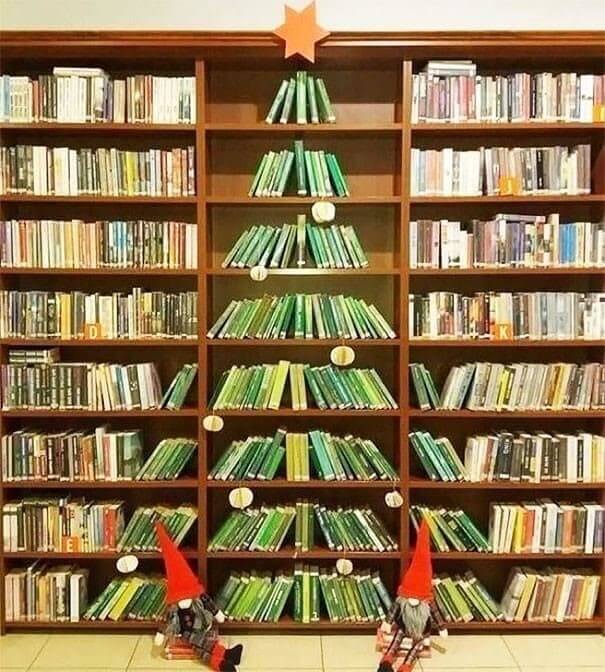 The elves on the floor are also sitting on books; hopefully, the kids don't think that's ok, but it sure is adorable. And let's hope the staff doesn't get the idea that they should shelve all books by color and size.
This One Will Last All Year
Depending on where you live, it can be hard to find a Christmas tree you like; in some cases, there are none available. This family couldn't find any tree that suited them, nor one which would not dissolve in a pile of brown needles by New Year's.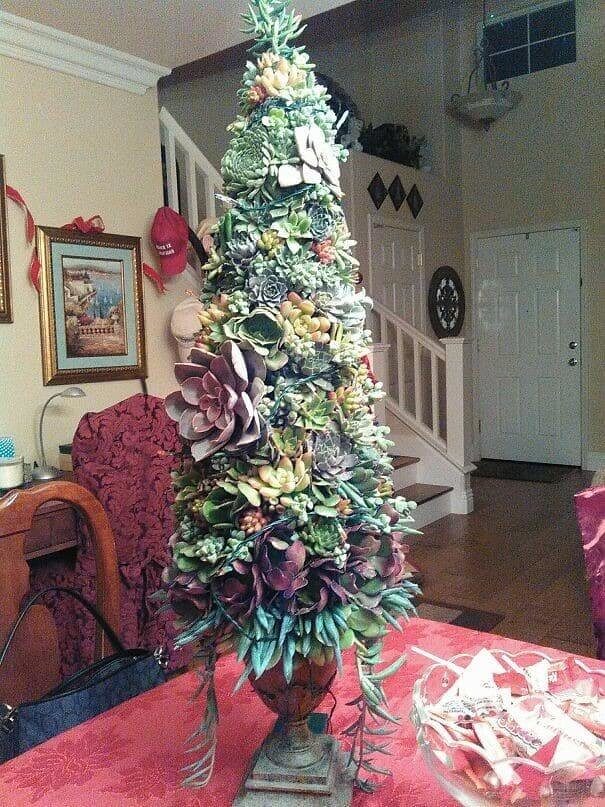 This is a tree of succulent plants like cactus, agave, and aloe. Stacked high and shaped like a tree, it only needs water once weekly. Once the season ends, the family will report the separate plants and keep them all year. 
Christmas Portal
Don't freak out. Yes, the tree is hanging from the ceiling, and the base is on the floor. In-between is where you enter the portal to somewhere that only gamers understand.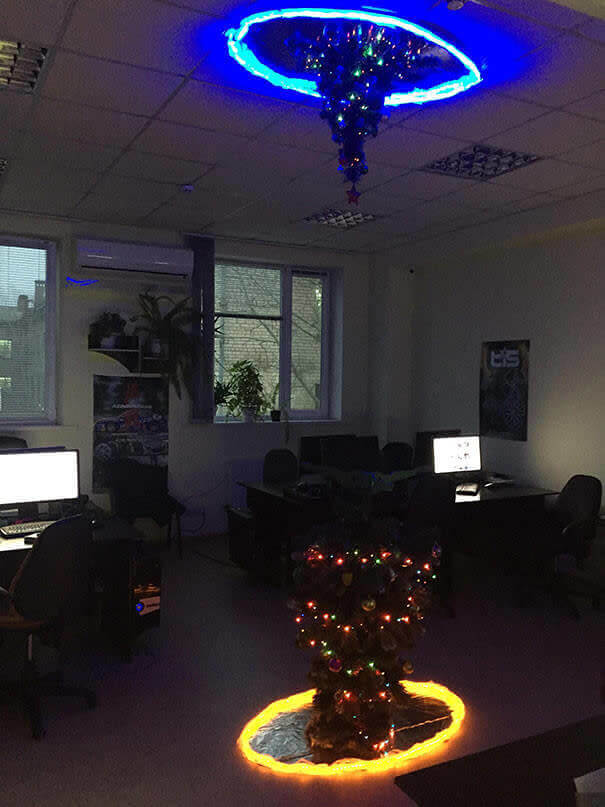 This project is a handyman's delight; you'll need a team to get it right. But, of course, you'll also need suitable space and equipment. And don't forget the LED lights – no portal is quite right without them. 
Start Saving Your Bottles NOW
 You can recycle your water bottles after the holidays but start early to save them for your Christmas tree. Over 35 billion water bottles are thrown away yearly in the U.S. alone, so it should be easy to find enough for your tree.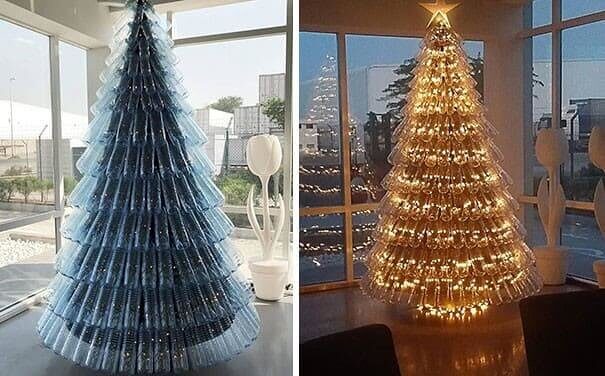 As for the added lighting, it may be beautiful, but it may also melt the plastic. Uh oh, there goes the tree. Think ahead about that. In the meantime, pat yourself on the back. You have created an environmentally friendly tree. Now, remember to recycle after the holidays!  
The Sheriff's Tree Is In
The people at the sheriff's office were surprised when the holiday spirit arrived in handcuffs. This felon of a tree was such a hit on law enforcement forums that they decided to recreate it every year, and the tradition has been recreated by other departments as well.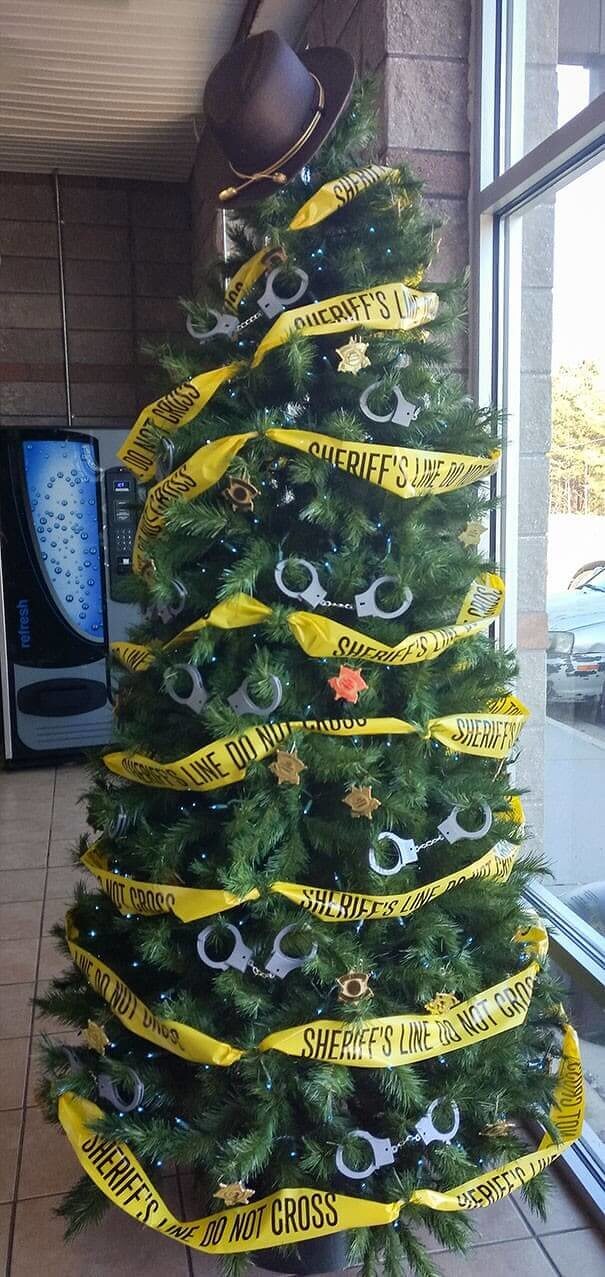 In this case, the sheriff's office proved to be very resourceful with their decoration without investing too much time in coming up with a new idea.  Just a little bit of inspiration can give any office the feeling of holiday fun, and an original tree design like this will make both employees and clientele (or suspects) chuckle. 
The Banksy Tree
This art center paid homage to Banksy's shredded girl with a balloon, and it's any urban art lover's delight. The original piece was controversial, to say the least. During a 2018 Sotheby's auction, an original frame print was auctioned for $1.4. But as soon as the bid was closed the piece started to self-destruct.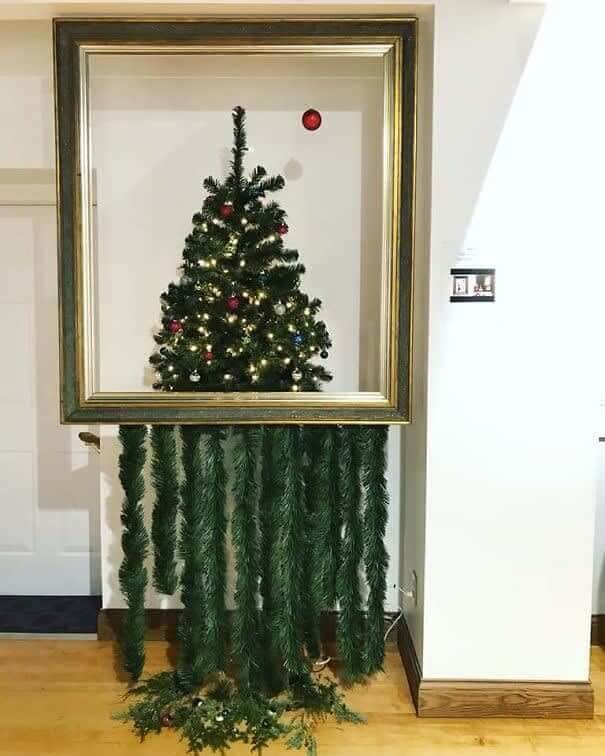 When the shredding was halfway through, it stopped, leaving only a small trace of what was a very sentimental piece. This Christmas tree is an original way of paying homage to that contentious moment in contemporary art history, where Banksy did an open critique of the system—and as always, remained anonymous.  
Love and Good Cheer?
Creativity and a unique sense of humor are definitely on show here. For example, how many of you would have considered pairing two rusty saws to make a Christmas tree?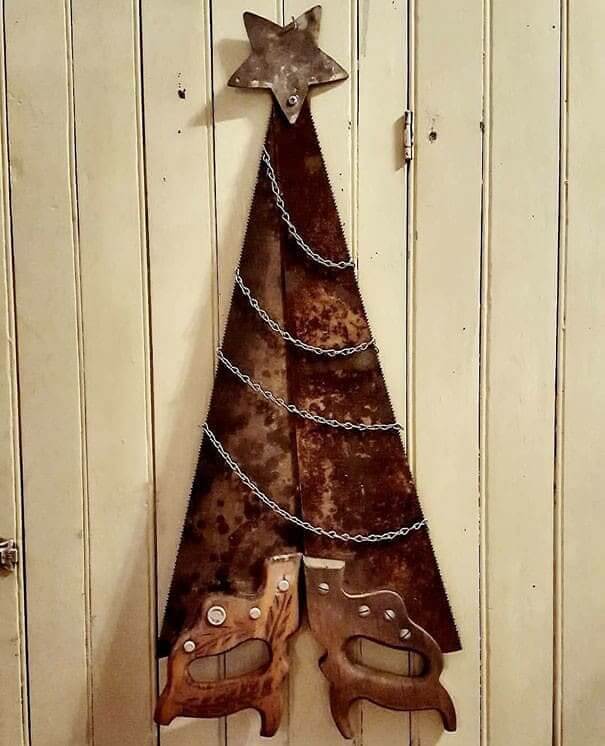 Are the chains added to make this creation more festive? Is the rusty star symbolic of something? Either way, kudos to the designer, whose totally out-of-the-box and slightly creepy approach should win some kind of award.
The Veggy Tree
A supermarket in Oslo wanted to impress its customers and convince them of how beautiful tomatoes, broccoli, and cabbage look arranged together. It's a fun tree that probably took a very long time to put in the right shape.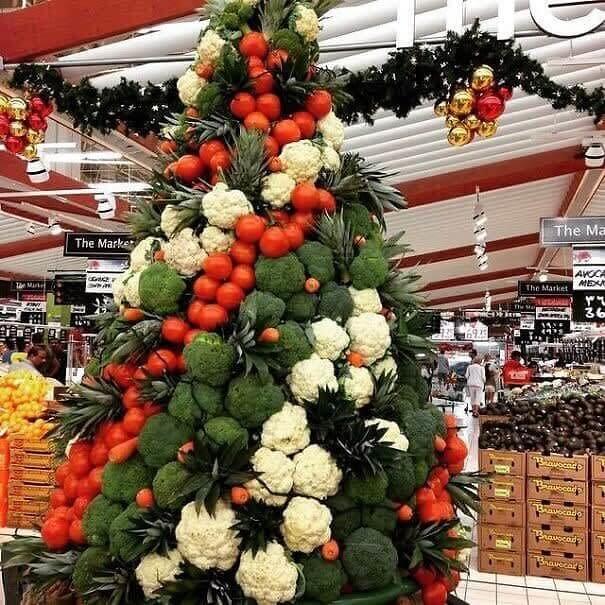 The staff even added lights and a pineapple star. They couldn't have been more thoughtful, although taking care of it must've been a hassle. Nevertheless, this tree is an excellent example of being resourceful for anyone looking for food-related Christmas tree ideas. Supermarkets don't have to be dull during the holidays!
The 404 Error 
We've seen it on our browsers since the beginning of the internet, and our frustration lies deep whenever we encounter it. It's so relatable we can't think of anyone who's ever used a browser that hasn't faced this response. The world-famous HTTP 404 error!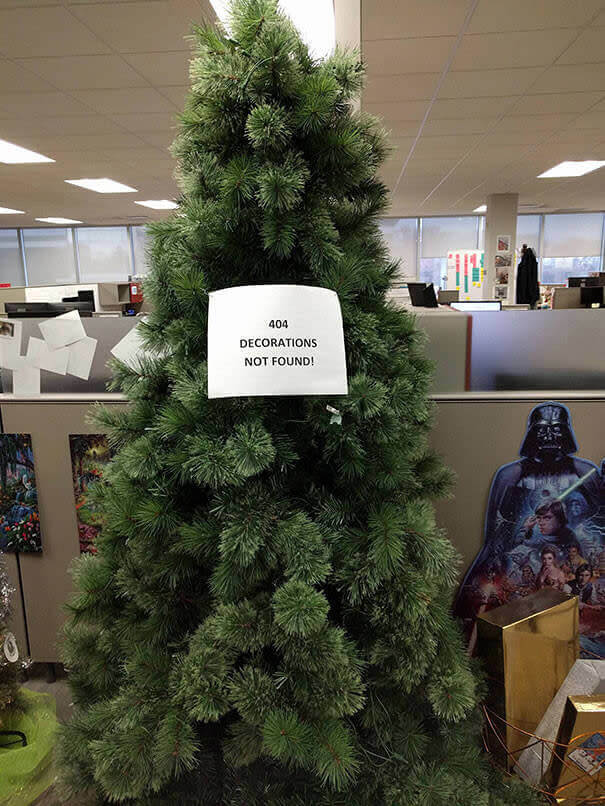 With a lack of decorations like this, the IT team should check the connection, reload the tree or give the person who came up with this a raise. Now we can't judge if this is a work of genius or laziness, but either way, it's a fabulous idea! 
The Oogie Boogie Tree
A Nightmare Before Christmas is an essential part of any holiday movie repertoire. It's a fantastic stop-motion film that can also be enjoyed on Halloween. It's like a buy-one-get-one-free offer, movie-wise!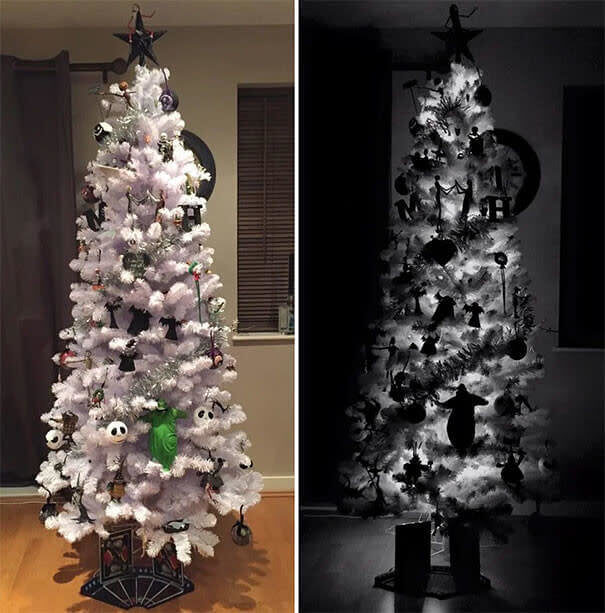 The family who made this tree wanted to do something different for Christmas and give Santa Claus a good scare. They spent around $765 putting it all together. While it looks fantastic, it must've been an absolute nightmare to set it up!
All I Want For Christmas Is Flu
Someone had a lot of free time at the lab and decided that not only was Christmas upon us, but it should also be inside us as well. The research consisted of studying different bacteria, so having that handy and while analyzing the color palettes, this scientist put all of her knowledge to work.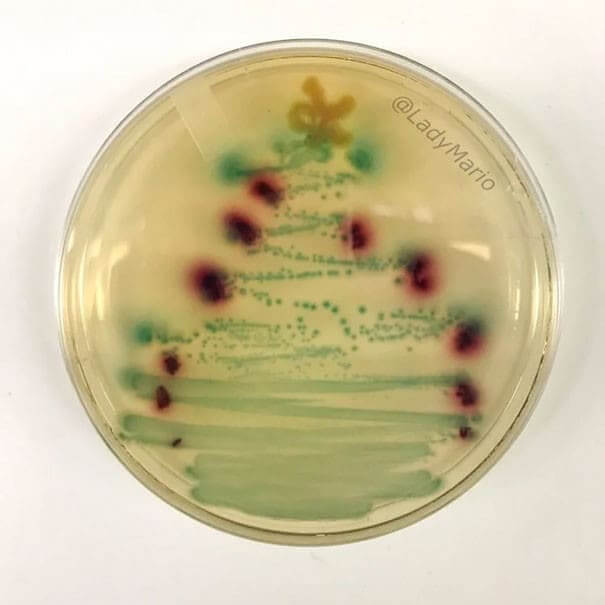 The elements used in the petri-dish to create this wonderful tree were Salmonella, E. Colli, and Burkholderia—all pathogens that could potentially make humans sick. But according to the scientist, this piece of art is harmless. Well, we'll know what caused the next pandemic if one of the symptoms is a feverish need to sing Christmas carols all year long! 
The Big Tree
To say that this tree is big is an understatement. This tree is roof-shatteringly massive! But yes, it is a trick—but that makes it all the better. The owners of this house clearly wanted to be the talk of the town and win the neighborhood competition for the best-decorated house.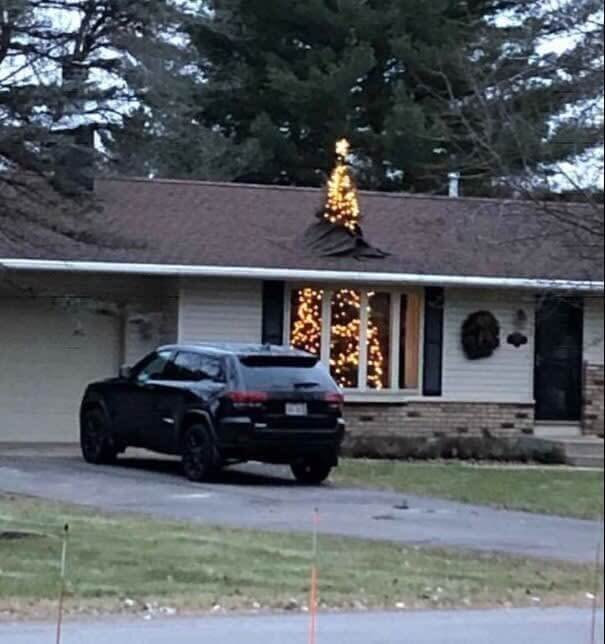 This was an unexpected move, to say the least. They indeed won the most creative decoration, and for a good reason! Imagine the difficulty of getting a fully decorated tree to stay on the roof while also making it appear that it's popping out of it. There are definitely some passionate folks out there.
iTree
We're sure any informatics aficionados will adore this binary code tree. This Christmas tree spells "Merry Christmas" in 8-bit ASCII, and what makes it even better is that it's all made out of gingerbread cookies. It's not only a work of genius—but it's also edible!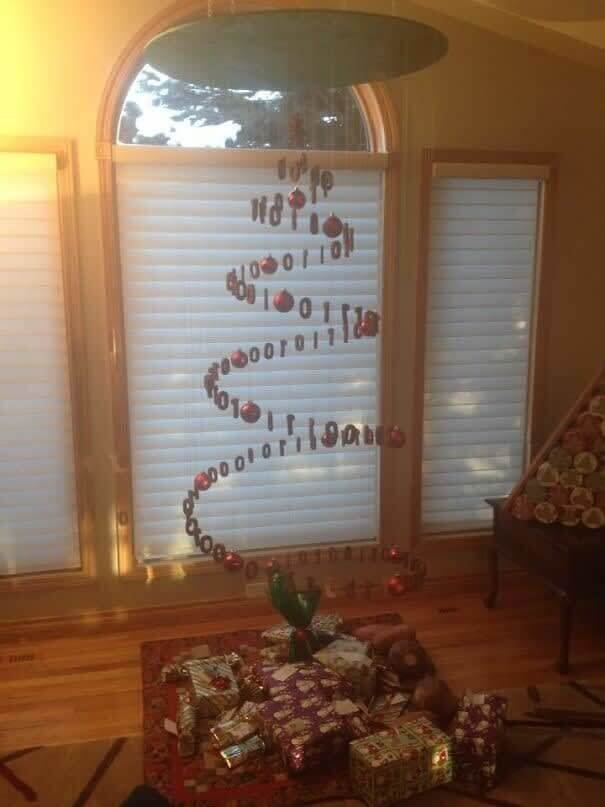 Using fishing lines and cookies, this family managed to make a very low-budget and environmentally friendly tree that made the internet go crazy. A niche group of coding enthusiasts put the binary code to the test and worked out that it was a correct translation of the words.
A Sandy Christmas
A group of soldiers in Afghanistan put their sandbags to good use by making a Christmas tree out of them. They decorated it with candy canes and garlands to give it a homely touch. When the big day arrived, they sang their favorite carols and ate around their sandbag tree.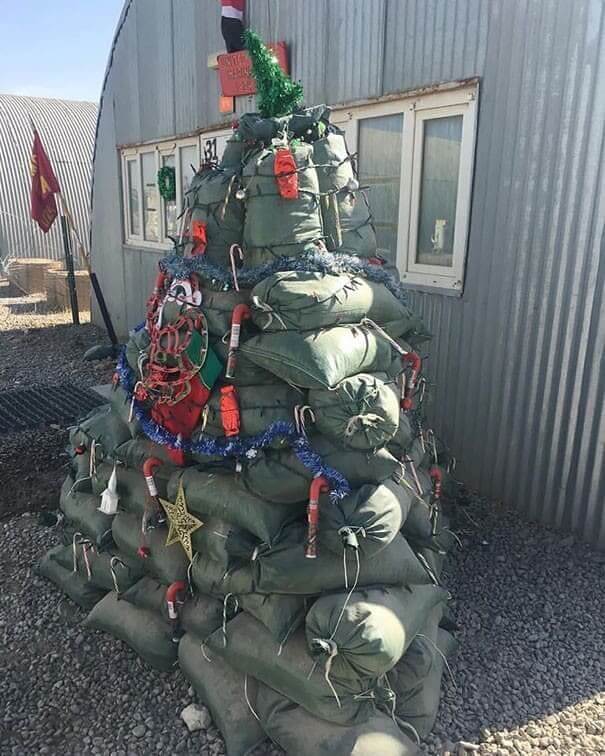 War is no joke; soldiers tend to be young people from diverse backgrounds who have to witness terrible scenes in which human rights are not always respected. The mental strain can be quite harrowing. We like the fact that Christmas is celebrated. It might give them a chance to feel, love, and destress after so much turbulence.
The Screentime Tree
When you work for a big tech company, lack of resources isn't a problem you often face. However, when this man was assigned to decorate the office, he knew he had to use his brain. He didn't want to be dragged for doing the bare minimum, so he decided to excel at his task.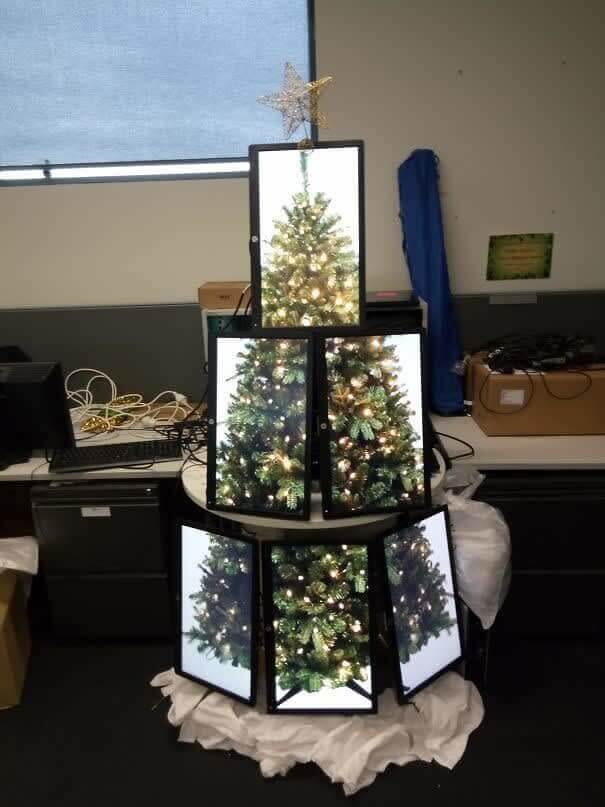 He created a Christmas tree that made the whole office laugh out loud by assembling one desktop PC, three monitors, two USB docks, one HDMI cable, and a few powerboards. Then he found an image of a classic Christmas tree, divided it between the monitors, and he got a wonderful result. 
The Elliptical Tree
Somewhere between Scandinavian design and alien abduction, this Christmas tree has all the vibes that an ultramodern, minimalist household could benefit from. While maintaining a subtle approach to the classic pine, it's a fun twist for a house with a set style to adapt the decorations to the preexisting style.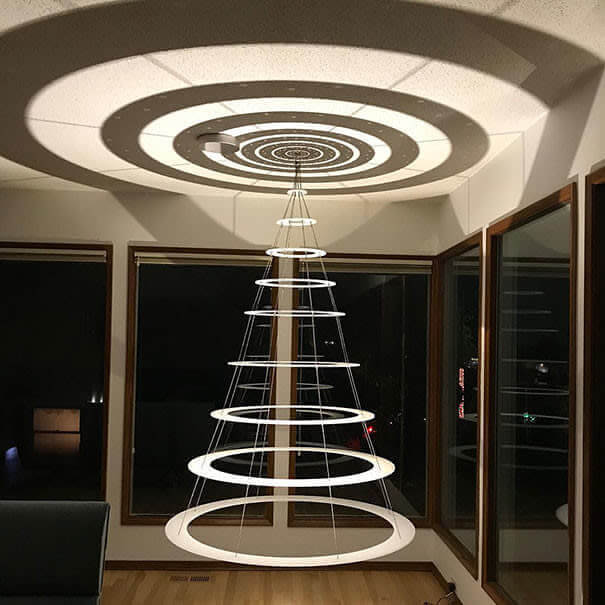 While we're sure this tree brought a warm reception because of its beauty, the owners were probably even more pleased when they realized they didn't have to clean the mess a real pine tree would have left on the floor. Hurrah for clean and pretty houses during the holiday season! 
Two For One In Decoration
Everyone talks about the wonders of marriage, but seldom is the struggle spoken of, especially if both parties have different tastes. This couple found a solution to a problem they confronted every year when decorating the Christmas tree, and we're here for it.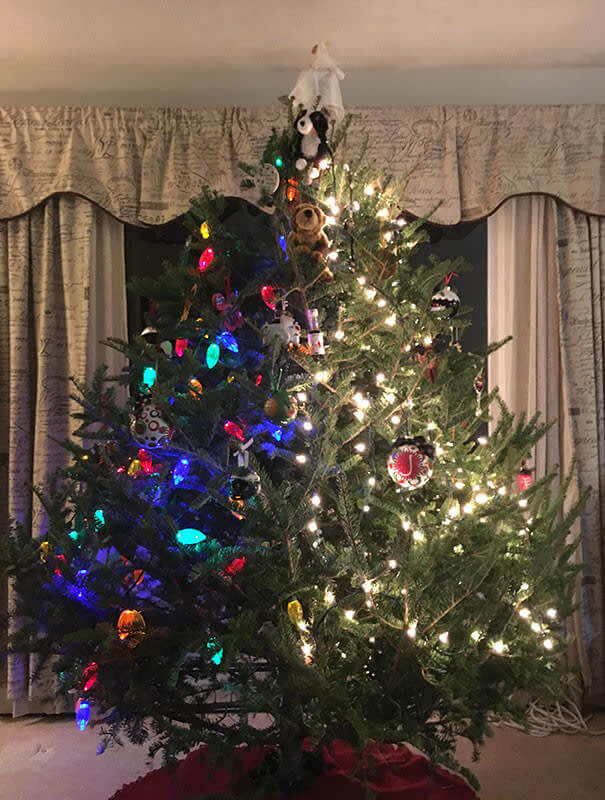 While the husband wanted a modern, all-white lights tree, the wife opted for a more traditional, colorful approach. The result? A half-and-half fantastic-looking tree! But the best part is that they put a plush version of their dog as the star, an element they both share and love.   
The Ladder Tree
In the name of effortlessness, this tree might be the winner of the easiest to replicate at home. It was featured in Elle magazine in their Christmas edition, and it's a wonderful idea for anyone looking at last-minute shrub solutions.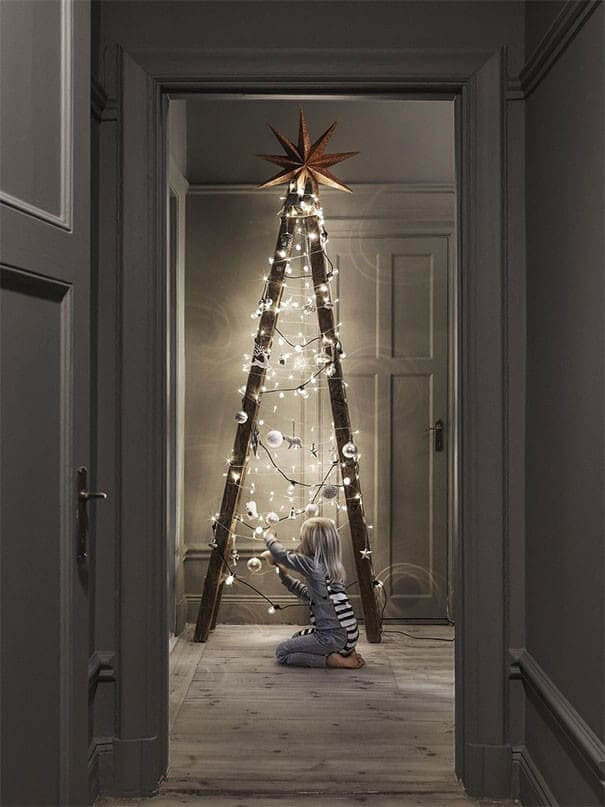 Make sure to use a wooden ladder so that the rustic effect isn't lost. If you don't have one, they are very easily found in thrift shops or hardware stores anywhere. Get creative with spheres, lights, and any other decorations you have in hand. You can staple them or attach them with rope.
The Jazzy Tree
This musician apparently doesn't get many gigs in December, so his upright bass gets all Christmased up and jingles all the way through the season. He started that tradition with his wife when, one Christmas, they realized they had forgotten to buy a tree.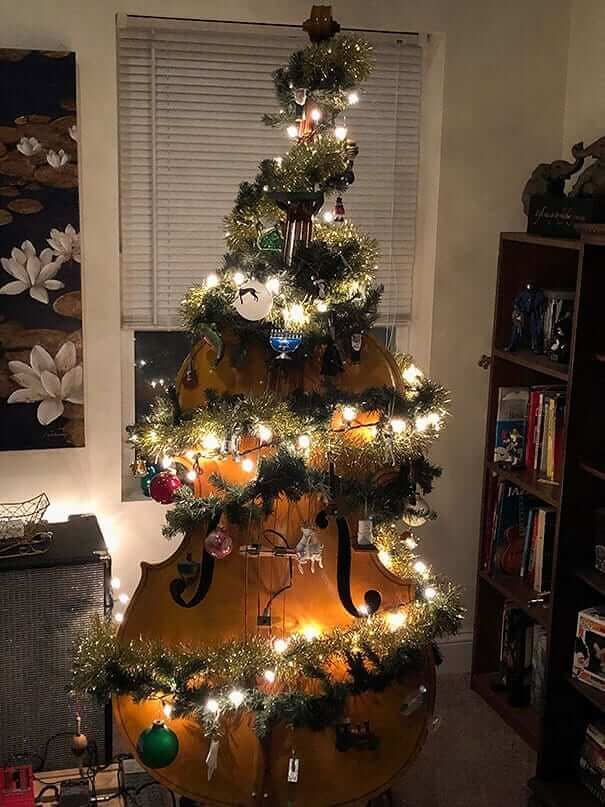 Instead of just going on without decorating their house, they decided to get creative and adorn the bass. Unfortunately, the decorations can only last a few days because, as a jazz musician, he has to practice a lot, but every year he delights his followers with a picture of how it turned out.  
The Corner Tree
Sometimes, less is more. In this case, this is the bare minimum, and it goes a long way. We tip our hats off for the creativity applied. This is the perfect holiday decoration for someone with limited space, time, and, indeed, energy.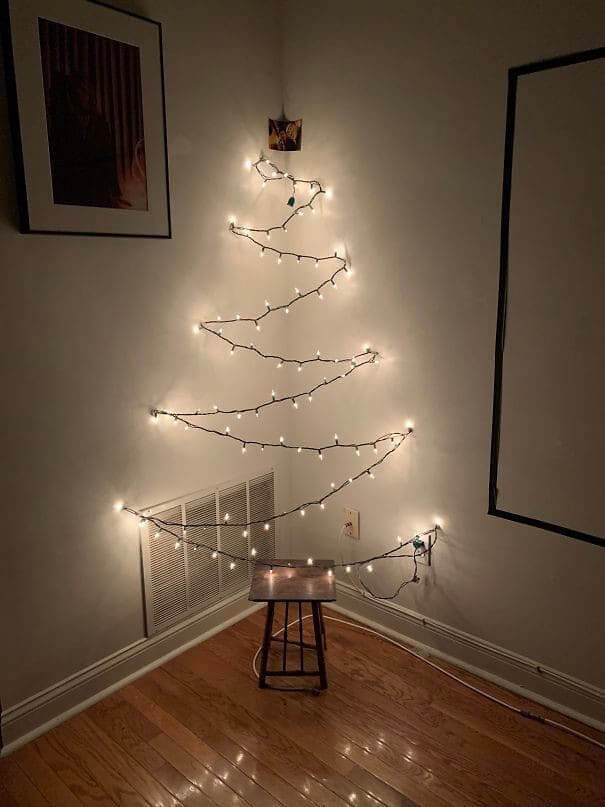 The author of this masterpiece was moving houses right before Christmas eve, and instead of unpacking everything, he opted for a minimalist yet endearing solution. When seeking ideas, inspiration can be found anywhere. Sometimes it's in an empty corner of your apartment.
I Am Your Father Christmas
Star Wars might be the franchise with one of the biggest and loudest fandoms in the world. They make sure you—and everyone—knows about it. It has crossed generations and evolved into a massive phenomenon. And when it comes to Christmas, fans make sure it's categorized as a holiday movie, even though it's clearly not.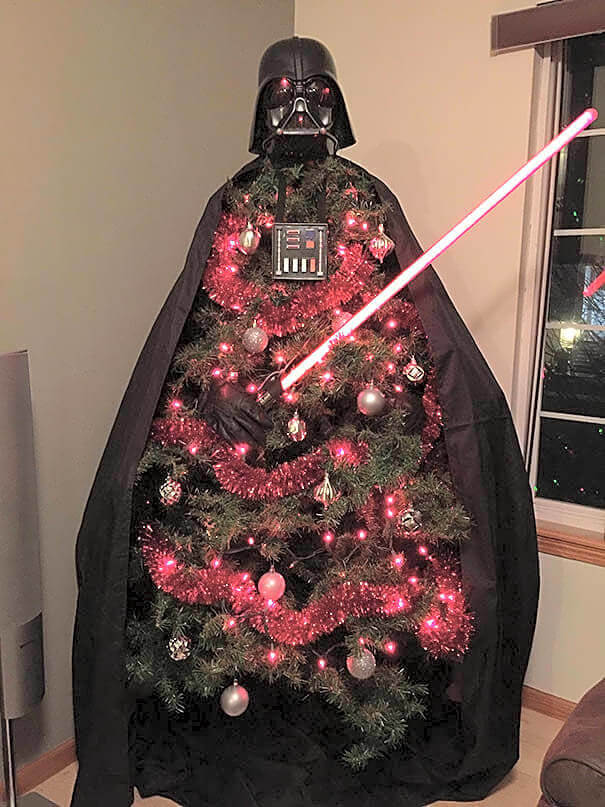 We have to admit this tree idea is astonishing. They didn't only place a few Star Wars-themed spheres and call it a day—they went all the way and turned their tree over to the dark side. The festive side of the force is strong in this one. 
The Cog Tree
Gearheads, engineers, and steampunk fans will love this idea. The folks at this mechanic shop had a lot of time on their hands. They decided to get busy by welding some cogs and a chain together. Putting this piece up must've been no easy task.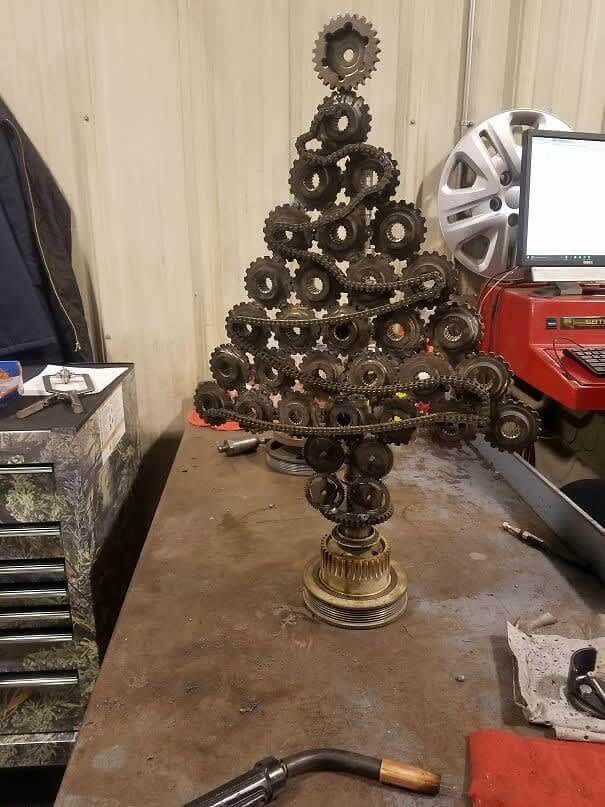 There seems to be no limit to what the internet can offer in the realm of Christmas ideas. Whatever the profession, everyone should know that getting immersed in the holiday spirit is more of a creative endeavor rather than a monetary investment. 
The Cat Tree
Cat owners know that having a Christmas tree isn't only difficult when having cats, but it's a near impossible, hazardous danger. Cats tend to go berserk when left alone with a pine tree full of jingly and shiny objects. They will climb, throw and bite everything they can.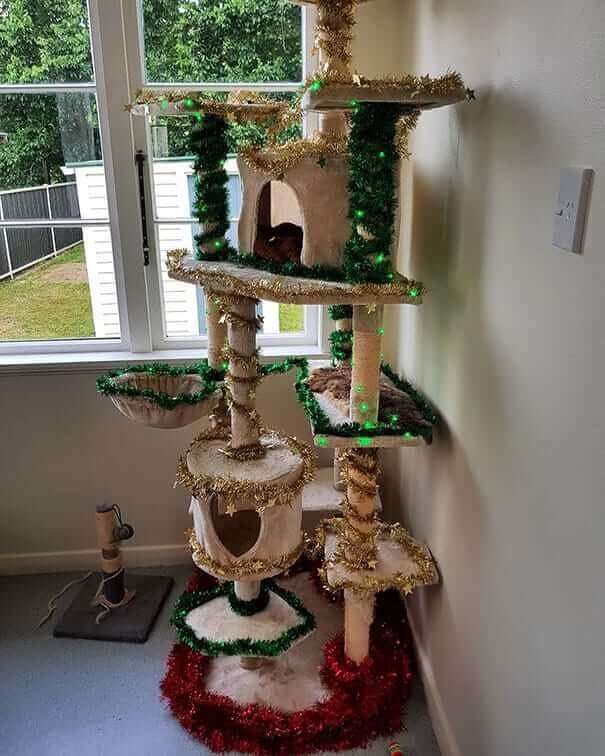 So for any first-time cat owner out there, we suggest a different approach to the decoration for the holidays. Wreaths, garlands, and lights on the cat tree! Although we don't recommend leaving Santa's cookies there—the cats might get a go at them before Mr. Claus does. 
The Kirby Tree
This is an all-time favorite in video game forums. Gamers can get really passionate about their favorite characters, and Kirby is no exception. After swallowing an entire Christmas tree, we wonder what ability he will gain—candy cane swords, or the legendary "Santa slide"?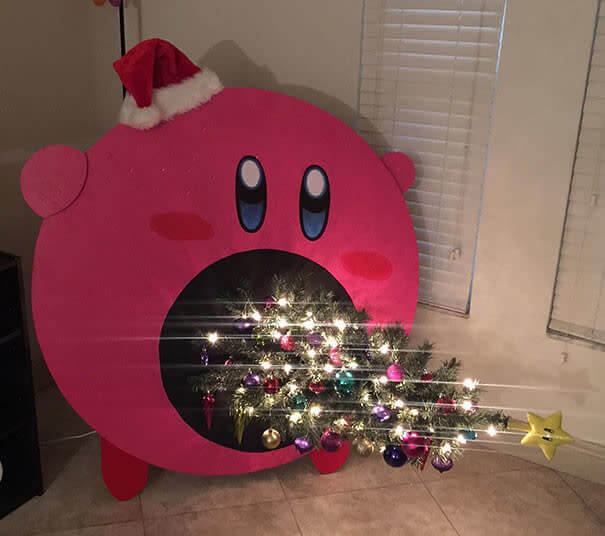 This tree just opens a realm of inspiration possibilities for gamers or families with young children. Either way, they'll have a lot of fun building a video game-themed Christmas tree. Get your cardboard and paint ready—this craft will take Christmas to the next level! 
The Wood Tree
This couple wanted to do something different for the holidays. The usual shiny tree didn't sound appealing in their new apartment, so they took it as an opportunity to create something unique and reusable! And what a result!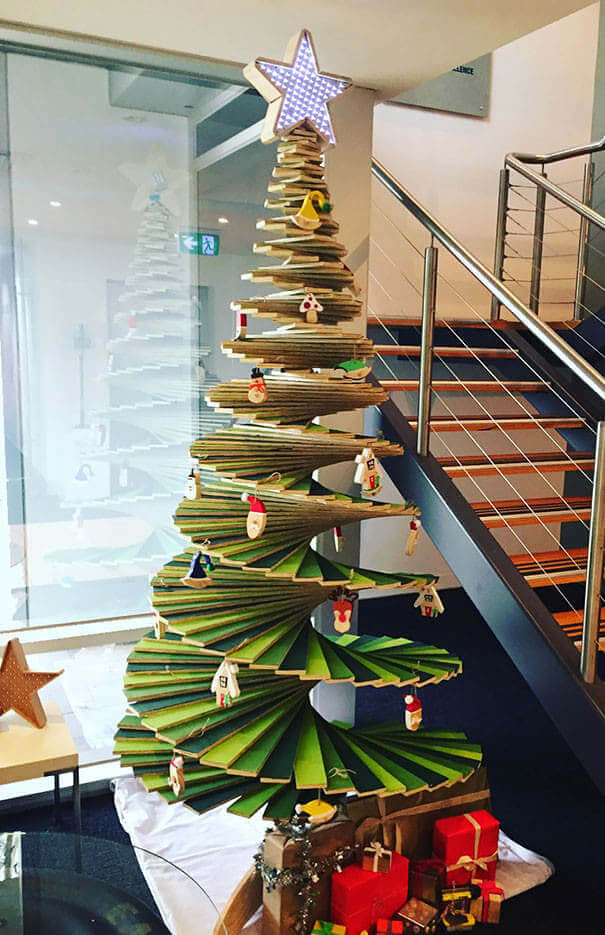 Their woodwork skills came in very handy as they cut, drilled, polished, and painted everything by themselves. The couple posted a video on Instagram of the process and became a viral sensation overnight. Now they have a wonderful-looking tree that will last a lifetime and is highly customizable to their needs! 
The Christmas Agave
People in some regions of the world can't relate to the "White Christmas" trope and have to improvise with what nature has to offer. This woman in California just couldn't be fussed with another year fighting over a store-bought Christmas tree that would wilt in a few weeks.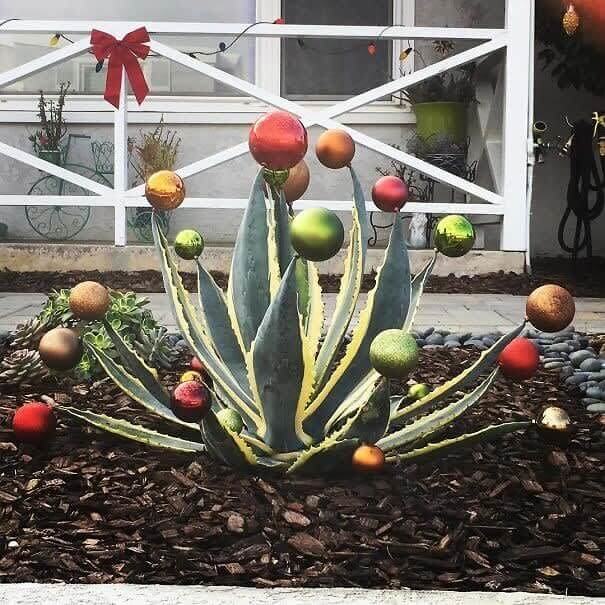 So she did what any creative person would do—she improvised! And she did it in such an endearing way; by slitting some holes in the ornaments, she managed to create a holiday-themed agave plant. Would you try something like this?
Trees Are Never Cat-Proof
It's a universally acknowledged truth that a cat left in the same room as a Christmas tree will attempt to destroy it; at all costs. With no regrets or doubts about it, cats were just born with a Christmas tree-destroying instinct that they must follow until the end of time.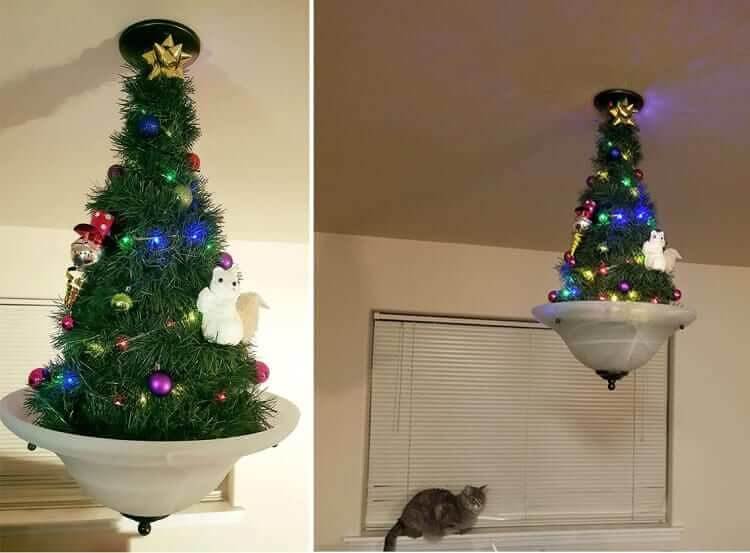 This little feline looks like he's definitely plotting against its owner's masterfully placed tree, but how would he? For anyone wondering if the cat managed to destroy this innovative holiday decoration, the answer is no, But it felt like a major achievement anyway because he really had to try this year. 
The Perfect Dorm Tree
Engineering students rejoice; here's another visionary tree that will light up anyone's holidays. It's small enough to fit in any dorm room (or pocket) and will surely make anyone smile. If you don't feel very adept at working with electrical components, we don't recommend attempting this at home.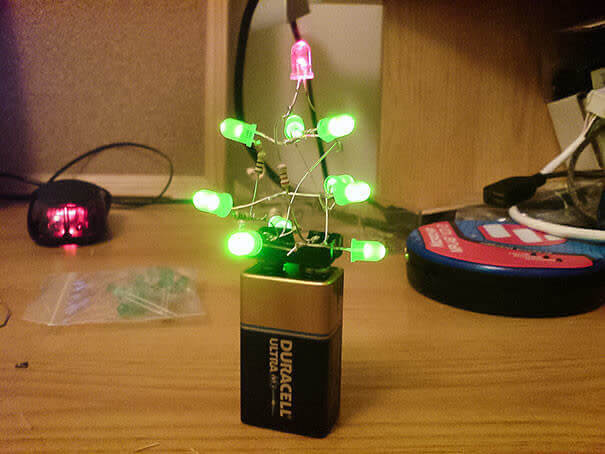 Using LED lights, a 9V battery, resistors, and adding a solder lug connection, this genius managed to make the tiniest and cutest tree we've seen around. The creator of this gem also received a lot of praise. There were even people that wanted to buy it from him!
The Classical Ballet Tree
This "en pointe" tree was brought together in a theater as a part of the warm reception for the opening night of The Nutcracker, a classical Christmas-themed ballet that dance academies tend to present during the holiday season.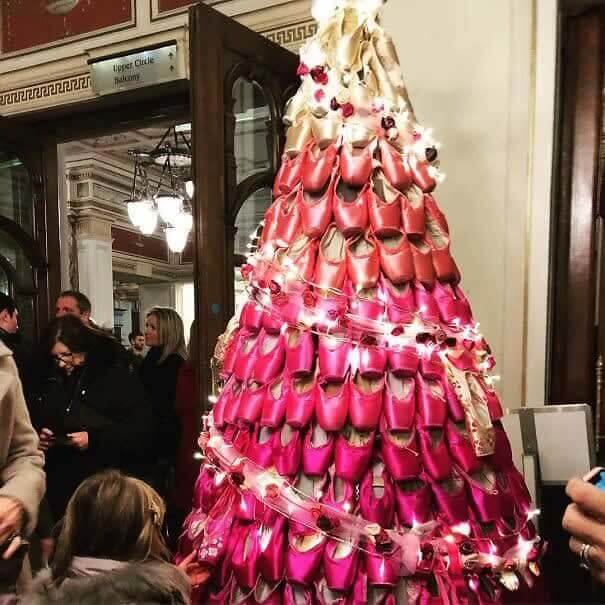 This tree was made out of around 540 used pointe shoes that were restored and painted in order to appeal to the public. This is a beautiful idea for any ballerina or academy that has gone through too many pairs of slippers and wants to make good use of them. 
The Rambo Tree
This tree looks like it's ready for war rather than Christmas. The author of this tree definitely wanted to do a distinctive tree and stay far from tradition. Sometimes you have to do what you can with what you have, right?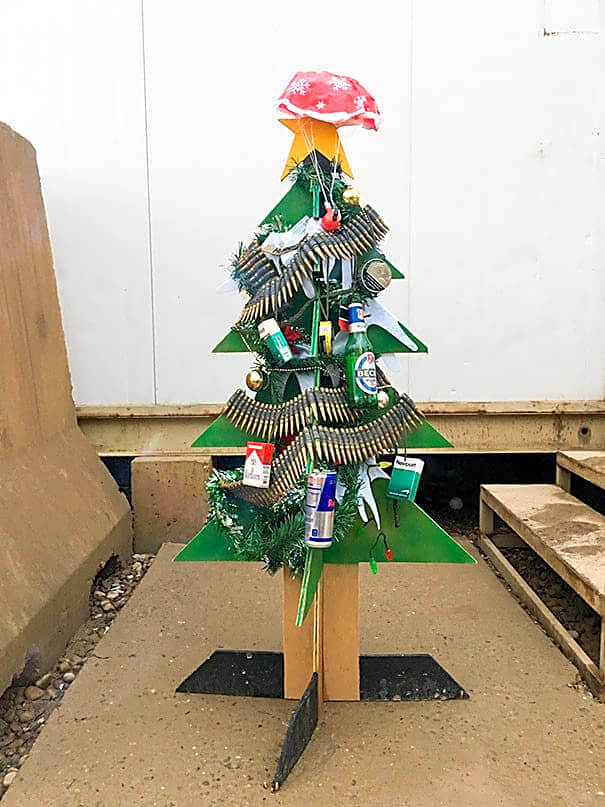 This soldier was deployed in Iraq and his troop decorated their tree with the items that they were the most familiar with. A rather odd approach, but some people know they just won't get gifts during X-Mas. We're not sure what Santa Claus would think about it. 
The Hands-On Tree
People in the medical sector really have some fantastic ideas when it comes to improvising Christmas trees. They have to be really thorough and considerate in their jobs. After seeing so much tragedy, it's no mystery they're also willing to put out some joy in the world as well!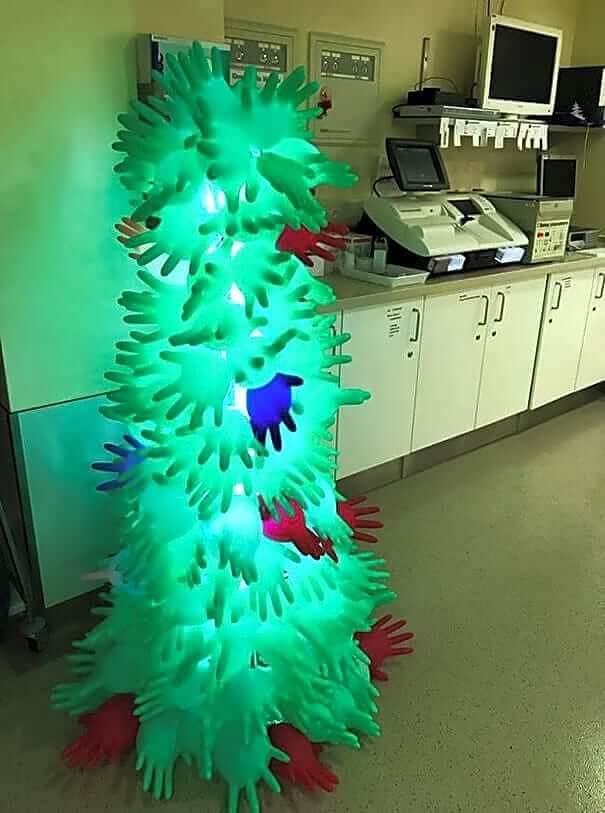 Using surgical gloves, green for the "leaves," purple and red for the "ornaments," and a tall light, this charming decoration was assembled by the Intensive Care Unit in a hospital in the United Kingdom during the Christmas Day shift.  
The Bird House Tree
The irony in this one is uncanny. Assuming that birds would prefer living in a birdhouse tree rather than on top of real trees is a little bit concerning, but we won't discard the fact that this is a cute idea put up by well-meaning people.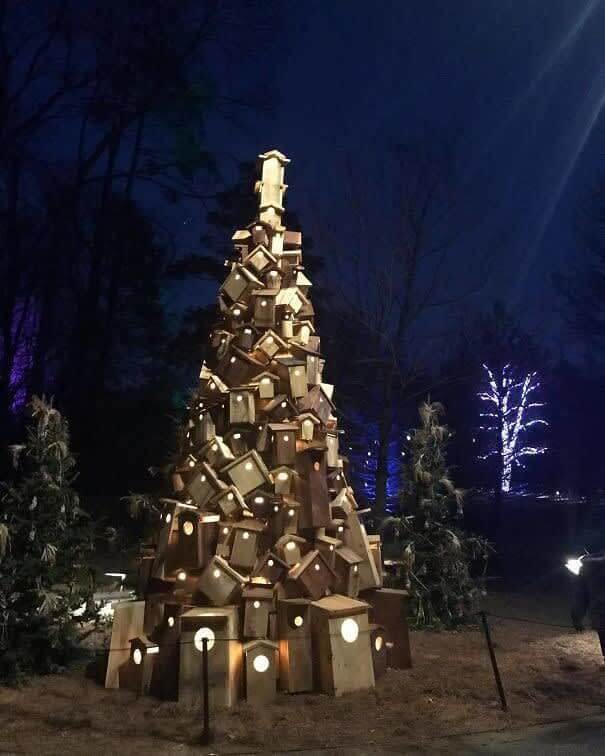 A woman from England used up a lot of wood and logs that were meant to be disposed of and turned them into sizable birdhouses, but before installing them in strategic points, she made this Christmas tree, so they could be displayed before her project took place. 
A Simple Tree
People with little time in their hands can't possibly be bothered with everything it takes to make a wondrous Christmas tree. Of course, sometimes it's just too much, all of the time consuming and money spent for only a few days, but that shouldn't stop people from having a nice time.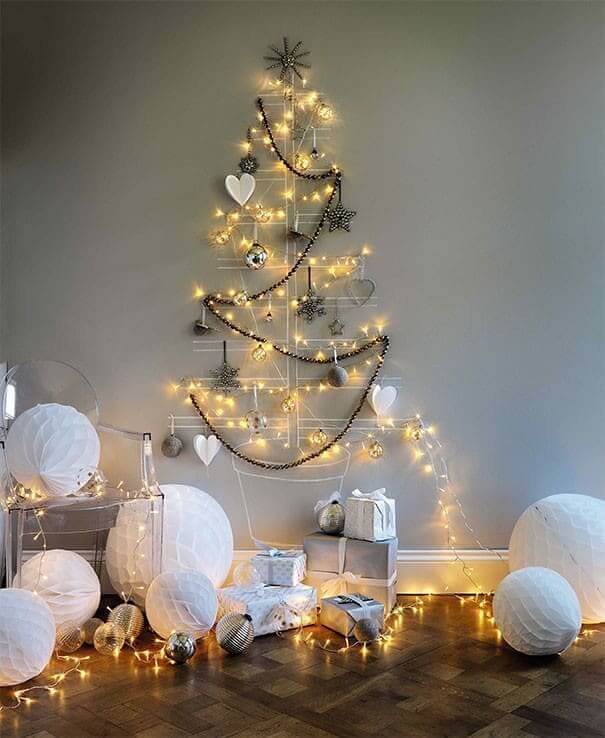 By using things that are around the house already, like painter's tape and decorations, a simple tree can be made up using little time and monetary investment. Attach some lights using nails or hooks to the wall to make it look fancier. 
The Prosthetic Tree
Some people are so enthusiastic about Christmas that they want to show the whole world how excited they are about the holiday in any way they can. This man took his excitement to another level with the most portable tree we'd ever seen.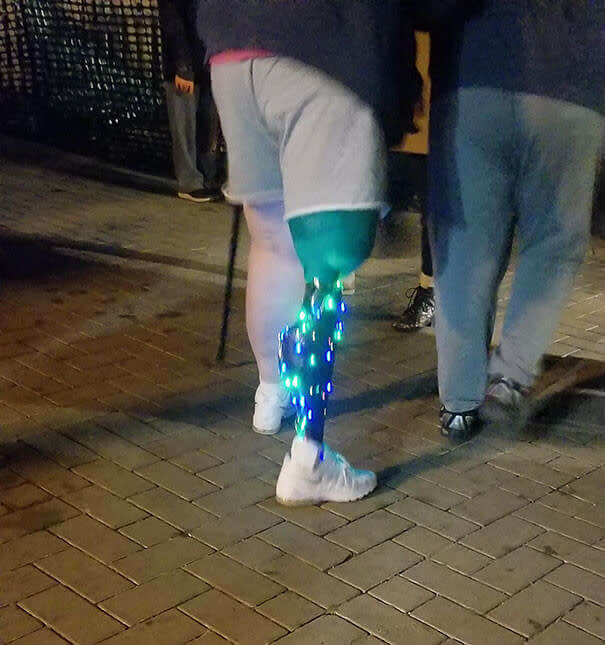 We can't think of anyone wearing the holiday spirit more than this guy. If you can't show your tree—BE the tree. We're hoping this can serve as inspiration for anyone out there that needs some cheering up this season. 
The Climbing Tree
This person's roommate is a professional climber. Instead of buying an expensive tree, they opted for a more resourceful approach, arranging some rope on a traffic cone—and, of course, using colorful carabiners instead of spheres. They could do with using some chalk to add some snowflake effects.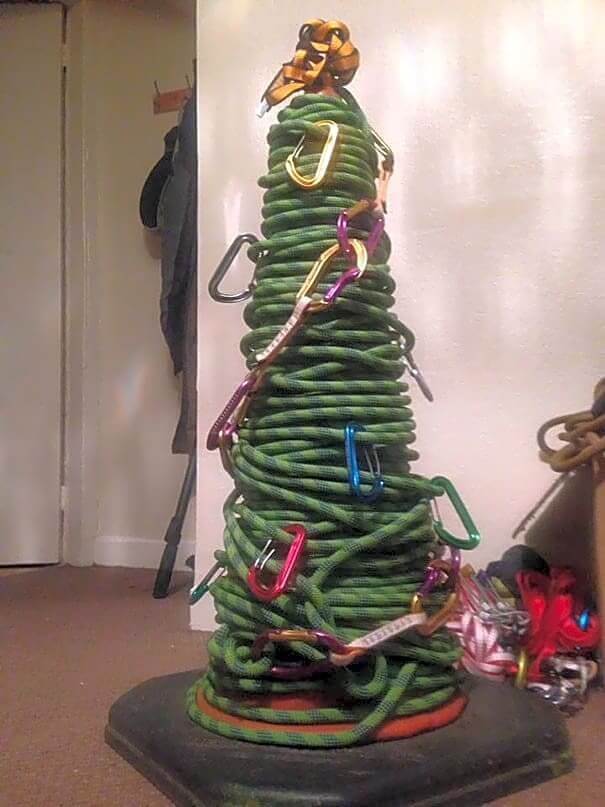 Whoever is into sports that require a lot of equipment can replicate this marvelous tree idea. Anything goes when it comes to being creative, and nothing should impede having fun in the jolly season.  
The Sesame Street Tree
When you buy a last-minute tree, you're likely to get one that doesn't have the desired triangular shape of a classic pine. This family thought their tree looked so trashy that they took that idea and gave it a wonderful twist. Because who loves trash more than Oscar the Grouch?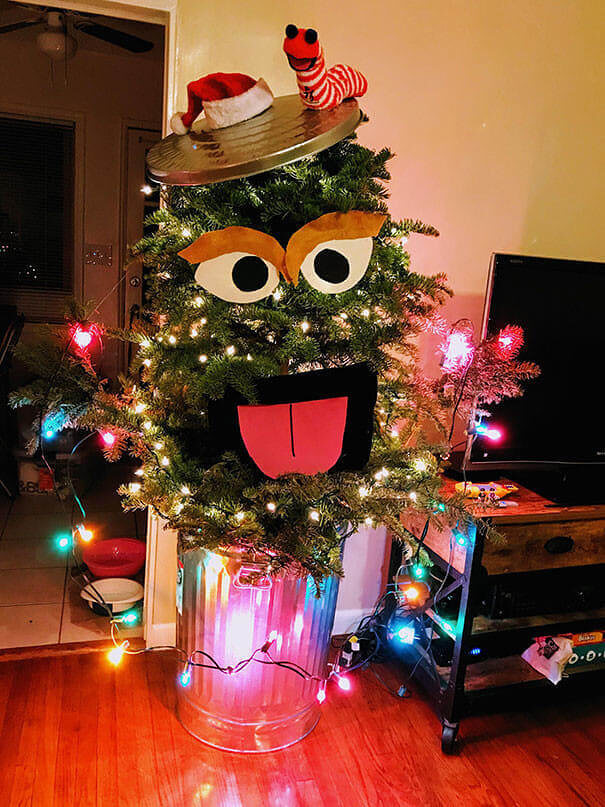 They didn't even have to buy anything special—they just washed an old trash bin, painted some cartons to make the face parts, and placed the lights. This is such a brilliant idea for teachers or families with young children.  Merry Grouchmas!
The Green Knight
This one will no doubt come in handy for all of you out there who spent all of this year's budget on a brand new, fancy set of armor and had no more cash left over for a Christmas tree. You know who you are…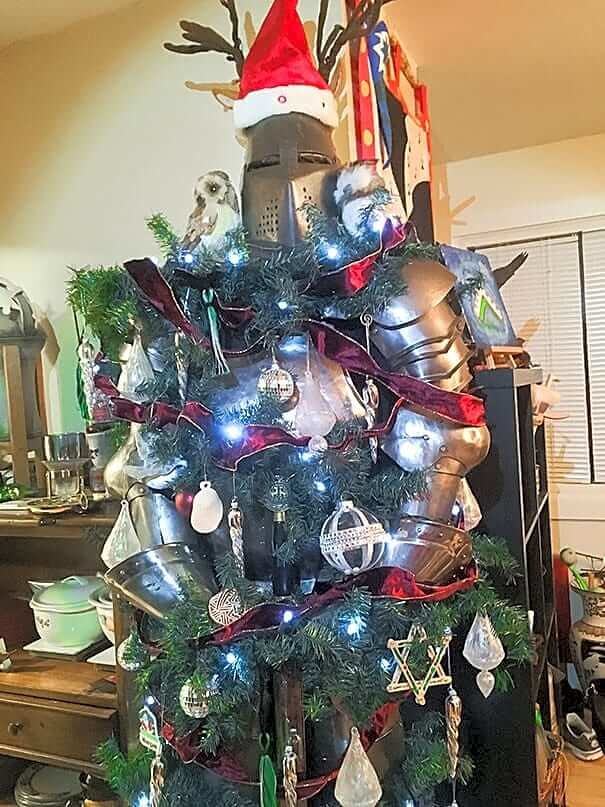 This adorable set was decorated with a little green, and it looks as Christmassy as any real tree we've ever seen. The cute little owls on this brave warrior make it perfect. You're sure to have a silent knight with this festive creation!