Young Girl's Bond With Her Pet Pythons Goes Viral
Whoever said cats or dogs are the only suitable pets for children may not have experienced having a python as a pet while growing up. Emi is such a girl with an unconventional pet choice. It was her father who surprised her by bringing home two reticulated pythons.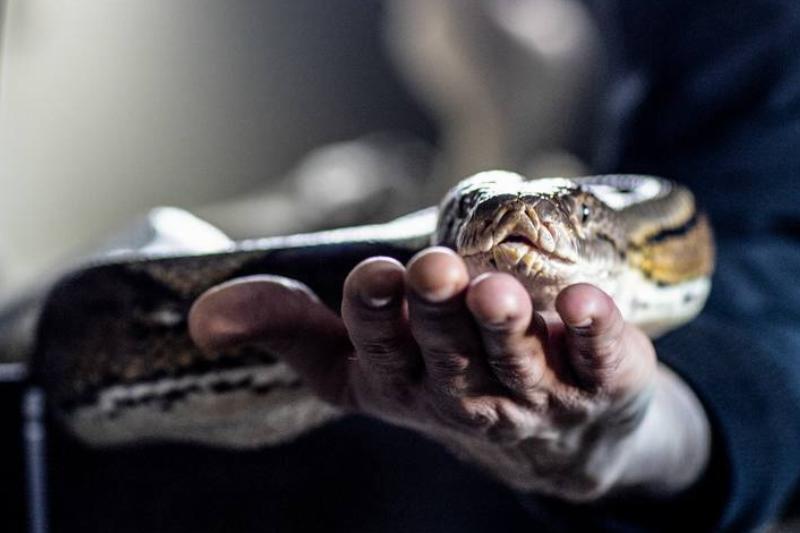 Each python is 15 feet long, but despite their intimidating size, Emi has been photographed affectionately cuddling with the snakes. This goes against the typical notion and proves that Emi's relationship with Sonny and Cher shows that even large reptiles can make wonderful companions with proper care and handling.
Like Father, Like Daughter
Ed Taoka is Emi's father. Besides working as a massage therapist in South East England, he also runs a very unusual household. Along with his seven-year-old daughter Emi, Ed also lives with two reticulated pythons he named after Sonny and Cher, a popular 1960s Hollywood couple.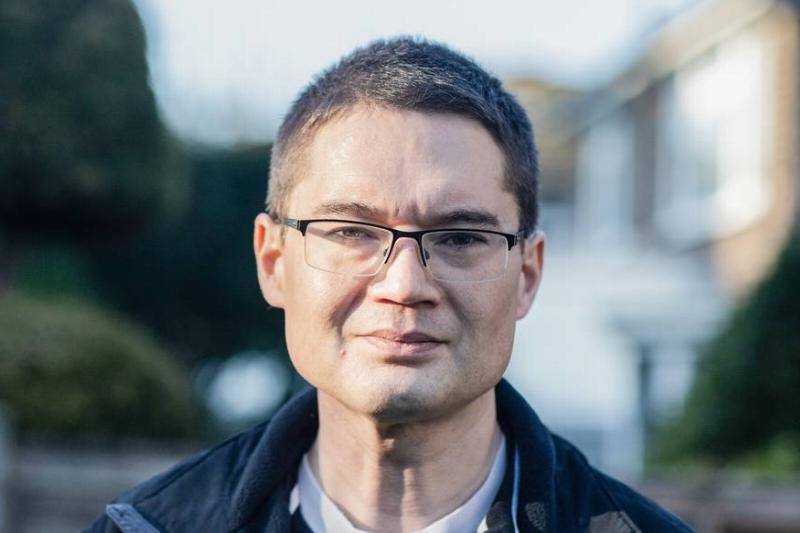 Despite the fear factor the snakes may conjure, these reptiles have actually been a source of support and comfort for Ed and his family. Regardless of their intimidating size, Sonny and Cher are well-loved and well-cared for by Ed and Emi. 
The World's Biggest Snake
Reticulated pythons are a type of python found in Southeast Asia. They are known for being the largest snake species in the world. Plus, they are excellent swimmers. Despite their size and strength, they are non-venomous.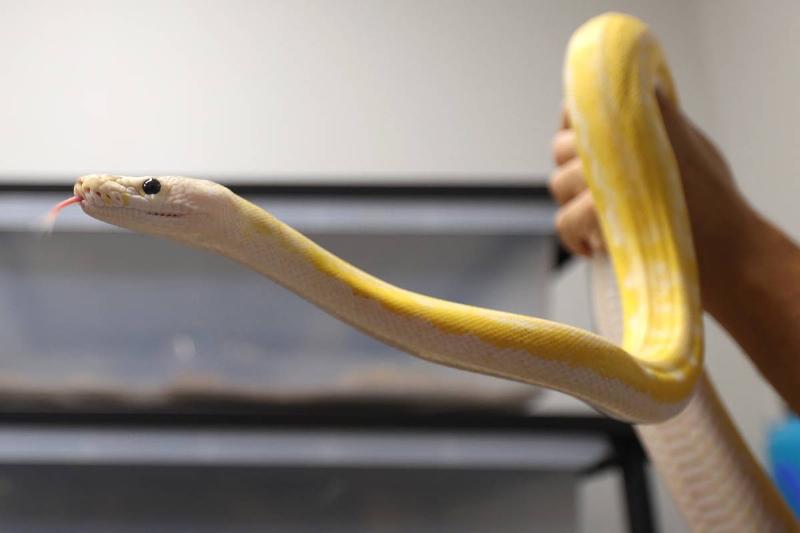 Their non-lethal nature may be why Ed Taoka feels comfortable having them in his home and around his seven-year-old daughter. Reticulated pythons are also popular pets due to their striking patterns and colors. However, it is important to note that, as with any pet, proper care and handling are necessary to ensure the safety of both the animal and the owner.
A Brave Girl
Though reticulated pythons are non-venomous, they are specially built with powerful constrictors that can pose a deadly risk to anyone, especially if these creatures are not handled carefully. Despite this, Ed and his seven-year-old daughter Emi have chosen to keep two of them.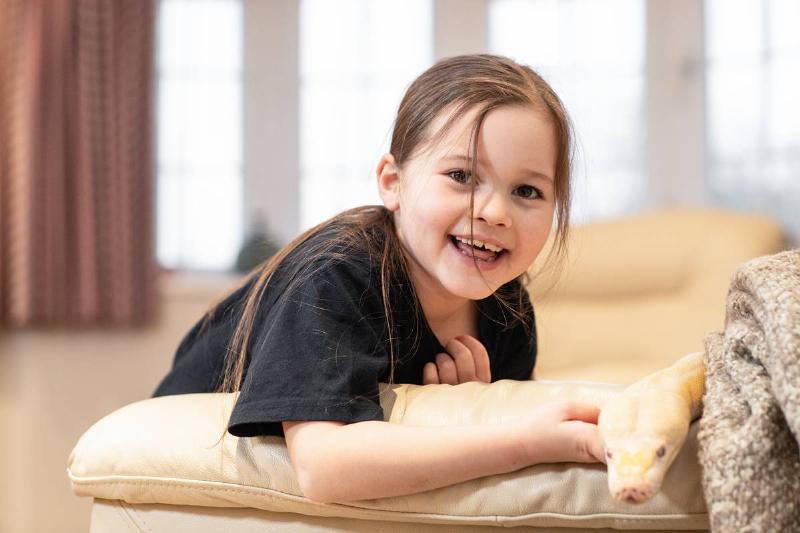 The snakes' names belie their potential to be dangerous pets, and Emi is often seen on social media interacting with them–she shows no fear toward the creatures.
Playtime Is Always Supervised
It's always better to be safe than sorry. Thus, Ed is making sure he is taking the necessary precautions. Though Emi is not at all fearful and is actually confident in her ability to interact with the snakes safely, Ed does not allow Emi to have unsupervised playtime with them. He makes sure always to be present and in the same room as her when she is handling them.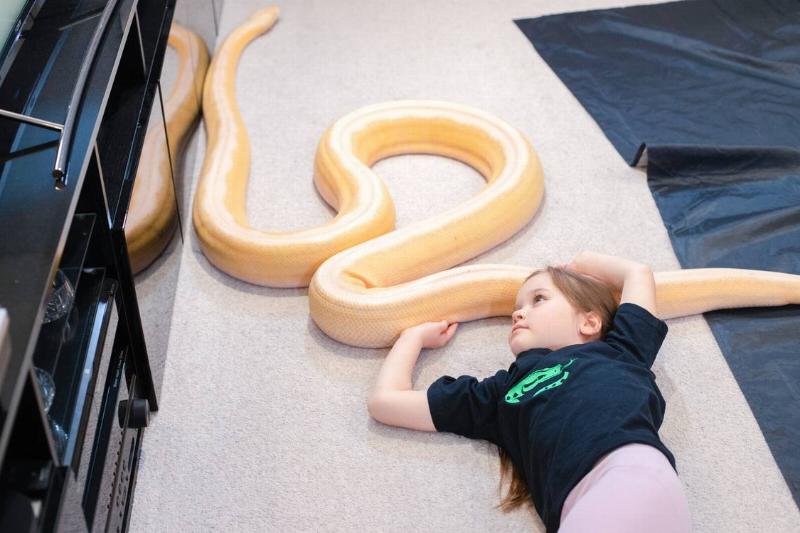 Despite his protective stance, Ed has also spoken positively about the personality and temperament of the reticulated pythons, saying that they are generally more gentle and friendly than many people might assume.
Strong Bond
Ed has spoken about the close bond that has developed between his daughter Emi and the snakes. According to Ed, Emi's interest in reptiles began when she was just a toddler. In an interview, he shared that the first time Emi expressed a desire to touch the snakes, she was just 18 months old.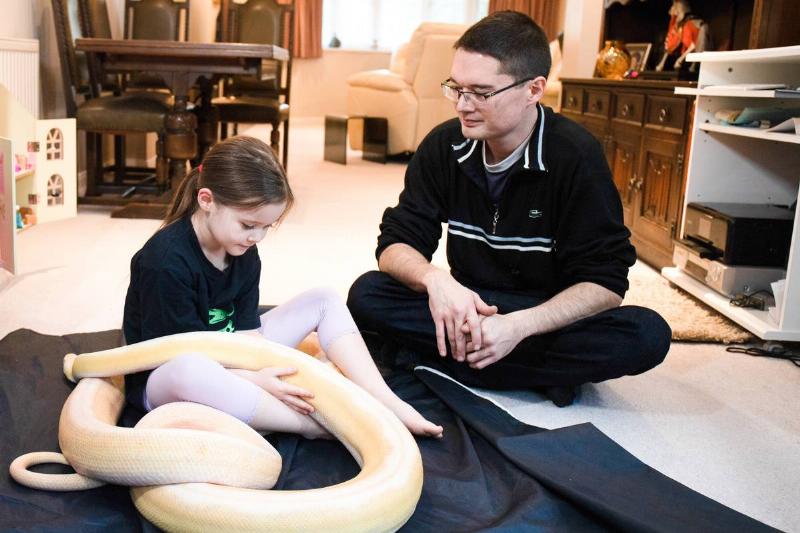 Ed made sure to educate Emi on the proper way to handle and interact with the snakes before allowing her to pet them. He believes a strong understanding of how to approach and handle animals safely is essential to building a positive and healthy relationship with them.
Snakes As A Solution For Social Anxiety
Despite her young age, Emi is not the only one in her family with a fascination for reptiles. Her father, Ed, developed an interest in snakes at a young age as he found them to have a positive impact on his mental health. In an interview, Ed shared that snakes have helped him to overcome social anxiety. He also experiences a sense of calm when handling them.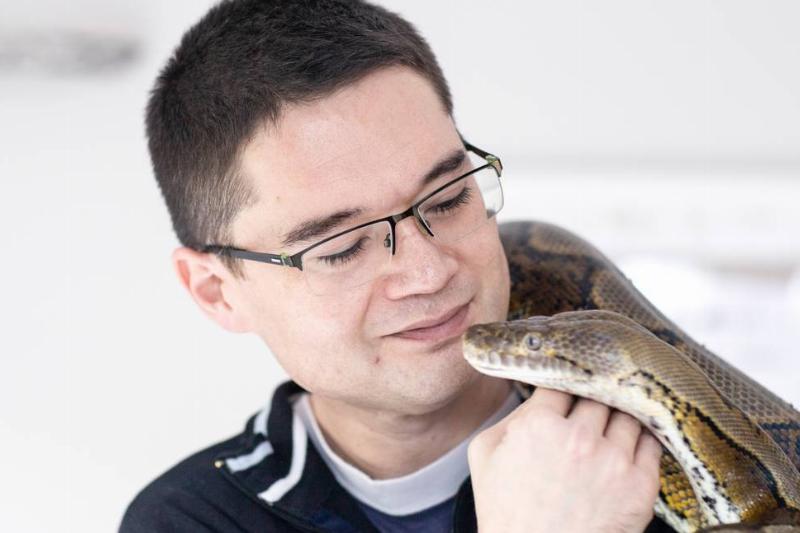 It seems that the family's love for snakes runs deep, with Emi and Ed both finding joy and comfort in their interactions with the reptiles. As they continue to care for and learn from the snakes in their home, it is clear that their appreciation for these fascinating creatures will only continue to grow.
Accidents May Still Happen
Ed does his best to be a responsible pet owner and caregiver. He doesn't take any details for granted, especially when it comes to his daughter Emi's interactions with the two 15-foot pythons. He is very much aware that any animal, no matter how gentle or well-trained, has the potential to bite or cause an accident.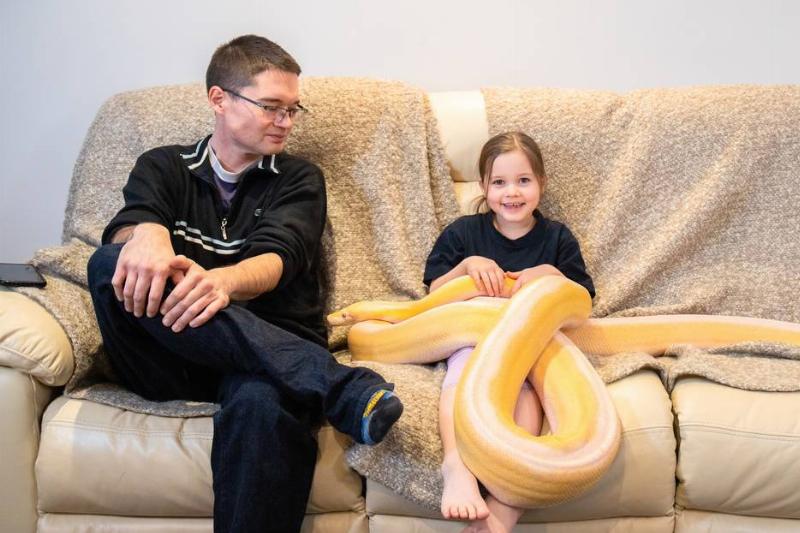 He does not want to take any chances with Emi's safety. Despite his trust in Sonny and Cher, Ed remains vigilant whenever Emi is handling the snakes. He wants to ensure that she can enjoy the unique and special bond she has with the reptiles while also keeping her protected from any potential risks.
Reality Bites
In an interview, Ed shared his views on the responsibilities and risks involved in welcoming pets or animals into one's home. He explained that it is important to be prepared for the possibility of being bitten by any animal, as all have the potential to do so.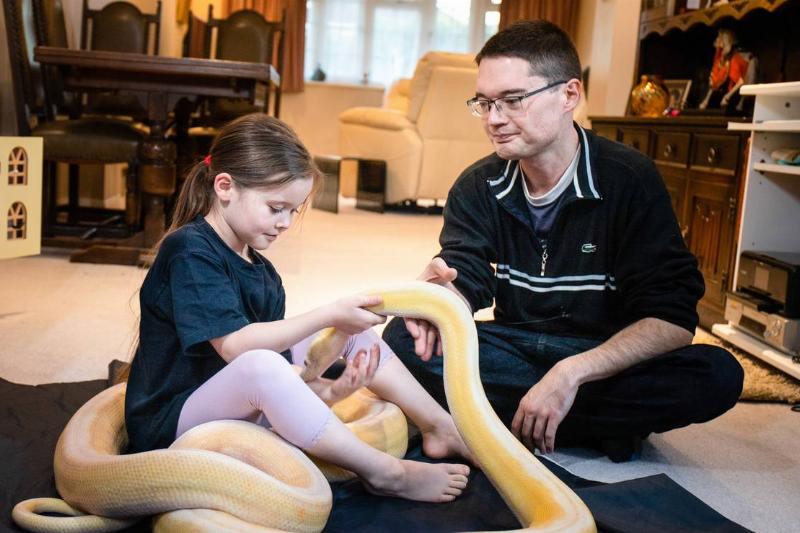 However, he also emphasized that he would never leave his daughter Emi alone with any animal, no matter how well-behaved or gentle they may be. Still, Emi seems perfectly content to hang out with Sonny and Cher. She also values the special connection she has with them.
Being Gentle Is Key
It is easier to panic and lose composure than to be gentle, especially when faced with a giant python that could easily squeeze the life out of you. But Emi is in a class of her own. From a young age, Emi has enjoyed interacting with the two pythons.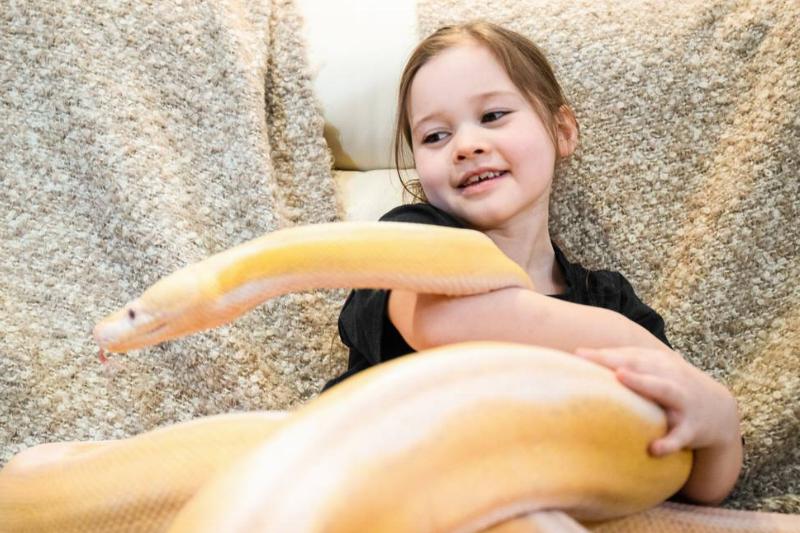 Even at just over one year old, Emi was eager to learn about and spend time with the reptiles. Ed recognized her interest in the pythons and made sure to teach her the importance of being gentle and respectful towards them. He believed that establishing trust and a positive relationship with the snakes was key to being able to handle them safely.
Practicing Calmness
The ability to be relaxed in the midst of two large reptiles may be unfamiliar to most children. However, Ed's daughter quickly learned that she needed to be calm when interacting with Sonny and Cher. Of course, it helped that Ed was similarly calm when handling the pythons.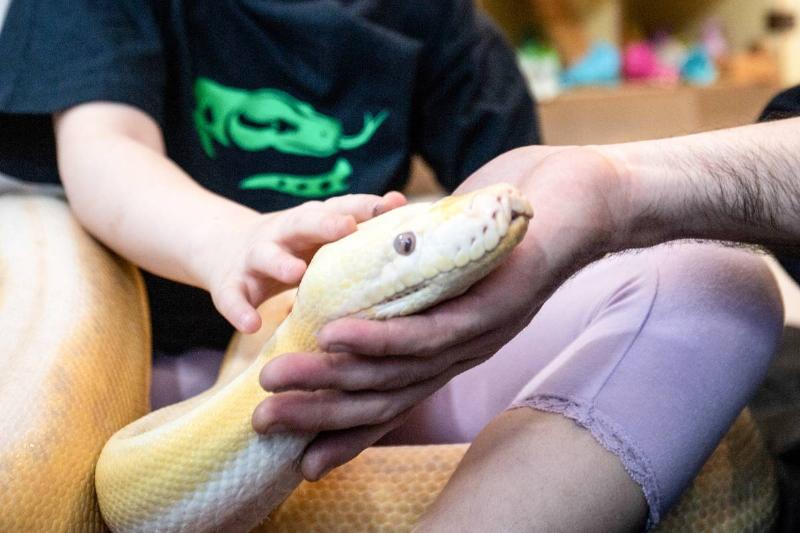 Modeling her father's behavior, Emi immediately understood the value of being still and serene. It was only then that Ed felt more comfortable with letting her pet the snakes. But why would Ed want to share pictures of his daughter and the snakes on social media?
Snakes Are Safer Than Toys
Compared to most toys available in the market, snakes are actually safer in Ed's eyes. According to Ed, supervised interactions with constrictor snakes like Sonny and Cher are relatively danger-free. In fact, he believes they are safer than trampolines and bouncy castles.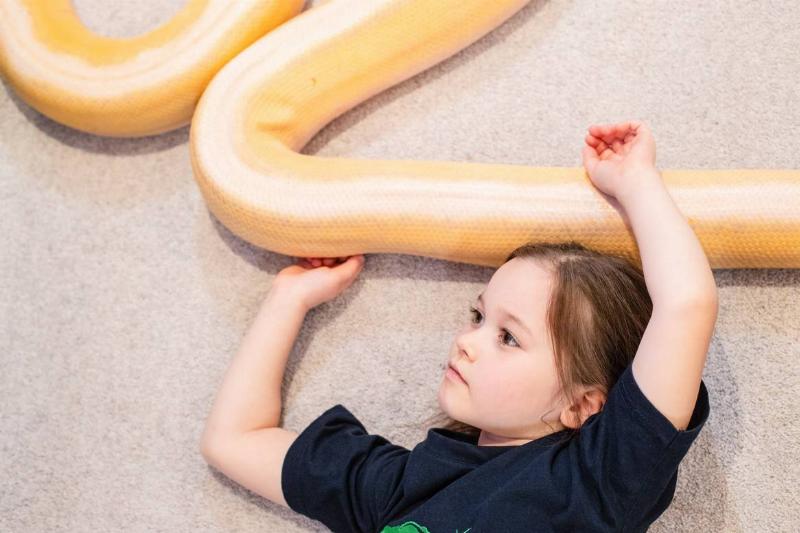 This may be due in part to the fact that both Sonny and Cher are known to be docile creatures. Ed stressed the importance of supervision when interacting with any type of animal, including snakes.
Mellow Pythons
Ed is proud of the fact that the reticulated pythons he named Sonny and Cher are actually very mellow creatures. He described them as docile animals with calm personalities. They are not known to be aggressive.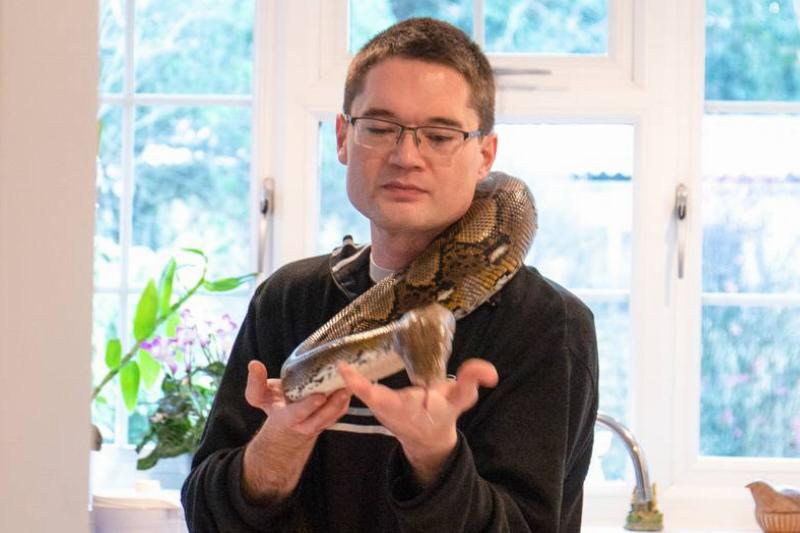 However,  like any animal, they can become excited or triggered when it comes to food. The snakes are fed once every two weeks. It is, therefore, not surprising that they become eager when they smell a meal.
All's Fair Game With Food
Human nature is a lot similar to the nature of animals. Ed's two snakes, Sonny and Cher, are generally friendly and happy when they get to spend time with his daughter, Emi. However, their behavior slightly changes during feeding time.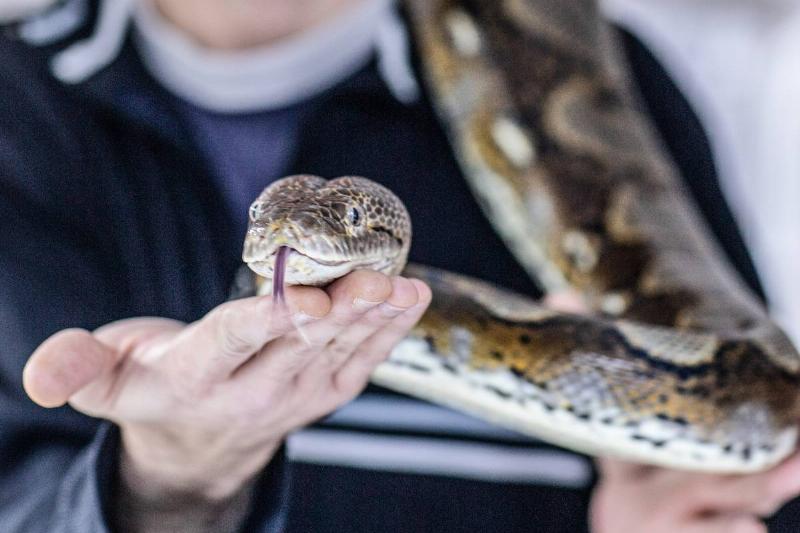 The pythons become more excited and animated when food is present–you can actually see it in their eyes. Although this change in behavior may be noticeable, Ed assured that there is no need to fear.
Educating People About Pythons
Ed's decision to share his experiences with pythons on social media was motivated by a desire to educate others about these animals. Many people may have a fear or negative perception of pythons due to their wild reputation.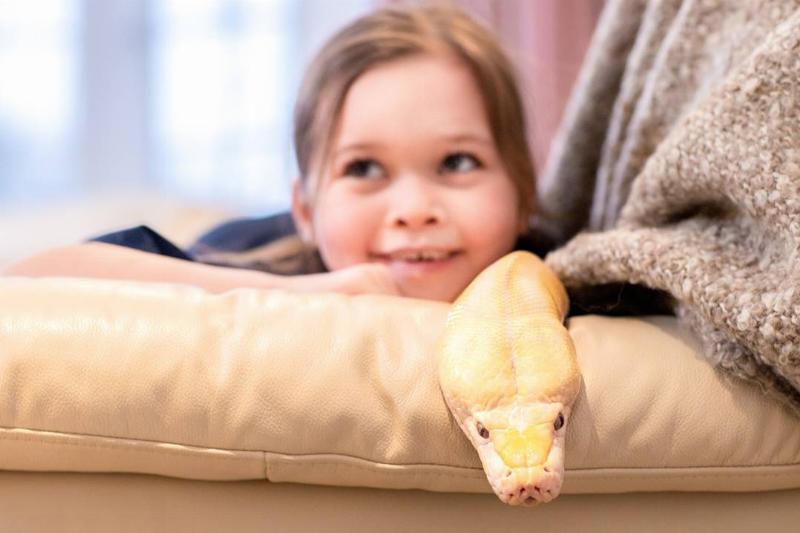 However, Ed wanted to show that these creatures can be gentle and loving. By sharing his experiences on social media, Ed hopes to help people see that pythons are not as intimidating as they may seem and can make great pets with the right care and supervision.
On Their Best Behavior
Ed is constantly amazed by the gentle and docile nature of Sonny and Cher and their special relationship with his daughter, Emi. He enjoys capturing and sharing the peaceful interactions between the snakes and Emi on social media, as it never ceases to amaze him how well they get along.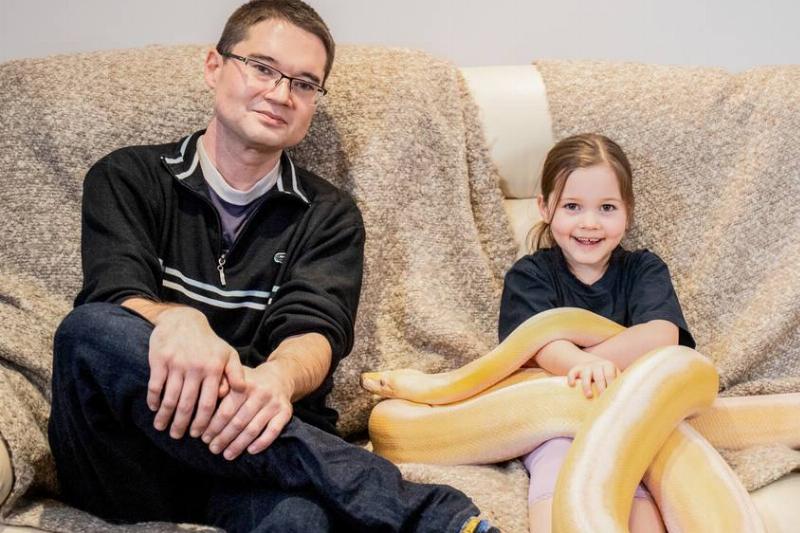 Ed believes that by showcasing the calm and loving behavior of these animals, he can help change people's perceptions of pythons and other reptiles as fearsome creatures. People, therefore, became intrigued and captivated by the pictures of a young girl interacting with a large python snake. 
Changing The Stereotype
Ed believes that these creatures do not pose a threat to those around them as long as they are nurtured in a domestic setting.  He has shared pictures of his daughter, Emi, interacting with the snakes on social media in an effort to educate others and dispel negative stereotypes about large reptiles.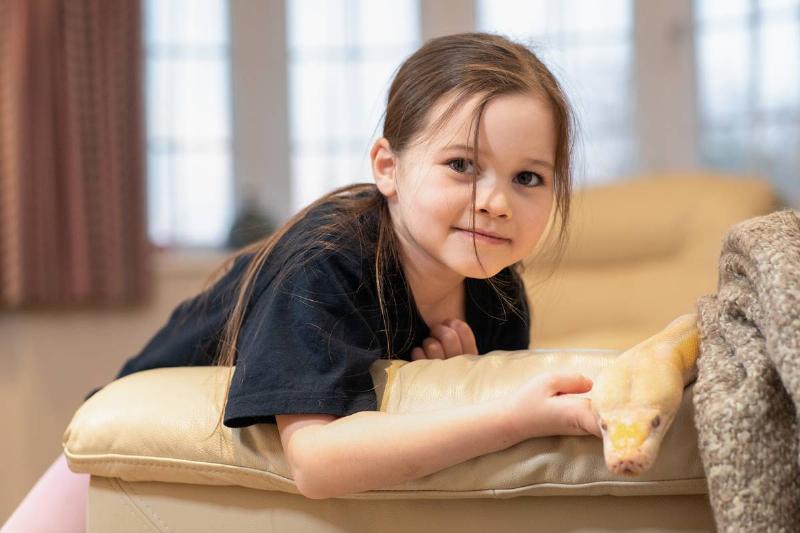 However, he admits that it can be difficult to change people's perceptions, especially when a young child is involved. When people hear about a child and a giant constrictor snake, they may automatically assume the worst. Ed hopes to show that it is possible for a child and a python to live in harmony.
Not A Threat
One of the primary concerns people have after seeing pictures of Ed's daughter interacting with the family's two pythons, Sonny and Cher, is whether the snakes pose a danger to her. Ed has taken steps to educate his daughter on how to interact with the 15-foot pythons safely.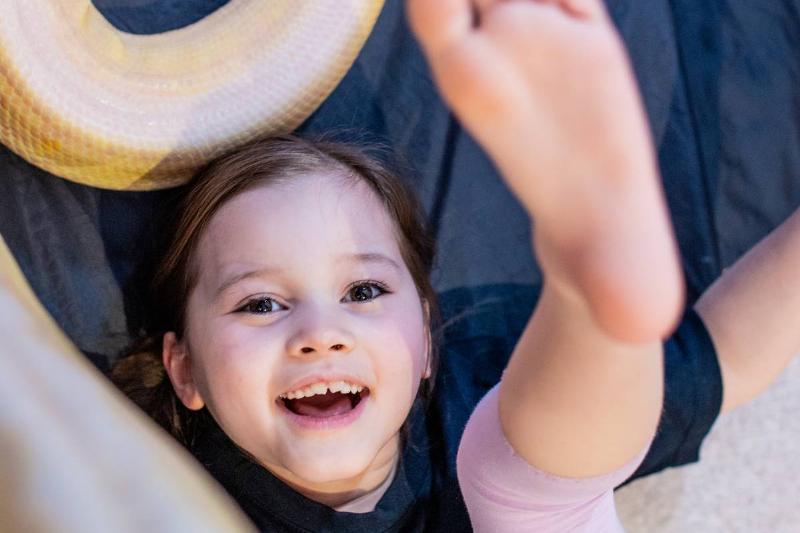 Ed's primary focus is on teaching his daughter how to behave around the snakes in a way that does not trigger their natural instincts. He explained that as long as the snakes do not perceive Emi as food or a threat, they will not bite her. Emi, in turn, treats the snakes as beloved pets and shows them nothing but love and affection.
The Life Cycle Of Snakes
According to Ed, pythons like Sonny and Cher are not dangerous as long as they are not frightened or hurt. He has found them to be more kind than many humans he has encountered. The species of python that Sonny and Cher belong to can live for 20 to 30 years.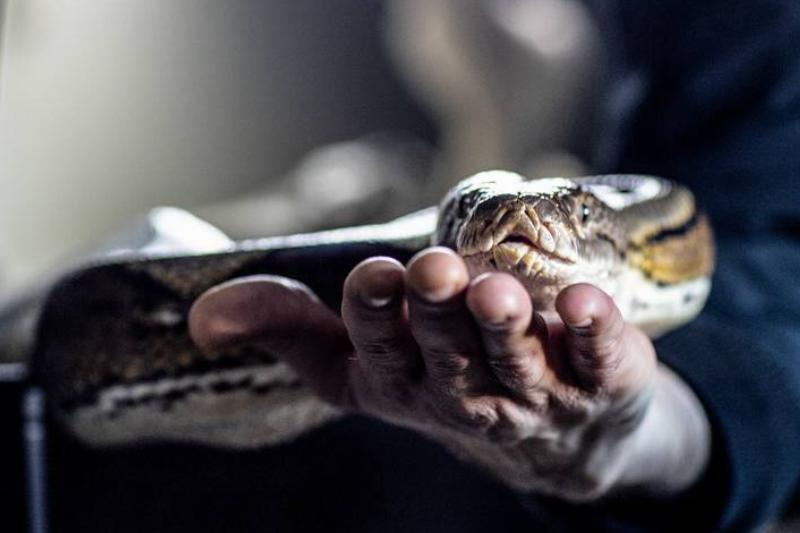 That is more than enough time for Ed and his daughter, Emi, to have ample opportunity to continue educating others about these animals. Hopefully, they can help change people's negative perceptions about pythons.