Before Vs. After: How The Looks of Dog Breeds Have Changed In The Last 100 Years
For decades, dogs have been man's faithful buddies, helping with guarding, herding, and even emotional support. However, over the years, humans have selectively fostered dogs for distinct traits. As a result, modern dog breeds are diverse and varied, ranging from small White Terriers to the massive Doberman, and focused German Shepherds.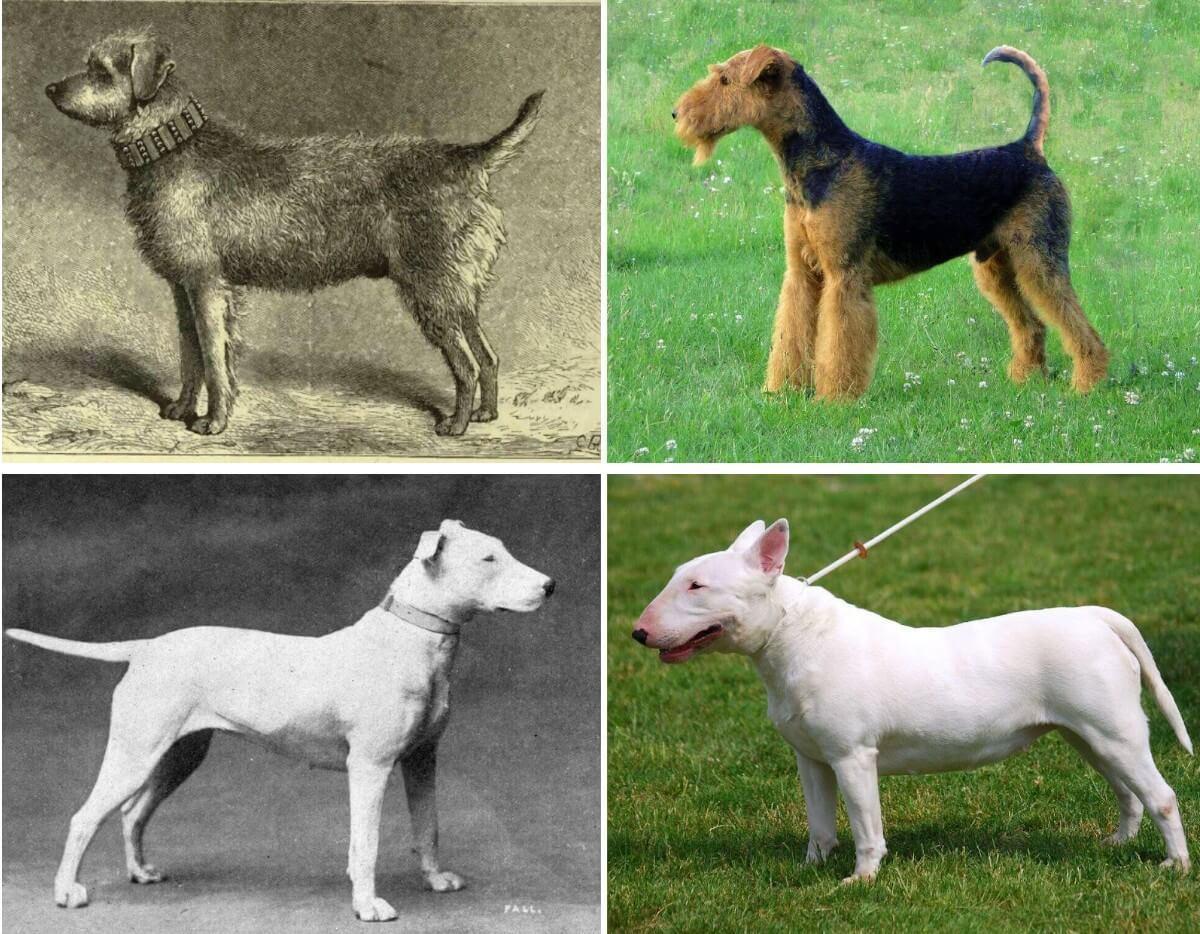 But have you ever questioned how we moved from the ancient domesticated dogs to this incredible array of breeds? Let's dig through the intriguing history of dogs and see the breeds that have changed considerably over the past 100 years! 
Pugs: The Breed with a Unique Look and Personality
Historians agree that the pug breed has its origin in China. It was a mark of royalty in ancient China before the breed spread to other parts of Asia. The pug's snout has grown shorter from breeding, making it likely to get face injuries.

The more recent breeds of pug also tend to become overweight. Also, the double-curled tail many love in modern pugs is a more recent feature of these adorable animals. 
The Quirky and Lovable Basset Hounds
This breed of dog is known to have originated in France. Emperor Napoleon III was said to have kept some dogs of this breed. They are easy to identify with their short legs and drooping ears. But there are notable features that have changed in how they look.

Breeding of the Basset Hound has led to the ears growing longer and the legs growing even shorter. Additionally, the modern breed now has an excessive amount of skin for its body. 
The Intelligent and Focused German Shepherd
Also called the Alsatian, German Shepherds are a crossbreed of several native German herding dogs. This dog breed is one of the most popular, as it is very versatile and has been recorded to serve well in various capacities. 100 years ago, German Shepherds weren't as big as they are today –  they were also more nimble and could easily scale an eight-foot wall.

German Shepherds now have shorter hind legs. Also, there's a slope to the back. These changes in the skeletal structure of new Alsatian breeds are likely responsible for their many musculoskeletal disorders. 
The English Bulldog
Also known as the British Bulldog, this breed inspired some policies that prevent the indiscriminate breeding of dogs in the U.K. Breeding bulldogs is illegal in the Netherlands and Norway. Several health issues arise from breeding them all in the name of getting a good-looking mastiff. 

New breeds of English Bulldogs are bundles of muscles: so much so that conception and delivery are near impossible without human intervention. 
Dachshunds
The Dachshund is a dog breed from Germany. Many variants of this breed that you're likely to see around have especially short legs and long torsos. As you see in the picture, this breed has not always been that way.

Due to the selective breeding of Dachshunds for increased body length, they tend to suffer from spinal problems. The breeding has made Dachshunds 2.5 times more likely to develop congenital heart issues. 
The Brave Bull Terrier
The Bull Terrier originated in England as a bull-baiting dog until the sport became prohibited. Although their most iconic differentia is their egg-shaped head, the Bull Terriers did not start that way, as you can see in the picture. 

The new breeds of Bull Terriers are more likely to experience deafness in adulthood. Also, due to their scarcity of fur, they have irritable skin, leading to several skin infections and allergies. 
The Fearless Doberman Pinscher
This breed is named after the German tax collector — Louis Doberman — that developed it. More recent breeds of this dog are distinct for their long neck, which puts pressure on the spinal cord and leads to other health issues.

Initially, the Doberman Pinschers were used as guard dogs, but recently, they have become popular as working dogs and family pets. New breeds of Dobermann Pinscher have been reported to die due to congestive heart failure. In some cases, these deaths are unexplainable. 
Saint Bernard: A Breed with a Calm Demeanor
The Saint Bernard breed is native to the Alps of Switzerland and Italy. They were used as work dogs and rescue dogs. But new breeds of Saint Bernard have become more homely and are now being bred as pets. 

Compared to the modern breed, the traditional Saint Bernard was a much smaller dog. Over time, the breed was crossbred with larger dogs, making them bigger and more powerful. Sadly, these new breeds tend to develop bone cancer and epilepsy.
The Energetic and Endearing Boxers
Boxers were developed in Germany. This breed has some genes of the Old English Bulldog. In the United States, Boxers were once the seventh most popular dog for six straight years. But they now look like a shadow of their former selves due to a flattening of their muscles.

When upright, the new breed almost looks like it's leaning forward. Stillbirths and the death of puppies before they clock seven weeks are the major health challenges of the new Boxer breed. 
The Graceful Salukis
Salukis are a feminine-looking breed with hairy and drooping ears. They were bred in the Middle East by royalty. This heritage earned them the alias Persian Greyhound. Breeding has made the waist of Salukis thinner, accompanied by medical conditions.

Liver cancer and heart defects have become prominent issues and causes of death in the Saluki breed. 
Bearded Collies: A Joyful Breed
Bearded Collies were herding dogs and were first bred in Scotland. The new breeds are featured more often as pets, with their attractive and silky fur. The hair requires regular grooming to avoid the attachment of dirt particles and disease carriers. 

The first set of Bearded Collies were work dogs, strong and agile. Besides rare issues of musculoskeletal defects, Bearded Collies tend to outlive their first generation. 
The Snow-Coated White Terriers
This is another dog breed of Scottish origin. If you want a dog to grow with your kids and horse around with them, Terriers would fit. They are very intelligent, learn, and adapt to new environments. Modern White Terriers have shorter legs and fuller hair than they did 100 years ago.

There's a breed-specific health challenge common with White Terriers known as Westie jaw; it involves the overgrowing of bone in the dog's jaw. 
The Devoted Rottweilers
Rottweilers first became popular in Germany. It was called the Butcher's dog because every butcher had one. The Rottweiler was used in driving herds and pulling meat-laden carts to the market. In more recent times, new breeds of Rottweiler have been adopted as guard dogs, security, or police dogs.

The modern Rottweiler's fur is coarser, and its tail is no longer chopped as it used to be. Rottweilers are healthy dogs but suffer from hip dysplasia due to their heavy weight. 
The Fiery-Spirited Irish Setter
In recent times, Irish Setters have been bred as show dogs. Early breeds had a structure that looked like that of a greyhound — deep-chested, thin waist. Irish Setters are not very suited for guard purposes. Though quite active, they're not spontaneous in reflexes. 

A breed-specific challenge with Irish Setters is their gluten intolerance. It has been identified as a genetic defect passed down the breeding line. Don't feed your Irish Setter foods containing gluten. 
Airedale Terrier
Called the 'King of Terrier,' Airedales originated from the Vale of River Aire, near Yorkshire. Their peculiar goatee makes them easy to identify. But, as seen in the picture, this has not always been the physical features of the Airedale Terrier. 

The modern Airedale Terrier is hairier with a longer face than its ancestors a century ago. Today, the Airedale Terrier serves as a companion animal and a show dog, while it still retains its hunting instincts.