See The Universe Through The Sparkling Eyes Of Saved Blind Owl
He may not be able to see you, but he's sure to capture your heart the second you look into his eyes. We are talking about a Western screech owl who has the internet buzzing with his beautiful presence.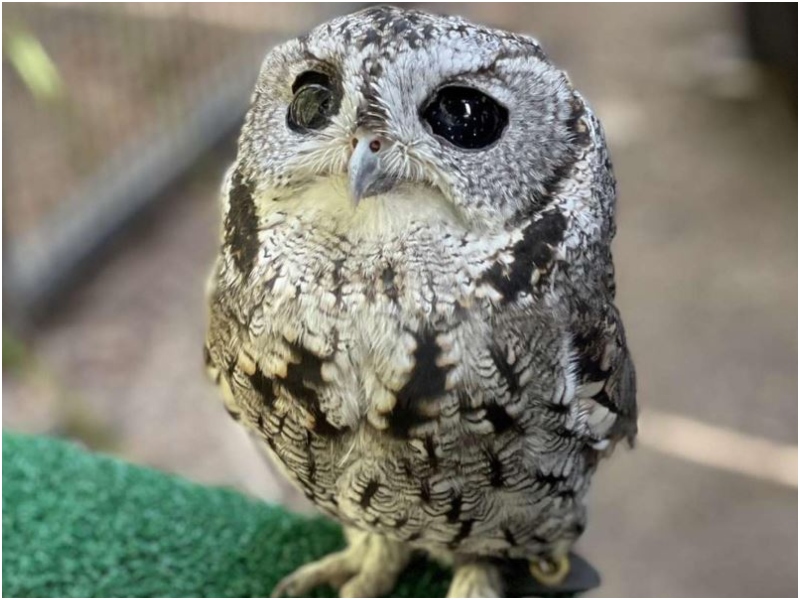 Ever since he was rescued, his stunning eyes that look like the galaxy have caught everyone by pleasant surprise. Since one can catch a glimpse of the cosmos in his eyes, it's only apt that he has been named Zeus. Let's get to know this adorable owl a bit more. 
Found at a California Home
In 2012, some homeowners in Southern California were going about their day when they found an owl on their front porch. It was a Western screech owl. He seemed to have been gravely injured and was unable to fly.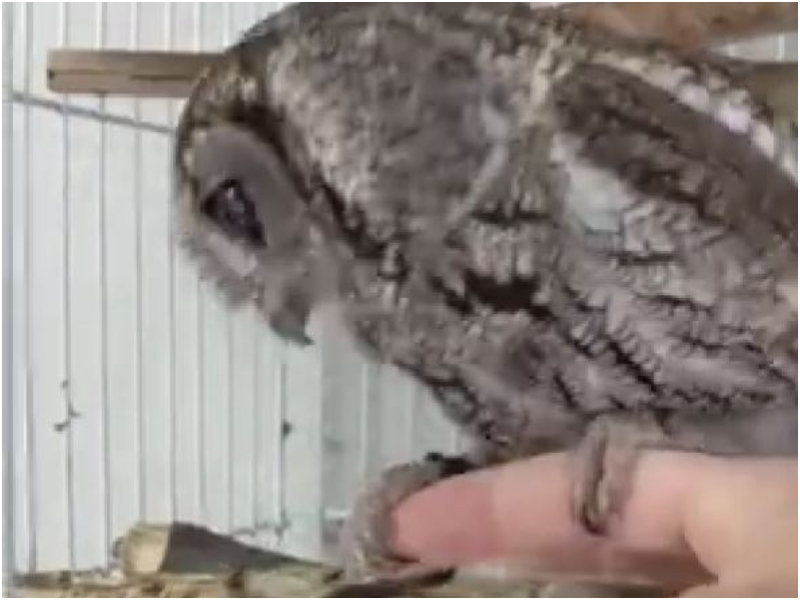 Since the little bird also looked emaciated, the people who found him were sure that he needed immediate medical attention. They took him to a veterinarian at the Pacific Wildlife Care, a well-known rehabilitation center in their neighborhood. As the vet examined the owl, they wondered if he could fly again. 
A Flying Accident
It is not uncommon for owls to get injured due to collisions with vehicles. Some species are more prone to such accidents because they forage almost the same height as the ongoing traffic. This time, the particular owl they rescued just flew into the side of their house, hitting the wall hard.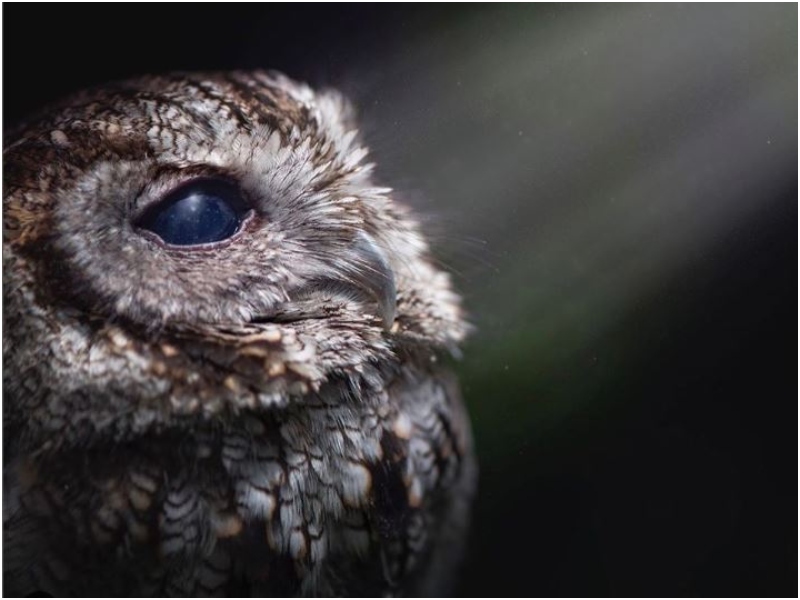 The vet thoroughly examined the bird and determined that he was not only injured due to the flying accident but was also blind, which is probably why he ran into the wall in the first place. 
A Trip to the Rehabilitation Center
A trip to the well-equipped rehabilitation center nearby was a blessing for the injured screech owl. The vet took extra care in thoroughly examining the bird. Since 1984, the center has been a passionate advocate for wildlife in their county, making rescue and rehabilitation of birds and animals their primary mission.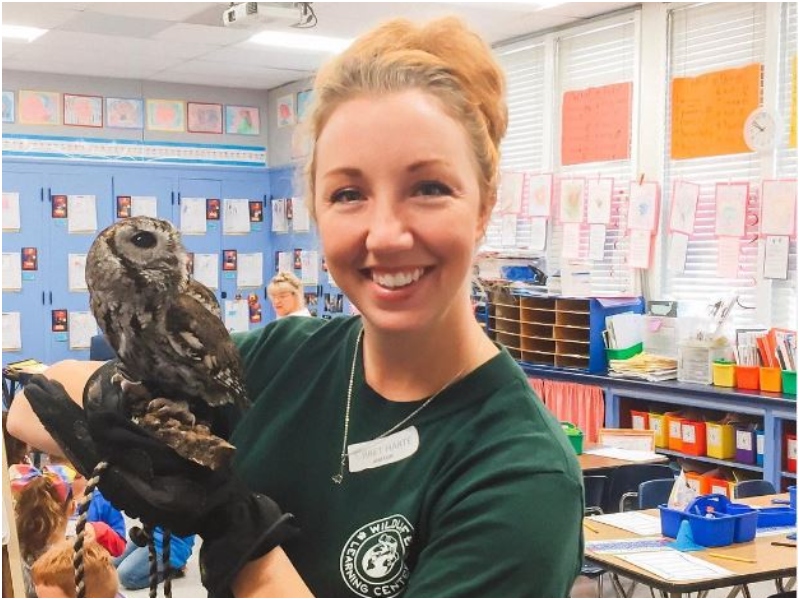 People often report distressed wildlife that is either sick, injured, or orphaned to PWC. So, it was natural for the homeowners to bring the injured owl to the center, which was precisely what he needed. 
Not the Usual Yellow
The veterinarian who examined the owl was fascinated with his eyes, which seemed to hold the entire galaxy in their depths. He hadn't seen anything like it before. The people who brought him in for a thorough check-up had noticed his mesmerizing eyes, too, and were so taken in by their beauty that they felt an immediate kinship with the cute bird.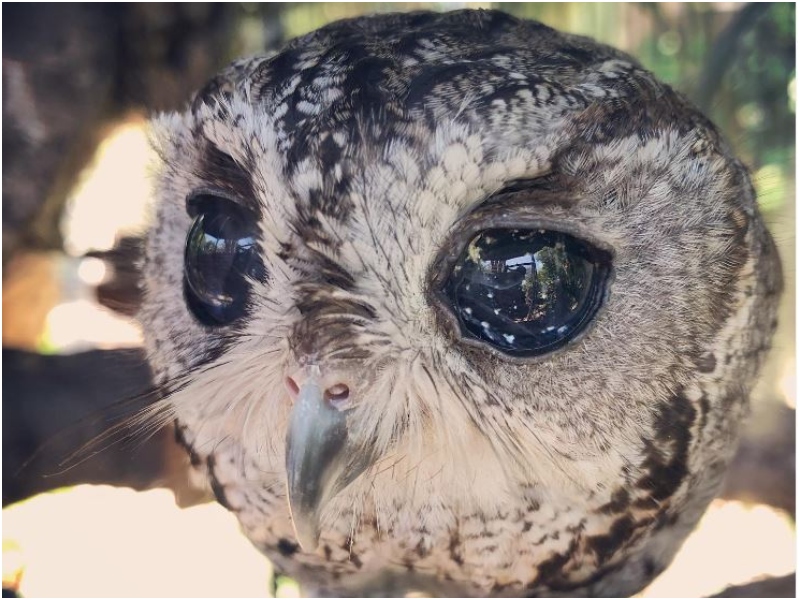 Typically, owls have deep yellow eyes, and this was an exception. A few hours, and the nocturnal creature was already capturing hearts. 
Unique Windows to the Soul
It is generally believed that our eyes are the windows to our soul, and Zeus had the most unique one. Those who looked at his peepers couldn't turn away from him without gushing about the starry night they witnessed.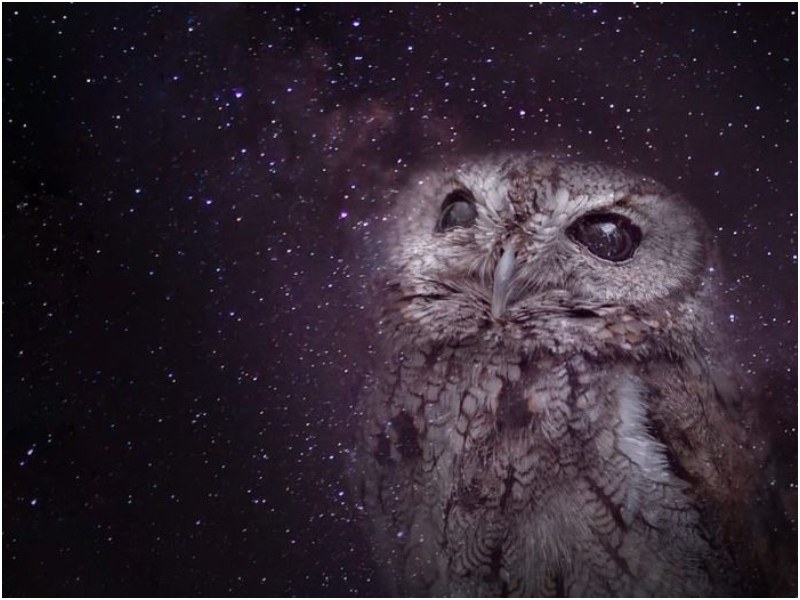 Everyone felt like they could get lost in his eyes. Considering you get to take a free trip into the brilliantly lit-up cosmos just by looking into his eyes, who wouldn't want to. His soul must be divine, for he brings immense joy to the people around him. 
Zeus, the Blind Owl
The gorgeous landscape of kaleidoscopic galaxies that one can see in his eyes led people to name him after the Greek God of the skies and thunder, Zeus. It's a perfect name for the wondrous bird!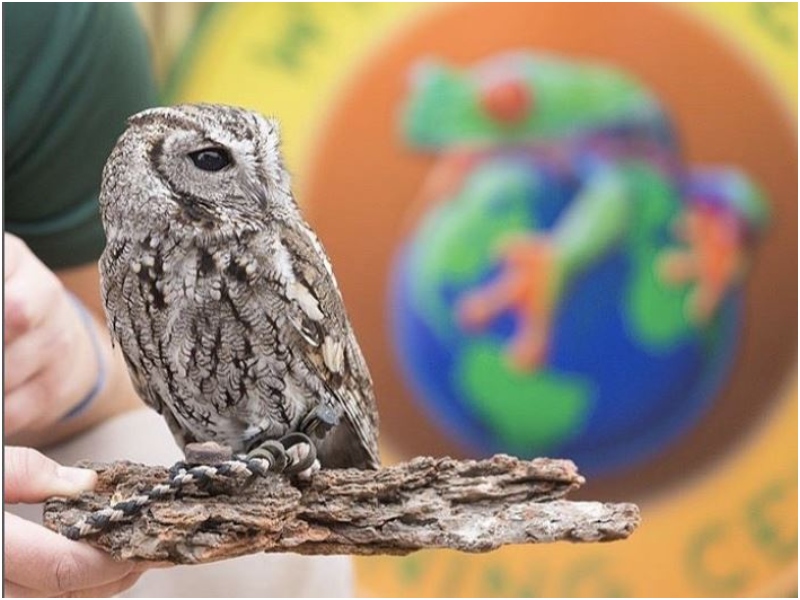 Blessed with a slight, stocky build with a squarish head and little ear tufts, Zeus is similar to all the Western screech owls, except for his eyes. The male owl makes high-pitched, accelerating whistling calls akin to a ping-pong ball coming to rest. Usually active at night, these birds spend their daylight hours resting in roost holes. 
A Traumatic Eye Injury
While Zeus is charming the world with his spectacular peepers, the fact remains that he is unable to see as a result of a traumatic eye injury he sustained during his younger days. The white flecks you spot glistening in his eyes are caused by blood pigment and protein clots.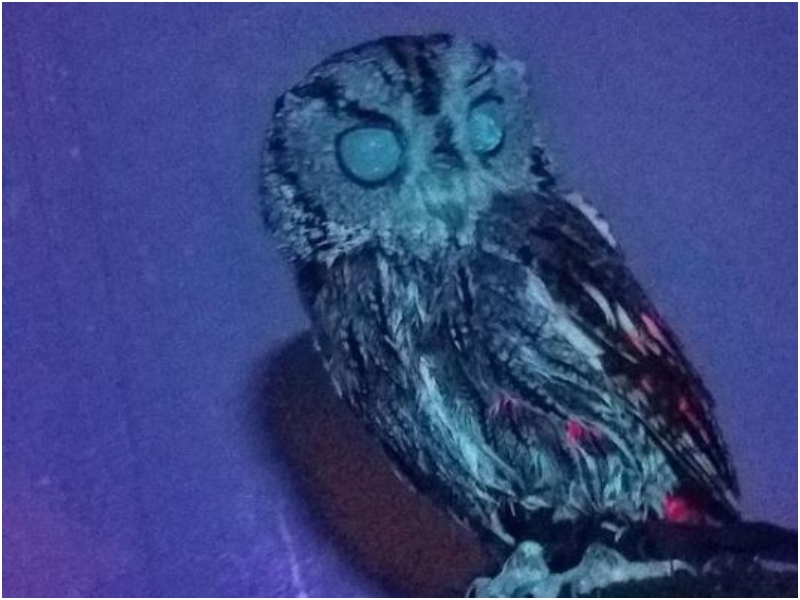 His condition is known as capsular cataract, which probably resulted from a predator's attack. It could also be due to a flying accident. There's no way to confirm either way. All we know is the beautiful bird with the most amazing eyes cannot see. 
Generally Blessed With Incredible Eyesight
Zeus' starry eyes are a sight to behold but his condition is unfortunate because owls generally have incredible eyesight. Since they are nocturnal creatures, they must have exceptional eyesight to navigate under the pitch darkness of the night. Their wide range of vision is considered binocular vision, allowing them to see objects in 3 dimensions.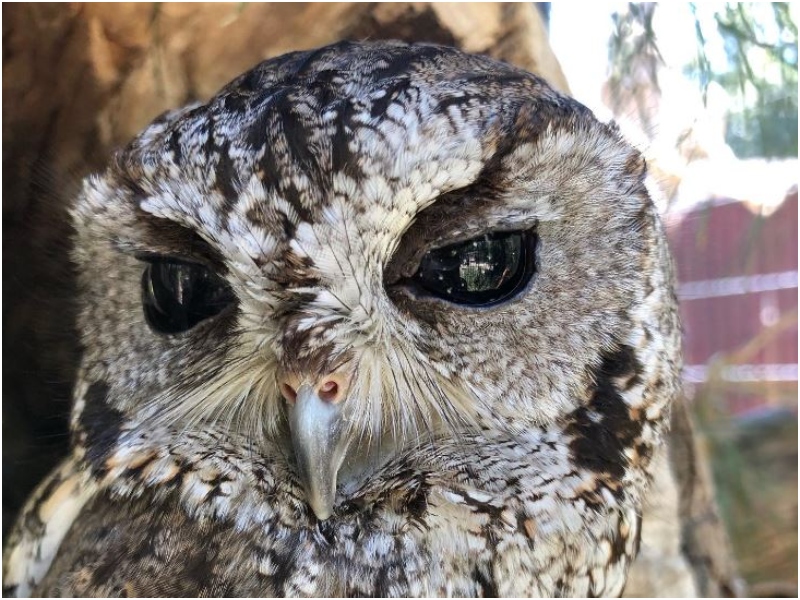 One of the most striking features of owls is their forward-facing, large eyes. They account for almost five percent of their body weight, giving them a "wise" appearance. 
Not Fit for the Wild
He may not have the blessings of regular eyesight, but Zeus is extraordinary in his own unique ways. Unfortunately, the veterinary ophthalmologist who examined him thoroughly stated that he had only ten percent of his vision left, making it incredibly difficult to survive in the wild on his own.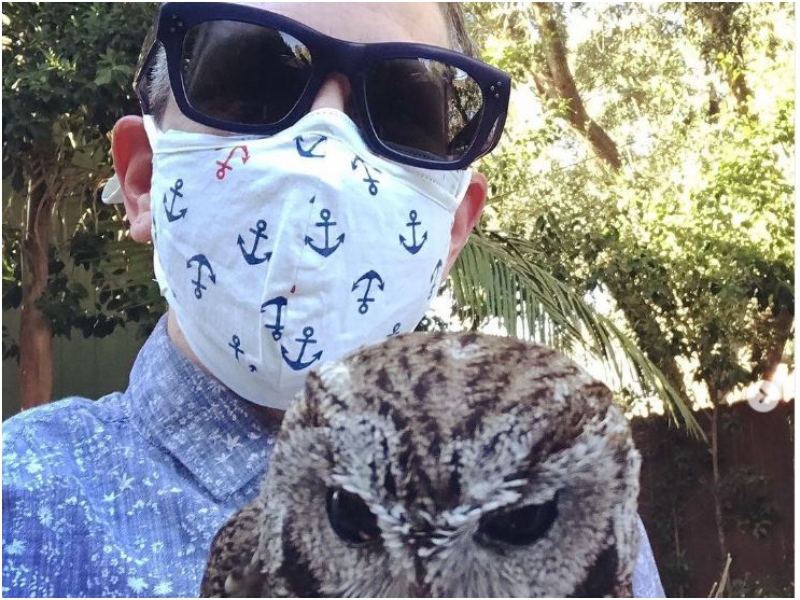 Ultimately, the wildlife doctor certified him "non-releasable" to the wild due to his blindness. It was a prudent call that would keep the cute little bird safe, healthy, and away from danger.
Able to Fly
The rehabilitation center he was brought to for treatment took excellent care of the owl. He regained his strength under the care of the wildlife staff, who had also fallen in love with the bird and his fantastic eyes.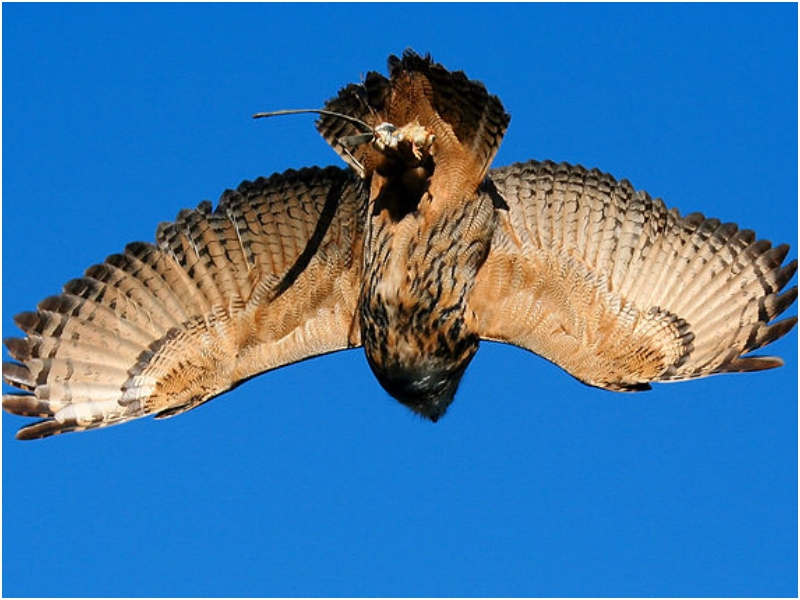 Once he was hale and hearty with his injury healed, Zeus could fly more than shorter distances. Yet, his poor eyesight could pose a problem if he was on his own. Although he wasn't deemed fit to be released into the wild due to his blindness, his condition did not stop him from flying. 
Permanent Resident of WLC
Once he was released from the PCW, who took outstanding care of him, he was moved to the Wildlife Learning Center in Sylmar. The news of his non-eligibility for release into the wild made him a permanent resident at the center.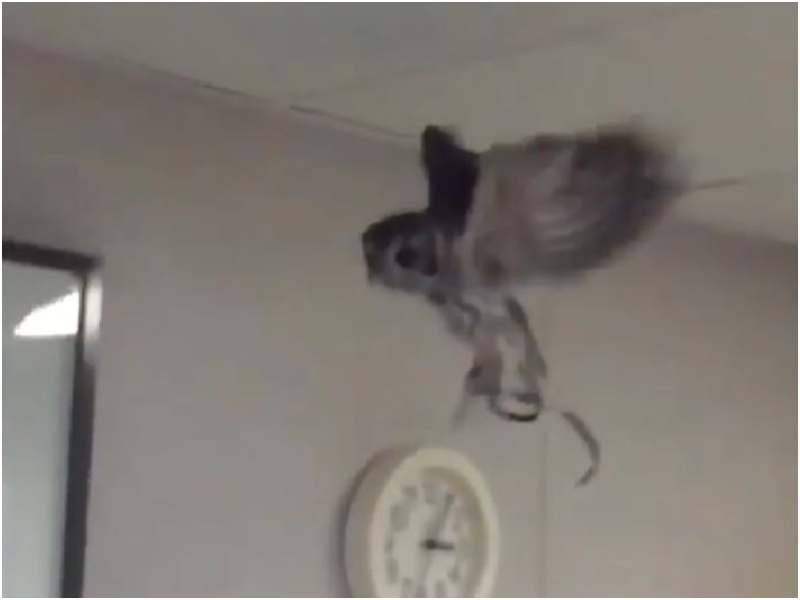 Even though the management and the staff at the center were saddened by his condition, which did not allow him back into his natural habitat, they were more than pleased to have him live with them permanently. The WLC became his home for the rest of his life. 
His Favorite Spot at the Center
Zeus quickly adapted to his life at the WLC; he had already become one of its cherished occupants, drawing more than his share of attention from the staff. Everyone loved his calm nature and big personality. He often exhibited immense curiosity about things and the people around him.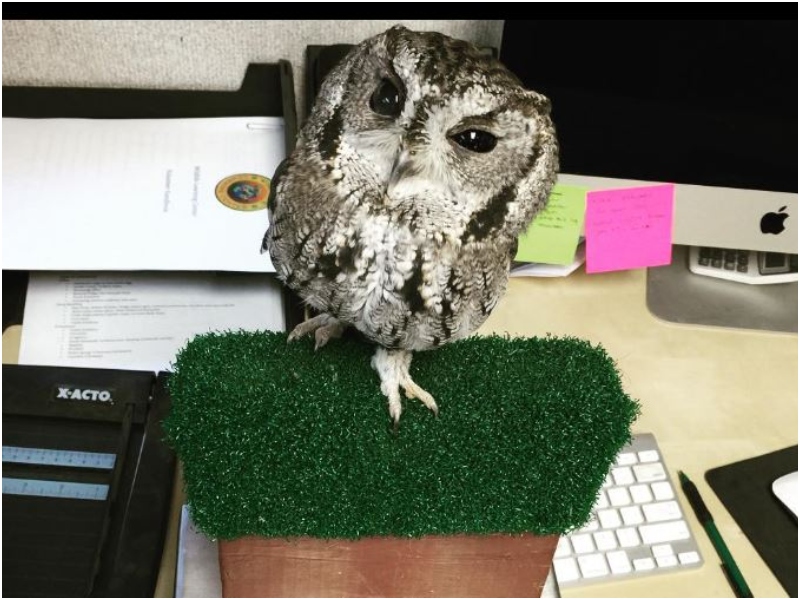 The adorable bird soon found a spot that he made his own. His favorite resting place was inside a trunk on a filing cabinet in the rescue center's founder Paul Hahn's room; it was right beside his desk, allowing Paul to look in on him whenever he wanted. 
Adored by the Visitors
His peaceful presence often made him look like a stuffed toy, and visitors didn't notice him until he was pointed out, and then they noticed his galaxy eyes. Then, the world turned topsy-turvy with excitement for them, especially for the kids who visited the center to look at their favorite birds and animals.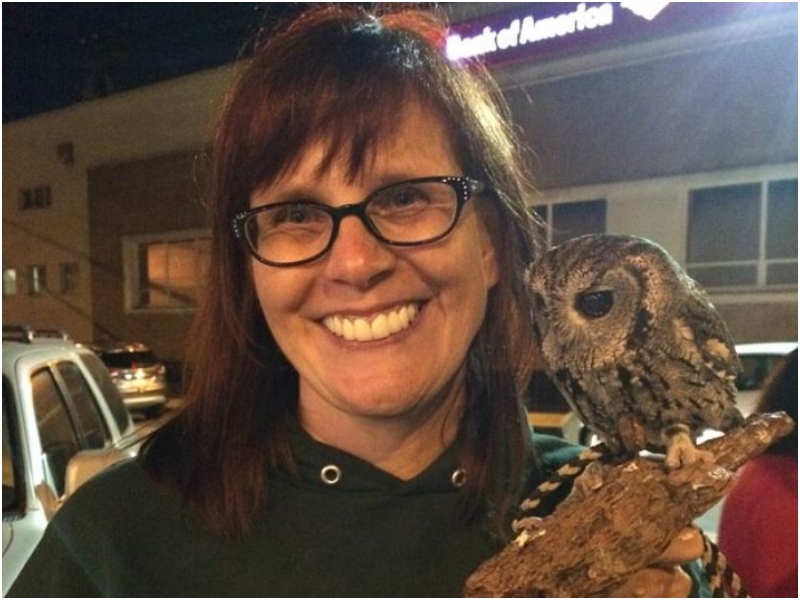 There were instances when a few burst into tears at the unique opportunity to gaze into the starry depths of his eyes. They even returned to the center several times to see him; he made them incredibly happy on every visit.
An Internet Celebrity
In the past decade, since he was rescued by Californian homeowners and rehabilitated at the Learning Center, Zeus has become an internet celebrity with his unique eyes. News of his eyes that look like galaxies spread on the net like wildfire in 2014.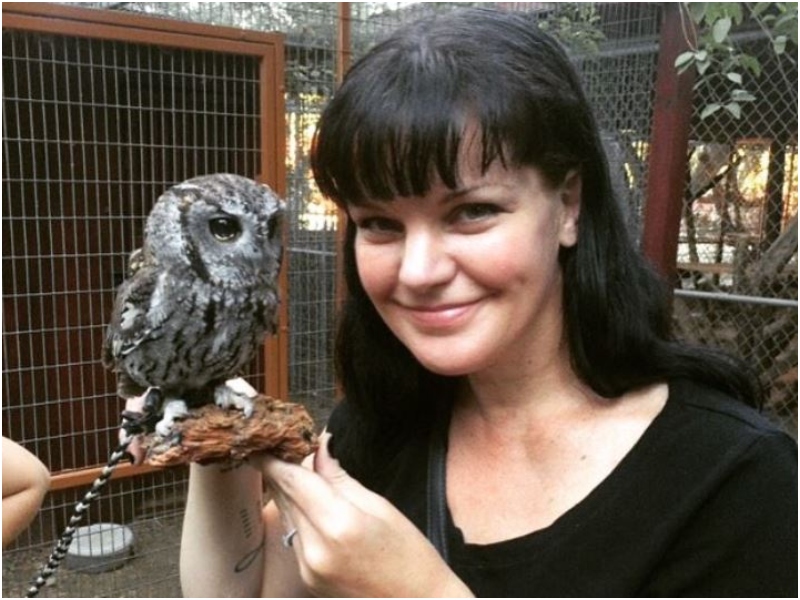 The media caught wind of the blind screech owl with sparkling eyes, and they ran with it. Articles about him were consumed with tremendous curiosity and interest by the public. His photos are still plastered all over the web, and his story is repeatedly shared. 
Especially Fond of Halloween
Zeus has a significant social media presence with a huge fan following, full of those who want to know more about him. It is clear from the pictures of him shared by the center that he even has a toy friend, a fellow owl but only larger with deep yellow eyes. They hang out together a lot.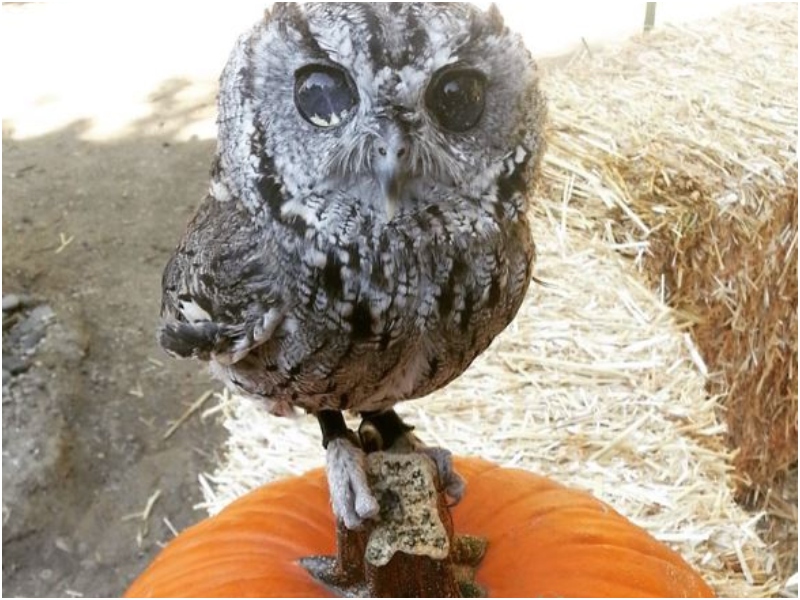 His favorite time of the year is Halloween, when he sits on orange pumpkins all day. In the photos, he seems fascinated by the decorative creepy crawlers that keep him company. 
Ambassador of His Species
In a world where even Hollywood celebrities find it tough to maintain constant visibility, Zeus has managed to keep people around the world curious about him and his astonishing eyes. All the media attention on him has made the general public aware of the plight of owls, making them care more about the screech owls and their conservation.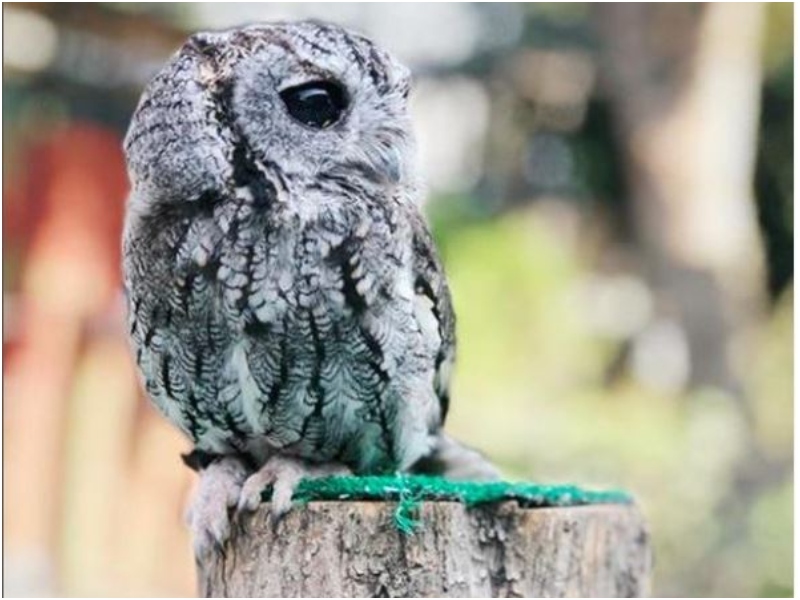 In broader terms, Zeus has encouraged everyone to take a closer look at our environment and the measures we need to take to ensure the safety and conservation of our wildlife. He has indeed become the ambassador of his species. 
The Amazing Work of WLC
For the most part, we can credit the home of Zeus, Wildlife Learning Center at Sylmar, for the amazing work they have put in to safeguard and nurture him with so much love and care over the years. It is a zoological park deep in the old olive grove in California's San Fernando Valley.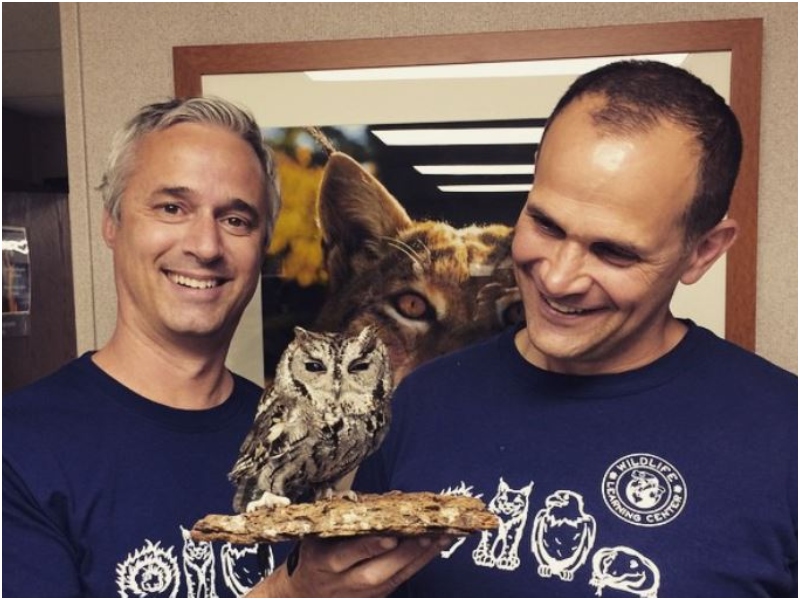 They are dedicated to providing life-long care for rescued animals and birds. The center is also well-known for being an educative medium for visitors to learn more about their residents and the conservation efforts made by the organization. 
Can We Look at His Eyes Again, Please?
This is the reason we are here, right? For his spectacular eyes that sparkle and make us wish we could reside permanently in those starry depths? Once you look at them, you'll remember his peepers forever.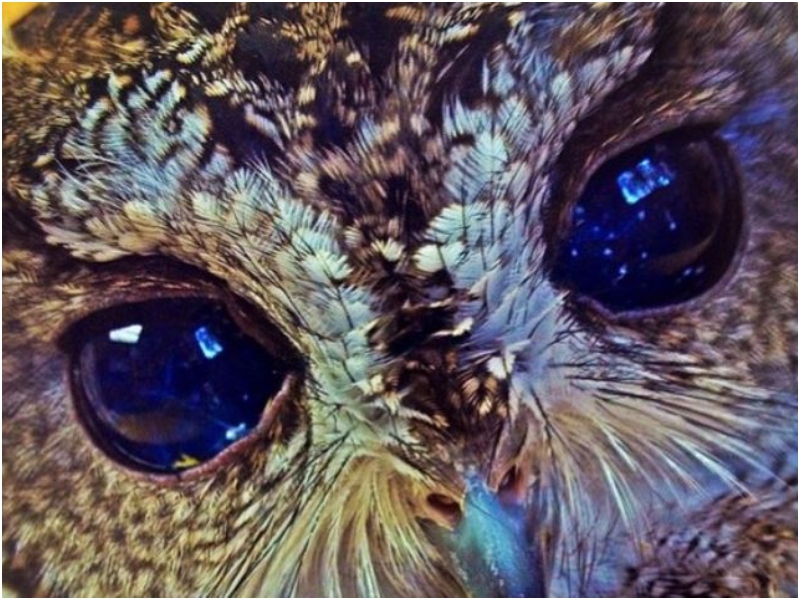 Blessed are those who visit Zeus at the learning center and see him face to face. Although sadly, Zeus has only ten percent of his visual ability left, we find his eyes to be a miracle. Something that brings people so much joy at the very sight of it couldn't be anything less. 
A Life Worth Saving
Zeus loves to be around people, and it's a good thing he meets so many visitors daily at the center. Everyone adores him, and he certainly is one of the place's main attractions. His disability has spread awareness about our environment and the plight of screech owls. 
He makes people smile everyday! Aside from all the goodness he has brought into the world with his incredible presence, one look into those starry depths will tell you that he is a life worth saving.