Deadly Leopard Seal Brings Photographer an Offering and an Unlikely Friendship Forms
The ocean is a fascinating place, filled with animals of all shapes and sizes, and no one knows it quite like Paul Nicklen. As a conservation photographer who has dedicated over twenty years of his life to capturing the stunning beauty of the Arctic and the Antarctic, despite the challenging conditions and harsh environments, he's seen it all.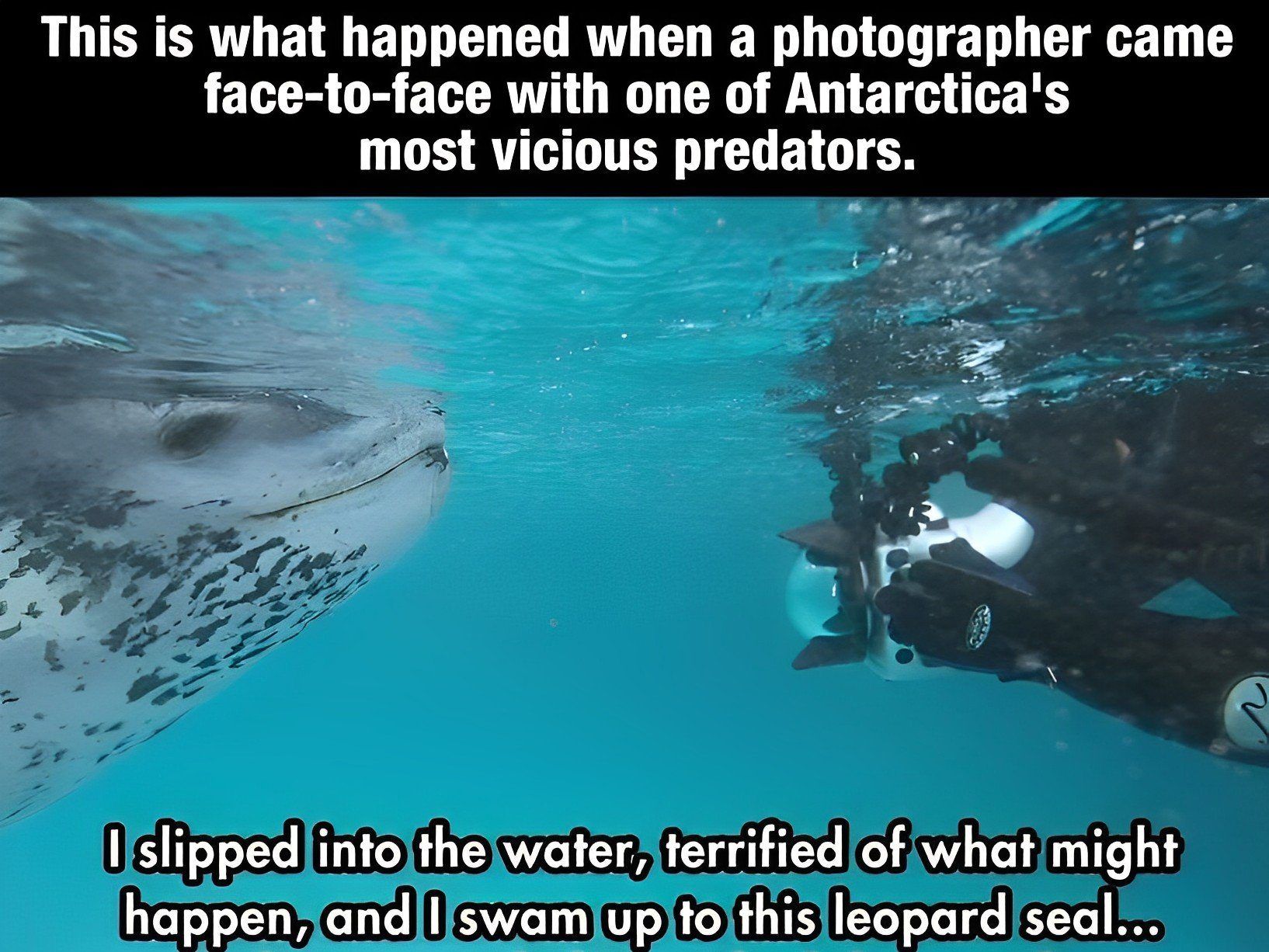 Now, imagine being offered a meal of dead penguins by a 1,000-pound leopard seal. As unlikely as it may seem, this was a real-life experience of Nicklen's!
Paul Had a Plan
As an underwater photographer, Paul Nicklen had the goal of capturing a new perspective on leopard seals. These predators are often known for their fearsome hunting skills, giving them a bad reputation as predatorial.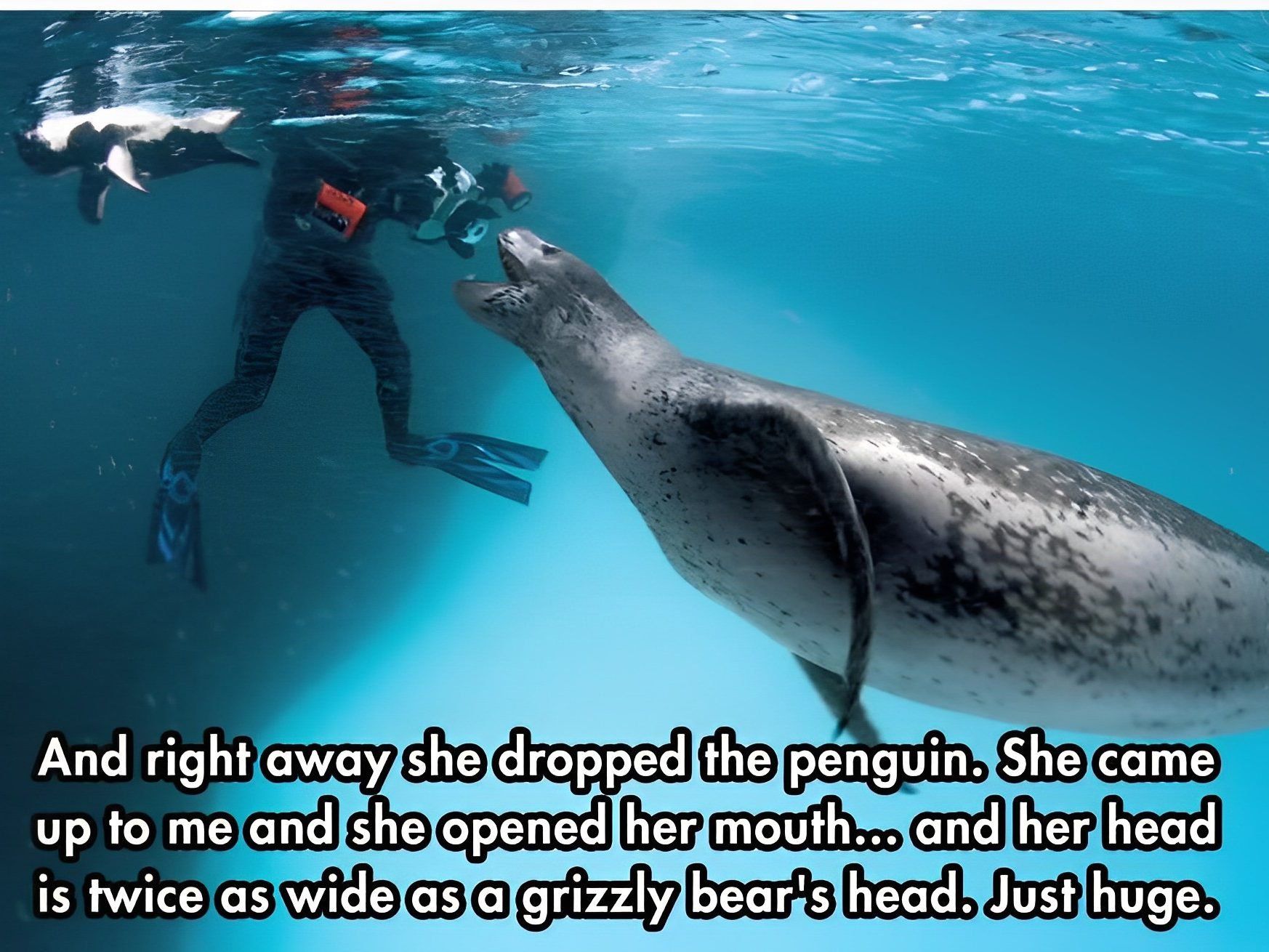 Rather than portraying them as aggressive predators, he wanted to provide a more balanced portrayal. In his own words, "I wanted to give this animal a fair shake and see them face to face in their habitat."
Of Course, Leopard Seals are Serious Predators
Paul knows that leopard seals are wild animals and can be dangerous to humans if they feel threatened or if they are protecting their territory or young. In fact, they are known to be aggressive hunters and will attack and kill humans in certain incidents.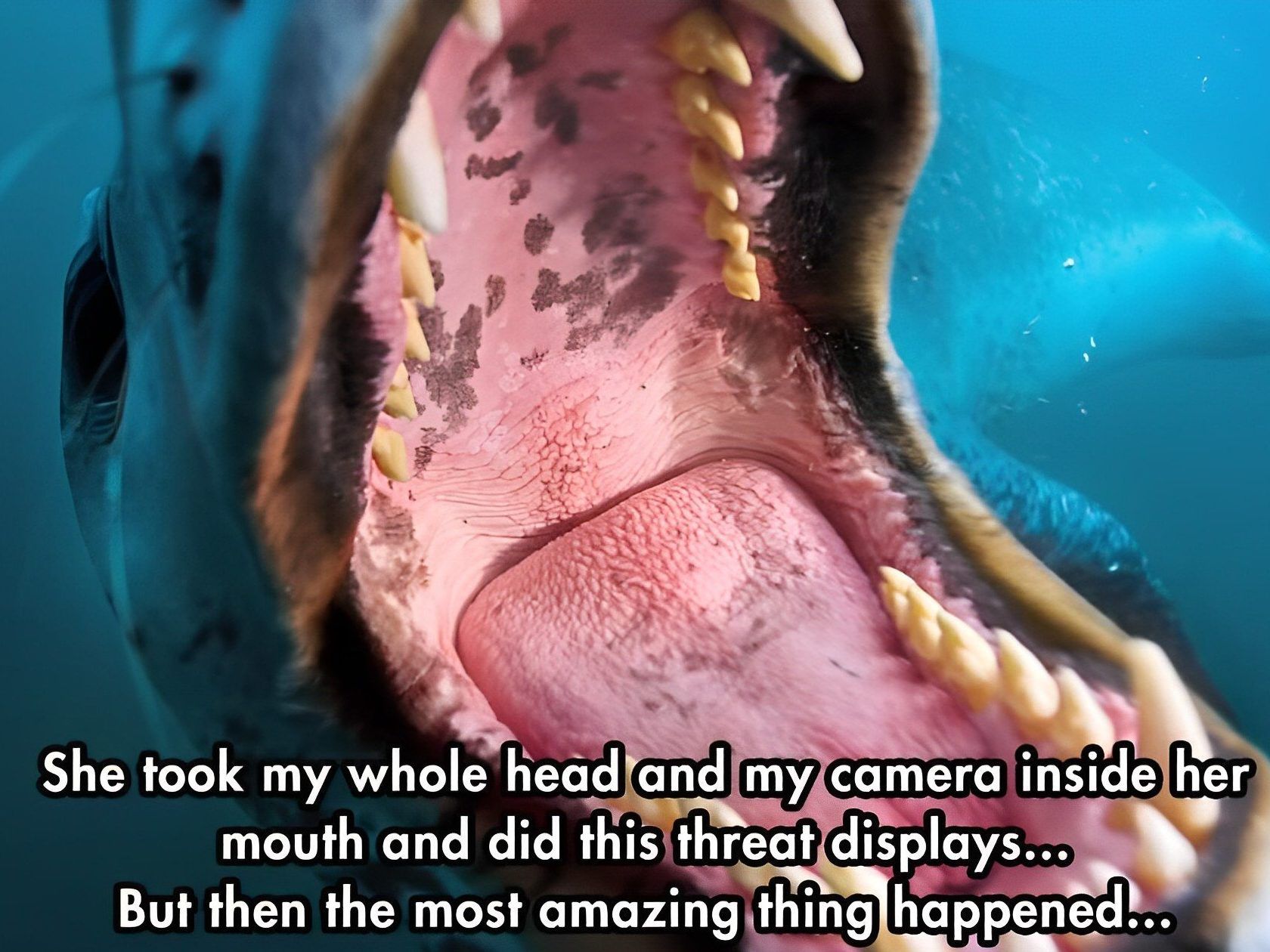 However, these incidents are rare, and Paul was willing to take the risk. He had to exercise caution and respect when interacting with them to stay safe.
It's a Risky Business for Paul
Though Nicklen has been doing this professionally for over twenty years, his job is not without its dangers. He often finds himself in freezing waters with potentially lethal predators.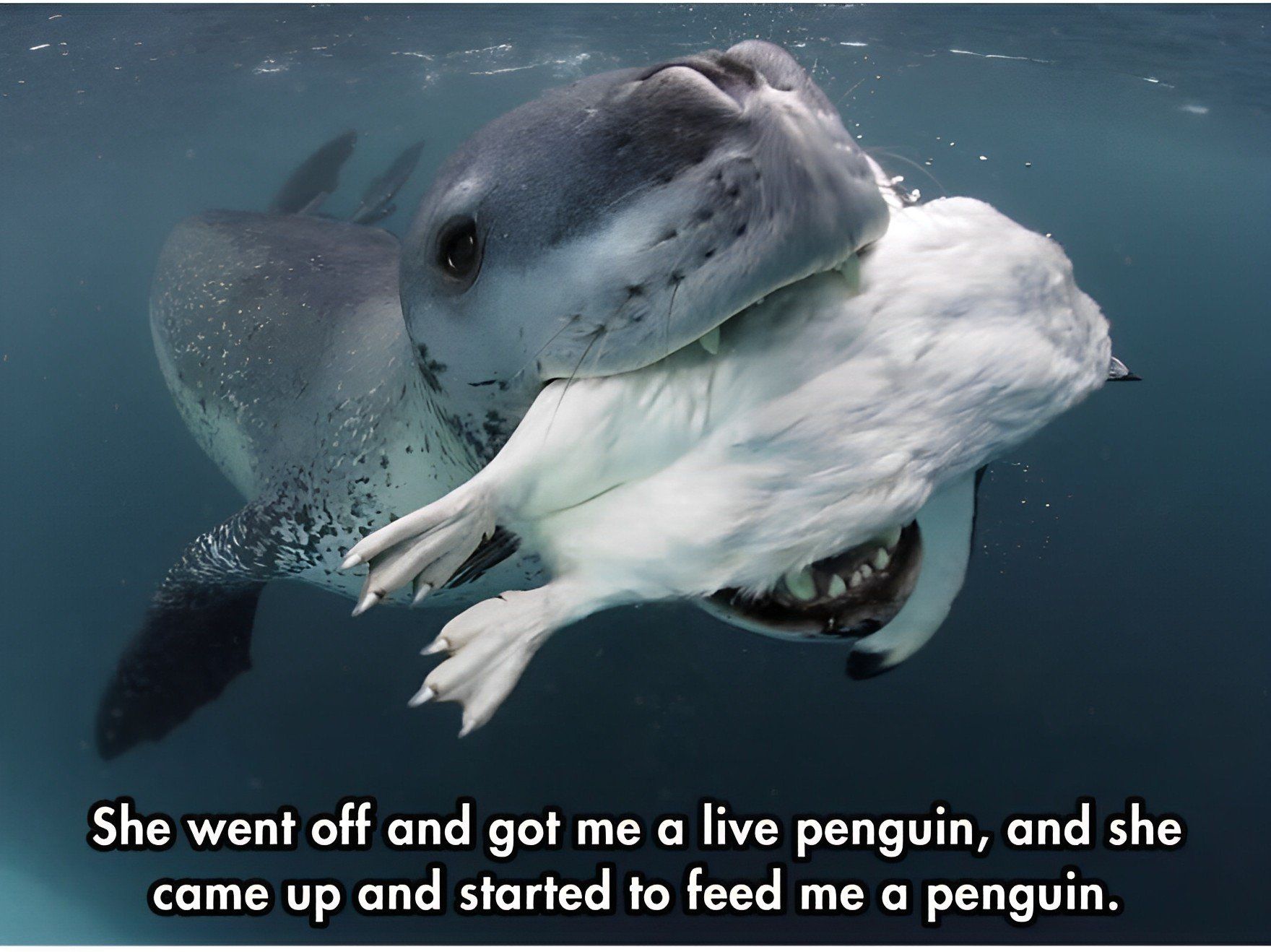 During one encounter in Antarctica, Nicklen came face-to-face with a massive leopard seal weighing over 1,000 pounds. He recalls the terrifying moment when the seal opened its enormous mouth, revealing a throat that seemed twice the size of a grizzly's.
This Particular Seal Had Been Around for a While
The leopard seal didn't just make a brief appearance; she stuck around for four consecutive days. Every time Paul returned to the water, she was there, waiting for him. 
She even followed him back to his sailboat at night. After asserting her dominance, she became more relaxed and eventually disappeared, leading him to believe that the encounter had come to an end.
What He Didn't Know Is That She Was Making Him Dinner
It wasn't long after that the leopard seal surprised the photographer. She returned with a penguin chick in her mouth, offering it as a meal.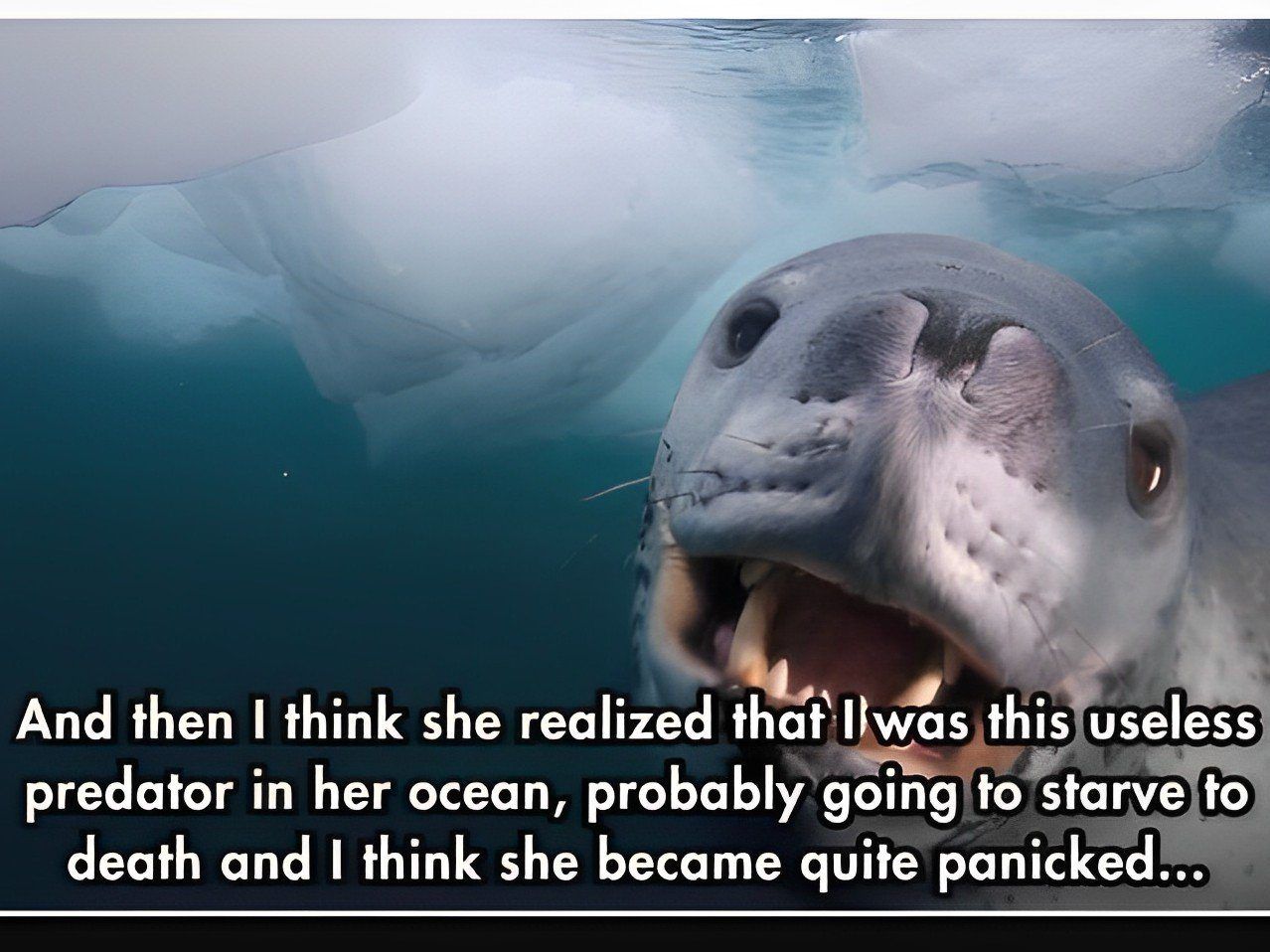 Funnily enough, she would release it in the water, allowing it to swim away, only to catch it again and repeat the process. This went on for some time, with the seal seemingly wanting to share her catch with Paul.
She Soon Realized Paul Couldn't Catch the Penguin
It finally dawned on Paul that the leopard seal was trying to offer him a live penguin as food. Despite her repeated attempts to feed him, he wasn't skilled enough to catch a live, flapping penguin.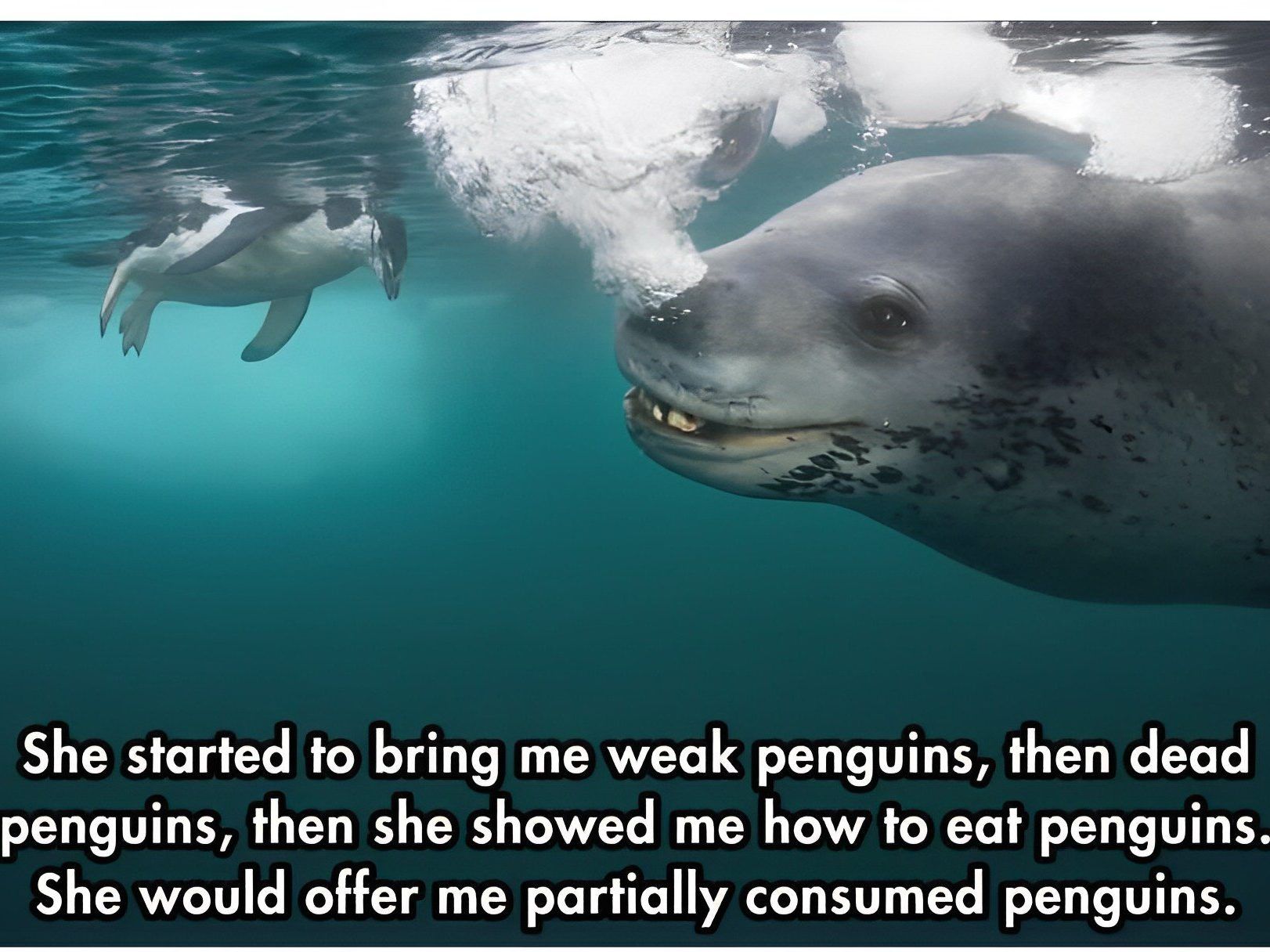 When it became clear that he wasn't capable of accepting her live prey, she began bringing him dead penguins instead. At one point, there were five dead penguins floating around his head.
Paul Notes That He Fell In Love With the Seal
Paul talks about how he developed a deep affection for this seal, although it's a bit embarrassing to confess. There were nights when he said would drift off to sleep with tears streaming down his face.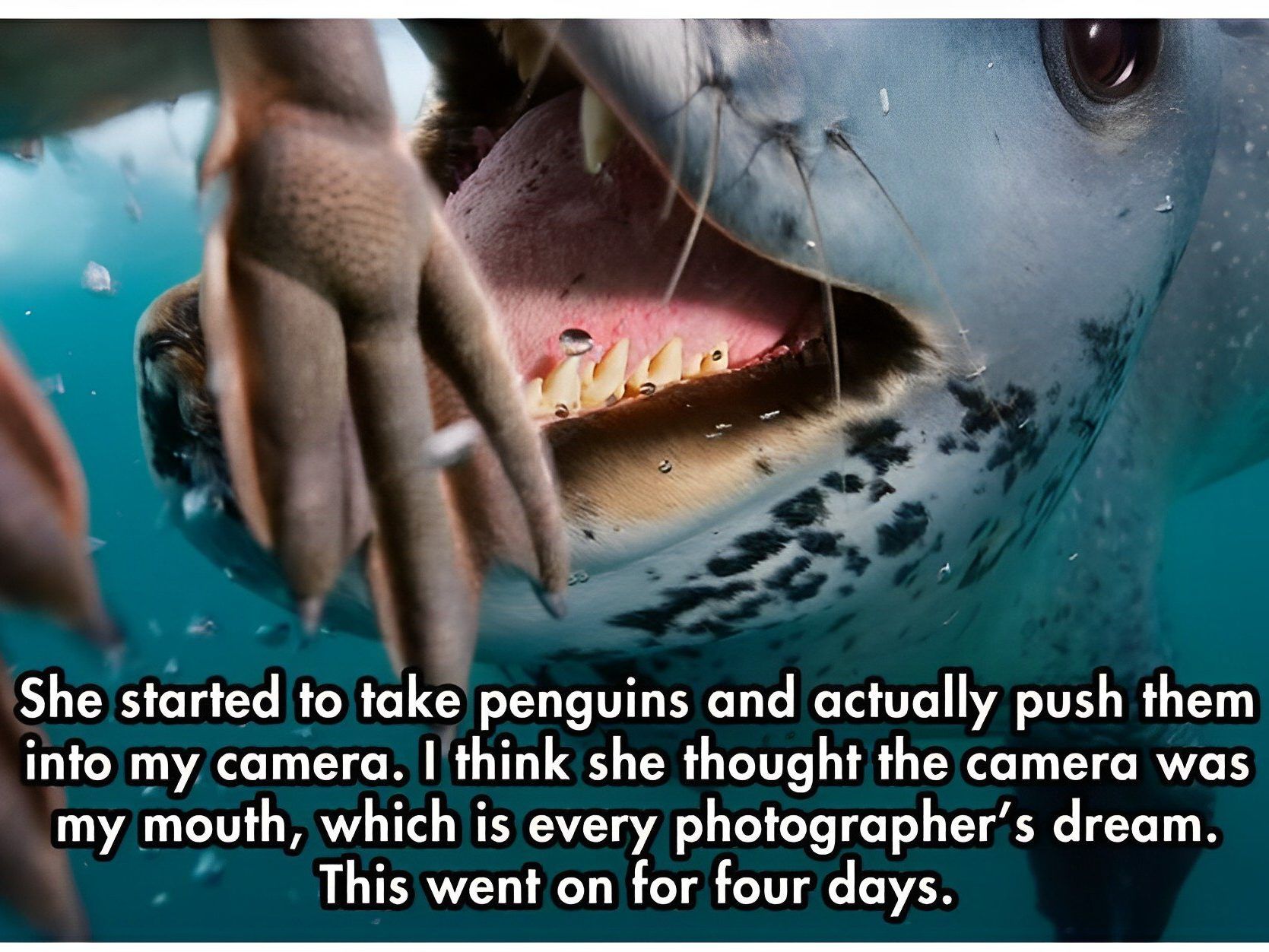 Spending a life among animals and striving to get as close to them as possible has been a constant battle. However, there are moments like this encounter that make it all worthwhile.
In An Instant, He Was Face to Face With a Top Predator
Before he knew it, a top predator was there, not only allowing him to observe it but also to interact with it. It even attempted to feed him penguins and protect him.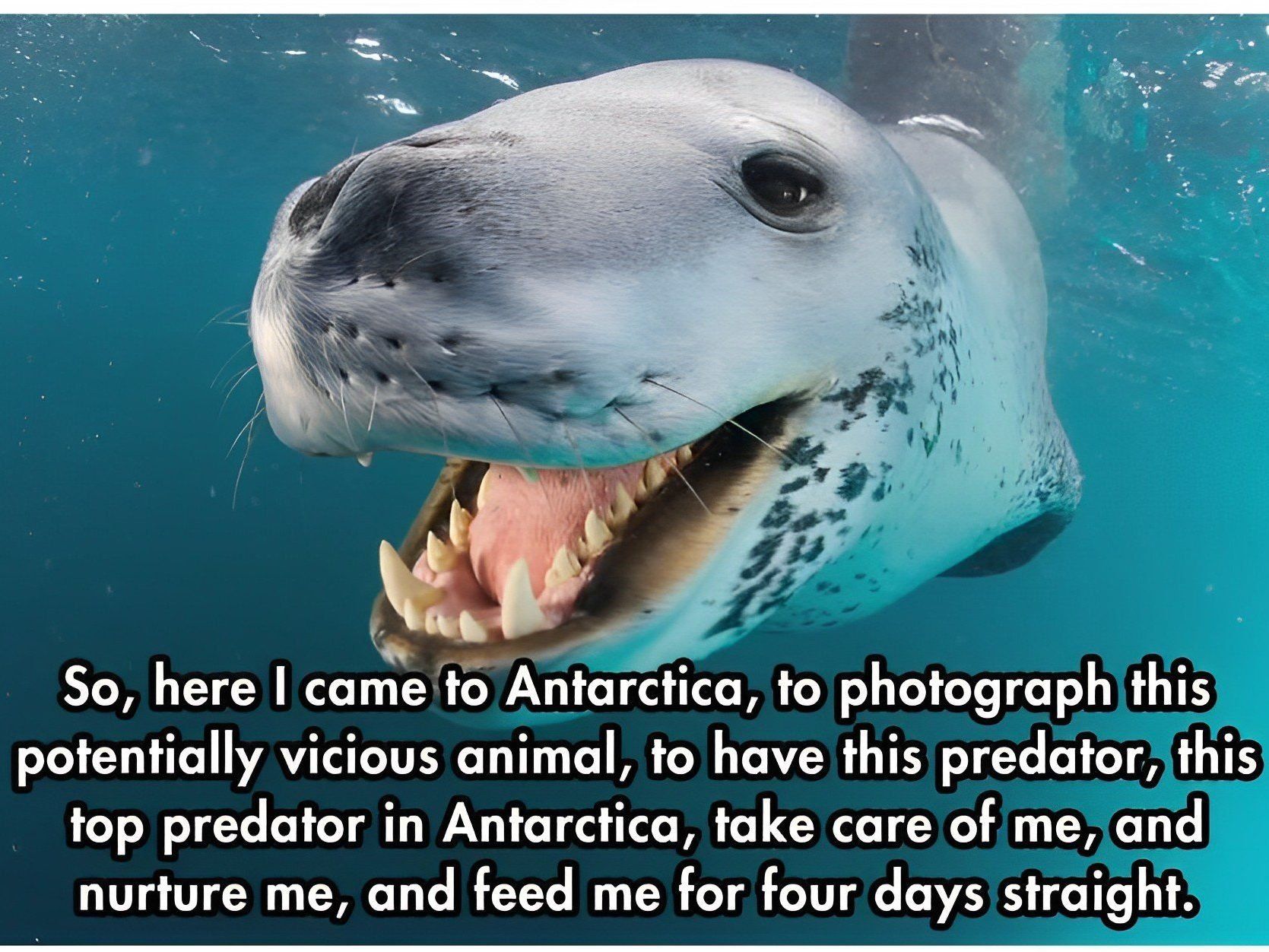 It was an incredibly humbling experience for Paul. He was able to immerse himself in the seal's world and have it invest so much time and effort in understanding and interacting with him. The experience was certainly emotional.
Paul Recalled a Funny Moment
Paul knew he had made a somewhat unusual connection at one point during his interaction. Eventually, the leopard seal appeared disheartened by Nicklen's inability to catch or accept her live penguin gifts.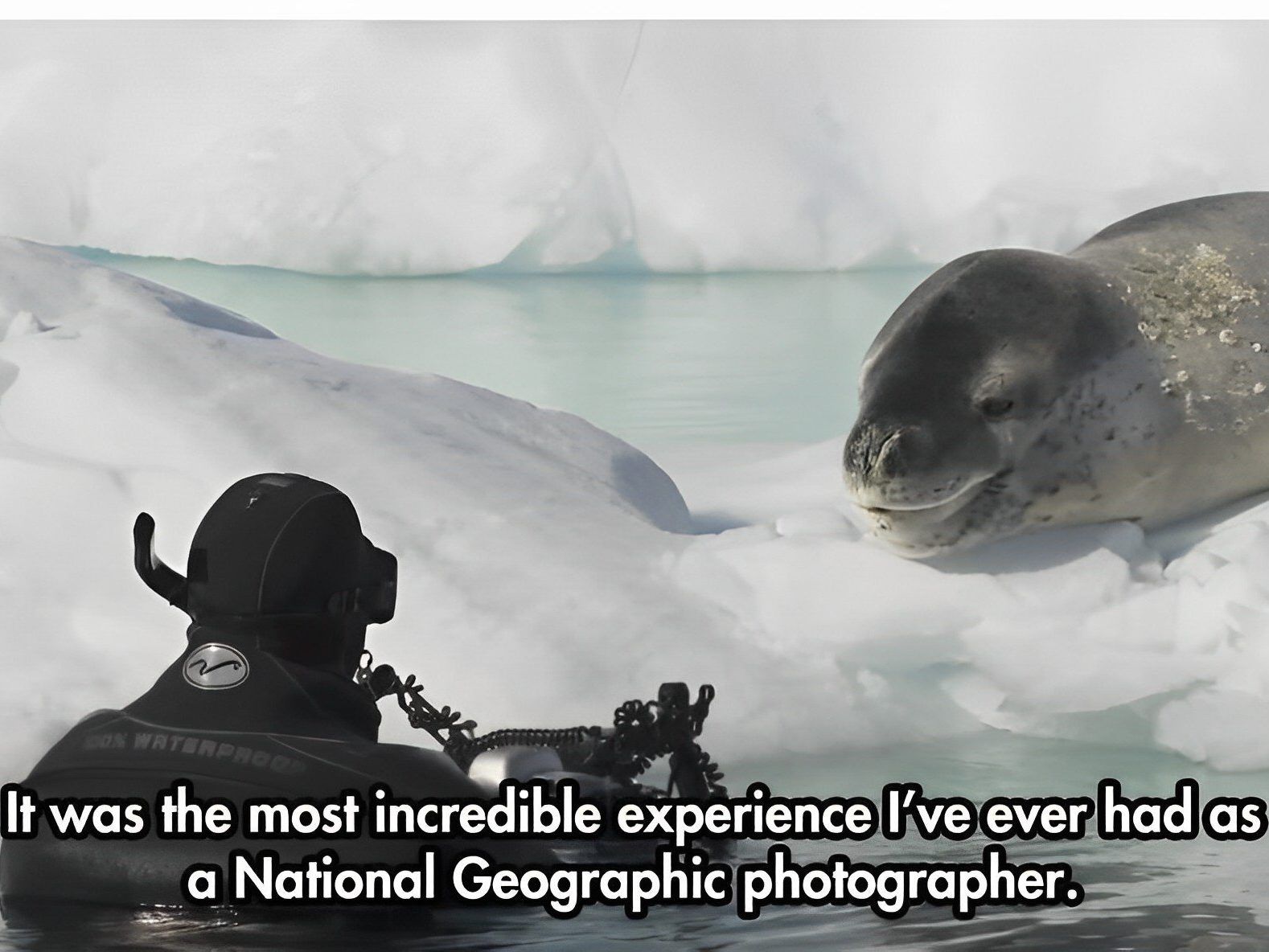 One photo shows her looking quite dejected after putting in tons of effort to make sure her new friend was fed. That's when she shifted to bringing him dead penguins instead, which she hoped he could not refuse.
Appreciating a Top Predator
Appreciating the predators of the ocean like this leopard seal gives us a better understanding of the delicate balance of nature. Without predators playing a crucial role in maintaining the ecosystem, things would go awry.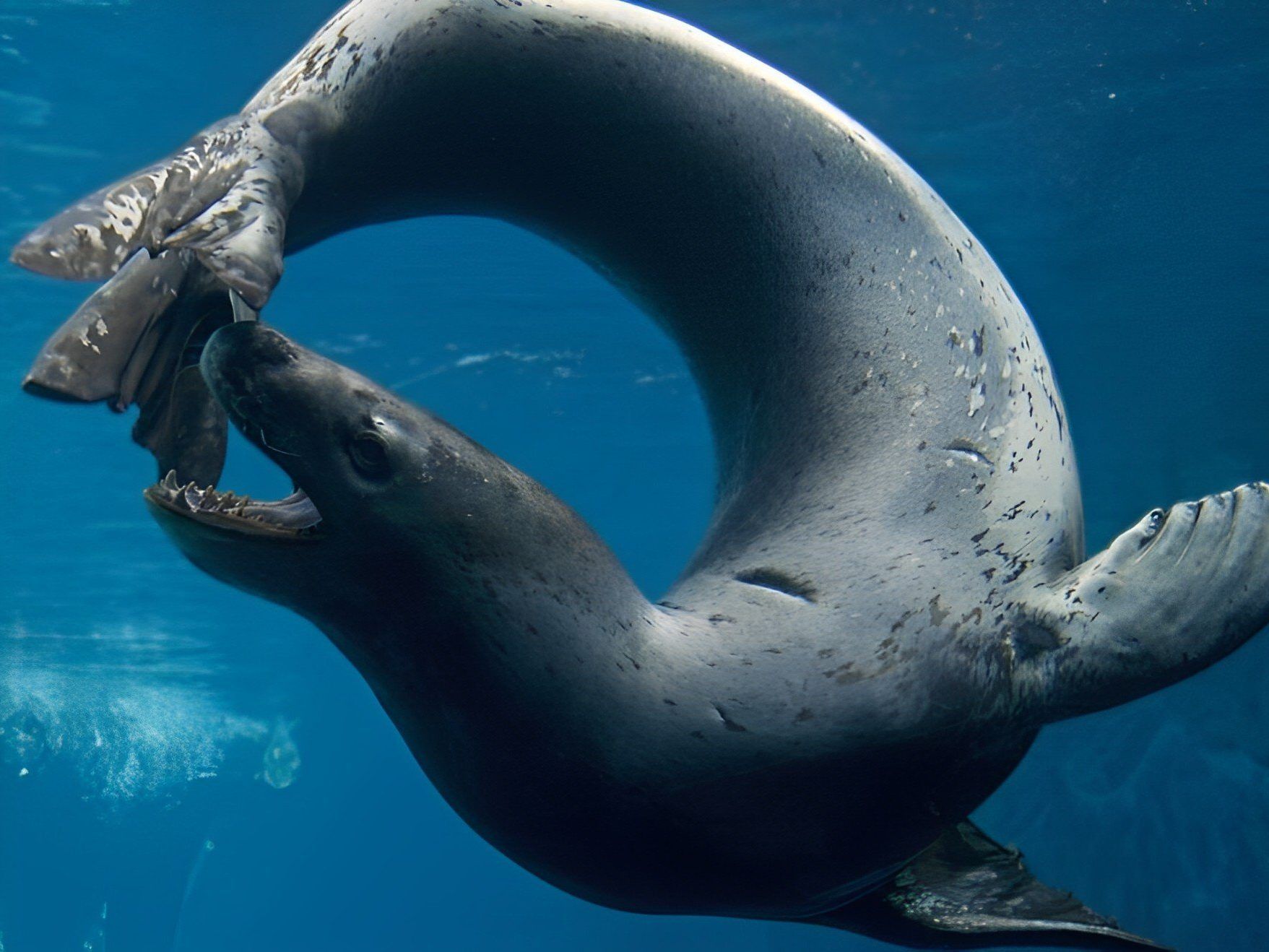 While it is easy to fear or demonize these creatures due to their sometimes ferocious nature, it's important to acknowledge the essential role they play. When we do, we feel less fear, which can lead to better conservation efforts.