The Interesting Places Freddy Mercury Comes From
Freddie Mercury will go down in history as one of the most iconic rock stars of all time (in our humble opinion). Queen was one of the biggest bands in the world in the 70s and 80s. Many credit the band's success to Freddie, the flamboyant and extravagant character who wrote and sang some of the most iconic songs of all time. Freddie Mercury was an endlessly interesting character and was in many ways an inspiration to those who felt they were different. Queen's music and style was inventive and revolutionary. Here are some things you might not have known about Queen's lead singer, Freddie Mercury.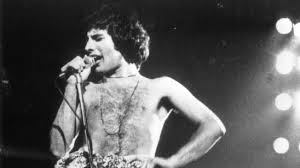 Freddie Mercury was born as Farrokh Bulsara
Freddie Mercury is known as the glamorous front man of Queen. However, Freddie Mercury was actually born with the name Farrokh Bulsara. He started going by Mercury when he went to boarding school and officially changed the name when he joined the band, Queen, in 1970. It was a way of reinventing himself and changing into the character that gained great success.
His name wasn't the only one he changed. When he joined bandmates Brian May and Roger, their band was called "Smile". As the lead singer, he quickly changed the name of the band from "Smile" to "Queen". This band just so happened to rise to fame and become one of the greatest rock bands of all time with Mercury on vocals (no big deal).
He Wrote "Bohemian Rhapsody" before he even joined Queen
Bohemian Rhapsody is one of those songs that will linger for generations to come because it truly was the first of its kind. Freddie actually started writing this song in 1968, 2 years before he even joined Queen. And we're oh so grateful he did!
He was a student at the time and was reportedly inspired by Johnny Cash when he wrote the lyric, "Mama, just killed a man". Now, it is perhaps the most iconic and well-known of all Queen's songs. The song topped the charts in the U.K. for 9 weeks in a row.
He didn't reveal he had AIDS until the day before he died
Tragically, Freddie Mercury died from AIDS in 1991. He kept the fact that he was sick from everyone for most of the time that he was sick. His bandmates didn't know he was ill until 1989, 2 years before he passed away.
Just one day before he died, he released a statement to the public confirming that he was HIV positive. He mentioned that he had kept it a secret from the public to protect the privacy of those around him.
He wrote 70 songs for Queen
Freddie Mercury was the main songwriter for Queen, although other members also contributed. Guitarist ,Brian May, also wrote many songs for the band. Some of the most iconic songs Freddie contributed were Bohemian Rhapsody, We are the Champions, Killer Queen, and Somebody to Love.
In a biography of Freddie, he stated that "Somebody to Love" was his favorite of all the Queen songs. He credits Aretha Franklin as his inspiration for the gospel style of the song.