Man Uses $50,000 to Create a Cat Paradise in His Home
Home buyers around the world agree that finding the perfect home is a difficult task, especially if your home needs special features. Unfortunately, it seems like most houses are built with only certain specifications in mind. Luckily, some people can make interior design magic!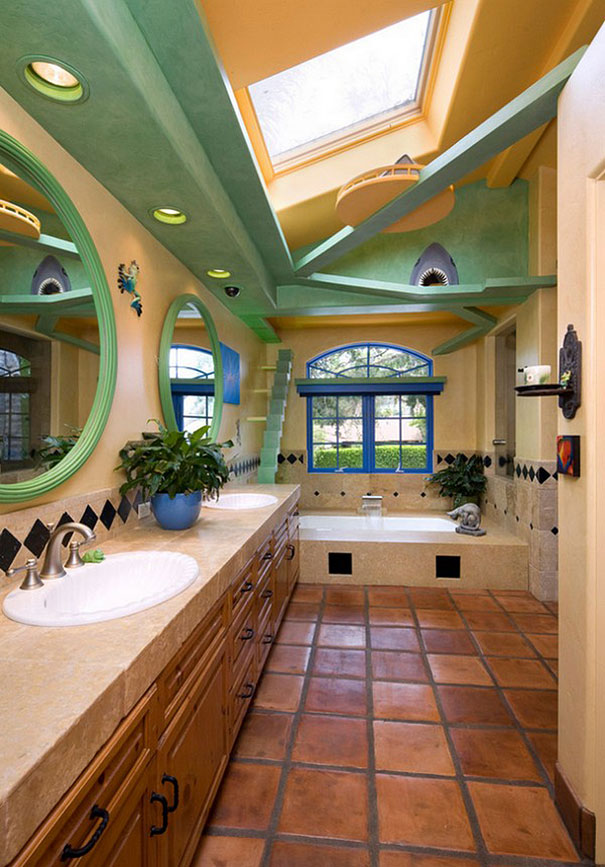 Read along to discover how a man turned his ordinary house into a beautiful cat paradise.
Just A Typical House
Peter Cohen bought his house in 1988, and some people thought it seemed counterintuitive to buy such a large home, as he lives alone and doesn't need that much space. But all of the judgment didn't matter because he had big plans for it.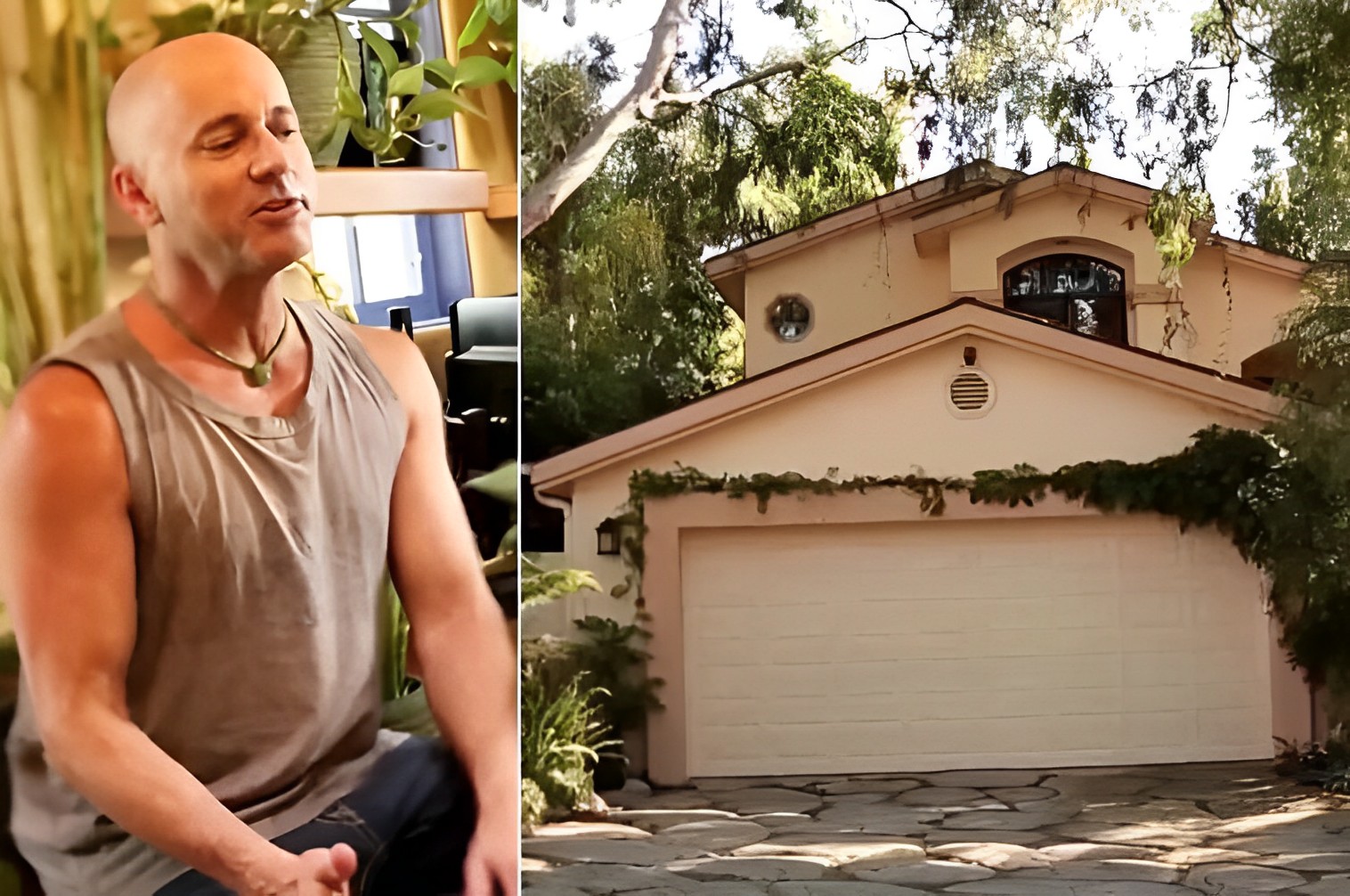 From the outside, Peter's house looks like just another typical, beige two-story house on the block with no extraordinary features. But on the inside, it had become a dreamy cat paradise. All it took was a vision and $50,000.
The Main Entrance
What seems like an ordinary house becomes extraordinary the moment the front door is opened. A lush green entrance surrounded by plants and, of course, cats is an inviting first impression.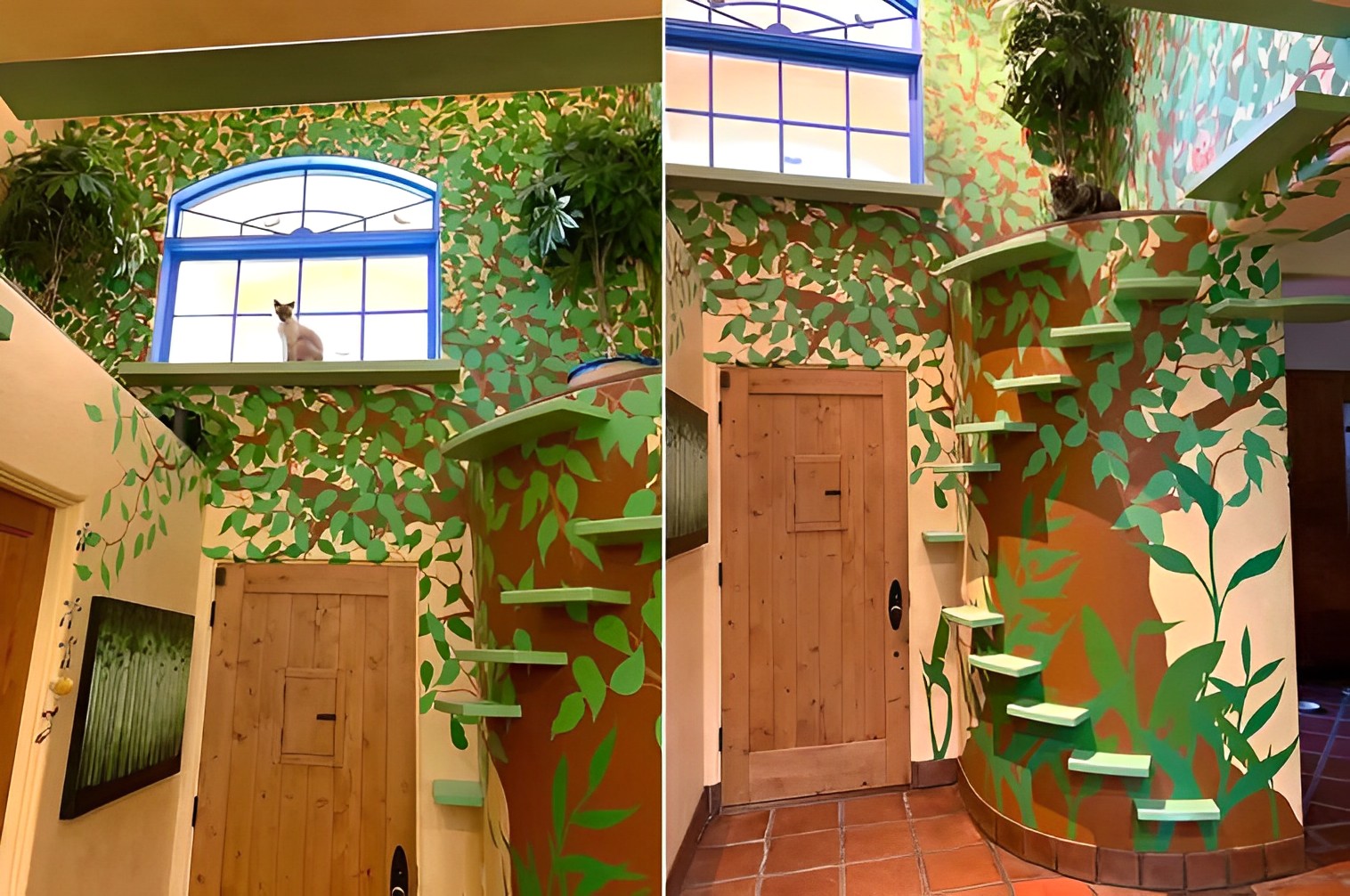 The contrast between green and brown wood is an excellent interior design choice that makes the place feel very cozy and well-lit. There is a winding ladder on the left, so the fluffy inhabitants can peek out the window as they wait for Peter, enjoy the view, or welcome any visitor that comes to say hi.
The Comfy Living Room
Amenities, such as cat beds, are spread throughout the house, but in the living room, they are the coziest. All of the sofas are inviting for both felines and humans. The furniture silhouettes are organic, making the lack of rough edges an appealing decision.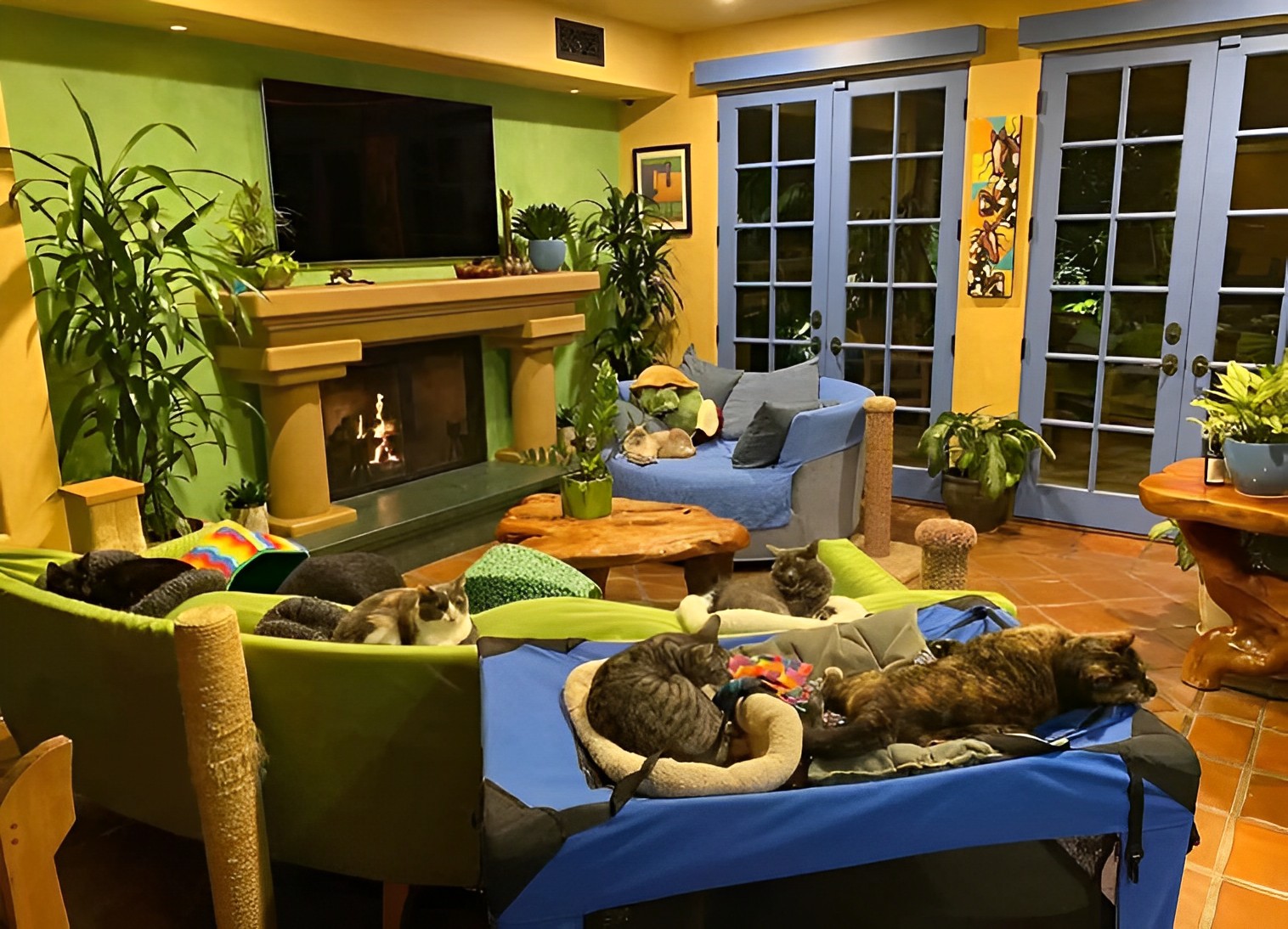 The walls are all painted in contrasting warm yellow, pale green, and light blue, giving the room a warm yet spacious feeling. The color palette for the walls and furniture was a great decision from Peter. What a dreamy house! 
The Luminous Hallway
The hallway is a delight to be in; Peter has turned every inch of his house into a cat paradise, as well as a tiny jungle. There are so many plants around the home we wonder how he has time to water them all!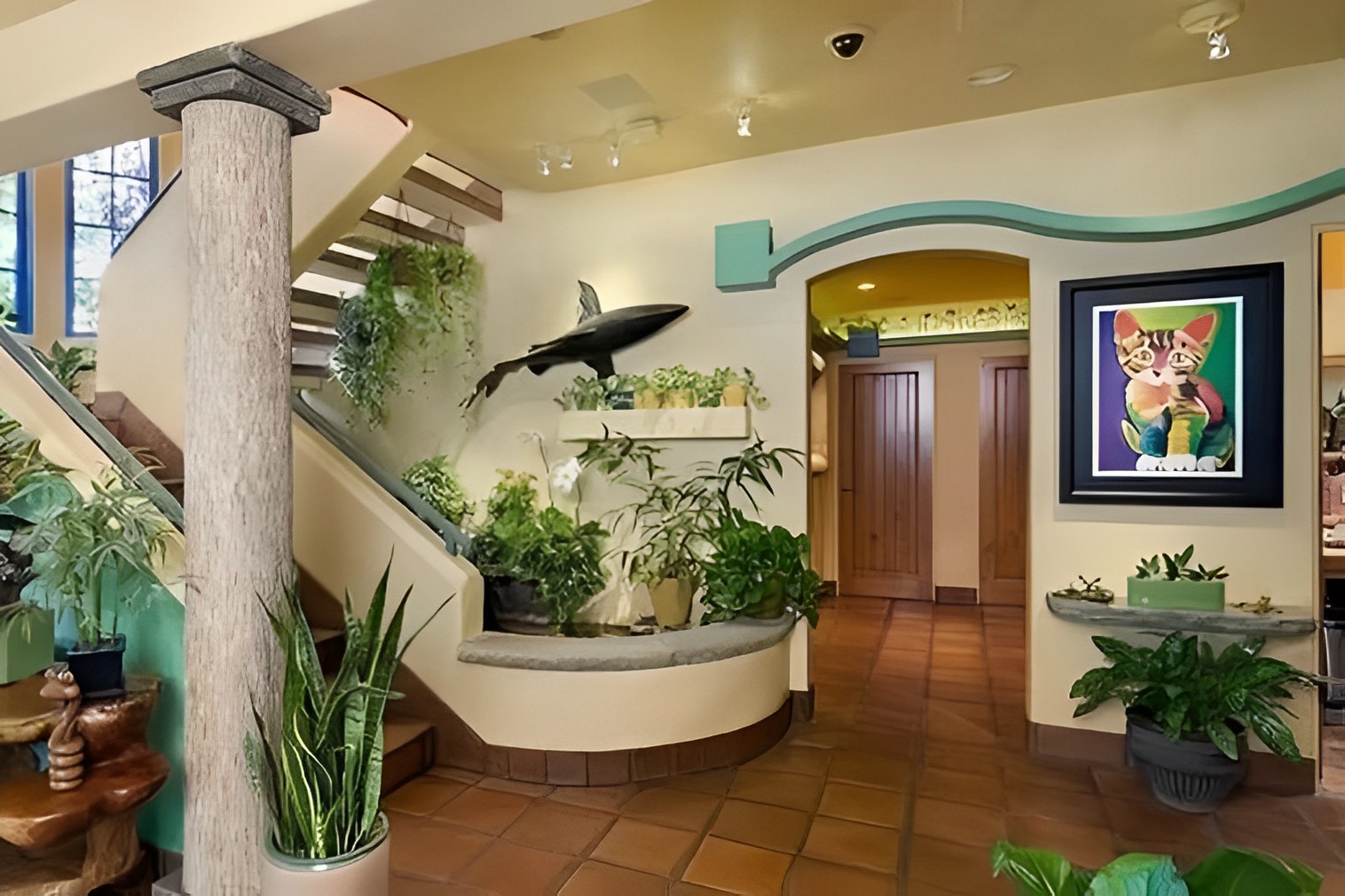 Throughout the rooms, it's also clear that his main focus was his beloved cats because there are many passageways and staircases designed explicitly for cats' amusement. If you look closely, he even has artwork dedicated to his feline friends.
The Cozy Bedroom
Peter's bedroom matches perfectly with the aesthetic of the entire house. We love to see a house that feels cohesive throughout. The fun artwork and quirky details make this house feel unique and very personal.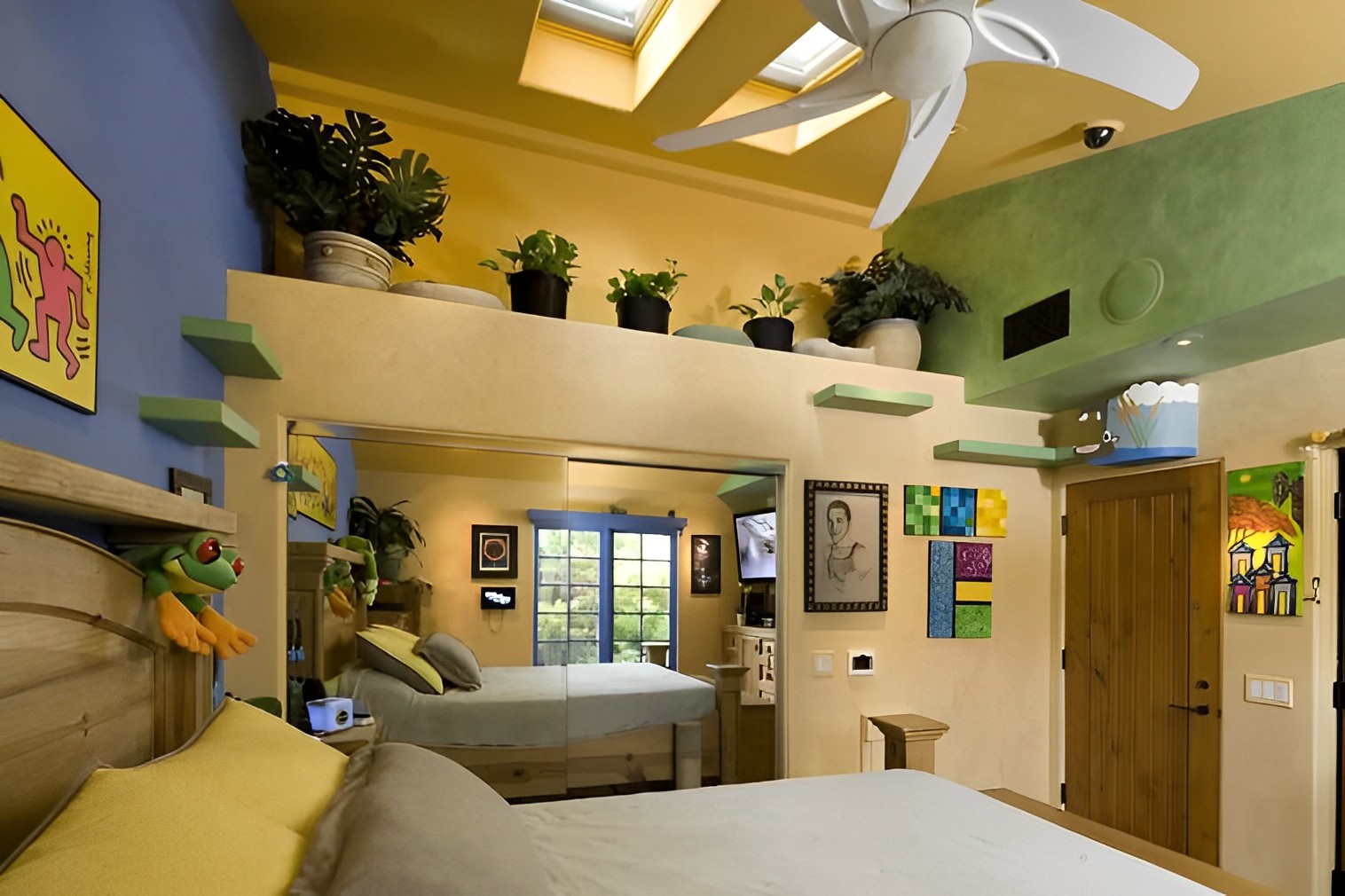 Home is meant to be a place where you can be yourself, so expressing it through design is always a good decision. But, of course, the bedroom is not exempt from details exclusively meant for Peter's cat's amusement. If you observe carefully, you can see more ladders and toys.
The Whimsical Bathroom
This is what bathroom dreams are made of. The art nouveau twist is spectacular, to say the least. And, of course, lots of playground space for the cats to have fun in the form of railings, mini staircases, and walkways.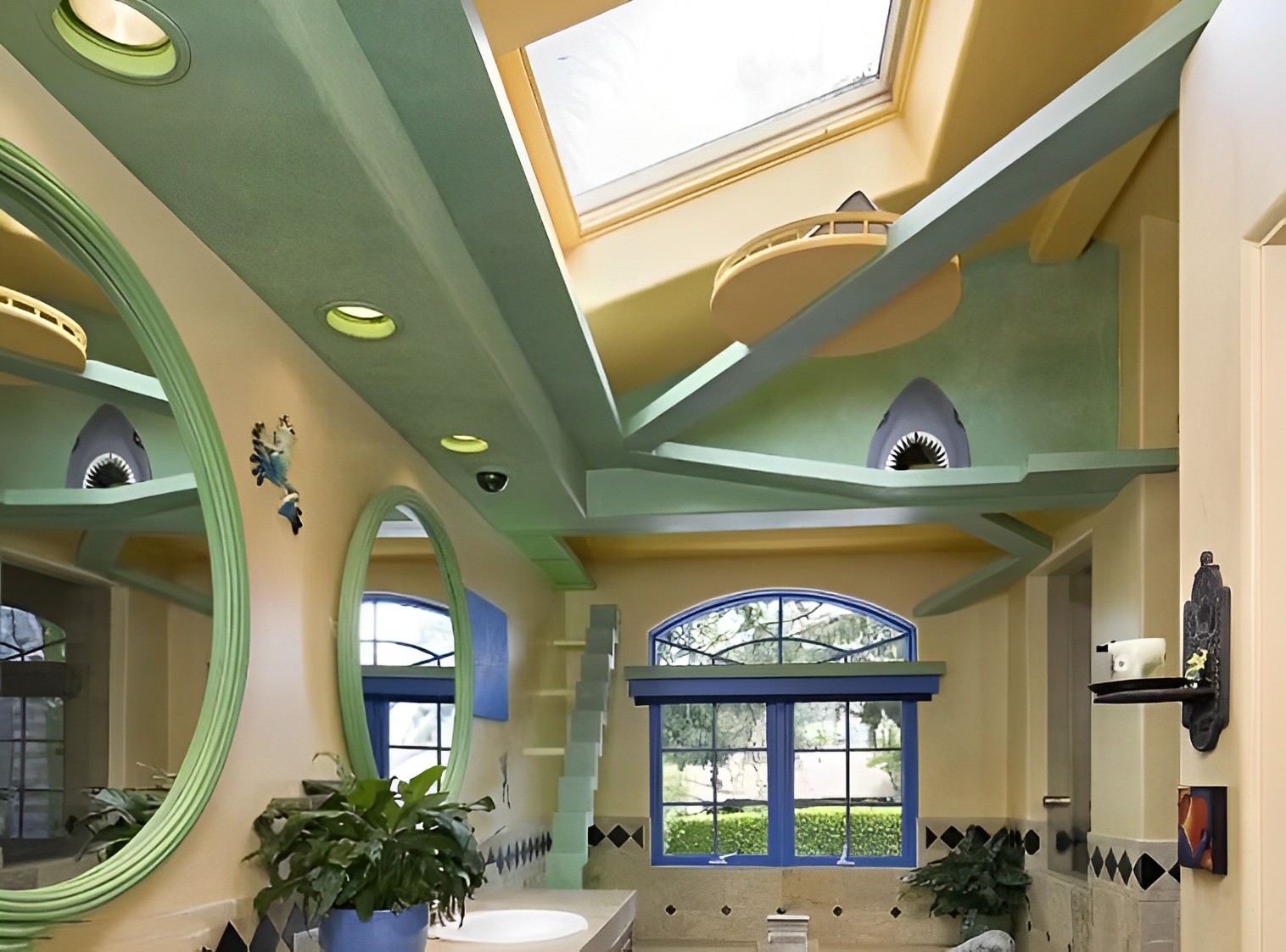 The light green and pale yellow paint give this space a lot of light, which is also complemented by the beautiful skylight. Following the lead of the other rooms, there are plants and artwork that make this place feel very fresh and personal.
The Snug Office
The office room is far from ordinary; even though it has all of the usual appliances a remote worker needs, like a comfy chair, a PC, and supplies, this one is also packed with cat-friendly elements. Probably to deter them from standing on the keyboard while working.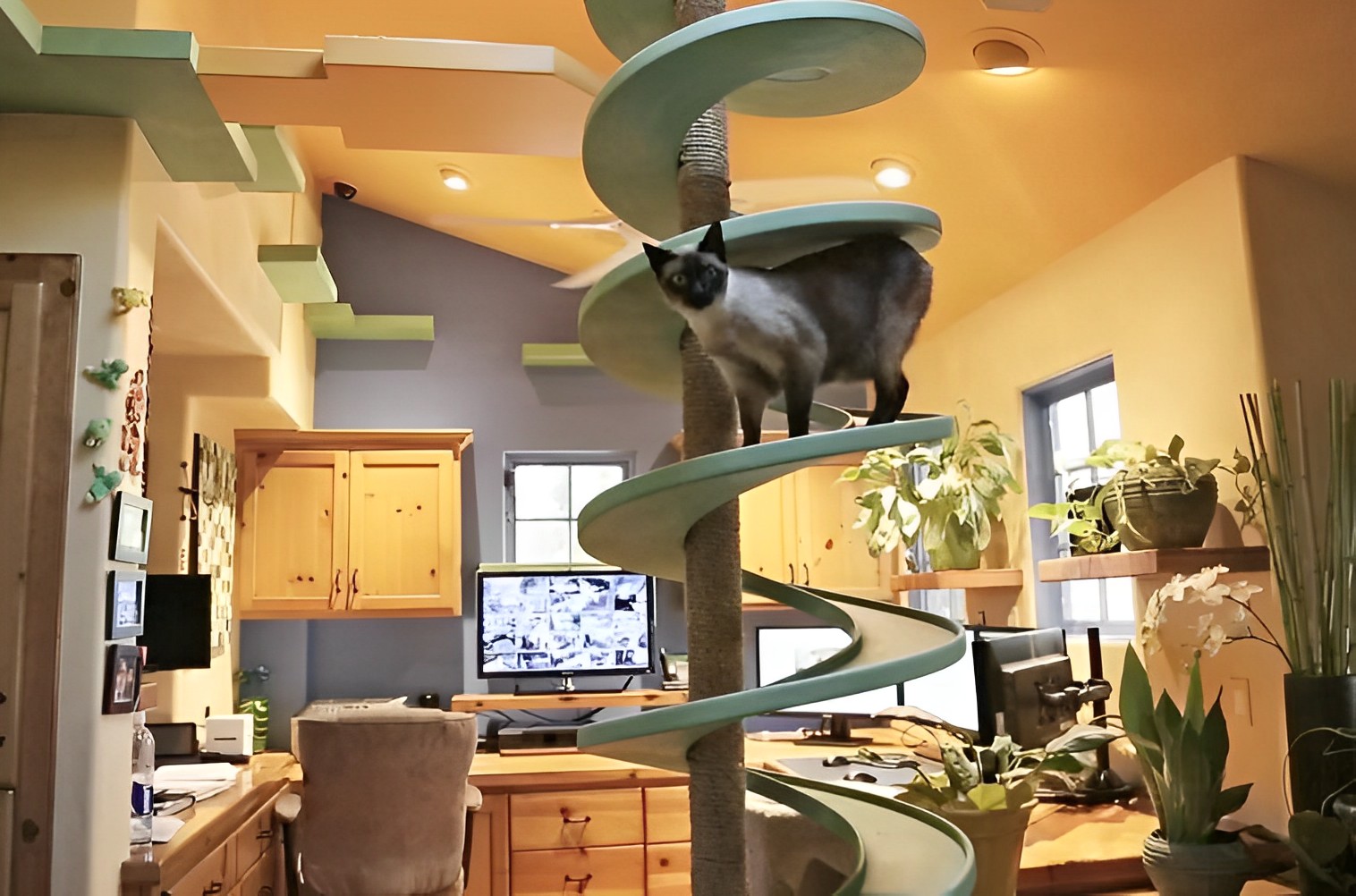 The cat in the picture seems to be enjoying the spiral cat scratcher. It's amazing how the details of the house are so thoughtful for both human and cat comfort. This house is the ultimate paradise for a cat lover!
It's All About The Details
Peter designed his dream house so he could give his cats the luxurious life they deserve. Because of his long years of cat ownership, he had a pretty good grasp of what cats love: and one of those things is height.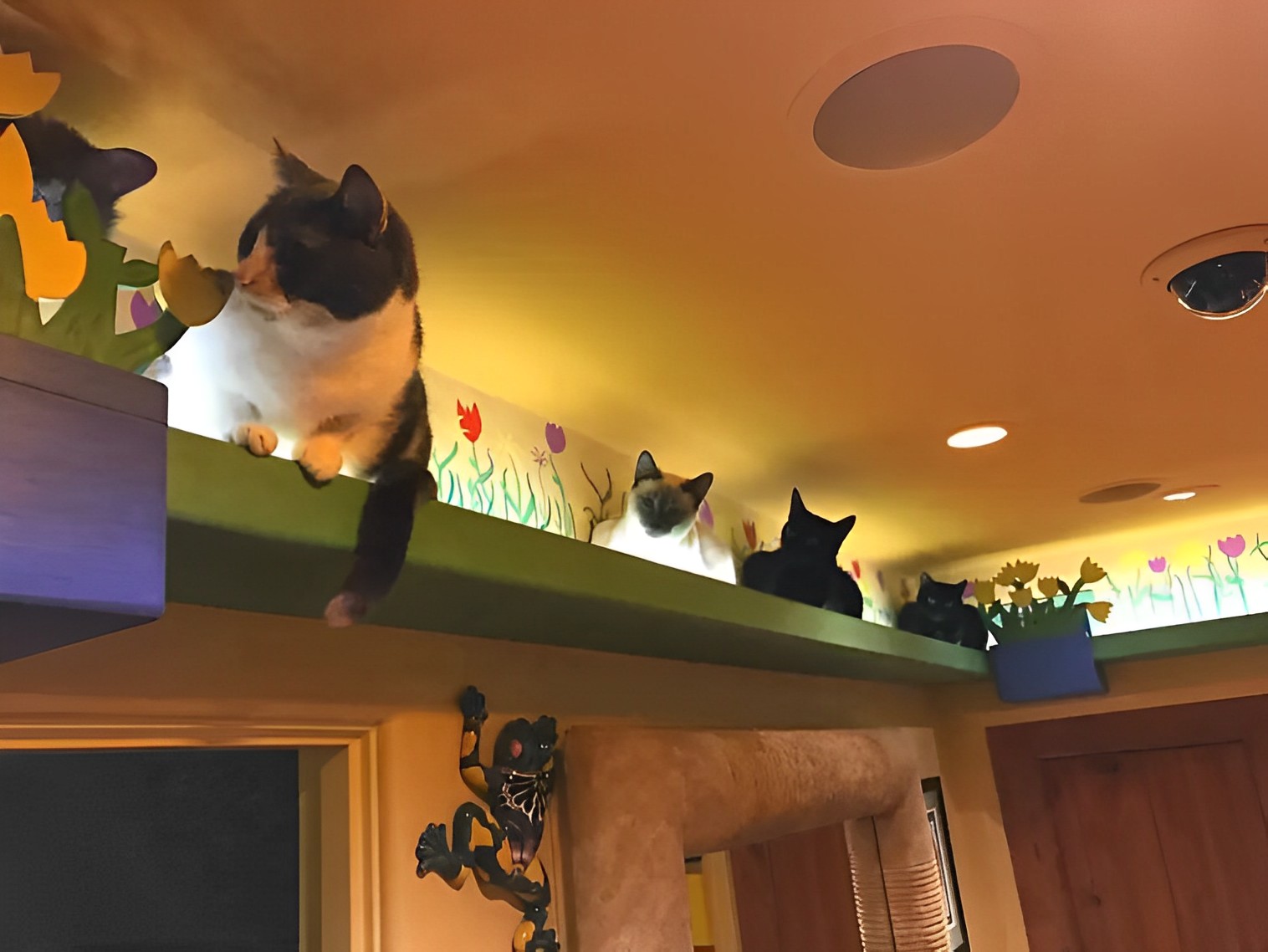 Cats simply adore napping and resting in tall places. It's part of their feline instinct, so naturally, Peter's designs included loads of comfy high spaces for his cats to lounge in and ladders and pathways to get to them.
Special Walls For Special Inhabitants
It's not unusual to find a cat staring from above at Peter's house, which is definitely part of this lovely residence's charm. He has singlehandedly turned an average-looking house into an interior designer and cat lover's dream.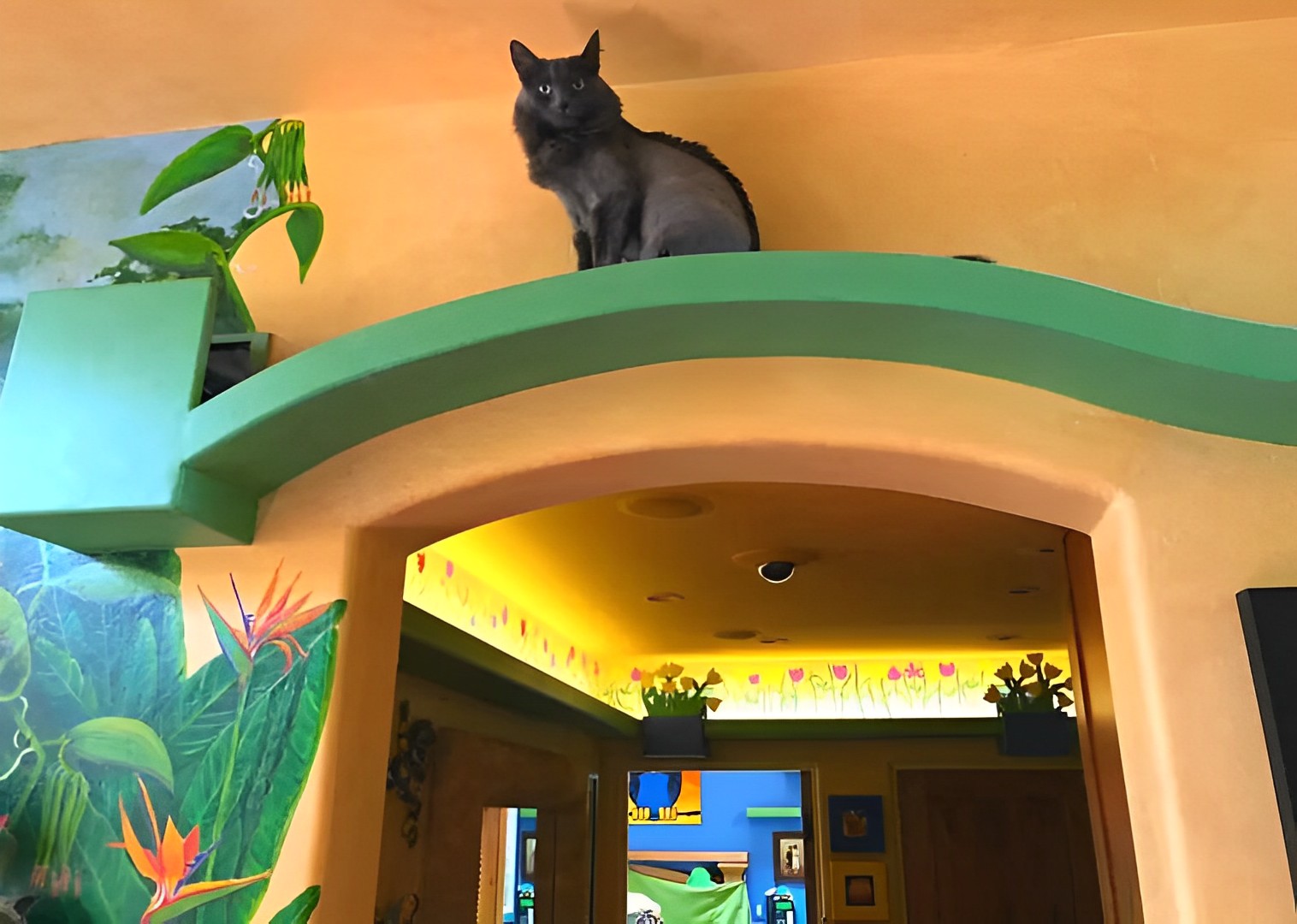 This house can also serve as inspiration for people trying to accommodate their cats' needs while also not sacrificing their home's style to ugly pet-store designs. Sometimes all you need is a paintbrush, a good toolkit, and imagination to turn your house into a home. But an extra $50,000 don't hurt.
A Home For Everyone
Peter isn't only an example of being a great cat-focused interior designer; he is also an incredible human that rescues cats that are most in need. Currently, he shares his beautiful home with fourteen rescue kitties and isn't planning on stopping.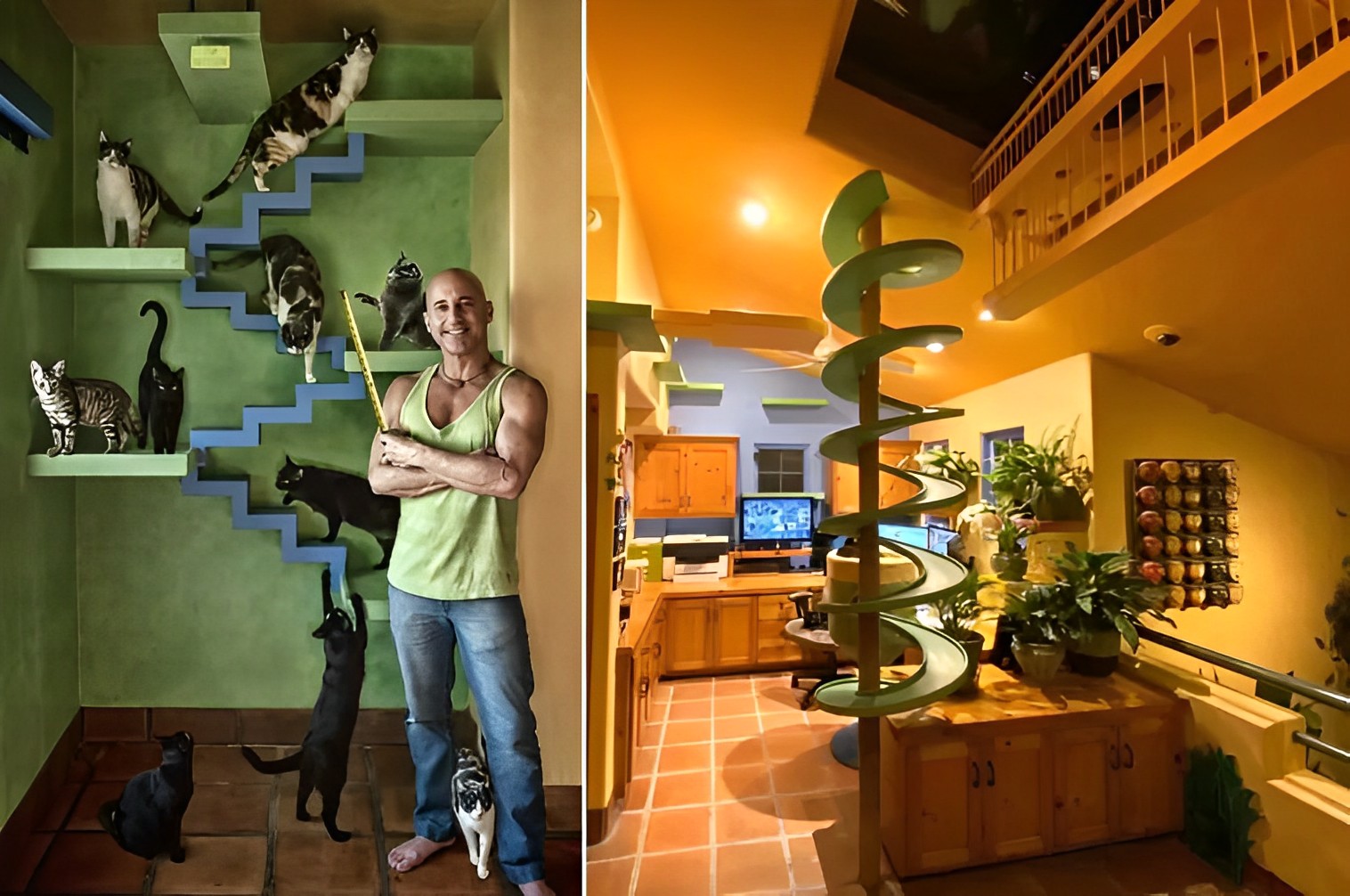 He will never refuse to house a homeless cat, especially if it needs special care. He loves all of his cats equally and makes sure they are healthy and happy. This caring soul is an example for animal lovers everywhere!