Unique RVs That Spice Up the Road Trip
Explore the highways and byways of America in some of the most unique RVs ever created!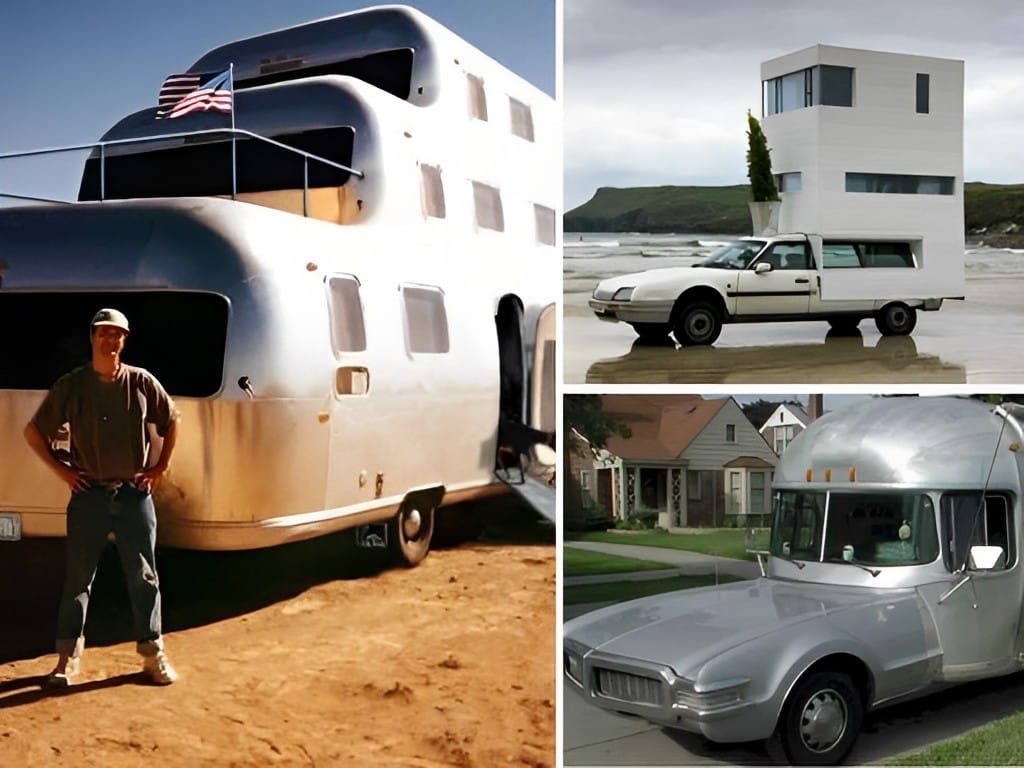 From the classic Airstream to custom creations, these weird and wild RVs will surely make your cross-country road trip one to remember. With modern amenities and advanced technologies, you'll never want to leave the comfort of these truly one-of-a-kind vehicles!
Experience Luxury Like Never Before with CAMI's Terra Wind 
Experience luxury, unlike anything you've ever seen with CAMI's Terra Wind. This incredible amphibious motorhome is 42½ feet long, 12½ feet tall, and 102 inches wide.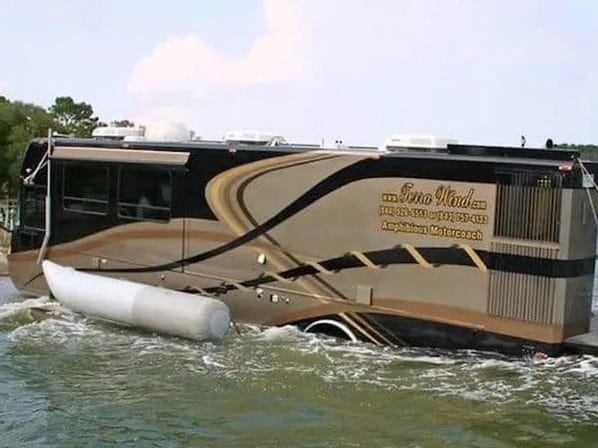 It weighs an impressive 33,000 pounds and can float on water thanks to a propeller system. It also features a water deck, a whirlpool tub, and storage space for a golf cart and two jet skis, making it the ultimate in luxury travel. Step aboard and experience the lifestyle you've always dreamed of with CAMI's Terra Wind.
Discover the World's Most Incredible RV! 
Are you looking for the ultimate home on wheels? Look no further than the remarkable three-story RV that was created for the British television series Top Gear!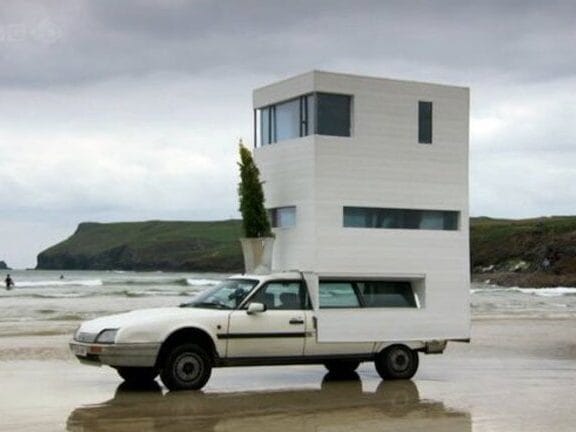 This incredible vehicle features a kitchen area on the lower level, a tranquil "Japanese contemplation" garden on the middle level, and a sleeping area on top. Sadly, the RV was too top-heavy and was destroyed at the end of the episode, but its legacy lives on. Too bad we can't hit the open road in style with the world's most incredible RV!
A Modern Home Away from Home: The Atacama RV! 
Are you dreaming of a home away from home? Then look no further than the Atacama RV from Action Mobile! This amazing vehicle can carry an entire car inside and also features a state-of-the-art kitchen.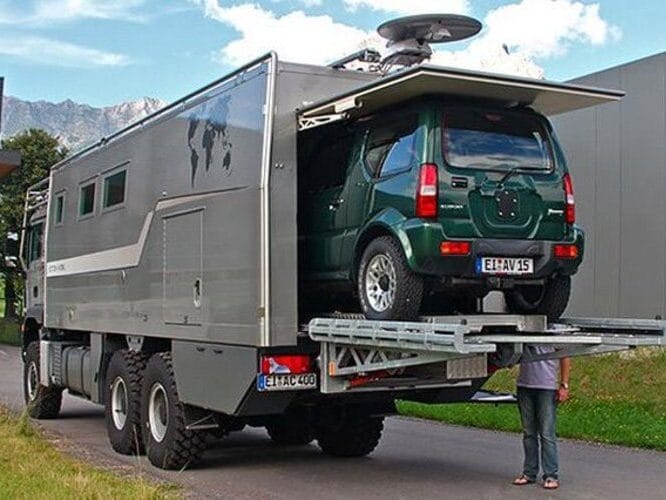 Enjoy stainless steel appliances, a touchpoint dishwasher, and a glass-top stove. With room for up to four people, the Atacama has everything you need for the perfect road trip. Plus, the interior is soundproof so you can enjoy a peaceful night's rest. Experience the best of both worlds with the Atacama RV!
The Amazing Boaterhome: A Classic Combination of a Ford Van and A Boat! 
A classic combination of a Ford Econoline van and a literal boat, the amazing Boaterhome is a one-of-a-kind creation! This incredible craft can travel an astounding 100 mph on land and a remarkable 40 mph on water.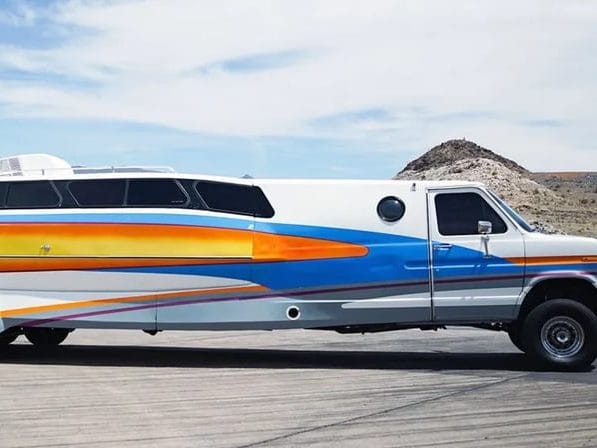 Even the paint job is something you would expect to find in a classic 1960s surf culture film. The Boaterhome is a remarkable amalgamation of the two and is sure to give you the thrill of a lifetime!
Enjoy a Luxurious Lifestyle with Futura RV 
Live in style with the Futura RV! This luxurious vehicle has all the features you need for a comfortable lifestyle. From the leather seating and modern glossy wood furniture to the white minimalist overhead lighting and racing-style bucket/captain's chairs, the Futura is designed to be a home away from home.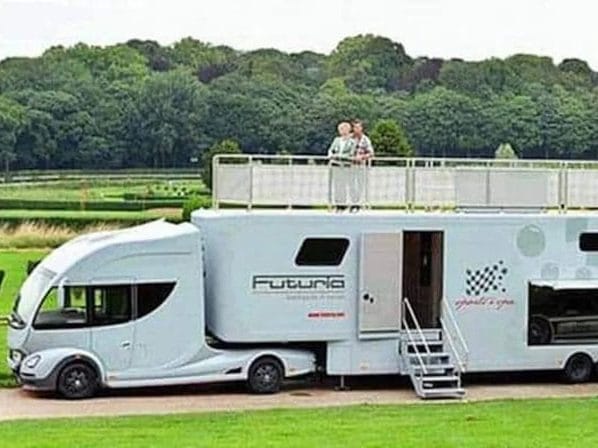 You don't even need a house when you have the Futura – the top of the RV doubles as a deck, complete with railings and a hot tub. Get ready to enjoy the finer things in life with the Futura RV!
Experience Luxury with the eleMMent palazzo RV 
Experience luxury like never before with the eleMMent palazzo RV! This technologically advanced RV comes with a hefty price tag of $3.1 million, but it's worth it.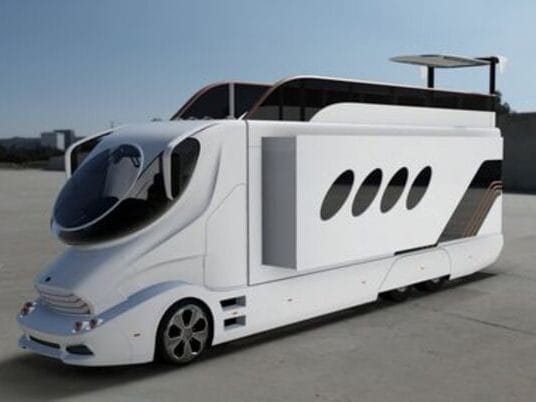 With two bars, a flybridge lounge, private bedrooms, and bathrooms, you can have the ultimate party experience. And when the fun is over, the flybridge can be packed away with just a tap of a touch screen. Enjoy ultimate luxury with the eleMMent palazzo RV!
Behold the Beast: The Monster Truck-RV Mashup! 
Behold the beast! With its huge tires, rugged exterior, and commanding presence, this Monster Truck-RV Mashup looks like it's capable of conquering any terrain and crushing anything that stands in its way.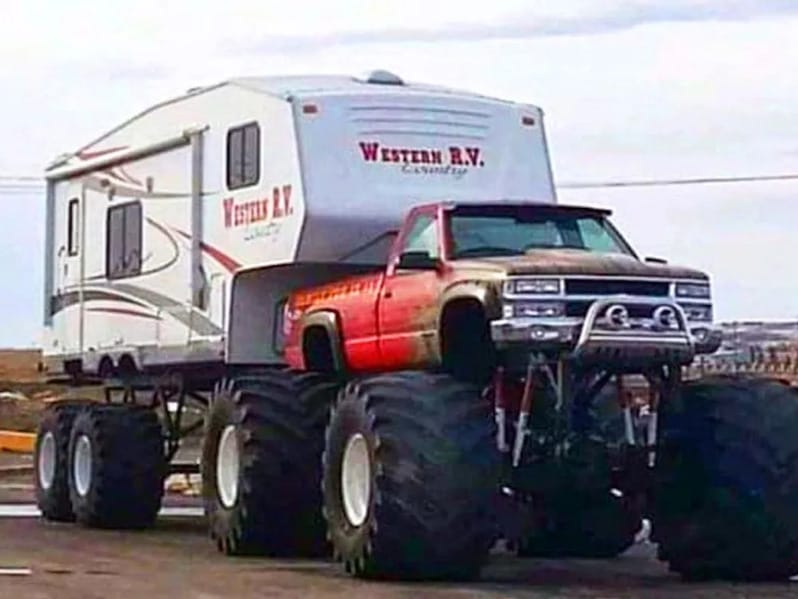 But, how does one even drive this thing down the highway? We may never know. While it may sound like something from a seven-year-old's toy box dreams, this beast is real and sure to make an impression. The only thing that could stand in its way? Poor gas mileage. So, rev up the engine and get ready for an adventure like no other – behold the Monster Truck-RV Mashup! 
Conquer Any Terrain with the Mercedes-Benz Unimog Expedition System 
Are you ready to explore the world and its toughest terrains? With the Mercedes-Benz Unimog Expedition System, you can do just that.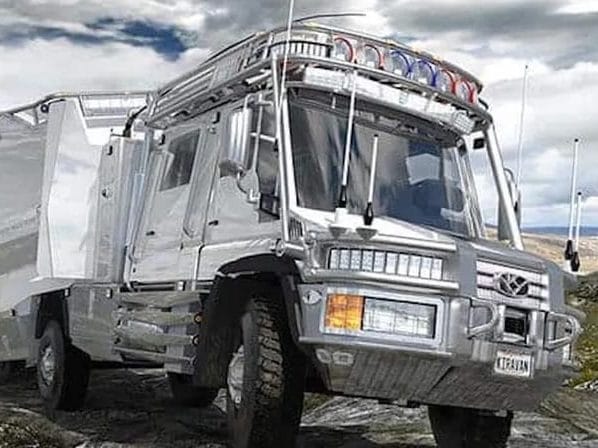 This vehicle is equipped with a six-cylinder turbo Diesel engine, tons of electronic equipment, an electronics bank, Kevlar tires, and suspension capable of tackling even 45° slopes. So no matter where your journey takes you, the Unimog will be there for you every step of the way. Let the adventure begin!
Conquer Any Terrain with the Desert Challenger 
Are you ready for a unique adventure? Action Mobile (or Action Mobil in their homeland Germany) presents the colossal Desert Challenger: a 3-meter wide, 12-meter long, and 4-meter high behemoth.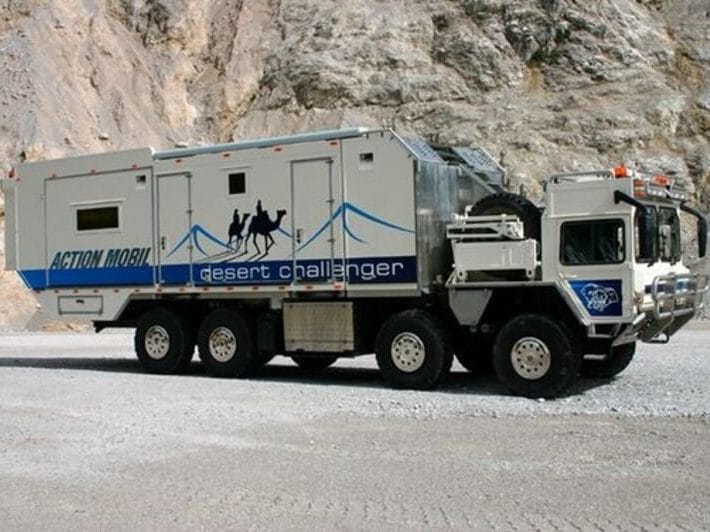 With a 600 HP powerful engine and a MAN KAT 1 A/1 8×8 chassis, this RV was originally designed to carry missiles. Don't worry, though – it can also carry 2,400 liters of drinking water, 66 kilograms of gas, and an onboard battery storage capacity of 1000Ah. Wherever you take the Desert Challenger, you'll have plenty of supplies to stay safe and conquer any terrain!
Will Smith's Luxurious Mobile Home: Live Like The Fresh Prince! 
Do you ever wonder what it's like to live like a superstar? Will Smith has the answer. His massive RV, nicknamed "Heat," has become a sensation since he started bringing one to his movie sets.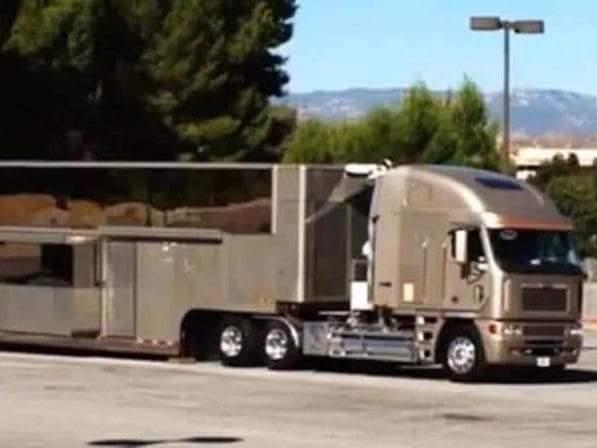 This luxurious mobile home is equipped with 14 flat-screen TVs, $30,000 worth of leather, $130,000 worth of technology, $150,000 worth of granite kitchen countertops, and a $25,000 bathroom. If you want to experience the life of the Fresh Prince, you can purchase your own "Heat" for $2.5 million or rent one for $9,000 a week. Live the celebrity life with Will Smith's luxurious mobile home!
Step Into The Future - The Cadillac-Airstream RV Hybrid 
Take a step into the future with this unique hybrid of a Cadillac and an Airstream RV trailer. It may not be the prettiest vehicle, but you can't deny it's an intriguing combination that looks like something out of a Buck Rogers movie!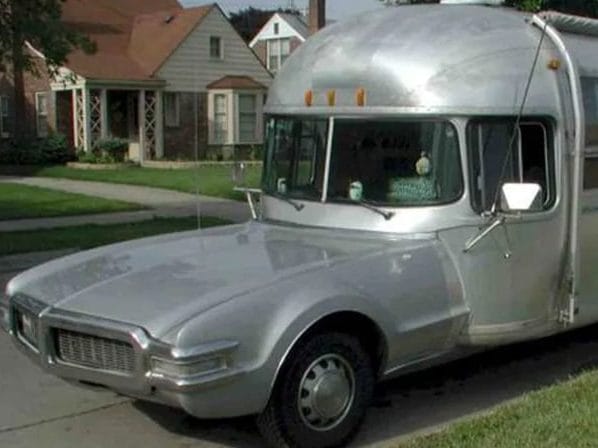 This one-of-a-kind creation from the mid-20th century was designed for nostalgia, but hopefully, it makes up for its odd appearance with its functionality. Whatever the case, this Cadillac-Airstream RV hybrid is sure to turn heads!
Unbelievable Luxury: The 122-foot-Long RV 
Experience the ultimate luxury on wheels with the incredible 122-foot-long RV, designed by custom RV designer Doug Tolbert. Step inside the main cabin, which is an impressive 52 feet long, and you'll find a secondary RV trailer, a speedboat hitch, and a side slide-out module.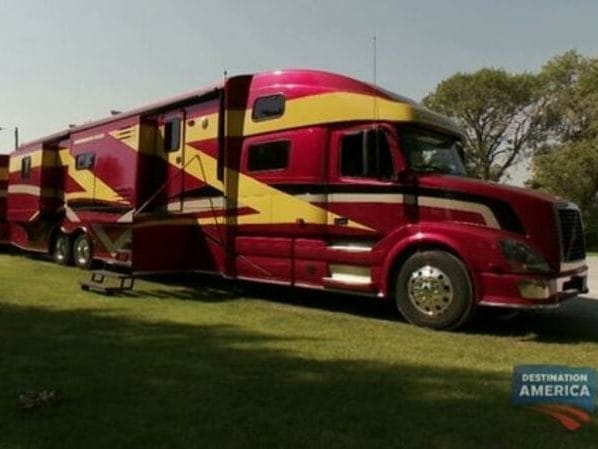 Open the module and you've got 400 square feet of living space that's perfect for eight people! Get ready for the road trip of a lifetime, complete with all the amenities you could ever need.
Enjoy Luxury Living on the Road with the Knaus Sun RV 
Discover the height of luxury living on the road with Knaus Sun RV! This vehicle may look like a 'run-of-the-mill' RV, but boasts exquisite features like slate countertops, leather seating, a retractable outdoor television, floor storage, an alarm system, and air conditioning – all of which can be controlled with just one remote.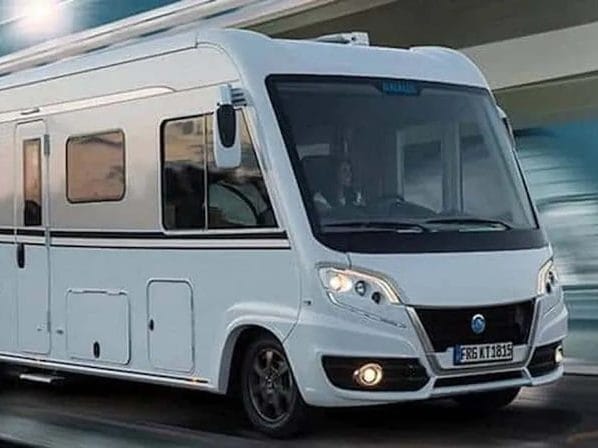 And the best part? All of these luxuries can be yours for just $200,000! So what are you waiting for? Take the plunge and enjoy an unparalleled RV experience!
A Fortress of Unrivaled Protection - The Soviet Vehicle for the Zombie Apocalypse! 
This mysterious Soviet-era vehicle could be an RV, a tank, a mobile command center, or a trackless train – but one thing is certain: it's the perfect refuge during a zombie apocalypse! 
This vehicle is built to withstand anything, from a nuclear war to a hurricane, and is sure to keep out any intruders. So, when the zombie hordes come calling, make sure you're inside this fortress of unrivaled protection!
The Renault - The Perfect Combination of Function and Fun! 
The Renault RV is the perfect combination of function and fun. Stephex has designed a vehicle with all the modern amenities you would expect, but a rather unassuming exterior.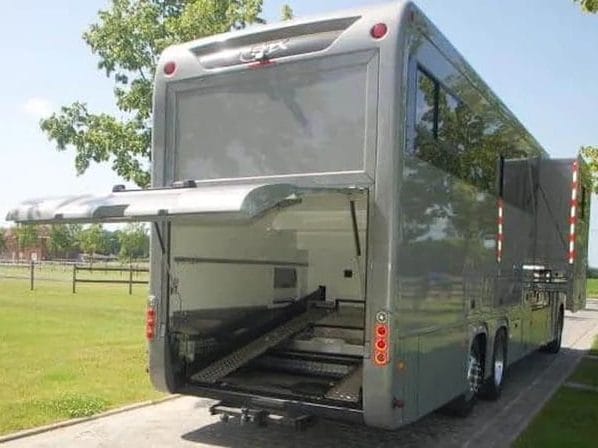 Inside, however, you'll find a wrap-around bar and seating area, a kitchen, pop-out TVs, and overhead compartments to store all your essentials. Plus, it has a large compartment in the back that can fit a golf cart, ATV, or another small vehicle, so you'll never be bored when traveling in style!
A Hunting Vehicle Like No Other: Unique Two-Story RV Built Out of Two Vans 
This unique two-story RV is the perfect hunting vehicle! Built out of two vans, it is a testament to the builder's resourcefulness, who managed to create two separate spaces out of limited supplies.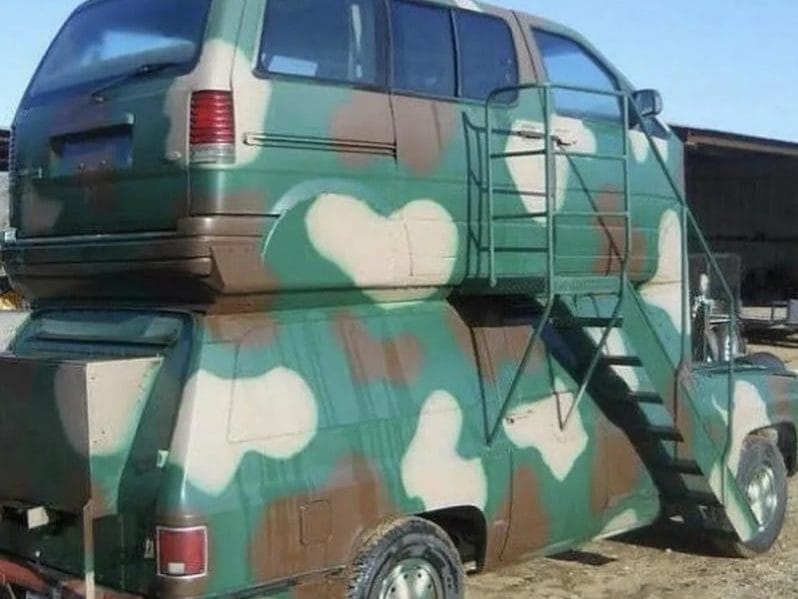 From the exterior, this hunting vehicle looks like two vans stacked on each other, but it is sure to get the job done. Whether you're looking for comfortable camping or a place to stay during a hunt, this two-story RV is sure to be a hit!
Experience Luxury on the Road with the UniCat! 
The UniCat may not sound very intimidating, but it is certainly a force to be reckoned with! For a whopping $600,000, you can experience the utmost luxury on the road.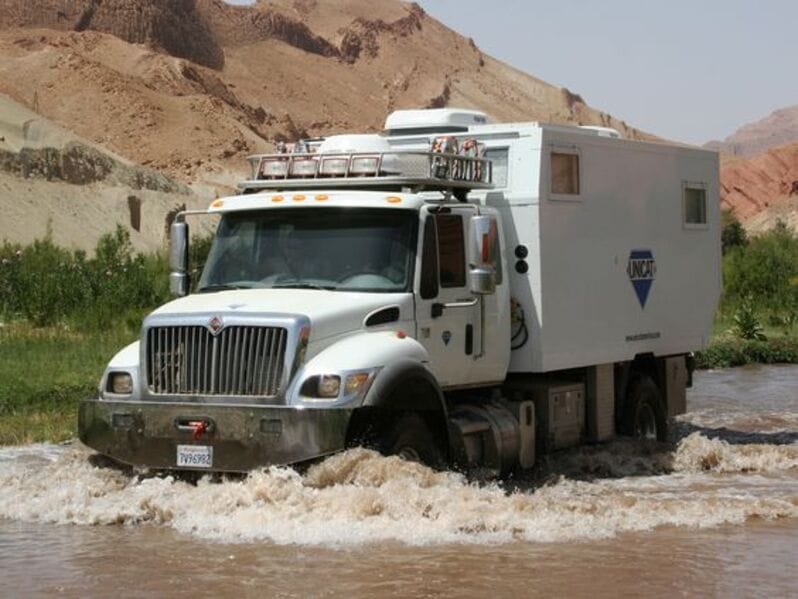 This vehicle features a custom queen-sized bed, wooden floors, cabinets, and more, all warmed with radiant heat. The only downside? It can only go around 2000 miles before refueling, and its gas mileage is only 8 miles/gallon at an average speed of 60 mph. But if you're looking for a luxurious ride, the UniCat is definitely the way to go!
An RV Like No Other! 
Ever wondered what an RV-airplane hybrid would look like? Well, this RV is sure to amaze you! Although it isn't particularly luxurious or aesthetically pleasing, it's certainly one of the most interesting vehicles we've seen.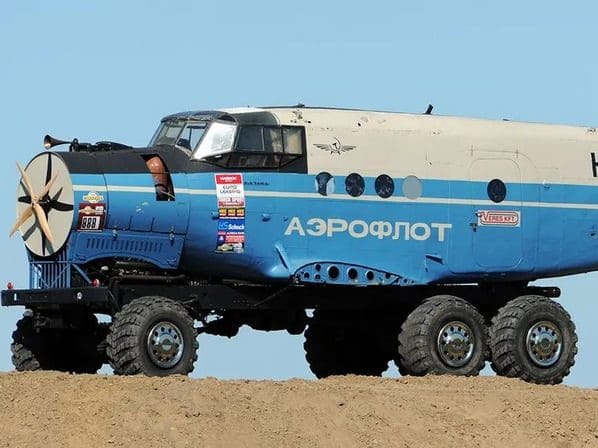 Who would have thought to merge the majority of an airplane's fuselage to the top of an RV? We'd love to know the thought process behind this unique design. But one thing we can tell for sure is that we'd love to take a ride in it!
Awe-Inspiring Luxury on Wheels: This Custom RV is a Sight to Behold 
Be prepared to be amazed! This custom RV is a sight to behold. With 24 wheels and three levels of living space, this chrome RV looks more like a small cruise ship on wheels than an RV.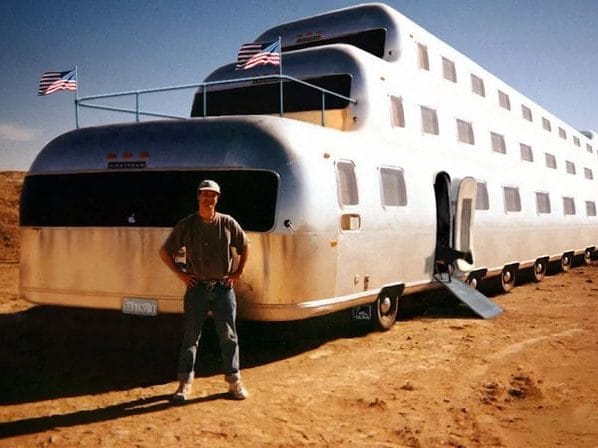 Every inch of this majestic machine is fitted with windows and amenities that will leave you in awe. So, if you ever catch a glimpse of this mighty RV rolling on the highway, be sure to turn your head in wonder!
A Combination of American Icons: The Airstream Trailer and The Truck 
What better way to represent American culture than combining two of its most iconic symbols: the Airstream trailer and the truck? Someone took the classic Airstream and connected it to the bed of a truck, making for a sight that would be right at home in the movie Convoy.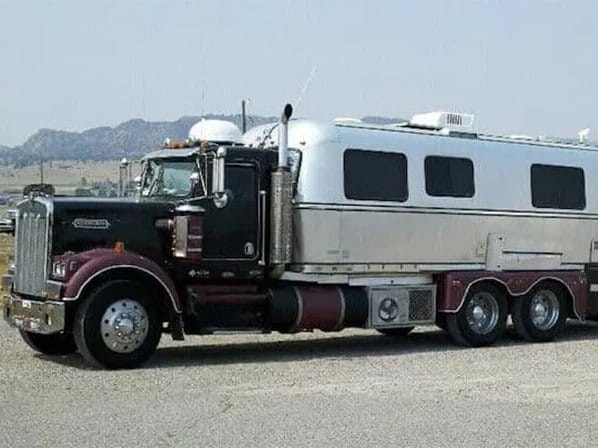 It's a unique combination that perfectly encapsulates the spirit of the USA. There's no denying this is one of the weirdest, yet most American, custom combinations out there. 
Conquer Any Terrain in a Massive 6×6 Jeep Camper 
Take your off-roading and camping experience to a whole new level with this massive 6×6 Jeep Camper!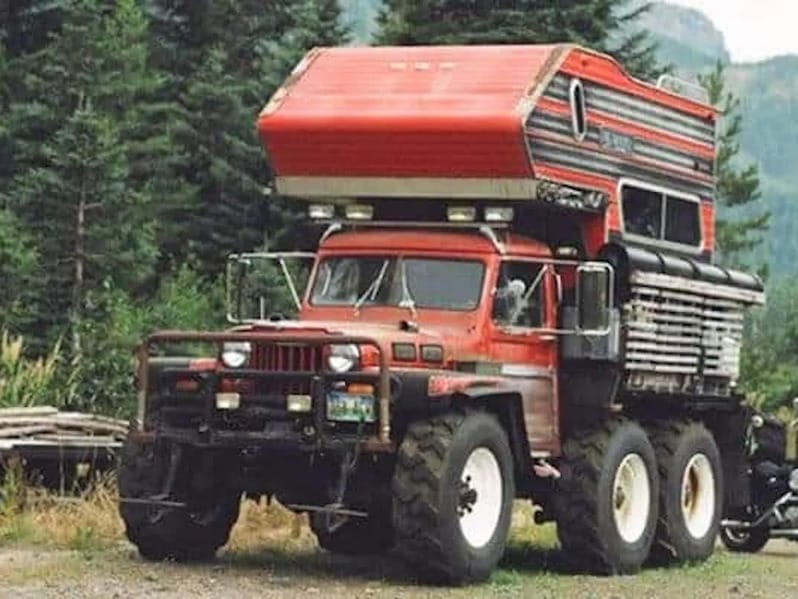 Based on the body of a 1966 Willys Jeep truck, this custom monster has been taken to the extreme with 48-inch tractor tires, making it capable of tackling any terrain and weather conditions. This one-of-a-kind RV will ensure that your outdoor adventures are truly unforgettable. So don't wait – get ready to explore the world in a 6×6 Jeep Camper!
Get Ready for the Zombie Apocalypse with the Global XRS 7200 RV 
Experience the ultimate journey with the Global XRS 7200 RV! This Action Mobile vehicle is designed with high-end features, from its spacious living quarters to the touchscreen interface that makes controlling the electronics a breeze.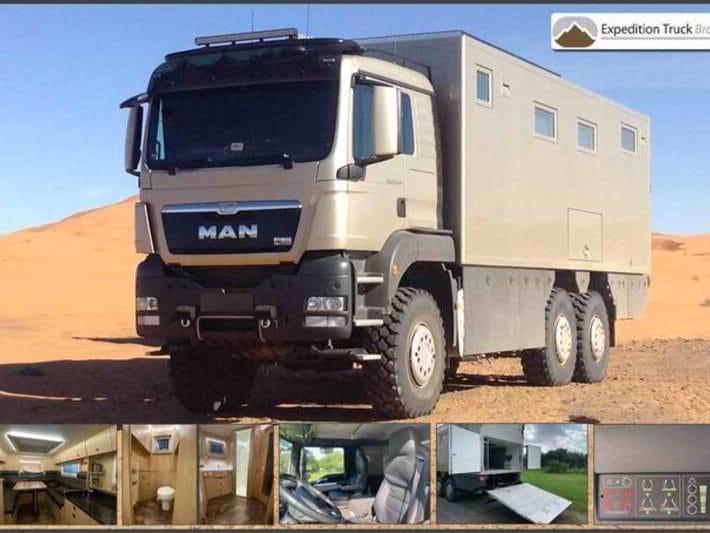 Enjoy the flat-screen TVs, radios, and WiFi, all conveniently operated from one spot. Make sure you're prepared for any zombie apocalypse with the Global XRS 7200 RV – the ultimate in luxury and security!
Get Off the Grid with General Motors' Concept Mobile Home 
With General Motors' Concept Mobile Home, you can now live and work off the grid while still staying connected.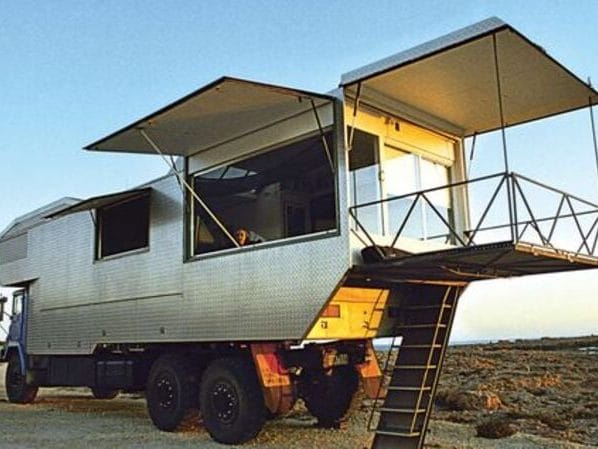 This vehicle, powered by a Perkins 6354 turbo diesel engine and featuring an Eaton five-speed synchro gearbox, a 3300 W solar inverter, and a Honda 1kva backup generator, can store up to three months' worth of food and supplies. So, if you're a digital nomad looking for a way to escape for a while, this could be the perfect vehicle for you – and all for a "mere" $263,000.
Discover the Magic of the Toy Hauler RV 
Experience the nostalgia of childhood with this fun and unique Toy Hauler RV! This RV looks like it was designed for Hot Wheels; with its vibrant colors and sleek shape, it's sure to bring back memories of playing with your favorite toys.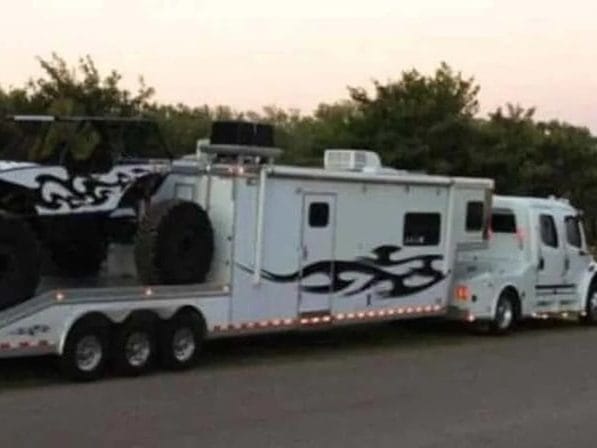 Imagine a giant track with a loop-de-loop and you'll be ready for a blast from the past – all while enjoying the comforts of a modern RV. What are you waiting for? Come explore the magic of the Toy Hauler RV today!
Outrageous and Unique: The Drag Racer-Hearse RV Combo 
Are you looking for something fun and different? Look no further than this RV, essentially a drag racer-hearse combo with an RV attached. It's so outrageous that it could have come straight out of a comic book or an episode of Wacky Racers!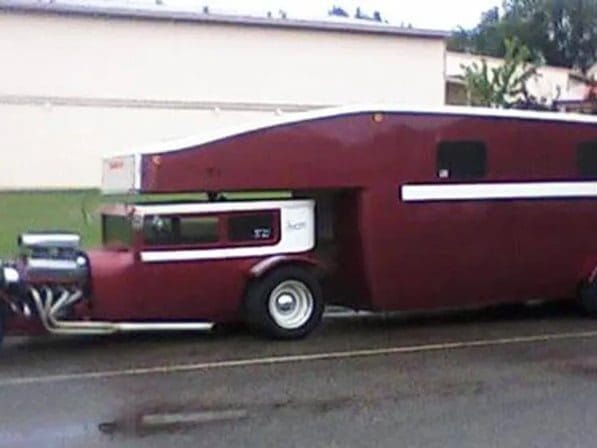 The vibrant color scheme is a real showstopper and will surely turn heads when you hit the road. Whether you're an RV enthusiast or just looking to make a statement, this one-of-a-kind vehicle will provide the adventure of a lifetime. 
A Unique RV Design - Crafted by Wally Byam 
Ever wondered what happens when two unique vehicles come together? Wally Byam, the founder of Airstream, has the answer!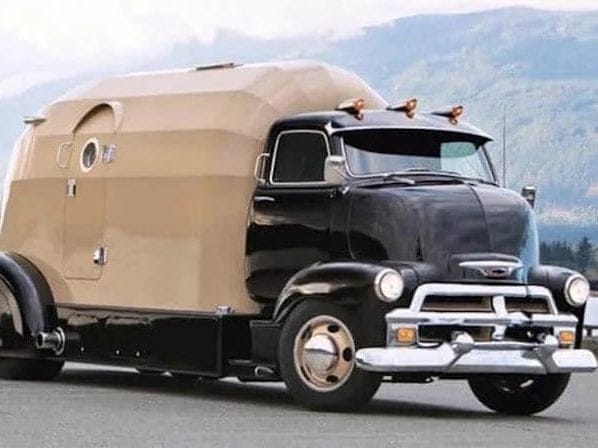 After purchasing the bankrupt Bowlus Company in the 1930s, he built an amazing custom RV on the frame of a Bowlus Road Chief, with a body crafted by a local boat builder and mounted to a 1930s model GMC truck. The result? A truly one-of-a-kind RV that is a fascinating amalgamation of two disparate vehicles. Experience this unique design today – courtesy of Wally Byam!
Step Into the Future with this Out-of-this-World RV 
This incredible RV will astound you with its futuristic features! The 1940 COE fifth-wheel RV has been modified to create a unique one-of-a-kind experience.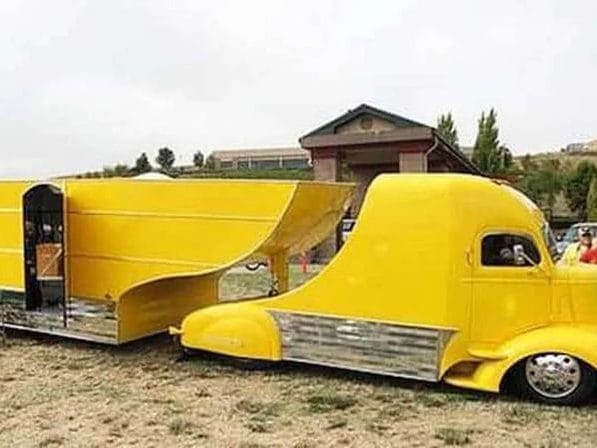 Its bright yellow paint and chrome detailing give it a look that combines vintage 1940s and '50s styles with a science fiction vibe. It's like stepping into a world straight out of a Star Wars movie! Get ready to be amazed by this modded RV – it's the definition of cool!
Explore the Universe with the Kirivan – The Ultimate Space-Age RV
Behold the Kirivan – the ultimate space-age RV! Step aboard this modern NASA-inspired vehicle and explore the universe like never before.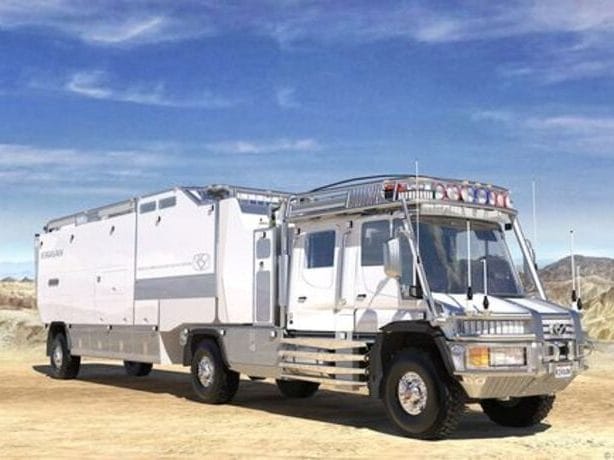 With its sleek, futuristic design and LED lighting, the Kirivan will make you feel like you're on the moon or on Mars. But don't worry, it's still Earth-bound and available for anyone with the means to purchase one. Climb up the ladders and get ready for a journey like no other – the Kirivan awaits!
The Ultimate Off-Road Adventure: Taking the Family on an RV Trip! 
Pack your bags and get ready for an adventure like no other – an epic off-road road trip in a partially camouflaged RV!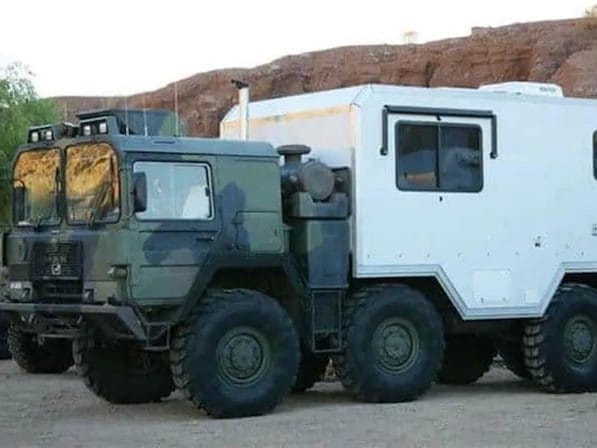 With its rugged exterior, this vehicle looks like it's ready for war games, military combat, or even a thrilling search for dinosaurs in a Jurassic Park movie. Who knows, you might even become the star of the next blockbuster! So, why not take your family on a unique road trip and experience the ultimate off-road adventure?
Experience the Scenic Countryside from a Higher Perspective 
Discover a unique way to explore the countryside – from a higher perspective. Modifying your vehicle to include a raised roof can give you a better view of the scenery, and it's especially helpful for taller members of the family.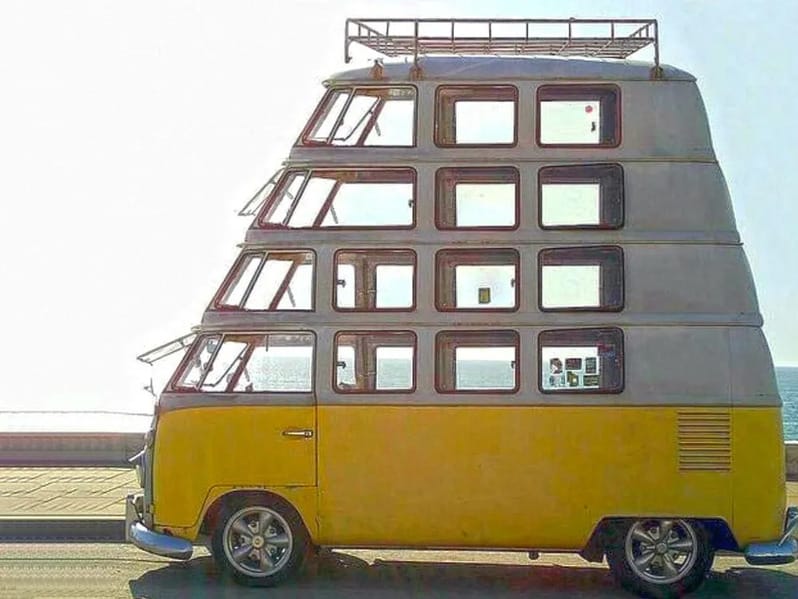 Imagine the view you'll have when you're driving through a picturesque part of the country! This modification may have other advantages, but it's about the cool look and the heightened experience. So take the leap and enjoy the view from a new angle!