This Russian Town Was Deserted Overnight and Turned Into a Haunted Ghost Village
The exact details of what caused the sudden abandonment of Pyramiden remain shrouded in mystery, but its history offers some clues. What started as a utopian community for miners flourished for decades until a devastating tragedy caused it to be frozen in time and seemingly abandoned overnight.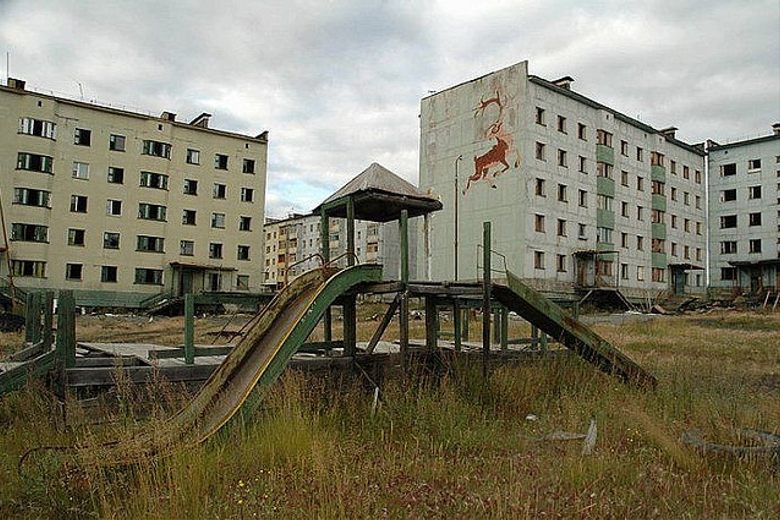 Explore its intriguing history and uncover what happened all those years ago as you read more. 
Travel to the Past
You can feel the history of the place as soon as you arrive. With its abandoned houses and weathered docks, it's like you have stepped back into the past. Svalbard was ceded to Norway in 1920, but other countries were given rights to mine in the area.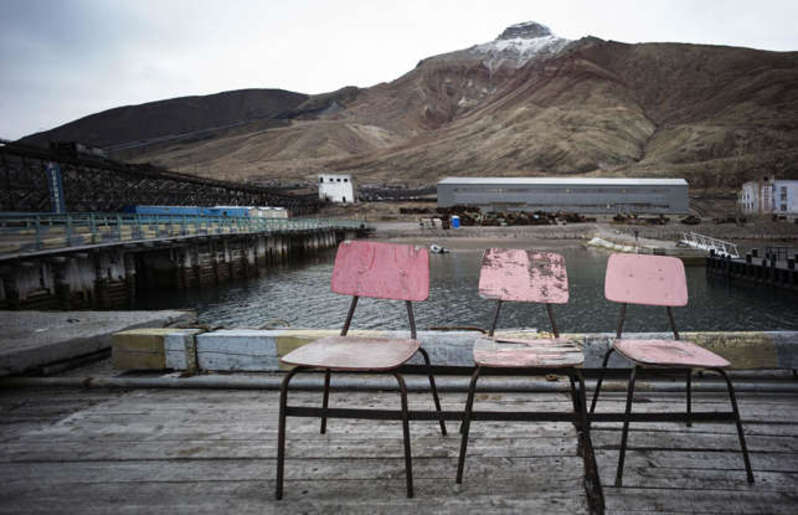 The Spitsbergen Treaty signatories, including Sweden and Russia, had their own piece of the action. This long-forgotten treaty has shaped Svalbard's history, making it an intriguing journey for anyone looking to explore the abandoned past.
Started From Coal
Despite the history that unfolded in Pyramiden, the town is now deserted and left to the effects of time. Its story of being prospected by Sweden and then sold to the Soviets is a reminder of its past.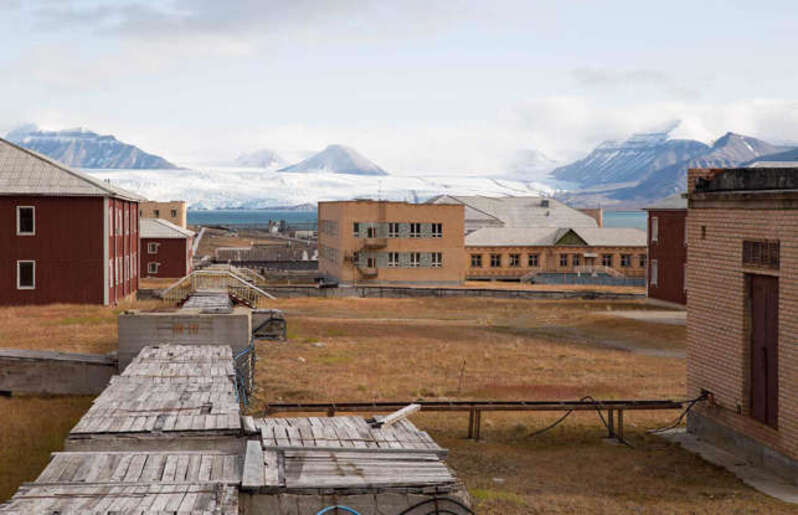 Large-scale extraction began in the mid-1950s, proving the promise of coal to have been true. However, since it has been left behind, its former glory has also faded into the past. As a result, the Pyramiden of today is a ghost town–it remains a silent testimony to its past.
A Testament to the Past
The abandoned coal power plant and warehouse at Pyramiden are now reminders of the history of this settlement. It's estimated that over nine million tons of dirty fossil fuel were extracted from the area, and the nearby power plant would have burned through a million tons of it to provide electricity and heating.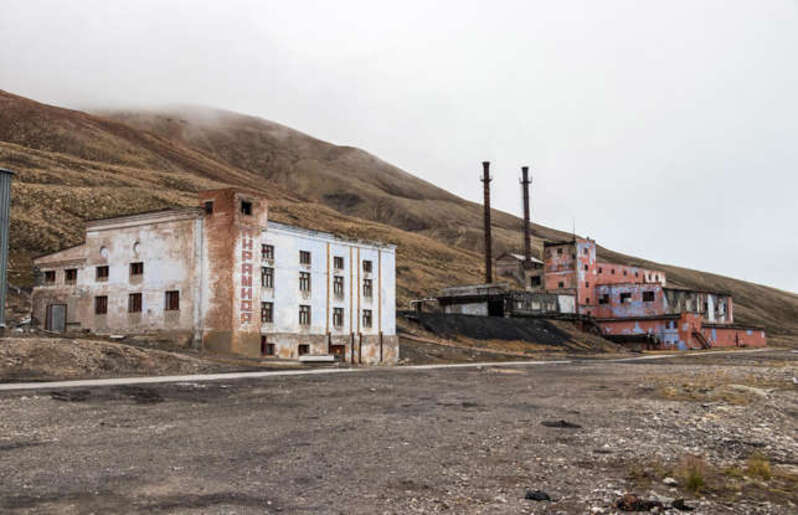 This abandoned outpost is now a testament to the legacy of coal mining in our world, and it is a stark reminder of how much we depend on such resources to fuel our lives.
The Great Pyramiden Sign
When entering the unoccupied town, with its history etched into its walls and roads, it's hard not to feel a sense of solemnity. The street named for the 60-Year Jubilee of the Great October is an apt reminder of the town's past. The old red water pipes from the mine have been skillfully crafted into a welcome sign.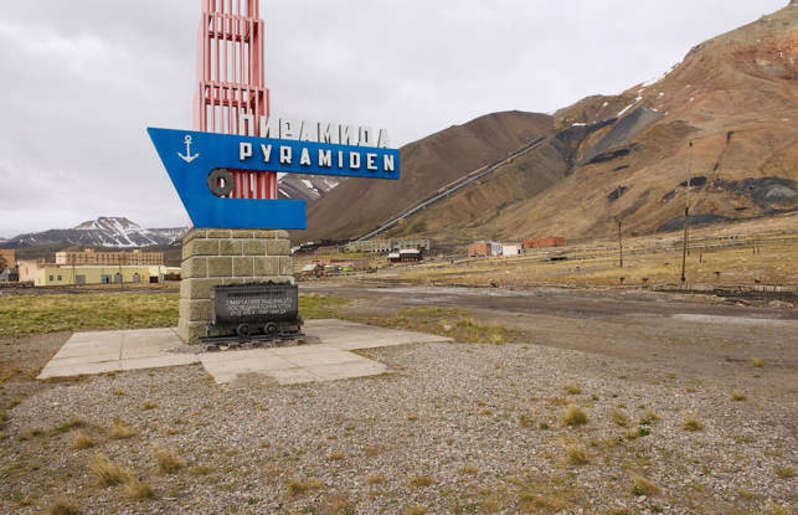 A memorial minecart filled with the last ton of coal extracted in Pyramiden on March 31, 1998, serves as a powerful reminder of the town's history and a testament to its resilience.
Mega Abandoned Structures
The neglected buildings of the remote town have gone through the test of time and have remained true to their integrity and structure. Many were built on stilts to protect the permafrost beneath them and had rounded edges to soften the effects of the Arctic winds.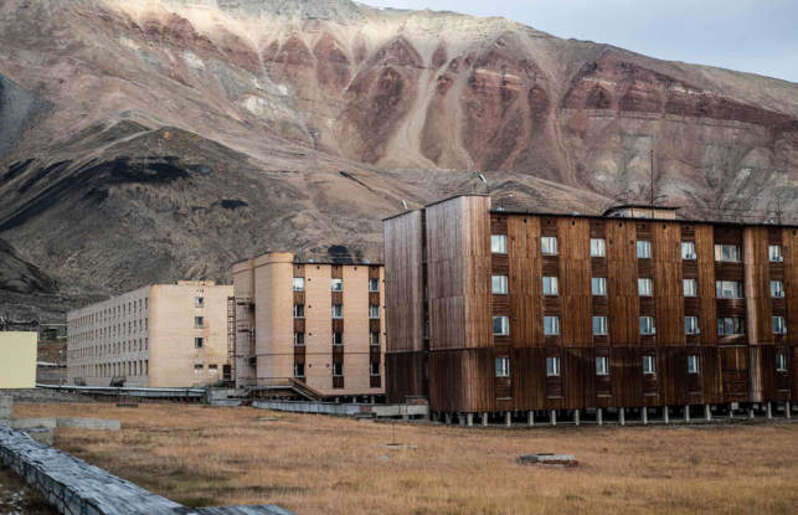 The tunnels connecting the mine to the mountaintop tell a story of their own–one for miners, another for coal. Even today, these structures stand tall, withstanding time and nature's elements, as a reminder that nothing is impossible if you have enough determination.
Pyramiden's Farm
This abandoned farm was once a thriving part of the town's history. The cowshed, pigsty, hen house, and greenhouses built here provided fresh milk and beef for locals. It also allowed for the cultivation of various plants and vegetables with soil imported from the mainland.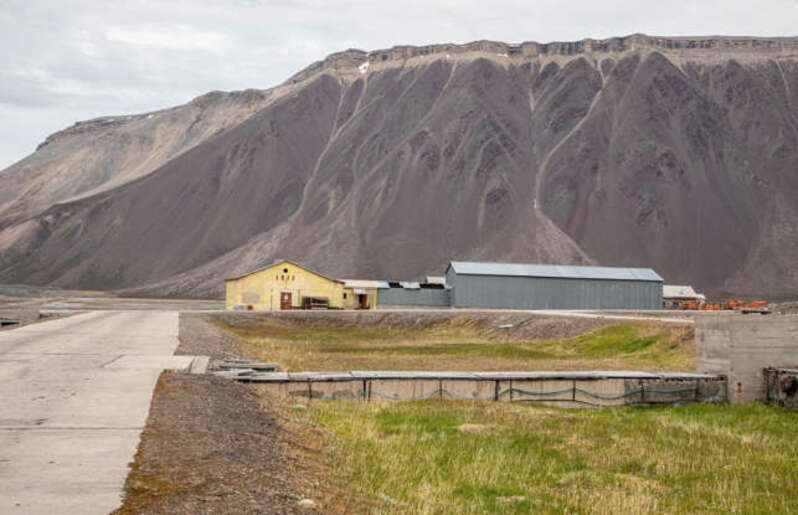 During summertime, this barren patch of land within Svalbard was transformed into an area of lush grass–a stark contrast to its surroundings. The buildings may be gone now, but the story of that abandoned farm still remains today.
A School in Pyramiden
As you explore the abandoned buildings of Pyramiden, you can still feel the history and legacy of this one-of-a-kind family-orientated mining settlement. There were also buildings that served as a school for the children.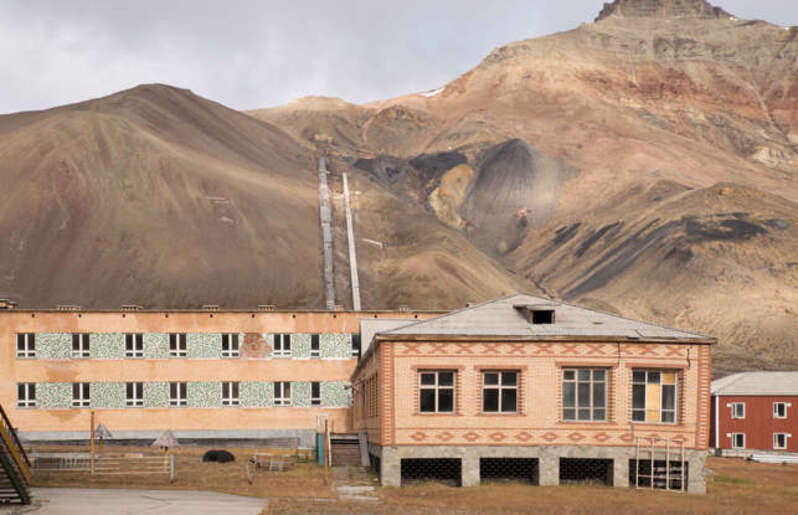 The school serves as a reminder of a once well-established community that was unlike other Arctic outposts at the time due to its more welcoming and accepting atmosphere for married couples and children. It's an experience like no other to explore this abandoned building and uncover the rich history it has to offer.
A Princess and the Frog Mural
This ghost town is truly full of history, and the mural outside the school is just a glimpse into its mysterious past. It is a reminder that Pyramiden was a bustling utopia once, with hundreds of people living and working in the buildings.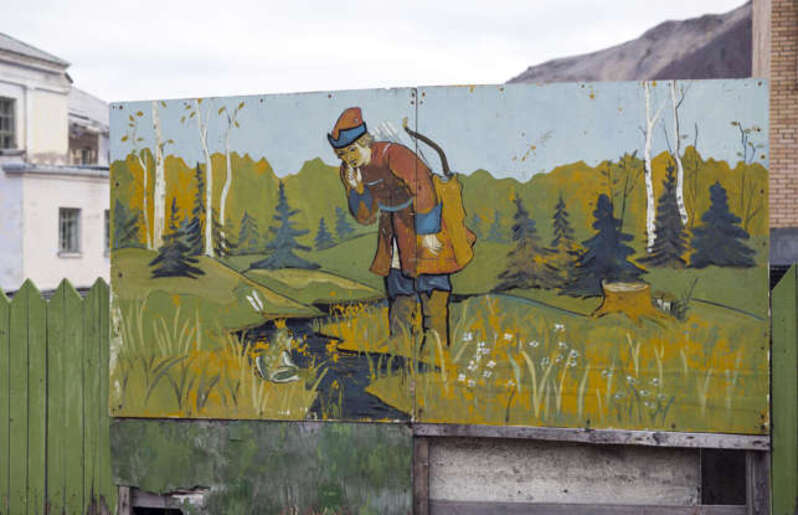 The Frog Princess mural, which now looks dreary and worn out, was once a beautiful painting that showed how much beauty and culture could come out of such a place–even if it has since been left empty and forgotten for many years. 
The Messy Classroom
When taking a closer look at the belongings scattered around this neglected classroom, it appears as if it was abandoned suddenly. Seemingly as if the inhabitants were forced to leave the room abruptly, the walls are in a sorry state with paint peeling away.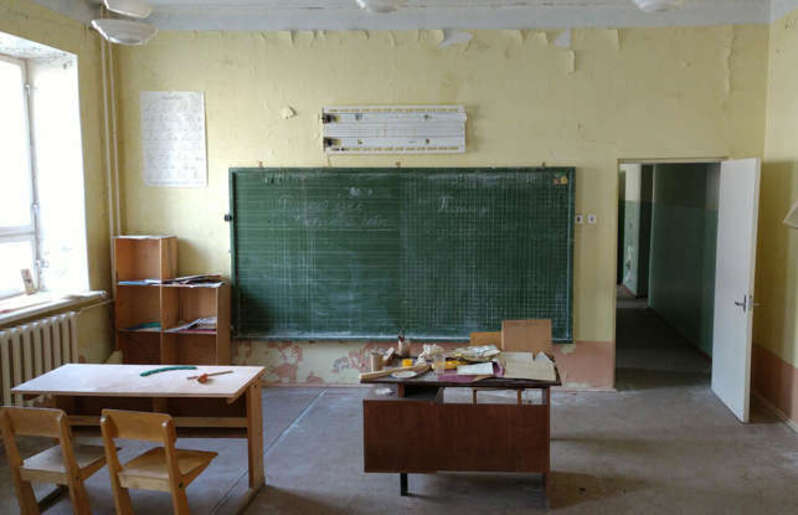 Textbooks litter the shelves, chairs are not arranged, stationery is scattered across the teacher's desk, and even some writing is scrawled on the chalkboard. What event led to abandoning this building still remains a mystery until now. 
An Abandoned Hospital
After leaving the school, the next stop is Pyramiden's old hospital, now an abandoned building. The unmistakable green-hued relief sculpture depicting the Rod of Asclepius on the exterior marks it as a symbol of healthcare and medicine.
Unfortunately, the building is off limits to visitors nowadays, and so we must move on to the canteen of the town. This is a unique experience, as it allows us to experience this once-thriving place that is now left in ruins.
A Previously Regal Cafeteria
Once a regal neo-classical-style edifice, the cafeteria, which was painted in pastel blue, is now an unused building, just like all the other structures in Pyramiden. It had kept the town's residents well-fed, especially during the long winters, when fresh meat, eggs, milk, and produce from the nearby farm were in ample supply.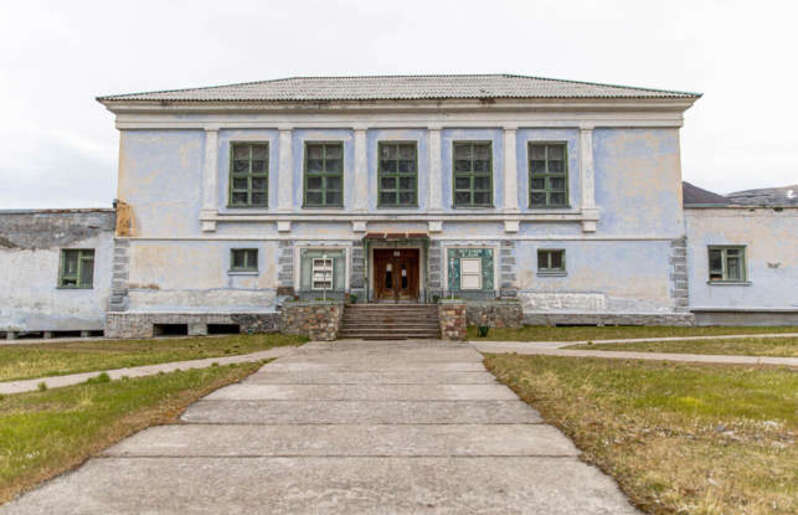 Sadly, this building that served its purpose so faithfully has now been left empty, abandoned, and desolate, with its once vibrant paint now chipping away and worn out. 
A Stunning Mosaic Tells a Story
The uninhabited establishment that now houses the main dining hall of this landmark was once an architectural marvel. The ornate staircase that leads to the top of the stairwell is a reminder of its long history, with a stunning mosaic mural depicting an idealized Svalbard landscape.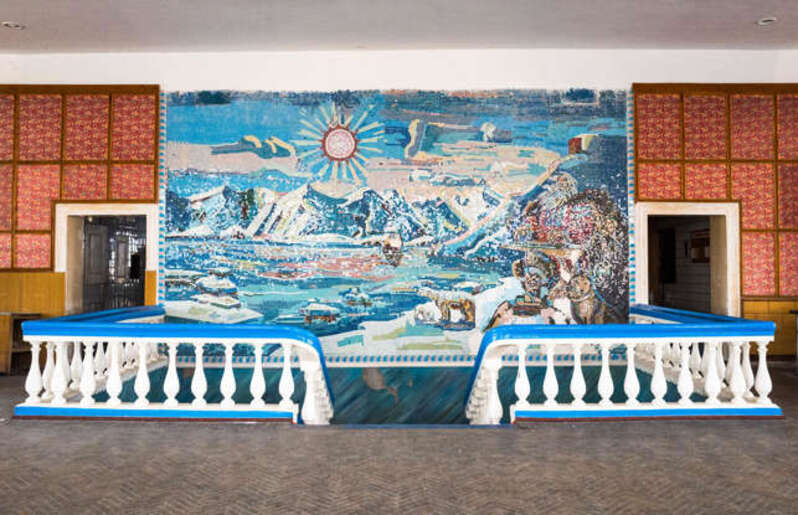 The mural includes polar bears, a Siberian husky dog, a Viking longship, and Bragi, the Norse god of music and poetry, playing a tagelharpa. It is a fitting reminder of this majestic building's past and provides an unforgettable experience for all who visit it.
Dining Room of Wonders
The building appears to be abandoned as if its inhabitants left in a hurry. This theory is further bolstered by the presence of dried-out plants scattered around the room. The style of the space is typically Soviet, yet it isn't as austere as one would expect.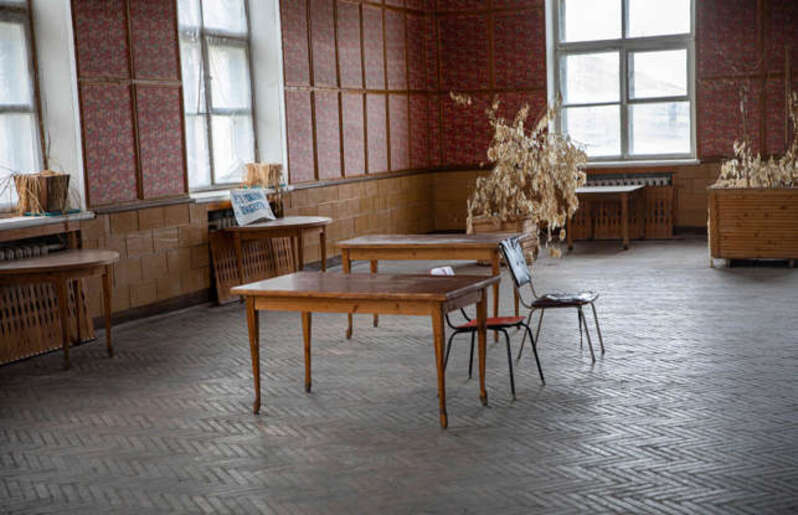 Whoever decorated this place even went as far as to install carved ornamental wood covers for the radiators, and the chintzy wallpaper adds a welcoming touch. It is clear that the building was once home to carefree people, only to be suddenly abandoned.
Messy Kitchen
In comparison to the well-kept dining area, the abandoned building's canteen kitchen is a stark reminder of the past. The oversized catering grills and ovens, industrial extractor hoods, and the bright red Soviet-era fire extinguisher all tell the story of how this building once was.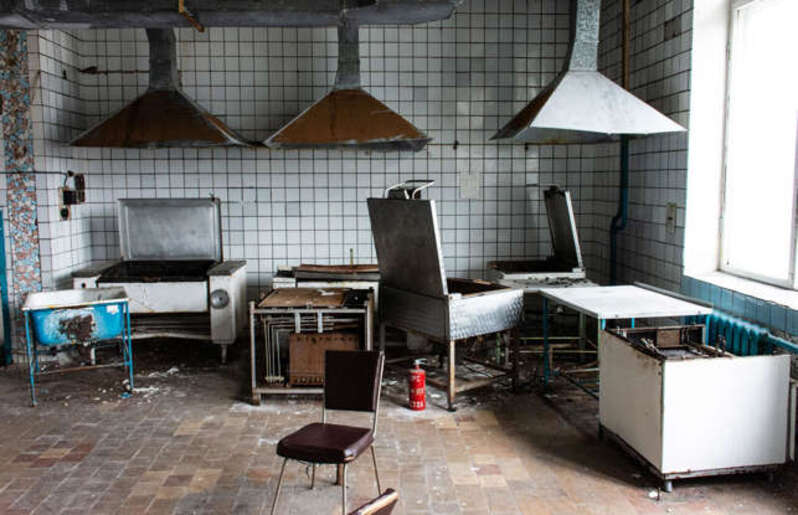 The rusted parts and debris on the tiled floor are a sign of how long this place has been abandoned and how much it has deteriorated over time. It is clear that this once vibrant building has been left to its own devices, never to be used again.
Deserted by Inhabitants
Although Gostinka was initially a vibrant and popular building, it has now been left abandoned. This is due to the worker's contracts being short-term in nature, and so when the terms of their contracts ended, the occupants left the building.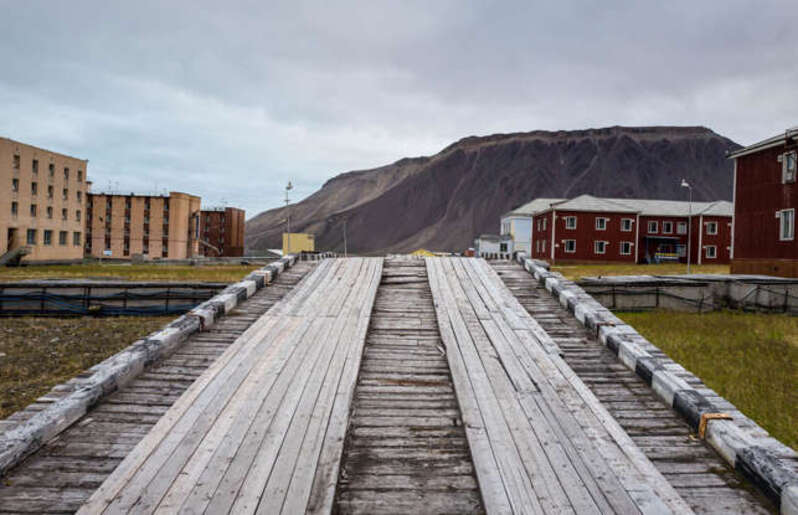 This leaves Gostinka a stark contrast to how it once was–bustling with life and activity. In fact, it serves as a reminder of how quickly things can change and how important it is to make the most out of every moment.
The Desolate Family Buildings
Numerous old infrastructures stand tall in the ghost town, all memories of its former occupants slowly fading away. The walls that once echoed with the sound of children's laughter now echo with the cries of seagulls and the wind.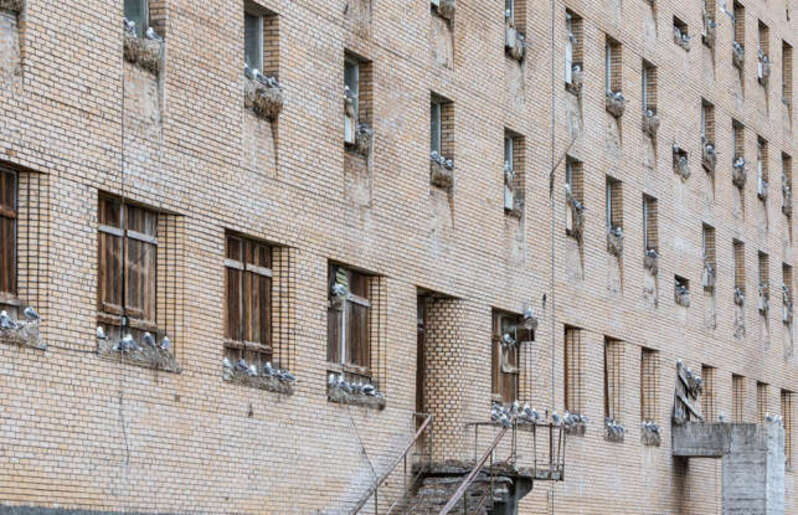 Despite its eerie atmosphere, it still holds a wistful charm–a reminder of the married couples and their kids who once lived in what was wittily referred to as the Crazy House. It's a place that will forever be part of this town's history, no matter how much time passes.
Pyramiden's Cultural Center
This old cultural center stands as a testament to the town's once-thriving culture. It was a place for entertainment and recreation, a place to enjoy cinema, theater, sports, and more. It is a symbol of a time gone by, and its significance is highlighted by the placement of the world's northernmost statue of Vladimir Lenin in front of it.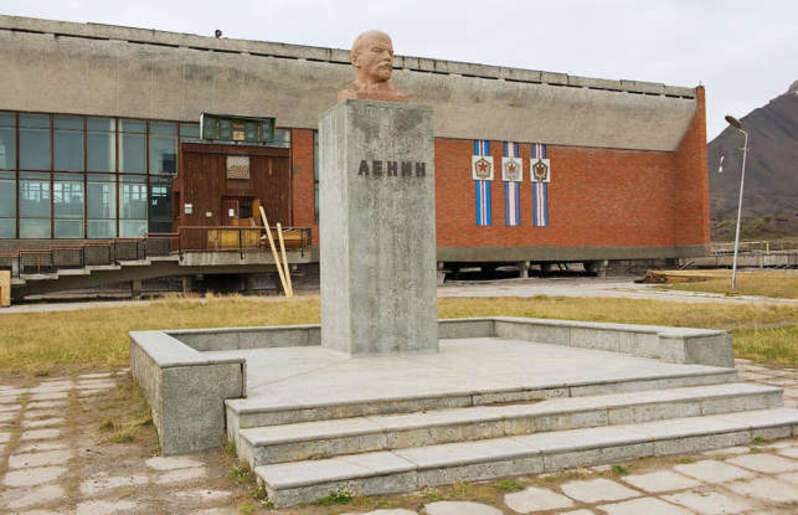 The bust stands as a reminder of the impact this abandoned building had in its heyday, and while the town may have been deserted, its cultural legacy still lives.
Uniquely Pyramiden
The history of Pyramiden is indeed unique and interesting. This model communist community was built to be an idyllic place to live, with the Palace of Culture packed with amenities, making it a major privilege for those who were lucky enough to secure contracts to work there.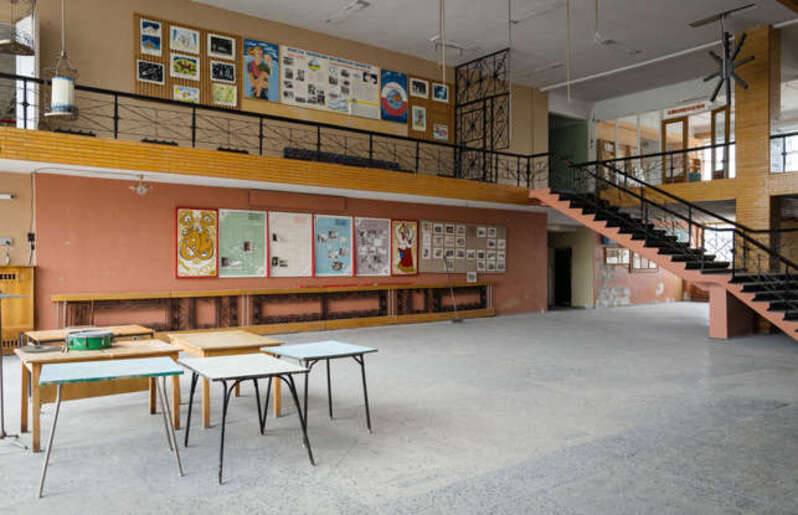 This exceptional settlement was so sought after that people would line up at its gates just to get a chance to spend some time in this piece of paradise. Pyramiden is truly an amazing example of the potential of human achievement.
The Red Oktober
Pyramiden's auditorium has a rich history, evident in its design. This grand building was home to many musical performances and theatrical performances, as well as screenings of films. One of the most memorable pieces of the auditorium is the Red Oktober grand piano, the northernmost grand piano on the planet, standing proudly in the center.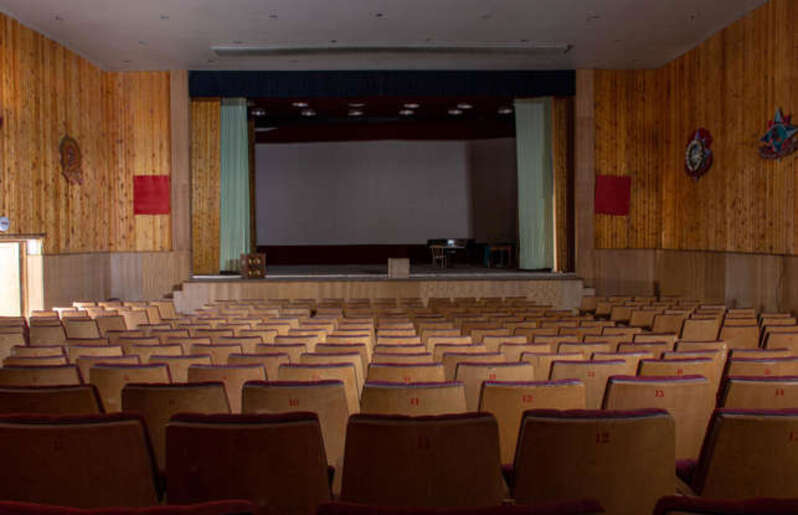 It is believed to have originated from Pyramiden, a famous Russian settlement located in the Arctic ocean. Today, this grand piano serves as a reminder of the history and culture of Pyramiden.
Multi-purpose Court
Pyramiden was once a vibrant and thriving Soviet town, and the sports court is proof of this. In the past, the court was regularly used for basketball games and other team sports. It even had a viewing gallery for spectators–a feature that remains to this day.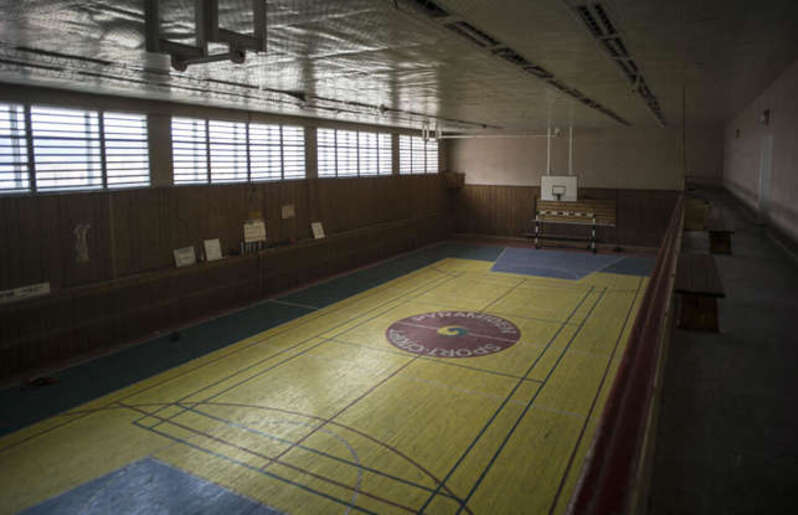 Adjacent to it is the weight-lifting room, which considering its age of over two decades, is in surprisingly good condition. Although Pyramiden has been abandoned for years now, its remarkable sports court and weight-lifting room are reminders of its glorious past.
Library That Holds History
They say that libraries hold the key to the past. This is proven true by Pyramiden's library, which was constructed to create a meaningful and purposeful history that would be remembered for generations to come. The Palace of Culture's library played an important role in this pursuit, allowing the residents to explore and delve deeper into their history through books and journals.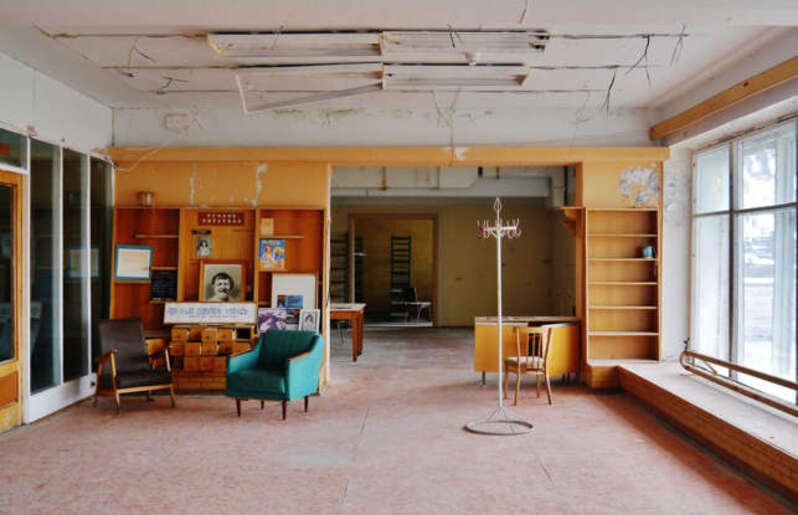 The collection was well-stocked with materials that followed the communist ideology, allowing the townspeople to cultivate their intellectual side while expanding their knowledge of Pyramiden's unique history.
Expansive Sports Complex
This enormous place is called the Yuri Gargarin Sports Complex. Its name is derived from the famous cosmonaut and the first human in space. Pyramiden, which is now a ghost town, was once a powerhouse in the past as a mining town, and due to its connection to the Russian space program.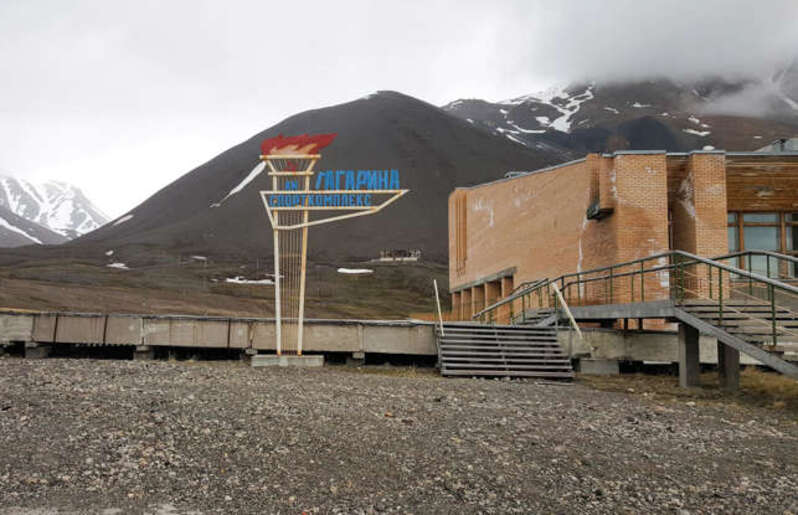 The large pitch outside the sports complex was for soccer games during summer, while it was used as an ice hockey rink whenever winter arrived.  Even some structures nowadays cannot compare to the glory that this great Pyramiden complex once had.
A Futuristic Swimming Pool
Pyramiden's heated swimming pool was a fabulous luxury and considered one of the town's major pulls. Its history of welcoming visitors from Longyearbyen, who were said to be green with envy of the Soviet settlement, is evidence of its significance for the town.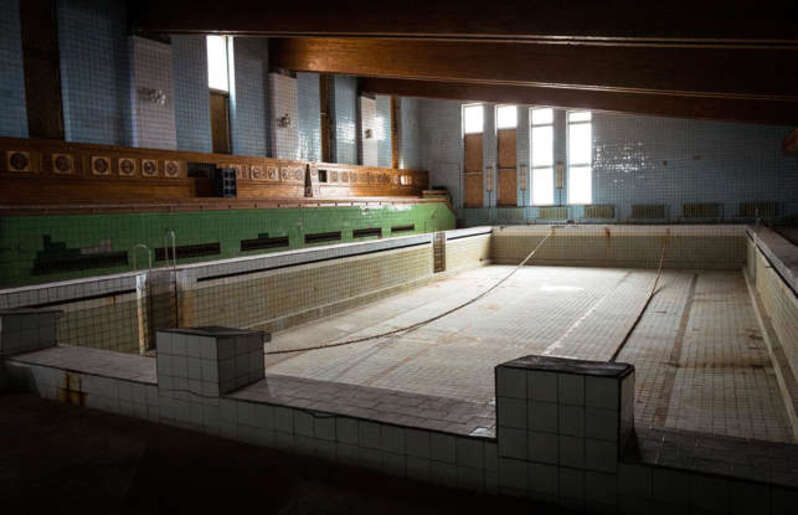 It is unfortunate that such an important part of Pyramiden's history has been drained. The sports complex should be restored to its former glory so that future generations can experience the same luxury and appreciate the history of Pyramiden.
A Place of Many Structures
Pyramiden is home to many abandoned structures, such as a fire station and jail, and the presence of the KGB office remains as well. It's fascinating to think of the range of workshops that once occupied the area, and the covered shooting range was an absolute necessity due to polar bears.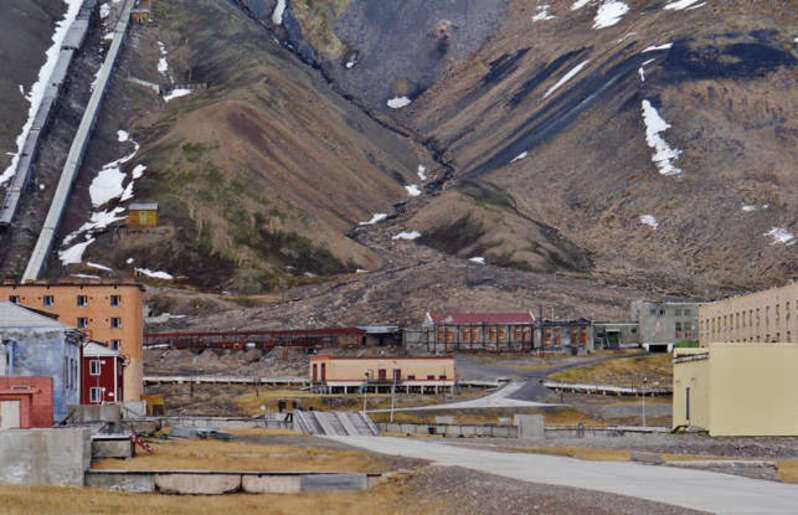 Carrying rifles at all times was a given, and marksmanship skills were a must in order to survive. All these elements come together to create a rich yet mysterious history for this abandoned town.
Quirky Bottle House
Despite the quirky bottle house being abandoned, its history still remains. It was built in 1983 from 5,308 bottles and served as a fun drinking den and hangout. However, once the Soviet Union dissolved in 1991, Pyramiden lost the subsidies that it relied upon to fund its lavish amenities.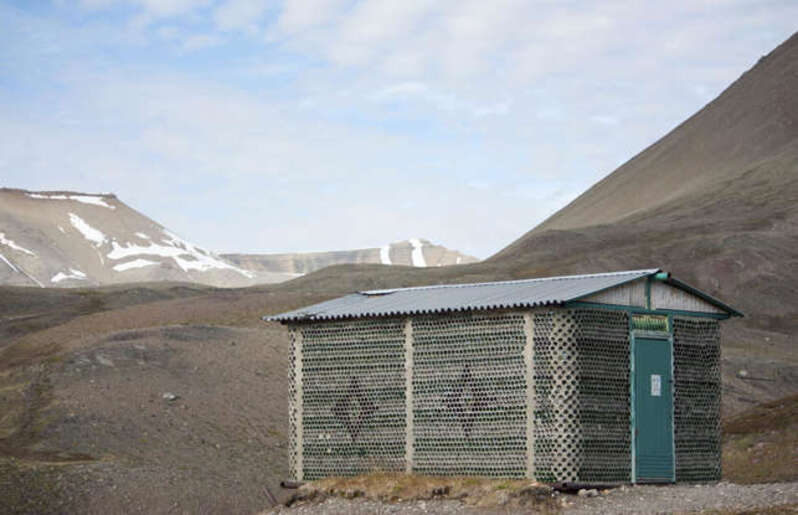 It was revealed that Pyramiden was never profitable, which led to the town being abandoned. The bottle house is now a symbol of its past, reminding us of the glory it once had. 
A Village That Did Not Last
Pyramiden had a short-lived history as an abandoned "Potemkin village," a showcase of the ideal communist settlement. However, when the USSR collapsed, it was only a matter of months before the mining town was abandoned due to its dwindling mineral resources and poor quality of extracted coal.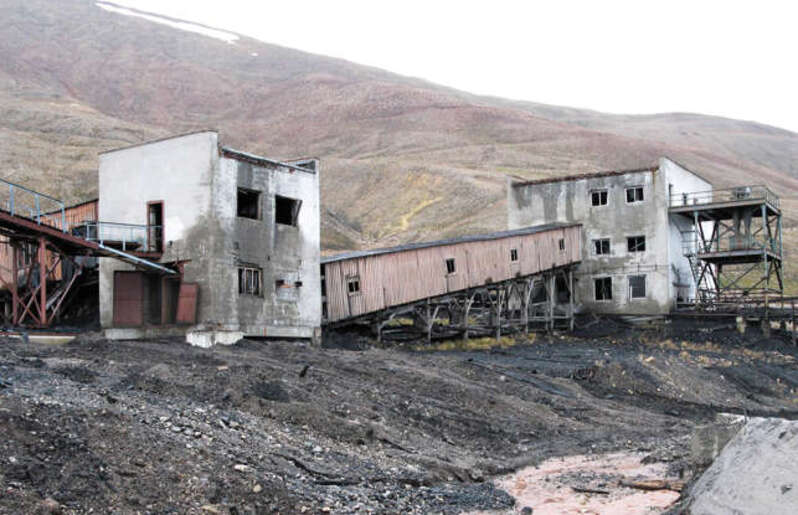 The mine fire in the mid-1990s was the final nail in the coffin for Pyramiden, and it has since become a ghost town. A reminder of its brief history is now only evident in the structures it left behind and what has been written in books. 
The Historic Crash
The abandonment of Pyramiden was sealed in August 1996 when a catastrophic plane crash occurred. All 141 people on board perished, with many being mine workers headed to Pyramiden. This incident was the deciding factor for the town's dissolution. By the mid-1990s, the kindergarten and school had already closed, and most of the women and kids had left.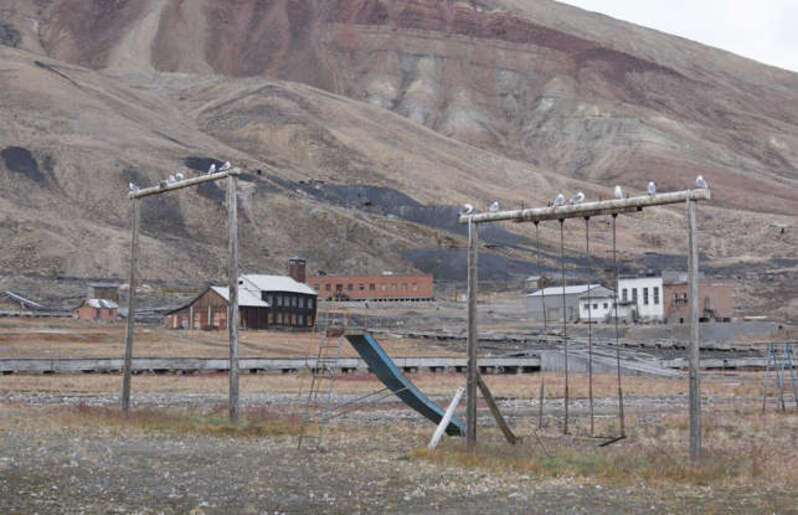 The tragedy that befell Pyramiden was indeed heartbreaking and devastating, yet it serves as a reminder of how quickly life can change with just a single incident.
Final Goodbye to Pyramiden
The entire town of Pyramiden was left deserted, and its history gradually began to fade away. The aviation accident had a devastating effect on the community, and it brought the Russian government and Arktikugol Trust to make the difficult decision of closing the mine and leaving the town in April 1998.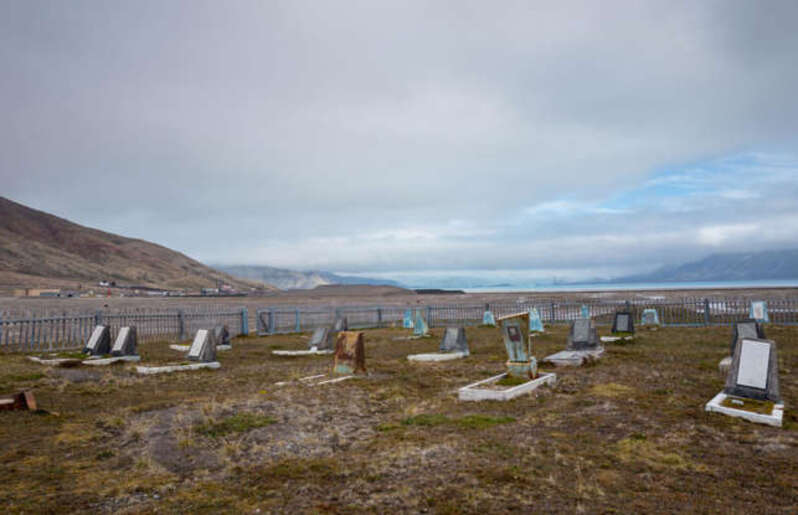 As a result, the population dwindled to a few hundred people, and within a few months, all of them had left, leaving behind their belongings and marking the end of this chapter in history.
A New Pyramiden
Pyramiden was once a Soviet ghost town, but its history wasn't forgotten. It has since reinvented itself as a tourist attraction, with the old "London" residence converted into a hotel. It opened in 2013 and was refurbished the following year, and visitors flock to the town seasonally to experience its unique and fascinating history.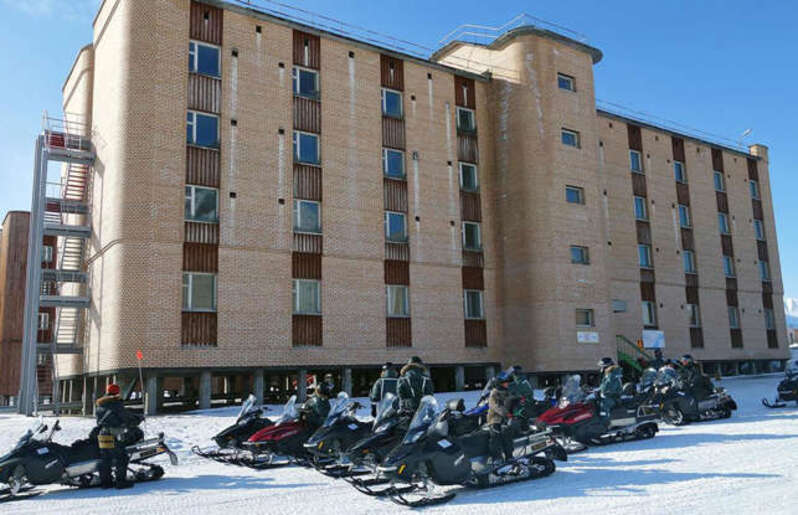 The handful of permanent residents, including tour guide Aleksandr "Sasha" Romanovsky and some maintenance staff, are proud to share the stories of Pyramiden's past with all who come to visit.
A Past That Cannot Be Recovered
What was once a regal place is now nothing more than a ghost town. It's heartbreaking to think of the people who used to call it home, now scattered to the four winds, never to return. Romanovsky tells a particularly poignant story of two former residents who returned to visit. Their despair was so great that both suffered heart attacks.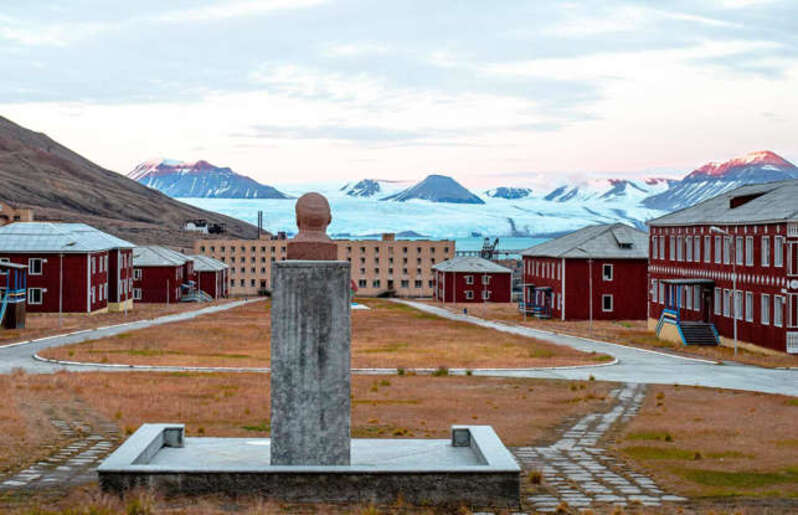 The frozen town at the top of the world once thrived but now stands still in time as a monument to what once was, lost in the mists of memory.