This One-of-a-Kind Old West Village Can be Yours for Just $1.6 Million
Originally Published on
savvydime.com
and repurposed with permissions
This historic frontier town in Colorado, now available for sale via RE/MAX Pinnacle, offers a glimpse into the fascinating Wild West. Priced at only $1.6 million, this small town is a steal and has endless potential. So whether you're looking to establish a one-of-a-kind vacation spot or start your own business, this town presents endless possibilities.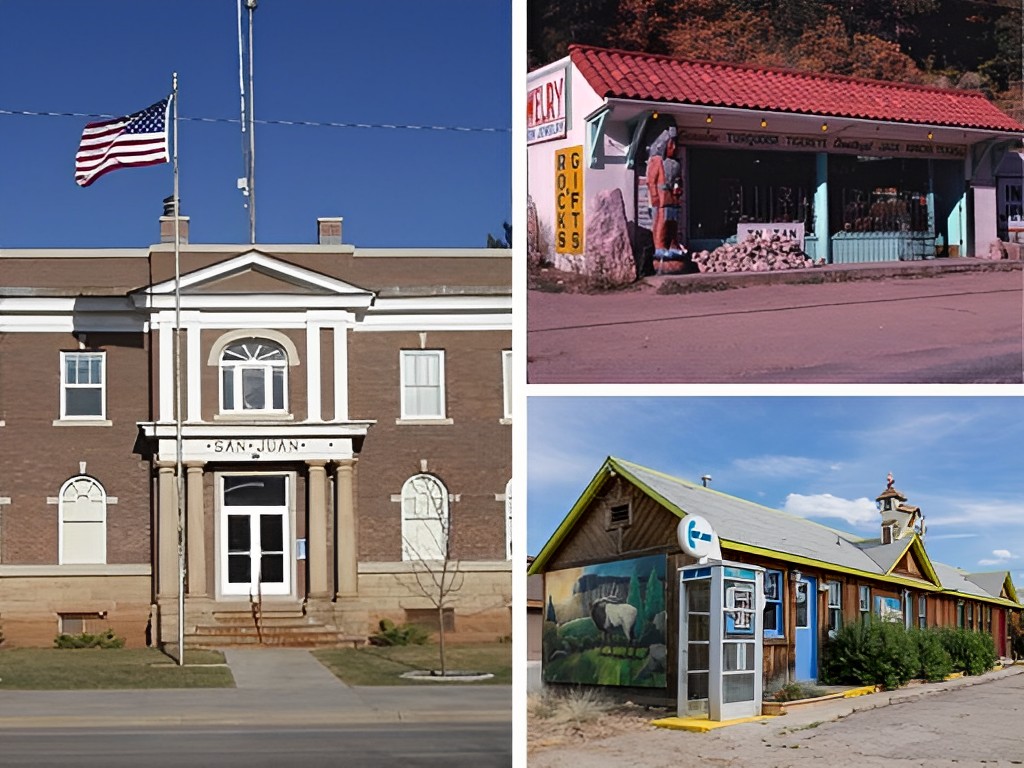 With its unique style, rich history, and ample opportunities, it's a must-see for anyone interested in investing in a piece of Americana. So come take a tour and see the incredible attractions his town holds. We have also listed a few more incredible real estate steals from around the globe!
The Center of Activity for the Town's Miners
The Wild West set-up in Silverton, Colorado, is an impressive and historically significant attraction located in the heart of a former mining town. Situated at the base of the majestic San Juan Mountains, the set-up was once a prominent feature of the Old Town Square and is located in the infamous Blair Street, which was once the activity center for the town's miners.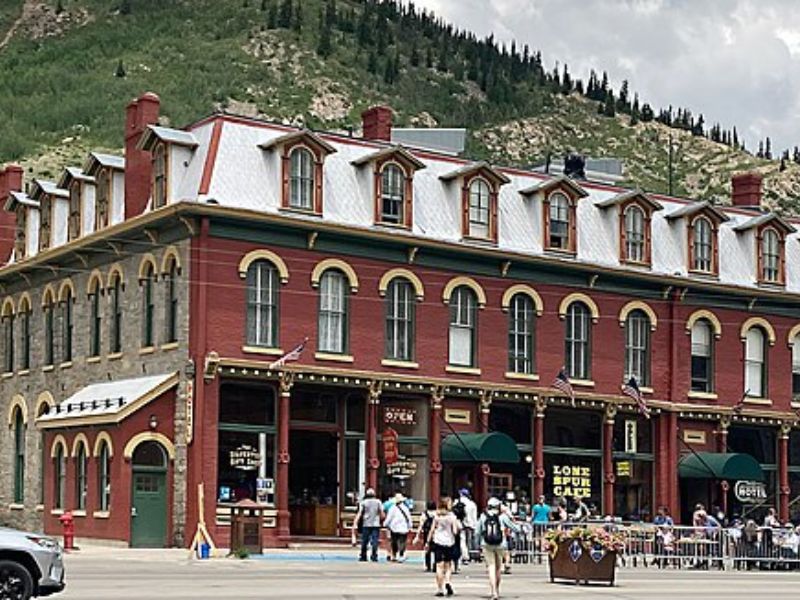 Blair Street was known for its rowdy and lawless atmosphere in the wild west days, where miners would gather for drinks, brawls, and other late-night activities. Today, the Wild West set-up serves as a reminder of the town's rich history and offers visitors a glimpse into the life of a miner during the 19th century. It's a must-see attraction for anyone interested in the wild west and the history of mining in the American west.
Proximity Helped the Travels
The mining hub, situated just one block from the Durango & Silverton Narrow Gauge Railroad depot, was the perfect location for those seeking to strike it rich in Silverton. During its prime, the town square was bustling with activity, featuring a variety of establishments such as a saloon, hotel, general store, and possibly even a post office and jail. Prospectors from all over would flock to the area, eager to uncover the valuable treasures in the mountains.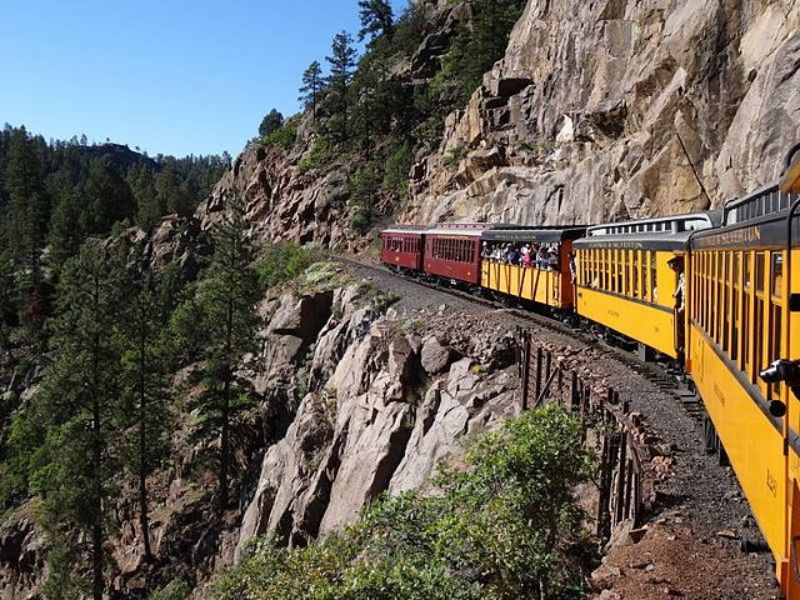 The proximity to the railway made it easy for them to travel to and from the mining site, with all the necessary amenities within easy reach. It was a thriving community with strong camaraderie and a shared goal of striking it rich.
Now Home to a Variety of Artisan Businesses
Today, the historic buildings are beautifully preserved and home to various artisan businesses. For your investment, you'll acquire two operating commercial buildings, three commercial rental spaces, and an additional building currently being used for storage but has the potential to be converted into another retail space or even a guest lodge.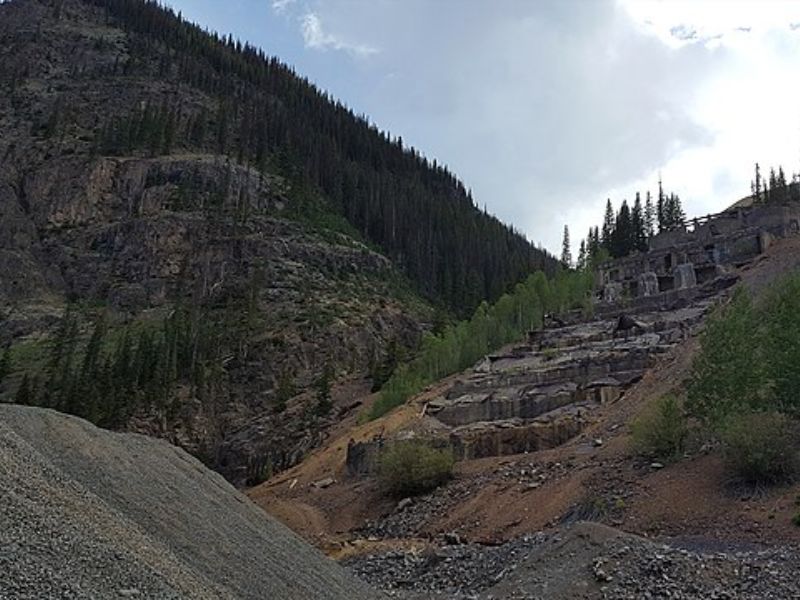 Three of the units have an interesting history, located initially in the mining ghost town of Eureka, Colorado, before being relocated to Silverton.
The Studio Comes Equipped With Props and Backdrops
The Old Tyme Photography Studio is situated in a unique location, housed in the oldest brothel in the town. The studio comes fully equipped with props and backdrops, allowing visitors to immerse themselves in the Wild West era and capture memories through photographs.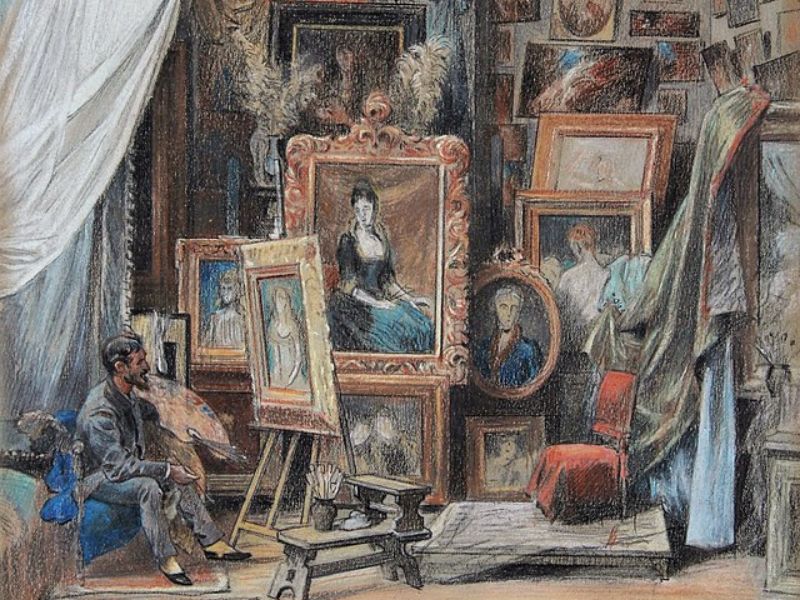 Tourists from all over come to this historic small town to get their portraits taken at the Old Tyme Photography Studio, making it a popular destination spot.
There Is Also an Art Gallery
In addition to the commercial spaces, there is an art gallery where visitors can purchase local artwork, a pottery studio, and a faux graveyard. The new owner can continue leasing or renovating these units for personal income.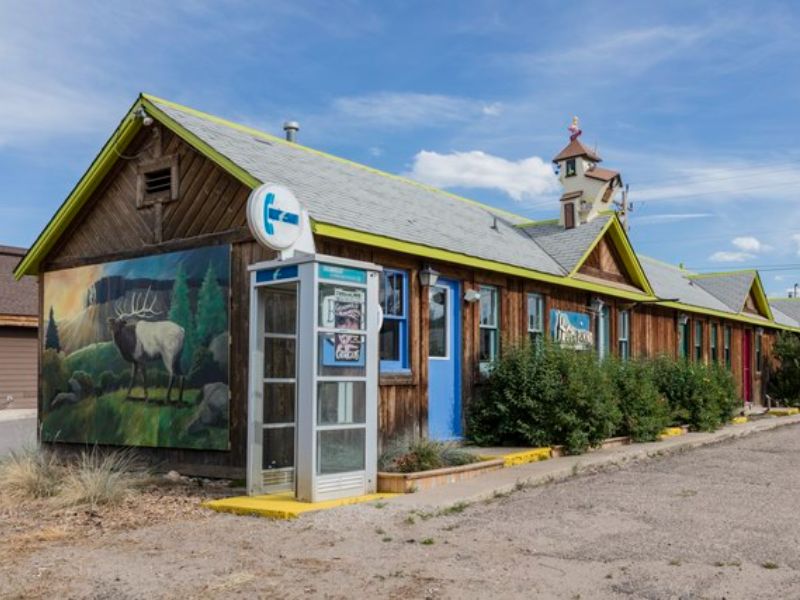 The rustic structures boast exposed timber floors, walls, and ceilings, making for charming and comfortable vacation homes.
A Residential Unit Above the Emporium Gift Shop
In addition to the commercial spaces, a residential unit is located above the Emporium gift shop, built in 2005. Currently used as a vacation rental, this unit has the potential to be converted into a new home.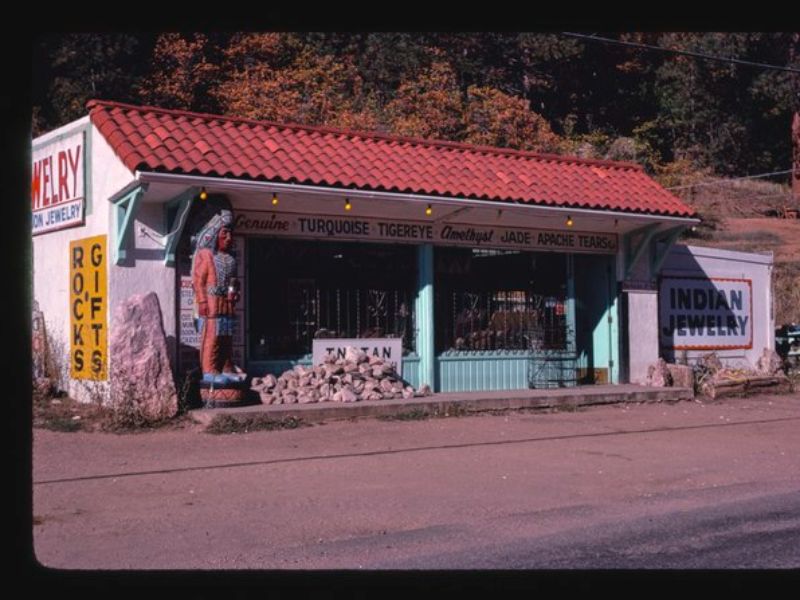 The unit features an open-plan living area, dining area, kitchen, two bedrooms, and a bathroom. Though traditional and cozy in design, some modernization may be desired to bring it up to date.
Ready to Take Advantage of This Opportunity?
Other property features include the 1875 San Juan County Courthouse, which has been relocated from Howardsville, Colorado, and the 'Swanee's Old Mine Sluice' located in the center of the square, where visitors can try their hand at panning for gold and gems.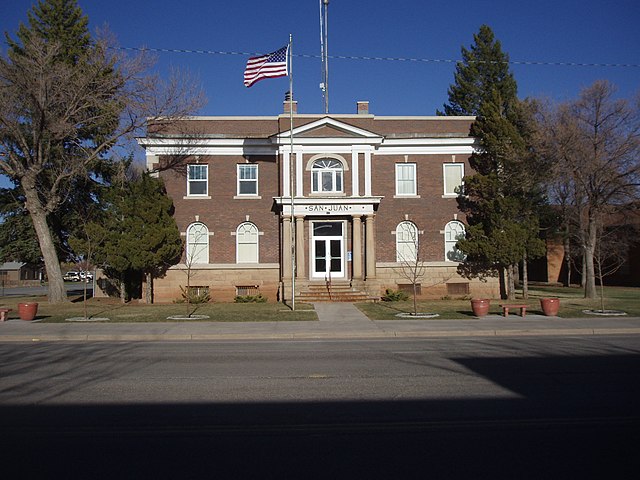 This property has been run by the same family for the past four decades and represents a remarkable investment opportunity for the right buyer. Are you the one to take advantage of this opportunity?
Cargo Home Park, Texas, USA: $1.3 Million
A unique opportunity to own a custom-built container home park in the suburbs of Waco, Texas. Currently for sale at just under $1.3 million, this picturesque tiny town is perfect for creating a chic community, vacation business, or private estate. Recently constructed in 2021, the "Cargo Home Park" has been operating as a successful vacation rental business, with each of the six container homes listed on Airbnb.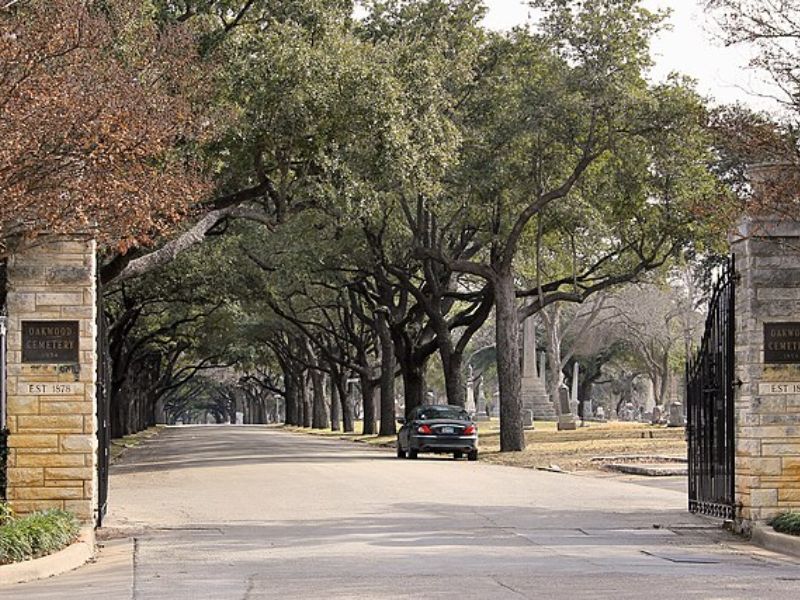 The two-acre parcel is minutes from the Magnolia Market and other attractions, making it a perfect location for anyone looking to take on an already thriving business.
A Successful Vacation Rental
The estate features six unique container homes, each with bespoke interiors. Each home offers 480 sq ft of living space, designed for comfort with a small living area, fully equipped kitchen, dining space, bedroom, and bathroom. The interiors are contemporary and relaxed, with a monochrome palette, dark wood accents, and modern finishes.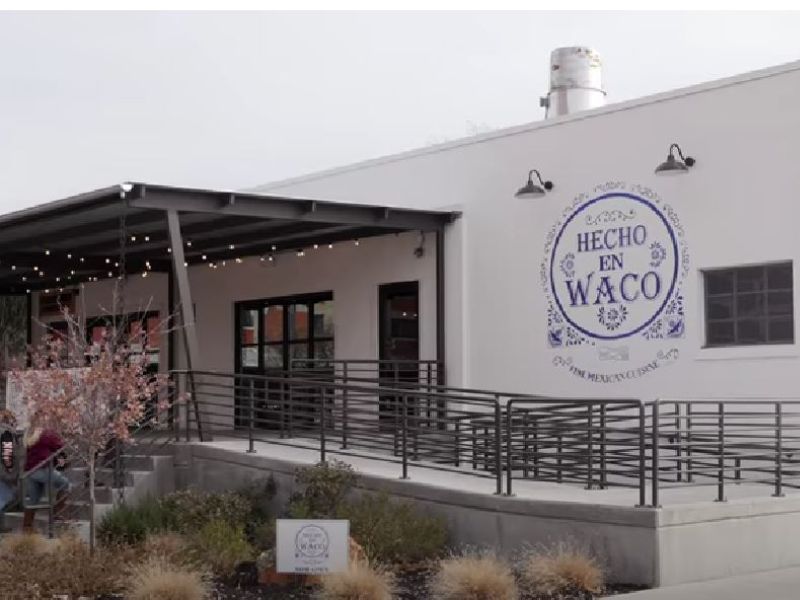 The container's high ceiling and large windows make the interior feel bright and spacious. Hands-free management is in place, and the park has received great Airbnb reviews and has a full booking schedule. Downsizing has never looked so good!
Coopers Creek, Victoria, Australia: $1.5 Million
Coopers Creek, a former mining town in Australia, is on the market for $1.5 million. Established in the 1860s during the Victorian gold rush, it was known for its copper mines and had a population of 250 during its peak. The town has been owned by the same family since the 1960s and features 19 vacant blocks, a two-bedroom residence, and an English-style pub.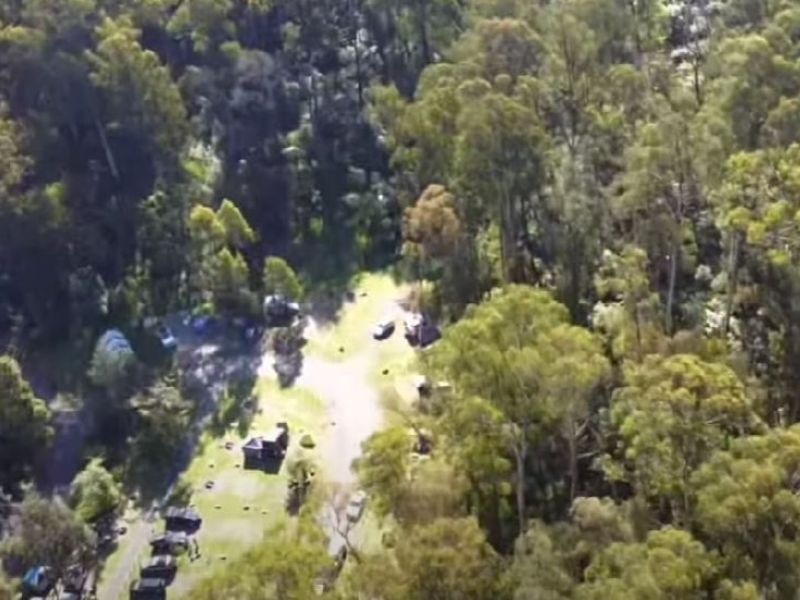 The town is near historic Walhalla, and the new owner could easily build more businesses or holiday homes to rent. The 11-acre estate is Australia's version of Schitt's Creek, and it's a unique idyllic location with potential for development.
Grab Some Pub Grub
Coopers Creek's traditional pub is included in the sale, with endless cozy sitting areas, a restaurant-style dining zone, and a stage for live music. The pub also has pool tables and rustic, inviting décors like oak barrel tables, hardwood floors, open brick fireplaces, vintage light fixtures, and 19th-century signage. The main house offers traditional design elements and eye-catching architectural details, including hardwood floors, sash windows, an open-plan living room, dining space, two bedrooms, and two bathrooms.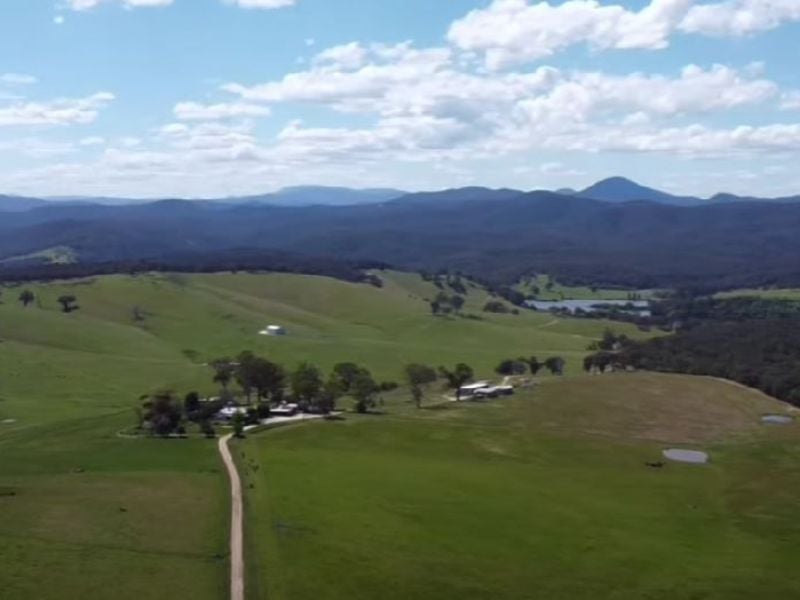 The exterior veranda spans the entire length of the property. In addition, the secluded town is conveniently located a few hours drive from Melbourne, making it perfect for the tourism business.
Seravalle, Bologna, Italy: $2.1 Million
A stunning Italian citadel, palace, and village known as Serravalle is up for grabs for almost $2.1 million. It features cobblestone streets, towering turrets, ancient battlements, and a mysterious ambiance. The medieval hamlet is located halfway between Modena and Bologna and has a rich history, having been conquered and destroyed by the Longobards in the 8th century before being rebuilt in the 9th century.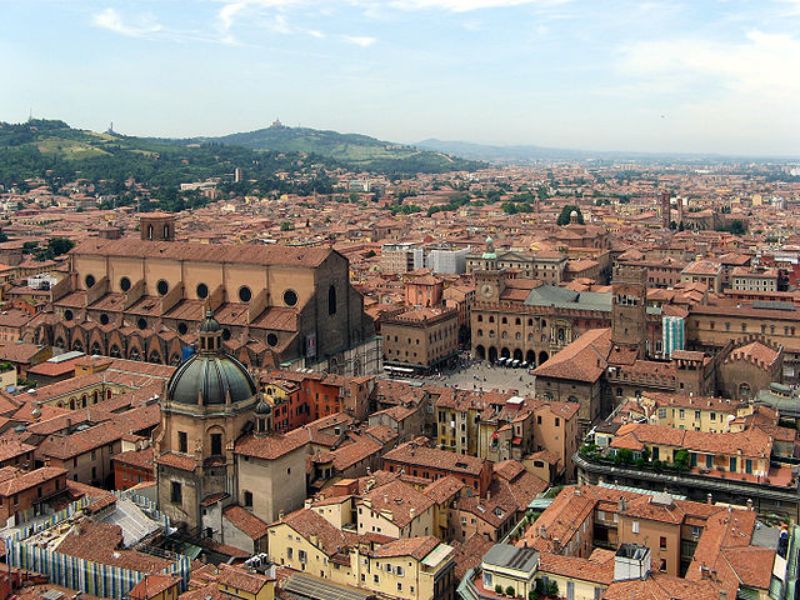 The estate includes a majestic castle, a three-story 18th-century stately home, a hunting lodge, a woodshed, a four-floor lookout tower built in 1227, and a beautiful 3.5-acre park with an ancient moat. It is a great value opportunity to own a unique piece of European history.
A Medieval Italian Beauty
The stately home has been beautifully preserved, with many original medieval details, including oversized fireplaces, terracotta floors, exposed wooden beams, and antique light fixtures. The home has a grand feel thanks to soaring ceilings, huge arched doorways, and extra-wide hallways. Visitors can spot ancient stone walls adorned with coats of arms and columns decorated with grand carved statues.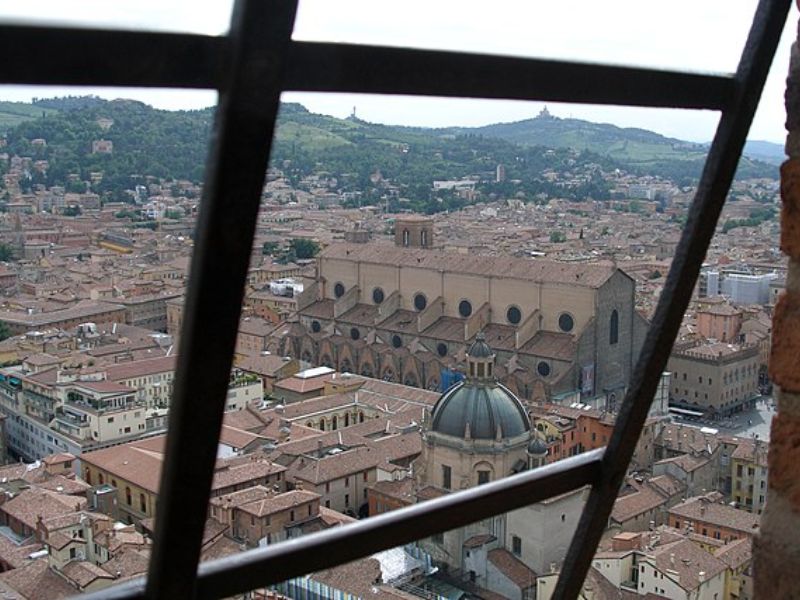 The town is said to be haunted by the spirits of 12 women who were assassinated after marrying a former lord. The village's most unique feature is an underground tunnel that connects the palace to an ancient lookout tower, which guards once used during enemy attacks.
Tuthill, Maine, USA: $5.5 Million
Tuthill, a picturesque settlement in Pittston, Maine, is on the market for $5.5 million. The property spans over 50 acres and includes 25 buildings and structures that were created by a local antique dealer, Kenneth Tuttle. In 1967, Tuttle bought the main house intending to build an antique village. So, he saved historic buildings from other towns that were going to be demolished and added them to his collection.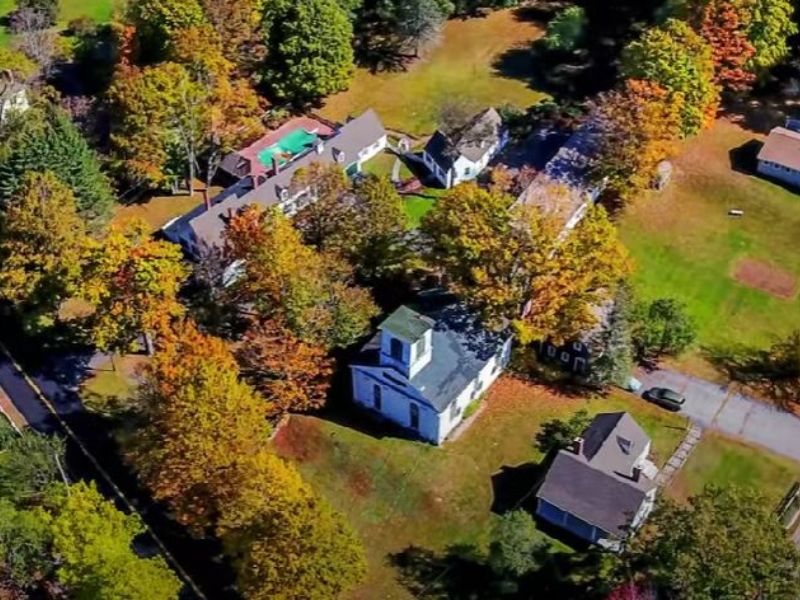 The community may have been established recently, but the structures date back to the 19th and 20th centuries. It features a showroom for over 30 cars, along with several barns.
Impressive Structures All Around
The village offers a diverse range of properties, including five-family homes, three apartments, and a studio guesthouse. Seven of these are currently occupied by tenants, offering a steady income stream for the new owner. In addition, the village is surrounded by a picturesque natural setting featuring a tranquil pond, apple trees, and flowering bushes.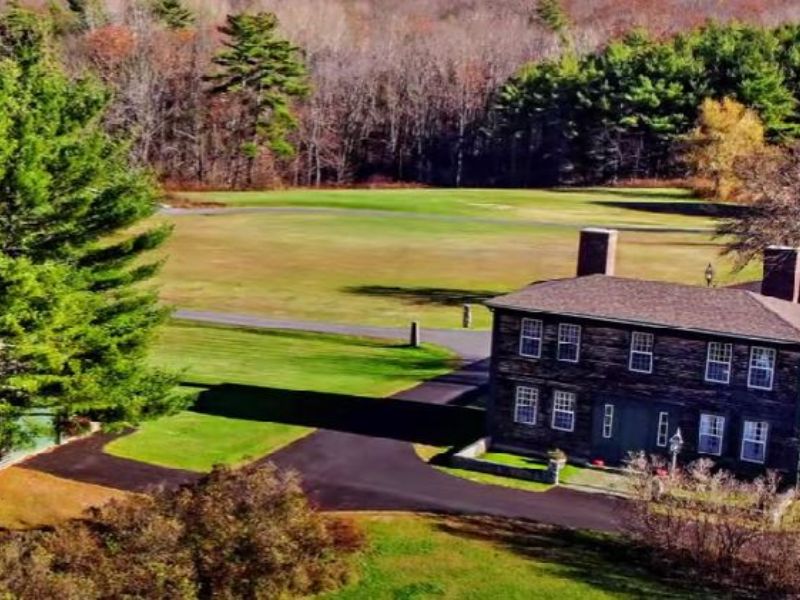 Alongside the residential properties, the village also boasts a historic antique shop, a charming old church meeting hall, two shops, and a mechanic's garage adding to the quaint charm of the place.
Campo, California, USA: $6 Million
The hamlet of Campo in San Diego County is on the market for $6 million. An hour east of San Diego, it comprises 28 buildings, perfect for someone looking to take on a functional town. The peaceful location is currently home to around 100 people and is equipped with functioning buildings, including a post office and church.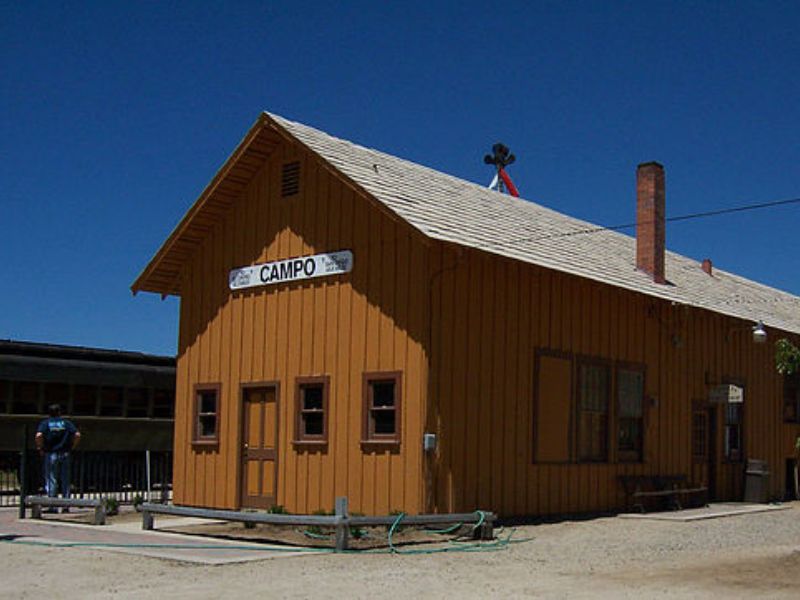 The current residents hope the new owner will take the opportunity to grow the town by adding amenities such as a gym, laundromat, and recreation centers.
A Tight-Knit Community
The small community of 16 acres is filled with abandoned clapboard homes that could be fixed up and serve as charming houses for new residents. The town of Campo is located just a mile from the US-Mexico border, with many residents working for US Customs and Border Protection.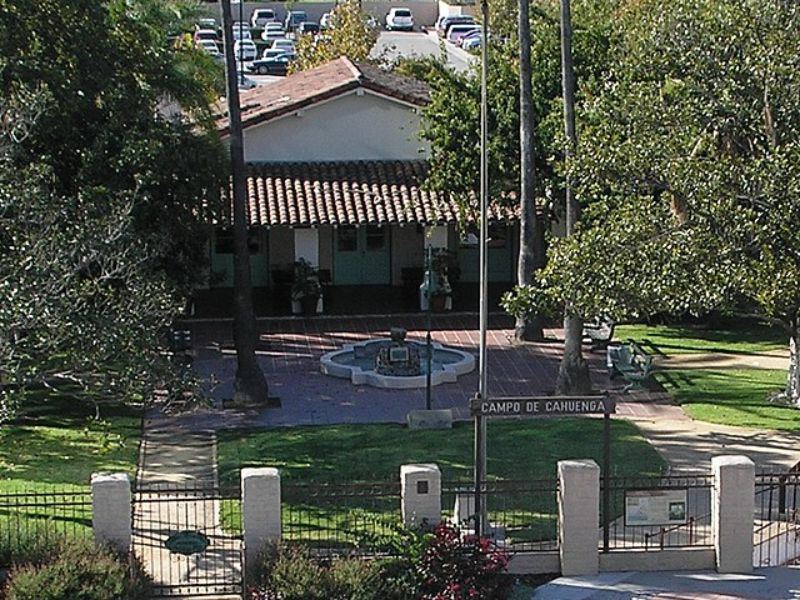 With proximity to both the border and the Pacific Ocean, Campo has the potential to be a thriving hotspot with a little effort.
Trois Estate, Texas, USA: $6.2 Million
The Trois Estate, a unique hand-built village in Fredericksburg, Texas, combines Mediterranean and Texan styles. The property is currently on the market for $6.2 million and includes 36 acres and a variety of Italian-inspired buildings, including a 3,710 sq. ft. main house and an 18-room lodge.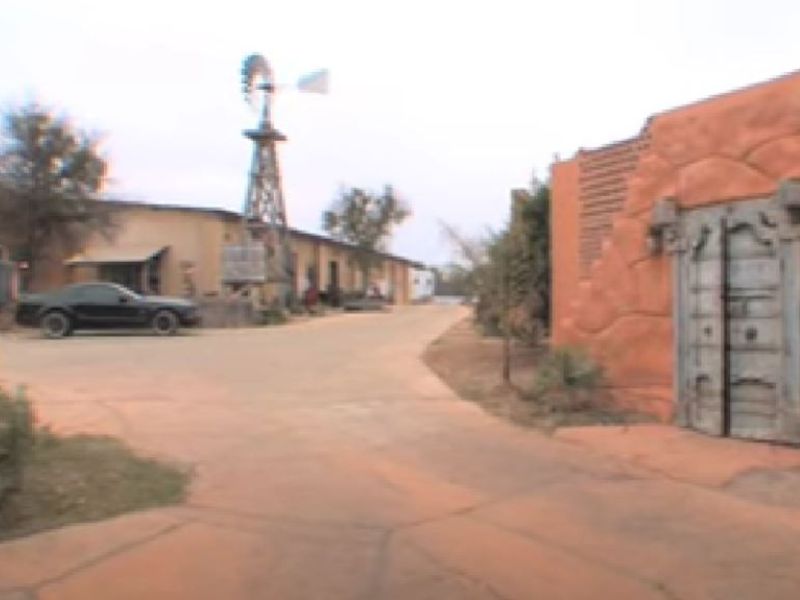 Built in the late 1990s by Rebecca and Charles Trois, the village has been used as a bed and breakfast and is now being sold as a vacation home. Its location near Enchanting Rock, a pink granite mountain, makes it perfect for tourists visiting the area.
Texas' Own Mini Banquet Village
The village is a popular venue for events and weddings, offering a variety of large spaces, including a 5,000 sq ft banquet hall, restaurant, Safari museum, and Old West-style saloon. It also has over 30 bedrooms to accommodate guests. Regardless, the village's main attraction is its underground tunnels leading to an underground church, a unique setting for weddings.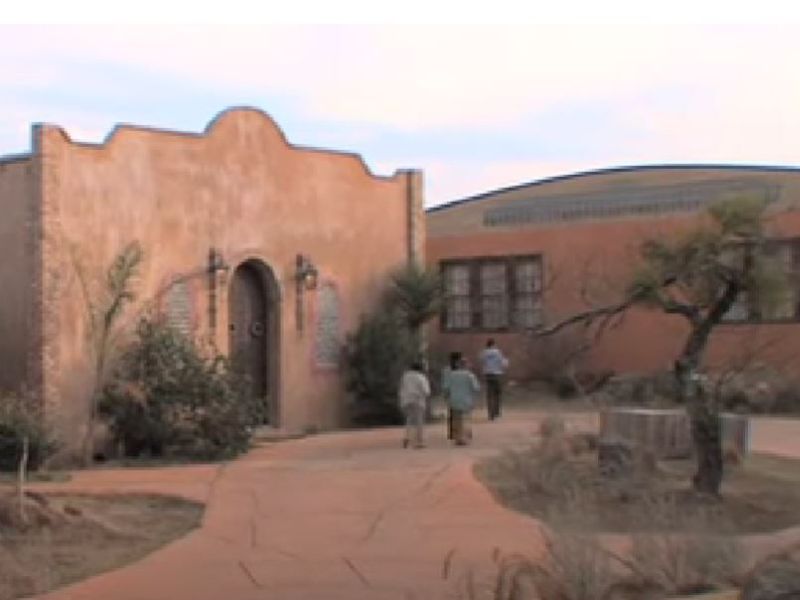 The highlight of the underground tunnels is the vast man-made cave, complete with stalagmites and a bathing pool. A truly unexpected and unique experience.
Sätra Brunn, Västmanland County, Sweden: $6.3 Million
Sätra Brunn is a vast settlement with 59 acres and 70 buildings, including a hotel, preschool, conference center, restaurant, church, spring, gym, and bathhouse. It generates several million dollars in revenue annually and has been bottling its natural spring water since 2015. Founded in the 1700s as a wellness village, it was popular for those seeking relaxation and respite.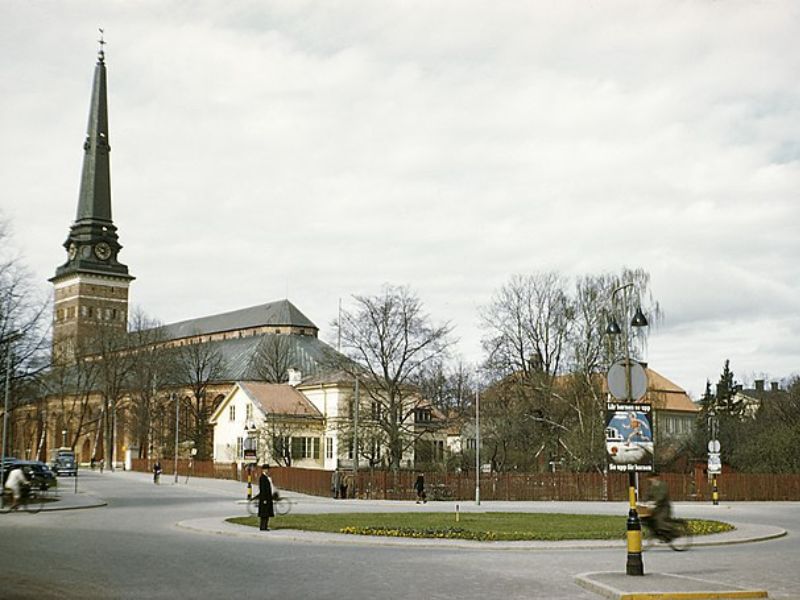 Nowadays, it still has a focus on health and well-being. This unique development is on the market with Christie's International Real Estate for SEK67 million or $6.3 million.
If Cuteness Was A Village
Sätra Brunn is home to possibly the world's cutest houses; the colorful painted buildings are charming. In addition, it's a tight-knit community that hosts celebrations throughout the year. The current owners acquired the village in 2002 and are looking to pass it on to a buyer who wants to preserve its history and help its business ventures thrive. Inside, the historic properties are well-maintained, with period features such as original floorboards, antique fixtures, and detailing.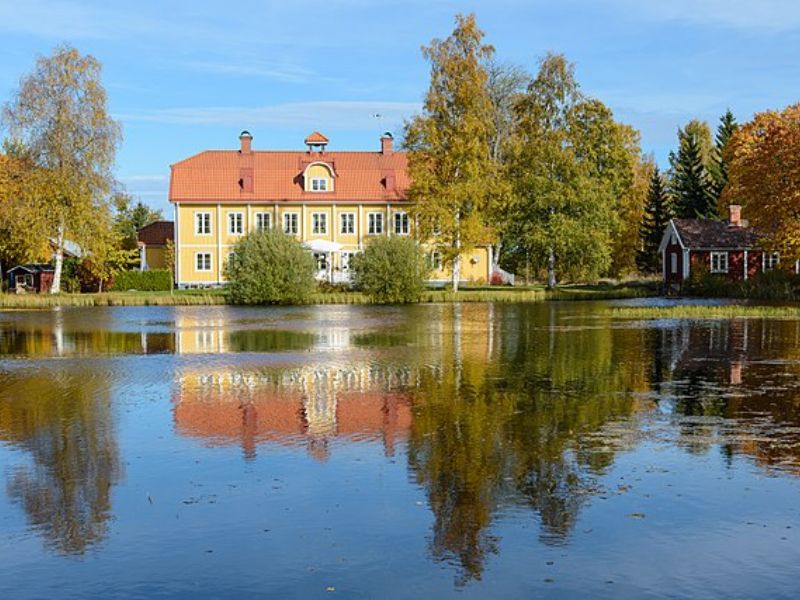 The sale also includes 34 acres of undeveloped woodlands, providing ample space for new developments.
Tarrahleah, Tasmania, Australia: $8.3 Million
Tarraleah is a luxury retreat nestled between two Tasmanian forest reserves, spanning 363 acres. The site is currently open to expressions of interest starting at AUD$12 million ($8.3m). It includes two restaurants, a café, a spa and gym, two function halls, administrative offices, staff accommodation, a retail shop, and a fine art gallery, as well as various types of guest accommodation.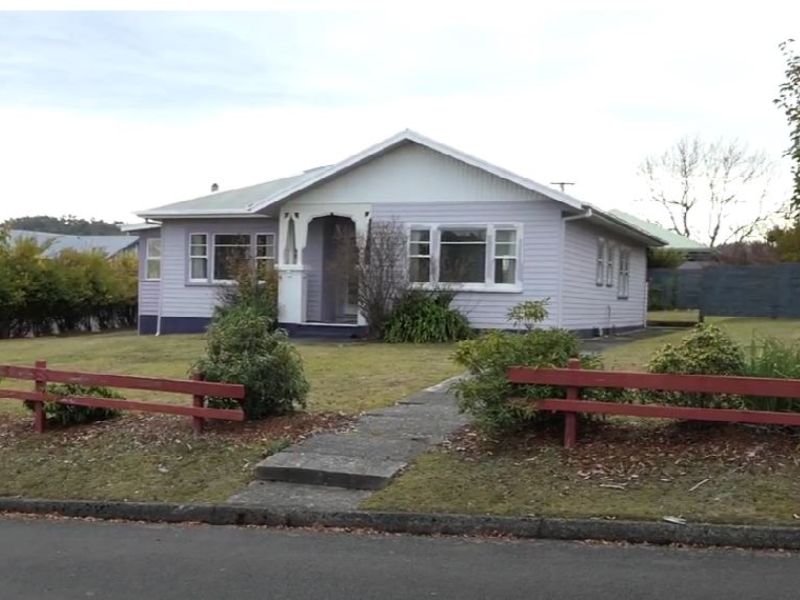 The retreat boasts spectacular manicured grounds, over 300 acres of bushwalks available for exploration, a lake for water sports and fishing, and 71 different homesites with sweeping views of the valley below.
A Luxury Lodge to Take Away the Blues
The Lodge at Tarraleah is a former award-winning operation that features nine luxury suites, a formal dining room, a library, a bar, and a wood-burning fireplace lounge, all evoking the glamour of the building's 1930s heritage. The Edge Restaurant and Function Centre boasts an award-winning building design, stunning views of the Nive River Valley, and an "enviable" whisky and wine cellar.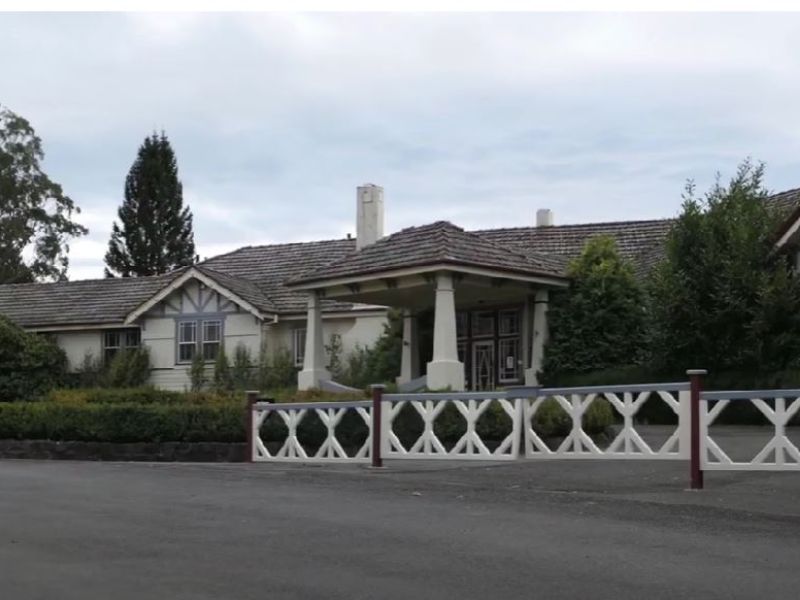 Tarraleah has a lot of development potential and is suitable for a health retreat, a destination for foodies, or even a mountain biking tourism hub. The listing suggests that it requires an investment of $8.3 million to make your vision a reality.
Little Hawkins, Georgia, USA: $15.9 Million
Little Hawkins is an upscale village located on a private island in Georgia's Golden Isles. It's a perfect hideaway from modern life while offering all the amenities. Surrounded by waterfront views and coastal salt marshes, it's home to a variety of wildlife, including dolphins, otters, turtles, and a variety of fish and birds.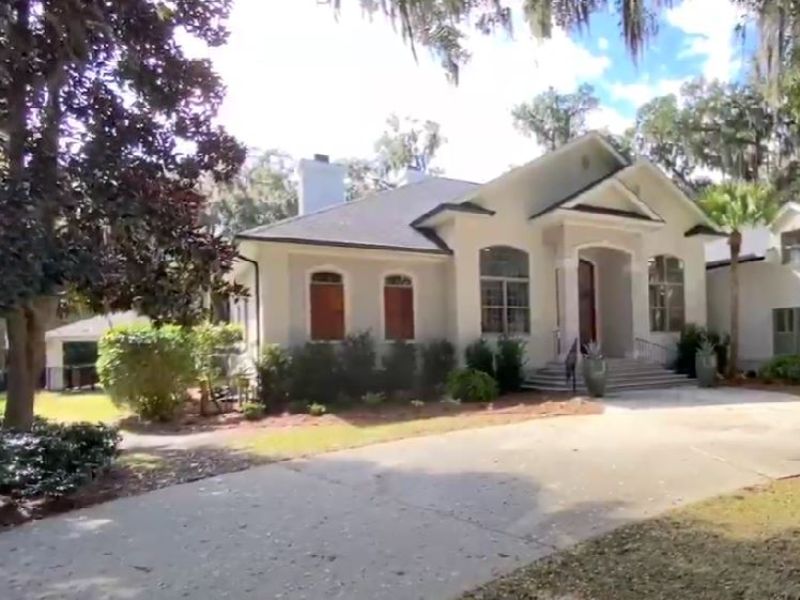 It's easily accessible via a private dock suitable for a 40-foot boat or a 110-foot private concrete bridge. Additionally, it's close to a neighboring Sea Island that has an airport. This dreamy village could be yours for $15.9 million.
A Private Island, A Piece of Paradise
The village, which is on the market with Private Islands Inc, is a three-acre gated community with four buildings. The main residence is luxurious, with two cottages and a clubhouse complete with an outdoor pool, spa, and bar. It also boasts 700 feet of water frontage.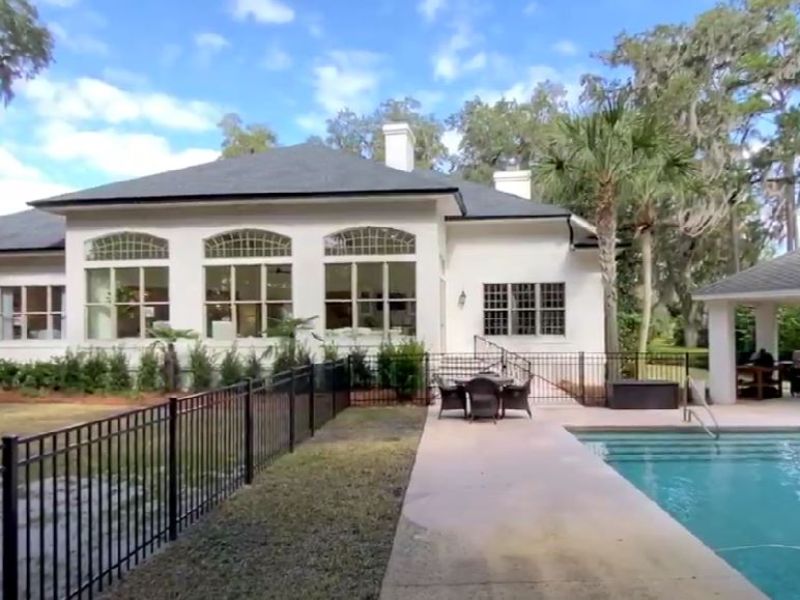 The interior of the main residence is traditional and charming, with wooden coffered ceilings and decorative arches, solid mahogany doors, reclaimed antique pine flooring, and bespoke Spanish terracotta tiles. All adding a touch of luxury and uniqueness to the property.
Trevalga, Cornwall, UK: $19.6 Million
Trevalga, a picturesque English village between Boscastle and Tintagel in the UK, is for sale with Savills for under $19.6 million. The village spans 1,200 acres and includes six farms and 17 houses and cottages. Not only is the village a beautiful place to live with its jaw-dropping scenery, but it's also a popular spot for fans of the TV series Poldark, as many of the show's iconic scenes were filmed nearby.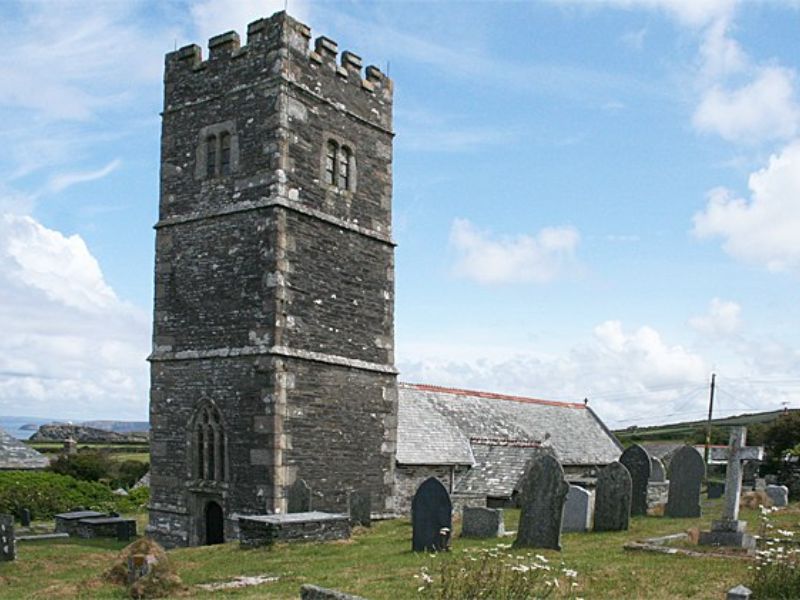 The village features a range of traditional stone cottages with slate roofs and a stately clifftop home currently being rented out. With generous offerings and stunning scenery, Trevalga is a great opportunity for anyone looking for a piece of history.
Need We Say More About a British Farm?
Trevalga, a charming hamlet in the UK, is for sale with Savills, but the sale has caused concerns among residents. The estate includes a main working farm, let on a Farm Business Tenancy until 2031, and four fully equipped farms, land, and outbuildings currently leased out, providing regular income. Nonetheless, tenants of Trevalga, some of whom have lived there for generations, fear eviction under new ownership.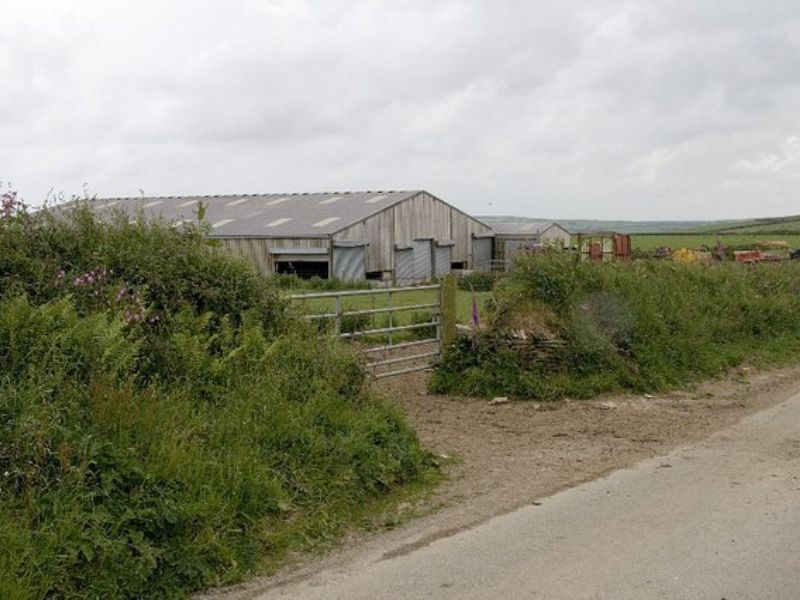 They've created a petition to fight the sale. The hamlet boasts a stunning location, just moments from Cornwall's picturesque coastline, with a mile of coastline and rocky islands like Short Island and Long Island, home to various seabirds. If you're interested in preserving this unique village, Savills has all the details you need.
Poggio Santa Cecilia, Tuscany, Italy: $43.4 Million
Poggio Santa Cecilia, an abandoned hamlet in Tuscany, Italy, is for sale for €40 million ($43.4m). Perched on a hilltop, the village has fallen into disrepair since it was abandoned in the 1960s. The hamlet sits on 1,730 acres of land and features the remains of a medieval castle, an 18th-century villa, and a church with a bell tower.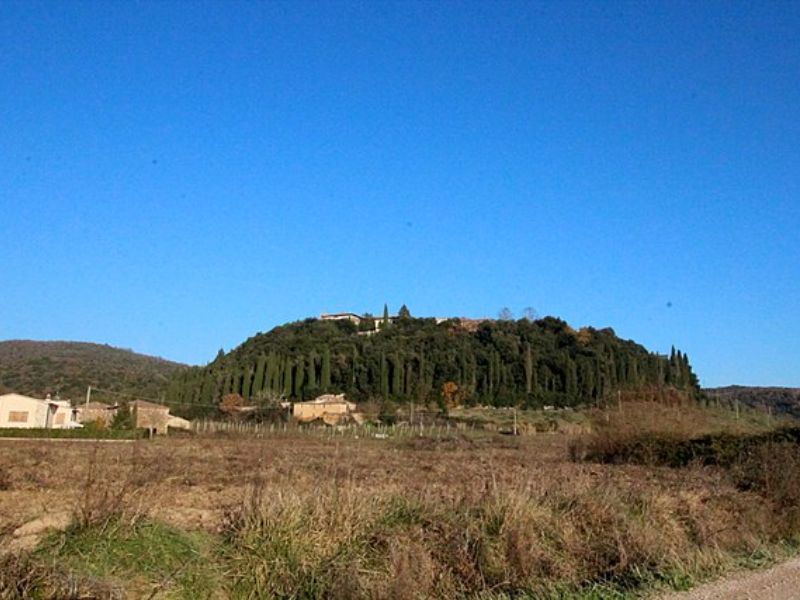 Additionally, the property includes partially restored stables, an olive mill, and underground cellars. It could make the ultimate fixer-upper for someone looking to restore it to its former glory and make it their own.
Under the Tuscan Sun
Nestled within a towering city wall, this charming village boasts winding streets adorned with stone arches and beautiful medieval architecture. Traditional Tuscan homes, complete with wooden front doors, terracotta-tiled roofs, and beamed ceilings, line the flagstone roads.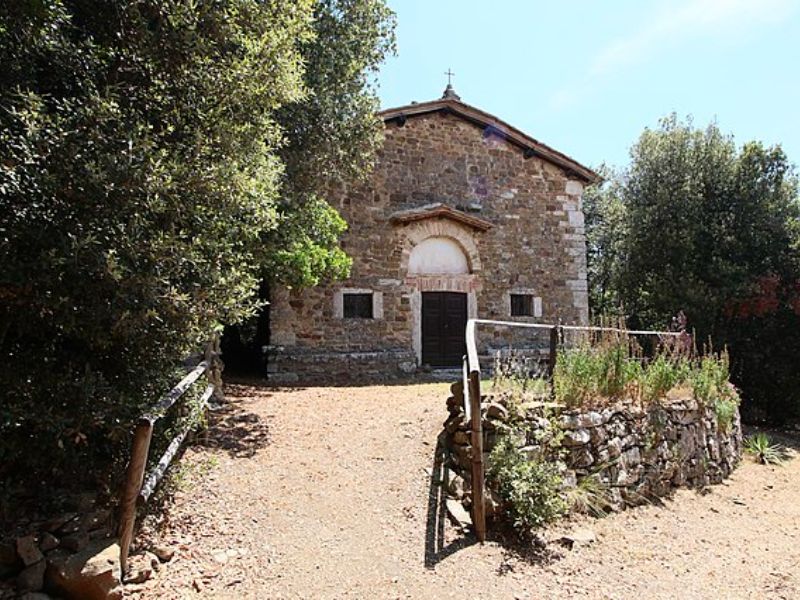 Now on the market with Essentis Group, the sale includes 50 separate buildings, 200 acres of lush woodland, two picturesque lakes, 23 acres of fruit trees, and 55 acres of vineyards. So bring new vitality to this historic settlement and make it your own. Do any of these sound like your dream destination? If so, paradise awaits!